Have you heard of cause marketing? It's nothing new, but it's seen an uptick of use over the past several years.
According to Porter Novelli, the average consumer believes that companies should be more involved in creating and offering solutions to the challenges we face as a society.
The research bears this out: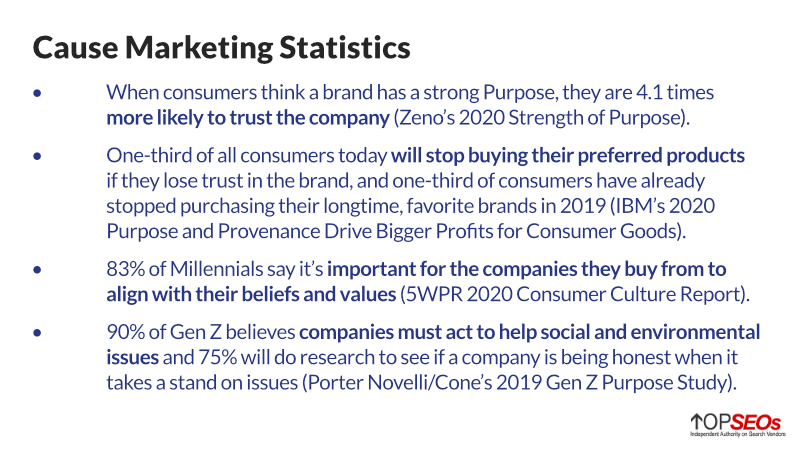 When consumers think a brand has a strong Purpose, they are 4.1 times more likely to trust the company (Zeno's 2020 Strength of Purpose).
73% of respondents believe that a company can take actions that both increase profits and improve conditions in communities where it operates (Edelman's 2020 Trust Barometer).
One-third of all consumers today will stop buying their preferred products if they lose trust in the brand, and one-third of consumers have already stopped purchasing their longtime, favorite brands in 2019 (IBM's 2020 Purpose and Provenance Drive Bigger Profits for Consumer Goods).
64% of consumers choose, switch, avoid, or boycott a brand based on its stand on societal issues (Edelman's 2018 Earned Brand Study).
83% of Millennials say it's important for the companies they buy from to align with their beliefs and values (5WPR 2020 Consumer Culture Report).
90% of Gen Z believes companies must act to help social and environmental issues and 75% will do research to see if a company is being honest when it takes a stand on issues (Porter Novelli/Cone's 2019 Gen Z Purpose Study).
The research is pretty clear: consumers want their favorite brands to take a stand on societal issues, and it's especially important to Millennials and Gen Z that the brands they support be socially conscious.
In this article, we'll take a look at cause-based marketing, what it is, how to use it, and why cause marketing makes sense. Plus, we're going to share our three favorite cause marketing campaigns from recent years.
By the end of this article, you'll know exactly what you need to do to create a cause marketing campaign that resonates with your audience.
Let's get started.
What Is Cause Marketing?
Cause marketing is marketing or advertising that seeks to address social issues. Its intention is to raise attention around a societal issue while still increasing a business's profits.
Types of Cause Marketing
The definition of cause marketing is pretty easy to understand, but there are different types of cause marketing. The two most common forms of cause marketing are collaborative partnerships and corporate social responsibility.
Collaborative Partnerships
A collaborative partnership is when a for-profit business partners with a nonprofit to raise money and awareness for the nonprofit's cause.
Probably the most easily recognizable collaborative partnership is Red Nose Day's relationship with Walgreens.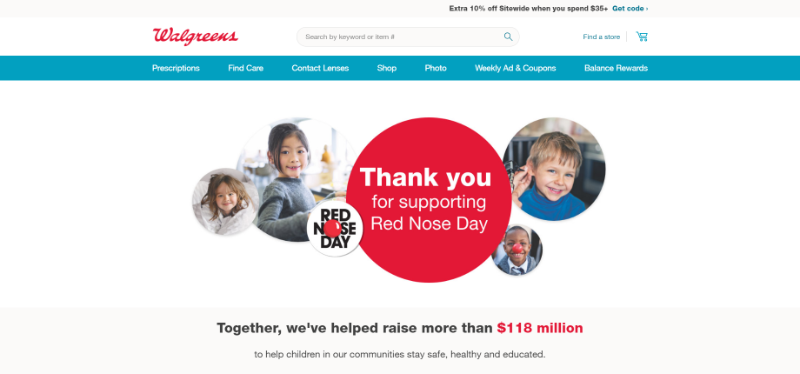 The campaign is wildly successful because, for starters, it's a great cause. Red Nose Day and Walgreens sell red noses at Walgreens stores across the United States every June to raise awareness for childhood poverty.
But it's also successful for other reasons: it has community and celebrity support, the campaign has been around since 1988 so it has staying power, and it's so shareable on social media.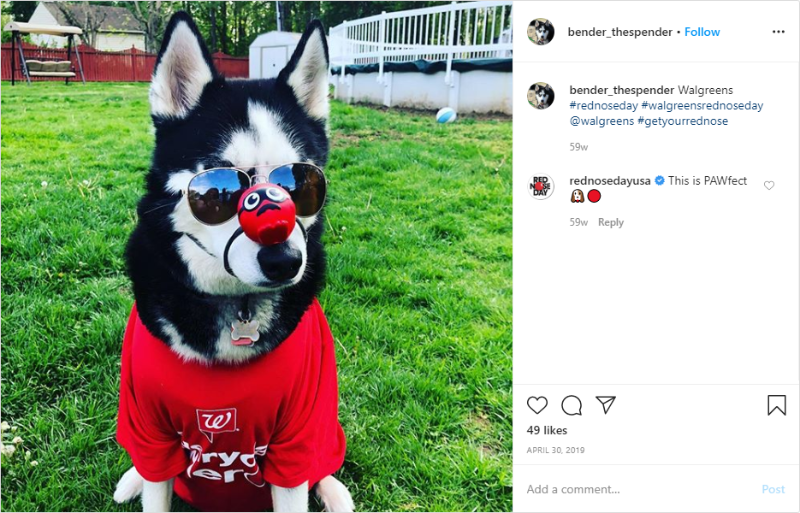 Corporate Social Responsibility
Corporate social responsibility is a set of standards a company outlines for its own behavior to impart social, economic, and environmental benefits for the public, their employees, and their stakeholders.
This is an easier way for businesses to begin cause marketing because it doesn't involve building an entirely new program.
The TOMS Shoes One for One campaign is a great example of corporate social responsibility in action. TOMS Shoes was created after its founder, Blake Mycoskie, witnessed first-hand the hardships of Argentinian children who had to grow up without shoes. It was launched with the goal to match every pair of shoes sold with a new pair of shoes for a child who needs them.
They've given 60 million shoes to children since their launch, but even better, TOMS now partners with more than 100 giving partners to not only provide shoes but also eyewear and water services.
The result? TOMS is known for being a socially responsible brand that people feel good supporting. In other words, they have a great brand reputation.
Looking to improve your reputation online? Check out this list of the best reputation management companies to find the right one for you.
While both collaborative partnerships and social corporate responsibility campaigns are both about giving back to the community and improving the world, corporate responsibility campaigns tend to incorporate more programs like volunteer time off for employees, gift matching, and corporate giving.
Benefits of Cause Marketing
We've already covered the cause marketing statistics that show exactly how important cause-based marketing can be to your business. In this section, we'll talk about some direct and indirect benefits.
In an interview with Small Business Trends, Saru Saadeh (co-founder and CEO of AdRobin) pointed out three main benefits of cause marketing:
Cause marketing helps the world.
Cause marketing adds purpose to your marketing.
Cause marketing doesn't have to be expensive for brands.
How to Create a Successful Cause Marketing Campaign
As we've already covered, cause marketing is not only rewarded by consumers, it's expected.
So, how do you create a successful cause marketing campaign to do good and leverage this powerful marketing tool?
1. Choose the Right Campaign
Start by choosing a cause you believe in. Customers aren't interested in lip service. They want to know that the businesses they support genuinely believe in the causes they're promoting.
Look at your own company's mission. What is important to you as a business? Look for causes that fit within your own mission.
Walgreens' mission is to be America's most-loved pharmacy-led health, well-being, and beauty retailer. Its purpose is to champion everyone's right to be happy and healthy.
That's exactly what makes Red Nose Day a perfect partner.
If your mission doesn't easily lend itself to a nonprofit partner, check in with your employees. If there's a cause that your employees believe in, you can use that personal connection to show your passion for the cause.
2. Set Goals
We can't overstate this: setting goals is vital for getting the results you want.
What do you hope to achieve with your cause marketing campaign?
3. Establish a Budget
How much can you afford to set aside each month for your cause-based marketing campaign?
Remember, cause marketing doesn't need to be expensive. Some small businesses make a big impact with a budget of just $850 a month.
If you've got a tight budget, consider focusing on a cause that runs on donations from customers or one where you match donations up to an amount you can afford.
Don't forget to factor in the cost of ads or public relations efforts. Your cause marketing campaigns will be more successful when more people know about them.
4. Choose Metrics to Track Your Cause Marketing Campaign's Performance
You have to track results if you want to know that your cause marketing campaign was successful.
Here are some metrics to track:
Sales volume
Leads generated
Customer base (growth and retention rates)
Brand awareness
Ad click-through rates
Conversion rates
Media coverage (number of interviews and articles about your cause-based marketing campaign)
Social media engagement
Brand mentions
Earned media
Want to make it easy to track your metrics? Here's the best web analytics software we've found to help.
5. Find the Right Time
Some cause marketing campaigns are going to take more effort from your employees to promote. If your campaign requires employees to use work time to promote the campaign in order for it to be successful, it might not be the best idea to launch the campaign in your busiest season.
On the other hand, you want to make sure that you're busy enough to get great results.
Finding the right time for your cause-based marketing campaign is a balancing act.
6. Get Your Customers and Employees Involved
Customer and employee involvement is what makes cause marketing truly impactful. You can take a page from Walgreens and Red Nose Day and get customers involved with hashtags and photos on social media to generate interest.
You are ultimately the one who knows your customers and employees better than anyone else. What will resonate with them? Should you offer your employees the freedom of volunteer hours? Do your customers want to see their name up on the wall in your store?
7. Use a Strong Call to Action
Simply announcing a cause marketing campaign isn't going to make it a success. You have to get people to take action, giving time or money to this cause you're so passionate about.
Again, this is where your own customer knowledge can be incredibly useful.
What drives your customers to act? How can you reach them emotionally?
Your calls to action need to use the kind of language that resonates with your customers in order to get them to respond positively to your cause marketing campaign.
If you take a look at the Red Nose Day website, you'll see that their calls to action revolve around emotional appeals to end child poverty:
"Give monthly, change lives daily"
"End child poverty—one red nose at a time"
"Take action for children"
Ready to create your own landing pages with powerful calls to action? Here's how you can create a perfectly optimized landing page for your cause marketing campaign.
Mistakes to Avoid in Cause Marketing
Now that you know how to run a successful cause marketing campaign, let's take some time to examine a campaign that just didn't hit the mark: Burger King's #FeelYourWay campaign for Mental Health Awareness Month (partnered with Mental Health America).
This cause marketing campaign definitely got responses, but not the responses that Burger King likely wanted. Here's what went wrong...
1. Choosing a Cause Unrelated to Your Mission
When people think about Burger King, it's a pretty safe bet that they don't think about mental health.
While mental health is a very important issue, this partnership just didn't make sense.
2. Not Following Through With Monetary Support
Burger King faced a swift backlash about its own lack of support for employees and managers experiencing mental health issues—even those directly related to working at the chain.
If you're not supporting the cause within your own business, your efforts to promote the cause are going to fall short.
3. Using the Campaign to Sell Something
Instead of just offering a portion of its sales to Mental Health America, promoting mental health resources, and making the effort to destigmatize mental illness, Burger King used the #FeelYourWay campaign to push a new product.
But, the new product was ill-conceived, to say the least.
Burger King began pushing "Unhappy Meals."
You really can't make this stuff up.
If you've found yourself making a misstep like this, you can overcome it. Here's a list of the best crisis management companies to help you out.
3 Cause Marketing Campaigns We Love
If you're ready to jump into cause marketing, you'll want some inspiration (maybe just to cleanse your mind of the Burger King cause marketing disaster).
Here are three of the best cause marketing campaigns we've seen.
1. Nike's "Dream Crazier" Campaign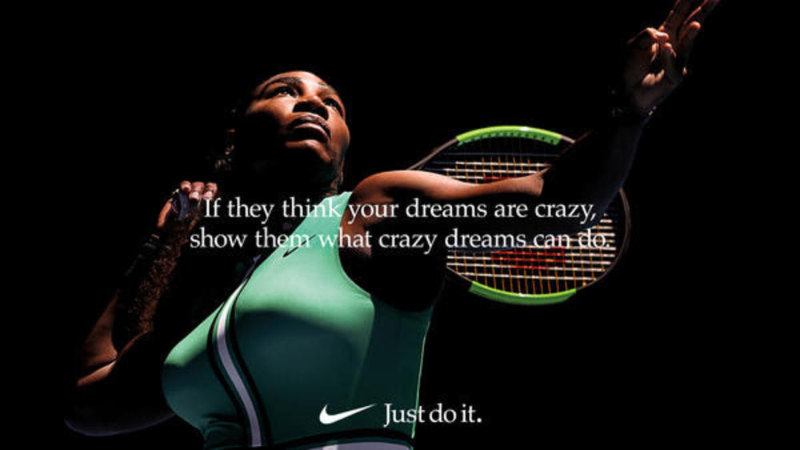 Nike's "Dream Crazier" campaign highlights female athletes who have broken barriers, brought people together through their performance, and inspired generations of athletes to chase after their dreams.
The ads tear down beliefs that women aren't as capable or deserving of having the same opportunities as their male colleagues in their sports.
2. Dove's "Real Beauty" Campaign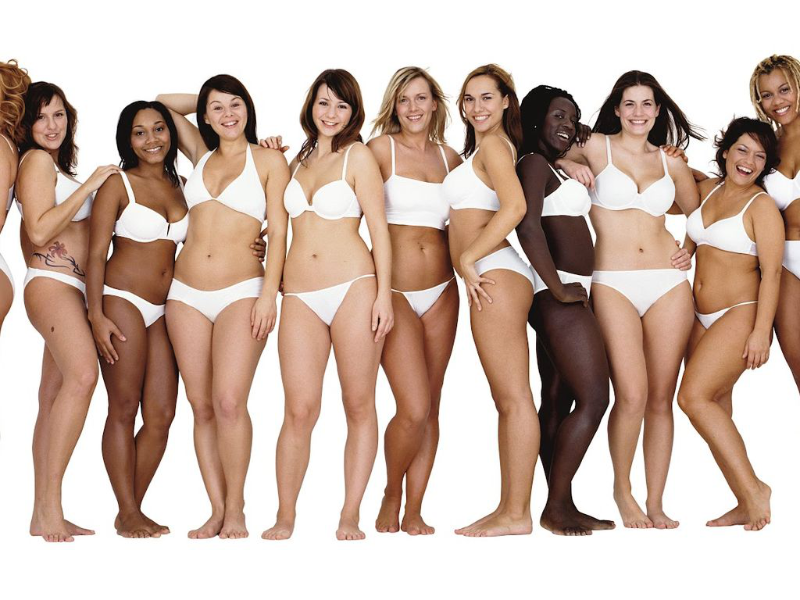 Dove's "Real Beauty" campaign has been around for a while, but it's still a powerful example.
With this campaign, Dove seeks to tear down our existing societal standards of beauty with the ultimate goal of helping women and girls with their self-esteem.
After the launch of this campaign, Dove's sales doubled in the first ten years, even though Dove doesn't mention their products at all.
3. Gillette's "The Best Men Can Be" Campaign

Gillette created a cause marketing campaign around their own "the best a man can get" tagline, exploring toxic masculinity.
Their initial ad garnered 4 million views on YouTube within the first 48 hours it was online. Now, it has more than 34 million.
Wrapping Up
There's a lot more to cause marketing than grabbing any social issue and building a campaign around it. It requires planning and thought to get it right.
Cause marketing is effective. And, more and more, it's going to be expected for brands to take a stand. Will you be ready?
If you're ready to create an amazing cause marketing campaign that goes viral, you need to find the best viral marketing company to make it happen.