Organic traffic growth is getting more challenging every year. Google is moving towards offering more 'no-click results' and it means that we need to find different ways to drive search engine traffic to our client's websites in order to help our clients meet their business objectives and offer a good ROI on our SEO activity.
This case study outlines what we did in the latter part of 2019 to help a legal client increase organic traffic by 588% year-on-year.
Background and Context
The client is a UK based specialist dental negligence claim law firm, providing legal representation to patients in England and Wales who have experienced dental negligence. In the summer of 2018, the Google algorithm update nicknamed 'Medic' rolled out and hit this particular website pretty hard; organic traffic dropped virtually overnight by a third.
We took immediate action by updating content sitewide and introducing several other elements to improve the trust signals that the site was broadcasting. By the end of Q1 in 2019, we'd seen organic performance recover somewhat, but what we really wanted for our client was to grow rather than just get back to where they were previously. We wanted to make sure that our client's website offered better and more useful content than their competitors (many of which are bigger and more well-known full-service law firms with very strong sites) to help ensure they stood out in a crowded marketplace.
Why FAQPage Schema?
Through our audience and keyword research, it became clear that what people were really looking for were answers to their questions in relation to dental negligence. Everything from direct questions, such as 'Can I sue my dentist?', to more treatment-specific queries like 'What causes pain after dental work?'. With a search intent focused strategy, we knew that making sure we had really useful answers to people's relevant questions was key for visibility in the SERPs. We already had fairly extensive FAQ content in many areas and themes, but we needed to take it to the next level to see the growth we were looking for.
As part of our 'medic' recovery activity, we had already made many of the site's information pages into what we call 'mega-pages'. With 2k+ words on each of these pages, they were providing a great deal of useful in-depth information for visitors, but from an SEO point of view, we couldn't possibly fit all of the target keywords and relevant subjects within the title tag and meta description.
FAQPage schema resolves this issue by enabling us to incorporate the most common questions asked by any page's intended audience, without us needing to change the way that the page title and meta description are optimised. See the example below. Before we implemented FAQPage schema, the search listing only appealed to those who wanted to know about dental negligence claims in general; now it appeals to a much wider audience as it specifically answers these common questions.

Optimising FAQs with CTAs for Maximum CTR
Dispelling the idea that FAQPage schema only really enables Google to post more no-click results, we made sure that we optimised our answer content by incorporating CTAs that contain an internal link. In theory, the link could be to anything or anywhere, depending on what you're trying to achieve. For our purposes, sending people who want to discuss a potential dental negligence claim to the appropriate page on our client's website is the main objective here. This is essentially helping us to pre-qualify the traffic even further than we could from a regular search results listing with no FAQPage schema.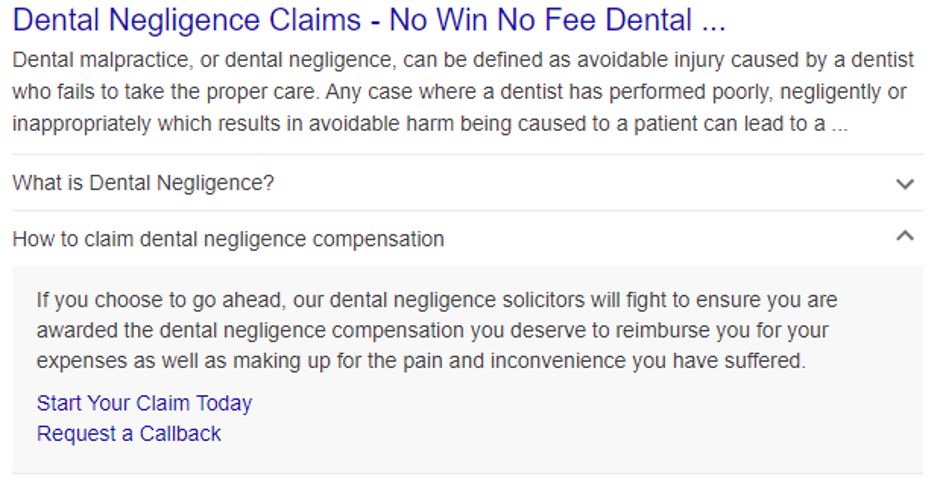 This can mean a more streamlined user journey for these highly relevant site visitors who click through. If they are ready to speak to someone, they don't need to follow a conventional path, they can instead convert within a couple of clicks.
The Results
Having adjusted some of our FAQ content (to include more CTA links) and also optimise towards gaining more featured snippets, we implemented FAQPage schema across multiple pages on the website using the methodology explained above in September 2019 and the results were nothing less than phenomenal. See the GSC screengrab below. This constituted a YOY organic traffic increase of 588%.

An increase in organic traffic is only meaningful if it also results in more conversions and, ultimately, more revenue for the client. In this case, between Sept-Dec 2019, there were 50% more leads generated than the same period in 2018, and this trend has since continued into 2020.
The Future
Google's recent change to count featured snippets as a standard search result listing has meant that for the multiple searches where this client used to have both a featured snippet and their FAQ results featuring on page 1, this is no longer the case. However, early signs show that this has not had a huge negative impact on organic traffic for this site as things stand currently. For many searches where this site didn't previously hold featured snippets, it now holds prominent result listings including FAQs, so we think this was definitely worth doing across a wide number of pages and topic areas.
We don't know what the future of search will look like exactly, but we wanted to share how this fairly simple technique has helped our client to move their business move on from the 'medic' downturn they experienced and into a new phase where they are able to successfully compete with much bigger fish by providing exactly what their target audience are looking for.
Ben Linge - Senior SEO Executive at Hitsearch.
From working on basic technical SEO tasks to analysing the user journey through advanced biometric, neuroscience and psychological behaviour, I am not just your everyday search specialist. Identifying opportunity for effective email marketing campaigns to perfecting content marketing from all angles, these are just a small window of activities I work on to achieve successful digital marketing campaigns for large businesses.