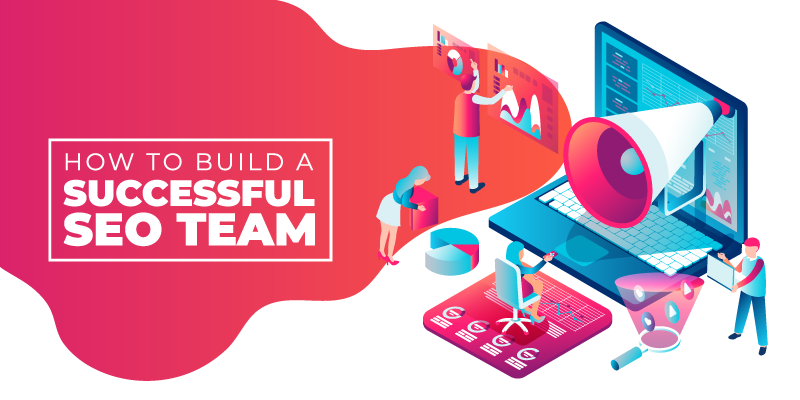 Nowadays, it's rather strange to hear businesses not implementing search engine optimization (SEO) for their online presence. The global community is quickly moving into the digital space, and not going where the people are is a grave mistake for any company in any industry.
With SEO practices on board, your company's pages can reach a wider audience with a simple search. SEO can be best described as the discipline in digital marketing wherein websites are optimized for search engines—making them rank high so that they are easily visible to a user who searches a keyword related to a brand's products or services.
If you're one of those businesses that are only starting to see the benefits of having an SEO strategy, it's smart to start by building a successful SEO team, or hire people who know how to do it at the very least. But, what does it take to be a "successful" SEO team? Here's everything you need to know.

Determine your budget
The specific requirements for a successful SEO campaign vary widely from business to business, so naturally, budget requirements will also differ. However, SEO experts say that determining a budget for SEO can be based on your current position or how your website compares to your competitors and how fast you want to make progress. The simple answer, though, is to make sure to utilize an amount that you can afford for a minimum of 4–12 months. If you invest too much towards keyword targeting and site optimization, you need to make sure that those keywords are worth the investment, as you may never recoup them otherwise.
Find out your overall digital marketing budget and balance it out with the other efforts
How much are you willing to spend on your company's overall digital marketing efforts? Understandably, SEO isn't the only task you need to do for digital marketing—there's also social media, email marketing, paid search, display ads, affiliate marketing, influencer marketing, and many others. All of these should be considered when figuring out your overall digital marketing budget. Once you have the number, you can figure out the percentage of that budget that you want to devote to SEO. A typical SEO campaign can set you back between $2,500 to $5,000 per month, but some firms offer a trial package with a low price and no contract. You can take advantage of this as an opportunity to test their services and minimizing risk.
Staff payment
A good SEO specialist may ask anywhere from $40,000 to $80,000 depending on their experience, while a more experienced one, like a VP, may set you back at $100,000 or more. You can also outsource the work to independent SEO consultants who typically charge between $80 - $190 per hour based on experience.
Hiring a digital marketing agency
Since SEO is a specialized industry, you have the option to hire an agency instead. A top-level SEO company can execute a local campaign for you for $500+ per month or somewhere between $100 to $185 per hour.
Establish your goals
Every business has its own objectives to meet, and SEO is no different. Knowing what you want to achieve is the foundation that lays out the steps you need to take, as well as the resources and other requirements that can help you get there. For SEO, goal setting will help you determine the keywords on which you need to build your content. Here are some of the goals implementing SEO practices can meet:
To get raw traffic
SEO generates direct traffic to your website when it is optimized for relevant keywords that users would generally type as search terms. Once you have the right keywords for your business, you then have to create great content that your target audience would surely read, like, and share. Get as many CTRs and keep the readers on your site as long as possible. Be cautious about using clickbait titles or misleading news, though, as these short-term gains could tarnish your brand for the long run. Stick to creating helpful, entertaining, and timely content.
To increase e-commerce sales
SEO is useful for ecommerce businesses because it drives traffic to the site that, in turn, can boost sales. The industry is flourishing today more than ever, so it's no surprise that these online businesses are turning to SEO to capture an audience and try to be competitive.
For branding
While less popular than other goals, good branding can also be achieved through SEO. Appearing on top of the SERPs means exposure and better brand recognition and awareness, especially for SMBs. It can also boost your site's authority on a particular subject relevant to your business. For larger brands, SEO can protect your domain and build trust.
For customer service
Excellent customer service means anticipating consumers' needs after the sale and answering their queries. Interact properly to reinforce your brand, control negative impressions, and build a lasting relationship. Utilize SEO by mining customer service logs and online support requests to find common concerns that you can address as your next idea for content.
For lead acquisition and direct marketing
SEO can be used for marketing the products and services of an online store, therefore building its customers base and generating revenue. It is also useful in lead acquisition or finding prospects for your brand who may send you inquiries or direct contact.
For reputation management
It's hard to make a mistake in today's Internet era when your business's reputation can be at risk with a snap of a smartphone camera. Reputation management is done to populate your business's search results with positive links and mentions to drown out the negative press, especially those in page 1 of SERPs, which is made possible through content creation and promotion via link building.
For ideological influence
Quite related to reputation management, SEO can be used to sway public opinion about a specific topic by promoting your content with the idea you want to embed onto readers and making it rank on the relevant keyword, so people would see it without fail.
Build an organizational structure
Whether you want an in-house or a third-party agency, you need to decide how your SEO team will work with the rest of the organization. Structuring your SEO team requires a deep understanding of your company. Not all organizations are built the same way, and therefore, not one structuring model will work for everyone.
The embedded team
This structure is fit for companies that already have an existing search function. In this structure, every product or group will have their own search specialists, but they would have to communicate and collaborate learnings, ideas, and tools. The specialists may be considered as subject matter experts on the product areas they are working on, but they may have limited growth or career opportunities.
The centralized team
Also called a center of excellence structure, this means that each team member may have primary responsibility for one or more projects, making them the SMEs in those areas. However, they all report to the same in-house search team. This structure is recommended if you can't support a search team for every product or division.
The matrixed team
This type is something that mixes the categories mentioned above. In a matrixed team, there is a central search team, but members are still embedded within various functional areas. Once you've decided on the structure of your SEO team, you then have to choose where it should exist in the organization. Consider your organizational structure, processes, functions, and leadership structure within the company when selecting the right department for your search team.
Search Marketing The most logical thing is to have a completely separate group for your search marketing so that they can functionally work with other teams. It also allows them to have a voice in the organization when it comes to their wants and needs at an executive level.
Marketing If you have a traditional marketing team, you can incorporate search marketing team with them, as it will help make your marketing messaging more consistent, which is especially helpful in content creation. However, if search primarily works in B2C projects and traditional marketing only deals with B2B, you may want to keep the two teams separated.
IT and Development Most search marketing tasks call for technical changes or requirements, as well as different online platforms, so it makes sense to group them with your IT and Development team. Doing this may create a level of separation from the content side of search, though.
Design Marketing tasks also require design projects, so both teams need to work together. However, it may not be ideal to bundle them together within the organization. It is essential to involve the design team in projects from the beginning and at every stage of the project life cycle.
Fill the necessary roles
You need to fill positions to get your SEO team running. An excellent function to start with is your SEO team leader or manager, as he/she can help you make decisions concerning your search team. The leader will also dictate the necessary resources, tools, talents, training, strategies, and more.
The following are some of the responsibilities to be completed by the SEO team:
Recommend and create strategies to help increase the quality of the website
Work with marketing teams to implement SEO strategies
Brainstorm keywords list and perform keyword research to beat competitors, and maintain the well-being of the website
Work with other groups to keep an eye on content creation, programming, and marketing
Work with developers to create a user-friendly site
Perform on- and off-page optimization for all pages within the website
Analyze backlinks to come up with new strategies
Utilize Google Analytics and WebMaster tools to analyze, index, and create reports
Manage budget planning of campaigns, reports extraction, and optimization of paid campaigns
Here are the roles you need to fill and their responsibilities:
SEO Manager: Aside from the tasks mentioned above, the SEO Manager also does some SEO work, mainly recommending and creating the SEO strategy. He/She also manages the team members, or agencies and contractors.
SEO Specialists: They are in charge of more technical SEO work.
Content Editors: Editors are in charge of creating, editing, commissioning, and publishing content on the site. They can also generate ideas for new content by using SEO insights and produce guidelines for writers to help them make more successful content for search engines.
Copywriters: They create the content needed to put on the website, working closely with designers and editors.
Web Designers: Designers create the look and branding for your company, which should reflect on your company website. Web design should adhere to SEO principles, in addition to being user-friendly.
Web Developers: Developers turn the designs into codes so that it can be published online through your website. They also need to follow SEO rules in creating pages so that search engines can easily read and index it.
Outreach and Link Building Specialists: Both specialists promote content and acquire links for your website.
Community and Outreach Managers: They are responsible for making and maintaining your brand's relationships with individuals on and off the site. They try to generate conversation about your brand by reaching out to people and encouraging them to mention the brand and linking your site. This can increase the strength and trust of your site.
Acquire the must-have tools
As much as you need talents to optimize your sites, SEO work relies heavily on digital services, so your chosen SEO partners should know how to utilize these tools. While there are only 10 in this list, you can research other means on your own to find one (or more) that would fit your SEO needs.
Ahrefs had over a trillion links indexed, making it the second largest crawler next to Google. The indexed sites are updated at least once a day, so it's ideal for backlink analysis. It also has an excellent, user-friendly interface. The Site Audit feature highlights the parts of your website that require improvements to help ensure the best ranking.
With this tool, you can easily find topics for your blog. It works by combining the features of Google's Autosuggest with a question scraper. This shows you the questions your target audience types into Google.
Search Console is a suite of tools that lets you monitor and report your website's presence in Google SERPs. It also helps you understand how Google and its users view your site so that you can optimize it for better search results performance. You can even see a list of the keywords that your site ranks for.
Trends gives you information regarding a keyword and offers invaluable insights about a topic that can help your business grow. You can search for keywords in any country and find out its top and rising queries, interest over time, and location depending on interest.
An alternative to Google Keyword, KwFinder allows you to see your keyword's search volume, estimated bid, and competition data. It helps you find lower level long-tail keywords that you can utilize, as well as run analysis reports on backlinks and SERP.
Majestic is an all-around SEO tool that finds and tracks the best keywords for you to rank for. It has tons of useful features. Majestic Million shows you the ranking of top million websites, Site Explorer gives you the number of backlinks for your online store; TrustFlow and CitationFLow tell you the level of authority of a site you want to get a link from; and Clique Hunter shows you sites that may link to your competitors.
Moz gives you great insights into your website's performance and how to improve it. Other tools under Moz include the MozBar that show your store's metrics like Page and Domain Authority while you browse any page and the Moz Pro that shows the DA/PA of your site on Google search results and link analysis.
With SEMRush, you can quickly assess your sites' rankings and changes, as well as new ranking opportunities. One of its most popular features is the Domain Vs. Domain analysis, which compares your and your competitor's pages. Meanwhile, On-Page SEO Checker will monitor your rankings and find recommendations on how to improve its performance.
This tool lets you view the number of times a keyword gets searched monthly and the difficulty to rank for that keyword. One of its features is the Keyword Kombat, which helps you research on your competitors' keywords. You can also search for your own keywords to see how many monthly clicks they get.
Developed by Neil Patel, Ubersuggest identifies keywords and its search intent by showing the top ranking SERPs for those keywords. It can also determine if the keyword is worth targeting and how competitive it is. It can extract metrics for reporting like keyword volume, competition, CPC, and seasonal trends.
Reap the SEO Rewards
The journey to starting your own search team may sound tedious. Budget constraints are always a problem in any company, and the SEO industry is becoming too cut-throat that you may not easily find the candidate that will complete your SEO team. Keep in mind, though, that the SEO benefits easily outweigh the possible challenges. Outsourcing your SEO team or having an in-house one will help bring your brand into mainstream awareness online and help you grow in the speed you will never expect.