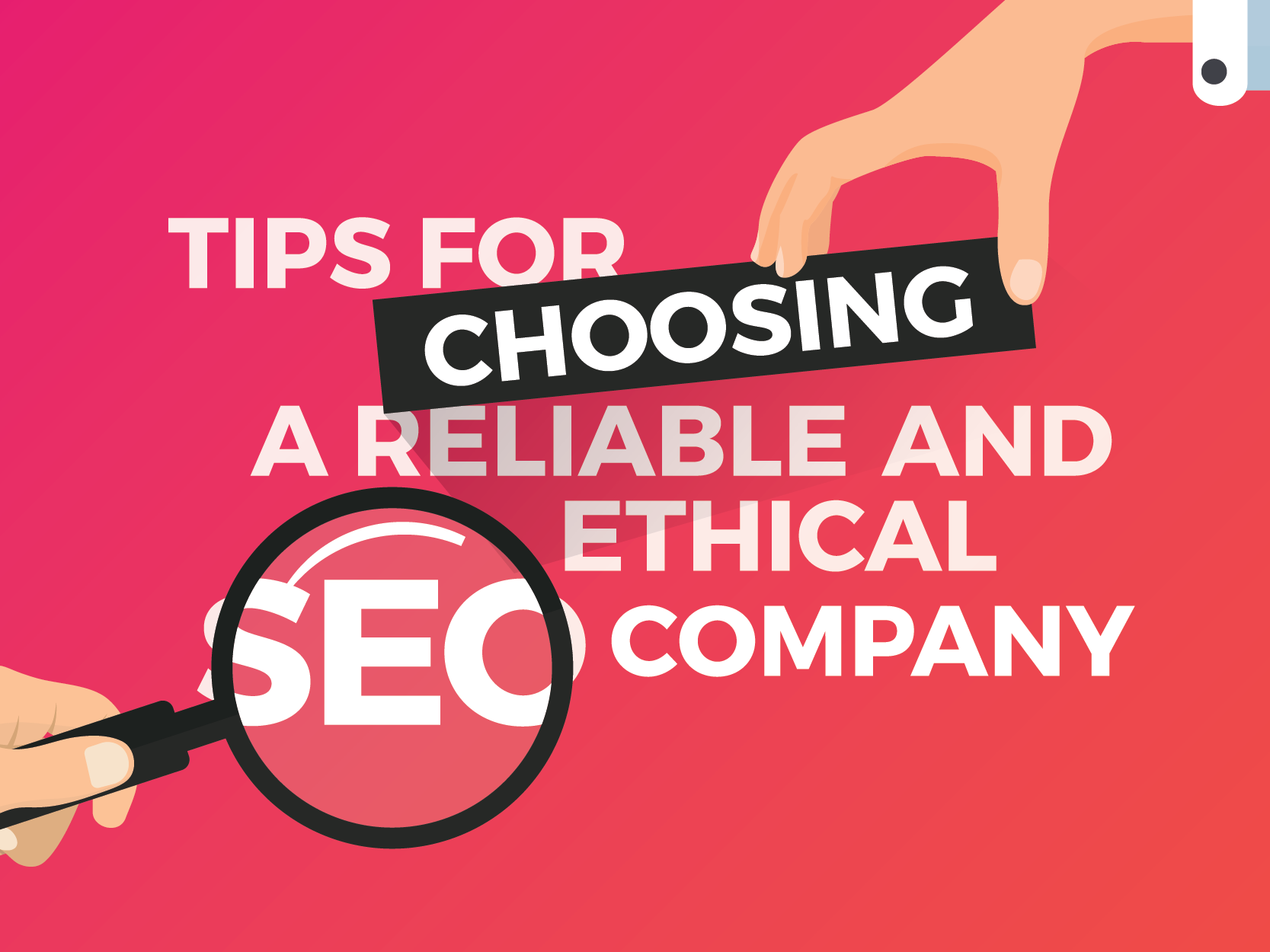 Working with a reliable and ethical SEO company plays a vital role in your business' success; hence, finding the right one is crucial. But with thousands of SEO companies to choose from, how will you know if it's the right one?
Unfortunately, there are still some companies that use employ black hat tactics. Dishonest SEO agencies will make you believe that they can give the best results for your website, but you will only end up getting burned and paying too much for fraudulent services and penalties from employing such practices.
Choosing an SEO company can be tricky, so it pays to be meticulous and find one that will fit your needs—an agency that can give you the best rankings without having to resort to underhanded techniques.
Here are some tips to help you choose a reliable and ethical SEO company for your business.

Red Flags to Watch Out For
Shelling out resources to achieve better SERP ranks should be done cautiously. You don't want to waste money and just hire some shady SEO company, as you may end up in bigger trouble if your contractor is doing questionable practices that can get you penalized.
Ultimately, it's your responsibility to find the best fit for your company as much as it is the agency's responsibility to make your site rank.
You should avoid working with an SEO company if…
… they define success as higher rankings and more traffic. The number of validated sales leads is the accurate measure of a campaign. Validating sales leads means checking if the inquiries are legitimate and not a misdial, solicitation, or for any other purpose other than asking about your business.
… they give you a proposal without research. Ethical SEO agencies conduct preliminary research to know the current state of your rankings before creating and submitting a proposal. If they have a ready-made plan for you, it's likely a cookie-cutter proposal with substandard recommendations.
… they don't have a dedicated account manager for you. Having someone mediating and coordinating for you is a sign that the agency is a well-oiled machine that has its proper processes in place.
… their team is incomplete. To run a successful SEO campaign, you need web designers, developers, analysts, content marketing specialists, copywriters, and many others. You also need that team to work in sync with each other and with your own business.
… they offer mediocre service packages. SEO strategies are complex and should be unique to every industry. This is only a way to prey on a business's need for a quick and inexpensive solution.
… they don't provide several client references. A good sign that an SEO company is reputable is if they have scored several clients and provided positive results. Those clients should be more than happy to talk to you about the firm.
… they offer (or don't) sketchy monthly reports. A healthy company-client relationship requires transparency. A lousy statement or its total absence means that they are careless or incompetent, or they are hiding something.
… they take ownership of your content. When you pay an SEO agency for their services, which may include content creation, this means that anything they write, design, or code is yours. You don't want them taking ownership, as your content can be held hostage or sold to your competitors.
SEO Scams to Avoid
Even in the SEO world, there's no shortage of overpromises. Firms desperate for clients may resort to these common scams to convince you to waste your resources on them.
Any ranking guarantees that concern top ranking is also a guaranteed scam. It's merely impossible to substantiate a high ranking when it comes to organic results. Google itself has said that any SEO agency that offers this benefit is suspicious: "No one can guarantee a #1 ranking on Google." Unless, of course, you opt for PPC ads.
Top ranking within 48 hours
SEO tasks like site submissions to local search engines, quality content creation, and research take time. Admittedly, not something an agency can do in 48 hours. If they do end up achieving results for that short amount of time, it is very likely that they employed black hat tactics.
Submissions to thousands of search engines
Google, Bing, Yahoo!, and AOL have a combined search market capture of 95%. It's probably irrelevant to have your site indexed in the other thousand search engines, unless they are local profiles, if the majority of users aren't even aware of those. In addition, you can sign up for Google or Bing Webmaster and do the work on your own under an hour.
No SEO company has a special relationship or access to Google. Plus, no Google employee would jeopardize his job by illegally associating with other firms. SEO companies can be partners with Google, but that doesn't mean they have any special inside knowledge about Google and its algorithm.
It takes time and effort to achieve positive SEO results, and no company in their right mind would offer their work free unless they use a software (which may entail huge penalties if uncovered). If you avail of this kind of service, the agency would likely ask for your FTP username and password to access your hosting account, which could spell trouble if the company is indeed dishonest.
One cannot stress enough the effort it takes to see SEO results, so like offering it free, a low-priced SEO offer is still too good to be true.
SEO money back guarantee scam usually happens when an agency asks for a medium to large setup fee, plus a monthly fee that is refunded if the ranking guarantee is not met. The agency will continue to refund the cost (because they are probably not even actively working), but the setup fee is non-refundable.
Not disclosing SEO strategies
If you want to get an agency to do SEO work, you must understand how it works and how the agency is planning to achieve results. Any legitimate SEO company should be able to explain their strategies. And if they do insist that it's a trade secret, they are likely planning to use black hat.
Special insight into Google's algorithm
Search engine algorithms are complex and dynamic. In addition, Google directly shares very little about its algorithm and only gives hints about a few ranking factors. So, there's no way for an SEO company to have any unique insight about the algorithm. In fact, Google only prioritizes the searcher when it comes to updating their algorithm, not a company or an SEO agency.
Selling hundreds of links
Buying backlinks usually means that these are on spammy sites. You want your page to get backlinks from authoritative and reputable sites so that its rankings would improve. Links should be about quality and not quantity.
5 Horror Stories of Working with an Unethical SEO Company
The volatile nature of SEO will affect your rankings, no matter how long you work in trying to build your organic search visibility (especially if you're using black hat tactics). Even big companies have experienced these horrifying effects. While you do want to avoid these SEO horror stories yourself, you can pick up a few lessons that you can adapt in your SEO strategy.
8 Questions to Ask Your Potential SEO Company
Having in-depth knowledge about your possible SEO partner is necessary for you to come to a decision. But, just in case some of the information you need isn't published, you can ask some questions to the team to learn more about them. You are not limited to these questions—ask away if you have other things in mind.
What are your most important SEO techniques? Some agencies tend to be better at some aspects of SEO. It may be because they have better talents for that specific aspect or tools to measure their effectiveness. In any case, you can ask this to your potential partner to know if their expertise is relevant to your website's SEO needs.
How will we gauge the progress of our website SEO? The different SEO techniques that can be employed result in many different metrics as well. For instance, any change in traffic after an SEO campaign kicks into action is a clear indication of its effect. Other than that, there's also the number of quality backlinks, better rankings, increased CTR, decreased bounce rates, etc. Your chosen contractor should be knowledgeable with SEO tools and analytics trackers.
Do you have a complete list of your present and past clients? No one can accurately convey the experience of working with a particular SEO company than their past and present clients. Client lists and case studies will easily tell you the reputation, professionalism, and experience of an SEO company. Your potential partner should have these lists on hand. If they have contacts that they can provide, even better. You would want to speak to an actual person to find out all the ins and outs of working with that SEO agency.
Can I meet your whole SEO team? Other than the agency's account manager or representative, you should be able to meet the specialists who would be working on your campaigns. It pays to understand who is responsible for which task, so you can also address the excellent work if needed.
What work and resources will you have to commit internally? This can help you understand if your option has enough resources—time, tools, people, talent, capacity, and budget—to do what you need them to do and acquire the results you want.
How do we communicate and how often? A healthy agency-client relationship begins with good communication. Make sure to have a schedule of when you need to call, send an email, or chat with the agency because you need to be frequently updated about the progress of the campaign. A trustworthy firm would always write down the details so as not to miss any changes and requests.
What are the payment terms? It's always awkward to ask about budget and payment, but it's an essential evil, especially between client and vendor. SEO firms have varying rates based on the clients' requirements, so it's necessary to have a long discussion with your agency beforehand. A remote consulting firm can charge $50 or more per hour, but you don't have to stretch yourself just to work with a premium agency if your requirements don't call for it.
What do you do when things aren't working? Not everything will go your way when it comes to SEO, especially with Google's constant algorithm updates. It's important to select a firm who knows how to create a backup plan if plan A seems not to work.
Stay Ethical
As much as you want to get results fast for your business, when it comes to SEO, getting on top would take some time and effort. With all the time you need to spend for your SEO strategy, it is then necessary to choose a reliable partner that will take you places the legitimate and ethical way.
There's just too much on the line for you to go for an SEO company that will resort to dodgy techniques, so choose to work with a certified agency from TopSEOs's agency matching services.
At TopSEOs, you can find the right company that can help you get the results you want to achieve.