Are you considering expanding your eCommerce business into the Russian market? Or maybe you're launching a different kind of site in Russia. Either way, you'll need to know how to do search engine optimization in Russia. In this article, we'll provide the top tips for Yandex SEO so you can dominate rankings in this popular Russian search engine.
Russia's internet has more than 116 million users with a penetration rate close to 81%, and that number is growing every year (Statista). While the Russian eCommerce market is still young, it accounted for 2.5% of Russia's GDP in 2018 and is expected to continue growing.
Russia offers a huge potential audience for international eCommerce brands, but you have to know how to reach your target audience. This means that knowing how to optimize for Yandex is vital.
Getting Started With SEO in Russia
Before we get into tips for Yandex SEO, let's talk about two big things you need to understand about the Russian market.
Language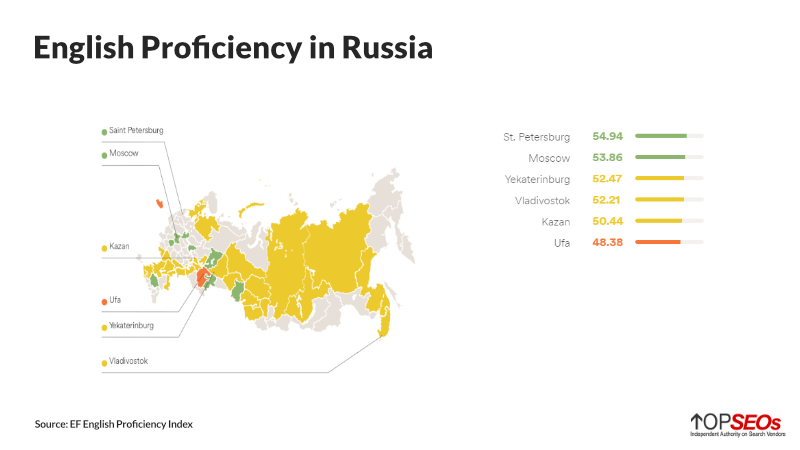 Russia has one of the lowest English proficiency levels in all of Europe. What that means for you and your business is that you'll have to have your online content translated into Russian by people fluent in the language if you expect to reach Russia and other markets like Kazakhstan, Belarus, Georgia, Azerbaijan, and more.
Plus, you'll need to use the Cyrillic alphabet, not the Latin alphabet.
Censorship
The next thing you need to understand is that the Russian internet is heavily censored and sites that don't meet the Russian Internet Restriction Bill will be blacklisted.
This goes a bit further, too, with age restrictions.
If your brand's target audience is under the age of majority in Russia (18), you have to be careful about how you construct your marketing messages in order to post online and in social media.
Key Differences Between Google and Yandex
So, why even worry about Yandex? After all, Russia also uses Google. Why not just focus there?
Simple: if you only focus on Google, you'll miss out on about half of Russian searchers.
While Google use finally surpassed that of Russia's own Yandex in the country in July 2019, it's still not a runaway. As of May 2020, Google use is just under 55% with Yandex use at about 42.5%.
The third most popular search platform is Mail.ru with a very small 1.75% market share.
Google and Yandex are the big players here, and it's important to be found easily on both of them.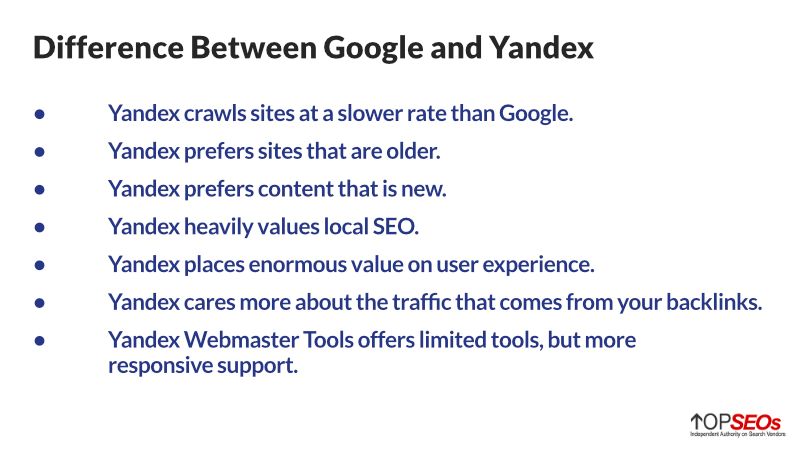 While the basic functionality is the same for both Yandex and Google, there are some differences between the two that you'll want to know about.
Yandex Takes Longer
Yandex crawls websites at a slower rate than Google, so reaping the rewards of your SEO on Yandex is going to take longer. Just something to keep in mind when you're trying to rank a site on Yandex.
Domain Age
Yandex places a much higher value on creation date and domain age than Google does. While there's nothing you can do to make your domain be around longer, you can take the time to create better content.
Content
So, Yandex loves older domains, but it also loves new content. So, if you keep your content fresh and free of keyword stuffing, you'll eventually see the benefits from it.
Local SEO
It shouldn't really come as a surprise that Yandex values local SEO more than Google does. It runs "geo-dependent" searches so people in different regions will see different results.
For local, brick-and-mortar businesses, this makes it easier to rank, but, on the flip side, ranking a national or international site is likely to be harder.
User Experience
Google and Yandex both take user behavior into consideration for rankings, but Yandex places much more value on it. It's important to spend the time to create content that's useful and keeps users on your site longer.
Link Building
Yandex cares less about the number of backlinks you have and, instead, places more value on the relevant traffic that your backlinks are sending to your website.
Webmaster Tools
Both Yandex and Google offer Webmaster Tools. While Yandex has fewer tools than Google, it has a more responsive support team that can make it easier to resolve issues and penalties.
SEO in Russia: Tips for Yandex SEO
If you're planning to optimize your site for Yandex, we encourage you to use Yandex Webmaster Tools. This is a free service similar to Google Search Console or Bing's Webmaster Tools.
Like other webmaster tools, you can upload your sitemap, find crawling errors, track your site's performance analytics, and more.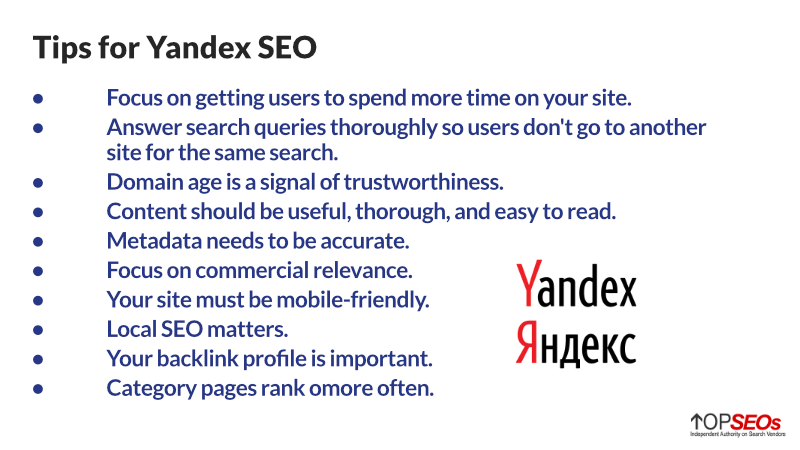 Now, let's dive into tips for Yandex SEO that will help you get ranked a little easier.
1. User Experience
For Yandex, user experience is mostly about how long users stay on your site's pages.
When users are on your pages a longer time, Yandex takes this as an indication that your site is meeting their needs. It will take this into consideration for ranking, so it's important to increase the average time users stay on your page and decrease bounce rates.
One of the best ways to do this is by creating engaging and helpful content that answers searchers questions.
To further improve user experience, make sure that your site is easy to use and navigate, credible, and accessible by people with disabilities.
Oh, and Yandex penalizes sites that use intrusive popups.
2. Search Intent
Like Google, search behavior is very important for Yandex SEO. But they don't stop there. Yandex looks at post-search behavior, too.
This means that to rank well on Yandex, you need to bring in visitors who come to your site and stay there, but don't visit competing sites after.
When searchers head to another search result on the search results page after they've already been on yours, Yandex makes the assumption that your content wasn't relevant or valuable enough to meet the searcher's needs.
With Yandex.Metrica (like Google Analytics), you can easily monitor this behavior and use your site's data to make it even better.
3. Domain Age
Yandex places a very high value on domain age. It considers it to be a signal of trustworthiness.
It's important to note that Yandex is making it easier for younger domains with high-quality content to rank higher, but it's going to take time.
It's possible that domain age is such a dominant factor because of Yandex's limited crawling. The Yandex crawler visits blogs a few times a day and pages several times a month.
As with Google Search Console, you can submit your sitemaps to Yandex to make indexing faster and more efficient.
4. Content Quality
Yandex prioritizes sites with new, engaging content, so make sure that you're spending time to create the best possible content. Your content needs to be useful, easy to read, and provide real value to readers.
Yandex also has algorithms in place that scan your content, so duplicate content or over-optimized content might get penalized.
To keep your content from getting in trouble with Yandex, focus on writing for humans instead of search engines. Yandex also really hates duplicated content, so be sure that your content is original.
Google Users: Find out how to avoid every Google search penalty.
5. Metadata
Yes, Google also looks at your site's metadata, but Yandex really hones in on this. To rank well on Yandex, you'll need to ensure that your meta tags, URLs, page titles, canonical tags, and description tags and exactly right.
And, quality matters.
You have to do keyword research to make sure that your content has relevant, useful titles. And don't use duplicate canonical tags.
Yes, it's a lot to focus on, but attention to detail will really impact your ranking chances on Yandex.
6. Commercial Relevance
If you have an eCommerce site, you'll want to pay attention to commercial relevance. Yandex introduced this as a ranking signal in 2014.
This includes things like:
Product range and prices
Payment methods
Shipping services and return policies
Your website's interface
You'll also need to include detailed product descriptions along with regional information.
Interestingly, good customer service also plays a role in commercial relevance.
7. Mobile-Friendliness
In 2016, two years before Google, Yandex released an update that had the effect of ranking mobile-optimized sites more highly. They also released something called Turbo pages (similar to Google's Accelerated Mobile Pages) to speed up page load times for mobile users.
In addition, due to a ruling by the Russian Antimonopoly Service, Google's default Android OS was deemed too restrictive. This meant that Google had to add a widget that would let Android users switch their default search engine to Yandex.
What does all of this mean to you?
Optimizing for mobile search is probably a good idea.
8. Geotargeting
As we mentioned earlier, Yandex values location more so than any other search engine.
Yandex regularly runs two types of searches: geo-dependent (based on location) and geo-independent (not based on location).
Geo-dependent searches focus on products and services that are localized while geo-independent searches show results that might be relevant for anyone, no matter where they're located.
To optimize for this, you'll need to use Yandex Webmaster Tools to specify target regions. Plus, you can submit your website to the Yandex Business Directory (similar to Google My Business) to reach region-specific audiences.
Yandex loves it when businesses do this since it can make ranking sites and providing relevant results a lot easier.
9. Backlinks
Inbound links are a strong ranking factor for Yandex, but Yandex places more weight on the entire backlink profile of a website.
So, the total number of backlinks to your domain carries more weight than the number of backlinks to a specific page of your domain. This means that it's more important to have links that point to relevant pages on your domain, rather than just getting backlinks to your homepage.
And, as we mentioned earlier, Yandex is much more interested in the traffic that is coming into your site from your backlinks than if you were to have tons of backlinks from spammy link exchange sites.
10. Category Pages
This is another tip for the eCommerce readers.
About 80% of Yandex's results are category pages and 15% are homepages. This leaves only about 5% of the top search results on Yandex for product pages.
In fact, Yandex will usually show category pages instead of a specific product page even if the search includes a specific model.
This means that you'll need to take care on your category pages to ensure that they're optimized. Here are the things your category pages should have:
Optimized product names and product photos
Optimized product descriptions
Prices
Add to Cart links or buttons
Sorting, filtering, and product comparison functions
Category pages should also be comprehensive. Don't just choose to show your best sellers on your category pages; you want to show users (and search engines) as many products as possible on a single page.
Wrapping Up
If you're aiming to start or grow your business in the Russian market, Yandex is a great way to get your business found.
While Google and Yandex offer similar functionality and even share ranking factors, you'll find that optimizing your site for Yandex will help you navigate some of the nuances and restrictions that exist in Russia.
To get the most out of your search engine optimization, though, you might want to hire a top-ranked SEO company.
Here's a breakdown of the best SEO agencies in Russia, based on the city:
No matter where you are in Russia, having the best SEO agency for your business is just a click away!