It's not enough to create great content. To drive traffic and get your site noticed by search engines, you need a keyword research strategy.
Fortunately, there are tons of great keyword tools out there (free and paid) to help you target the right keywords and pull in the right visitors.
In this article, we're going to share 20 of the best keyword research tools we've found to boost your SEO and get your site ranked. We've divided our list into paid keyword research tools and free keyword research tools (and included a handy table of contents) for your convenience.
Best Paid Keyword Research Tools
Best Free Keyword Research Tools
Best Paid Keyword Research Tools
To get the most out of your keyword research, here are our picks for the 10 best paid keyword research tools on the market.
Our list of the best keyword research tools has to start with Ahrefs.
Ahrefs has a brilliant keyword explorer feature that gives you in-depth information about each keyword.
In addition to the standard data like search volume and keyword difficulty, you get to things like how many searchers click on results for this keyword.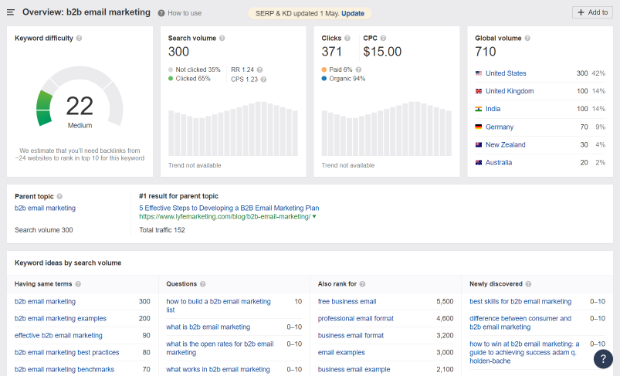 Ahrefs Features:
Keyword generator helps you find the right keywords from Ahrefs's database of more than 8 billion queries.

YouTube keyword tool that finds search volumes for any YouTube keyword in 171 countries.

Amazon keyword tool helps you find out what people are searching on Amazon so you can use those terms in your product listings.
Ahrefs Pricing:
Pricing for Ahrefs starts at $99/month ($82/month if paid annually).
Looking for a company to do your Amazon SEO for you? Check out our picks for the best Amazon SEO companies to kick your Amazon marketing into overdrive.
SEMrush is an all-in-one SEO tool that has everything you need to nail your keyword research, making it second on our list of the best keyword research tools.
Using Keyword Overview, you'll get access to everything you need to know about a keyword's power. This includes how many people search for the keyword, if it's trending up or down in popularity, how many results there are, and a lot more.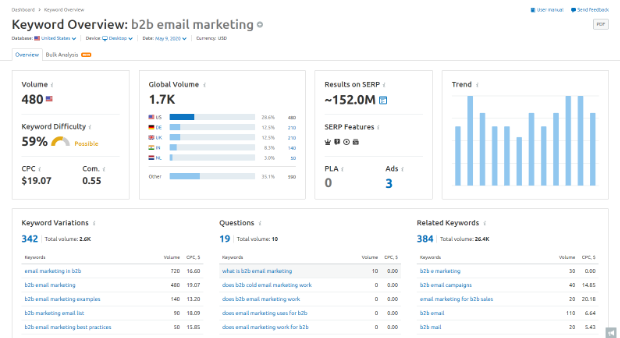 SEMrush Features:
Gather phrase matches and related keywords to ensure successful keyword optimization.

Get long-tail keywords with less competition so you can rank easier, faster.

Find the right keywords for your SEO and PPC campaigns to make sure you're reaching your target audience.

Keyword Magic tool gives you access to millions of keyword suggestions so you can pick the best ones for you in just a few clicks.
SEMrush Pricing:
SEMrush pricing starts at $99.95/month ($83.28/month if billed annually).
Rounding out our top three of the best keyword research tools is KWFinder.
KWFinder helps you find keywords with a low SEO difficulty score and high search volume. But, you can also use this keyword research tool to get info about your competition and the words they rank for (so you can steal them).
You can use KWFinder to check related keywords, autocomplete suggestions, and questions related to your keyword. Plus, you can keep your search location or language-specific.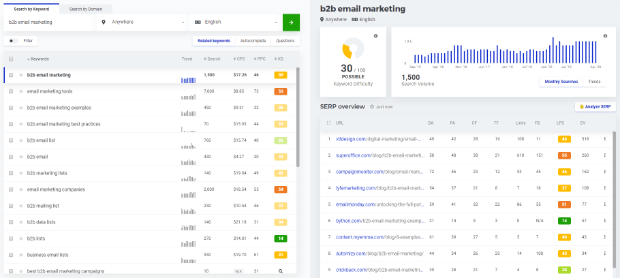 KWFinder Features:
Find hidden long-tail keywords you can use in your niche.

Upload keywords in bulk and get data on all of them with a single request.

Scan local SERPs to make sure you're optimizing for relevant keywords that hit the first page.

Attract the right audience with local keyword research for more than 50,000 locations.
KWFinder Pricing:
KWFinder pricing starts at $49/month ($29.90/month if billed annually).
Need a local SEO company to get you noticed in your local market? Here are our picks for the best local SEO companies.
Long Tail Pro focuses on the long-tail keywords that are easier to rank so you can generate traffic faster. You start with seed keywords and end up with hundreds of keyword suggestions.
You can also run keyword and competitor analysis, find keyword profitability, and more.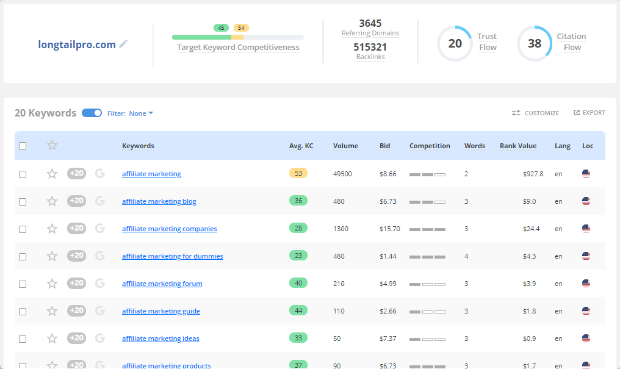 Image Source
Long Tail Pro Features:
Get hundreds of long-tail keyword ideas using a single seed keyword.

Use Competitor Keywords to find out what's working for your competitors.

Rank Tracker gives you updated rank data daily so you can stay on top of your SEO.
Long Tail Pro Pricing:
Long Tail Pro pricing starts at $37/month ($25/month when billed annually).
Rank Tracker is primarily a rank tracking tool, as its name suggests. But, it also has more than 20 keyword finding tools, landing it on our list of the best keyword research tools.
You can snag keywords from all major search engines and get the SEO/PPC metrics you need to make data-driven decisions.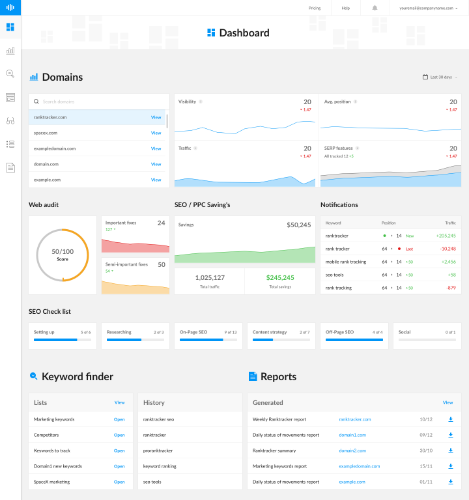 Image Source
Rank Tracker Features:
Instantly see your search result ranking, ranking position for tracked keywords, the traffic you're getting from searches, and more.

Find the best keywords from a database of billions, along with the search volume and difficulty data.

Search for keywords relevant to a specific location and language.
Rank Tracker Pricing:
Rank Tracker pricing starts at $8/month.
Looking for software that can help you stay on top of your rankings? Check out this list of the best rank tracking and checking software.
Keyword Tool is one of the best tools around for keyword data mining. Keyword Tool shows you search volume, trends, CPC, and the number of advertisers currently bidding on those key terms for your target keywords.
With this keyword tool, you can get analysis for multiple search engines including Google, YouTube, Bing, Amazon, and the App Store.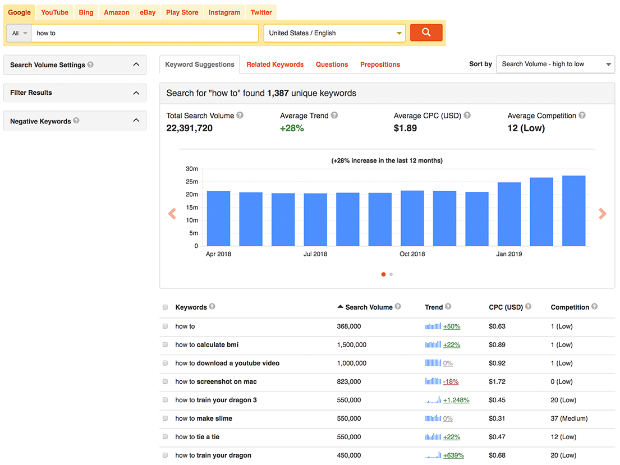 Image Source
Keyword Tool Features:
Get search volume data for all 192 countries, 47,035 locations, and 46 languages.

Get precise monthly search volume data from Google Ads.

Get search volume data for up to 70,000 keywords a day.
Keyword Tool Pricing:
Keyword Tool pricing starts at $89/month ($69/month if billed annually).
Serpstat is an all-in-one SEO tool with extensive capabilities as a keyword tool. Serpstat combines website analytics, keyword research, SERP analysis, backlink analysis, and website audit features.
With Serpstat, you can see the top Google results for your chosen keyword as well as what site shows up as the featured snippet.

Serpstat Features:
Get a list of proven and profitable SEO and PPC keywords used by your competitors to rank #1 in the SERPs.

Find keyword variations and search suggestions to enrich your web content and successfully optimize your pages.

Get long-tail keywords so you don't miss traffic you may get from low-volume searches related to your product or services.

Get a better view of any keyword's popularity with an easy-to-understand graph showing how interest in a keyword has fluctuated over the last year.
Serpstat Pricing:
Serpstat pricing starts at $69/month ($55.20/month when billed annually).
Moz Keyword Explorer helps you identify the keywords your site could rank for right now and find high-impact suggestions. Moz Keyword Explorer isn't a standalone keyword research tool. It comes as part of Moz Pro, the all-in-one SEO tool.
Using the Moz Keyword Explorer is easy. Just enter a URL or keyword to get a comprehensive keyword analysis, suggestions, and more.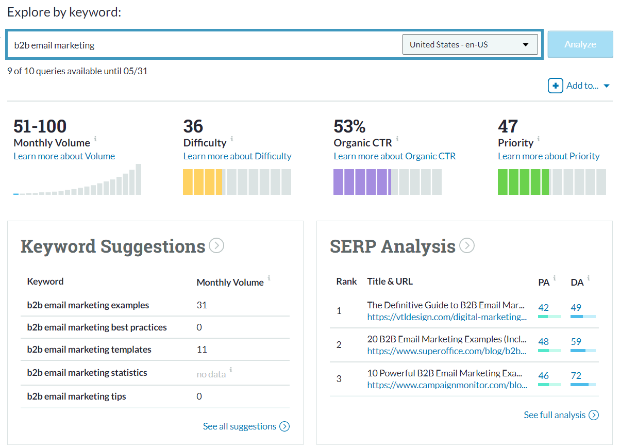 Moz Keyword Explorer Features:
Analyze keywords by search volume with more than 95% accuracy.

Sort by predictive keyword metrics using keyword difficulty, volume, and expected organic click-through rate scores to help predict your ability to rank and drive traffic.

Review SERP details by keyword to understand why pages rank where they do.

Export your keyword research suggestions, analyses, and lists into metrics-rich, well-formatted CSVs.
Moz Keyword Explorer Pricing:
Moz Keyword Explorer comes with Moz Pro. Moz Pro pricing starts at $99/month ($79/month when billed annually).
SpyFu is a powerful SEO tool offering extensive keyword research. With SpyFu, you can search for any domain and see everywhere they've shown up on Google in the last 13 years. This means every keyword they've bought on Google Ads, every organic rank, and every ad variation.
Plus, you can learn how to connect with these domains. SpyFu gives you online and traditional leads methods like social media, email, phone, and address.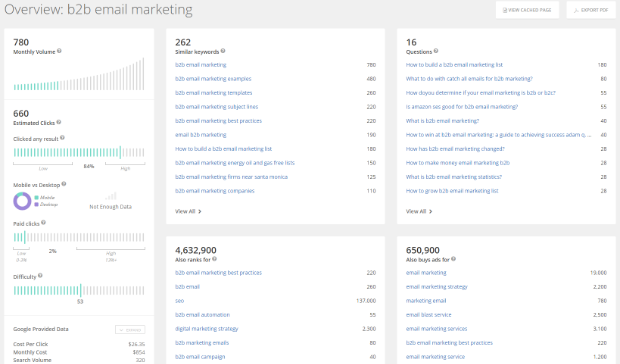 SpyFu Features:
Generate targeted keyword ideas and filter by search volume, CPC, SEO difficulty, number of advertisers, click-through rate, and more.

Get access to PPC ad test winners and losers so you can adapt the ideas that work and avoid the ones that don't.

Get Google Ads keyword advice just by typing in a keyword.

PPC and SEO SERP analysis helps you find specific rankings for each keyword.
SpyFu Pricing:
SpyFu pricing starts at $39/month ($33/month if billed annually).
Jaaxy is the best keyword research tool developed by affiliate marketers, for affiliate marketers.
It provides an advanced and useful platform for managing all aspects of keyword, website, competition, and market research.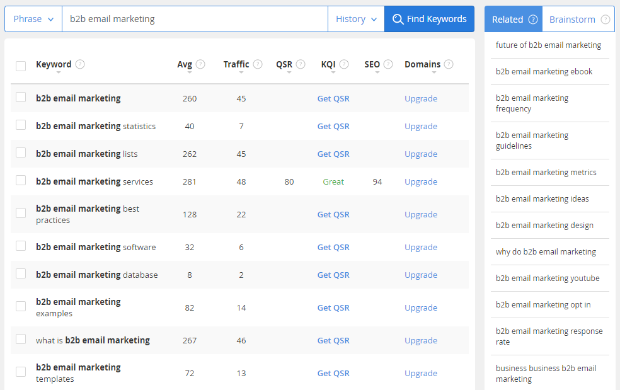 Jaaxy Features:
Quoted Search Results feature lets you quickly see how many other websites are trying to rank for your keyword.

Search through Commission Junction, Link Share, Digital River, and Click Bank to find affiliate programs related to your keyword.

Alphabet Soup lets you add all letters of the alphabet to your keyword based on actual searches to give you even more long-tail keyword ideas.
Jaaxy Pricing:
Jaaxy offers a starter trial. Paid plans start at $49/month.
Best Free Keyword Research Tools
Did you know that there are tons of free tools you can use to find keywords that will help you rank? Here are the 10 best free keyword research tools we've found.
Google Search Console helps you measure your site's search traffic and performance, fix issues, and get your site ranking in search results.
We recommend using the performance report to find out which keywords people are using to find your site and which pages are getting the most clicks.
You can also use the Average Position metric to find keyword opportunities where you're already ranking between positions #8–#20.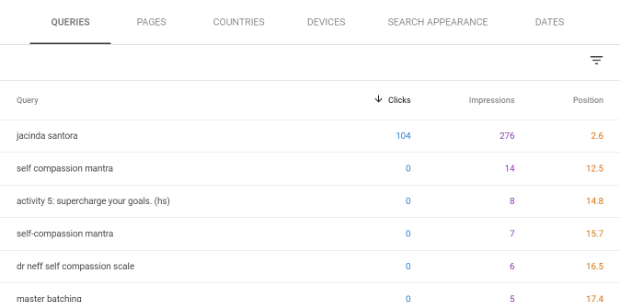 Google Trends is a free keyword research tool that you can use in a couple of ways: either searching for a specific keyword and looking at the related queries section or checking to see if a specific keyword is growing (or declining) in popularity.
You can even use Google Trends to help you choose between two or more keywords based on which is performing best: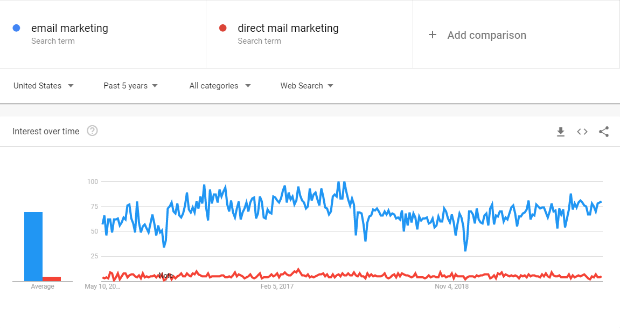 13. Google's "People Also Ask"
When you do a Google search, Google often includes a "People Also Ask" section that shows popular keyword searches related to your keyword that people have actually searched for on Google.
As you click on a question, more questions will appear, creating a long list of long-tail keywords you can include in your content to rank faster.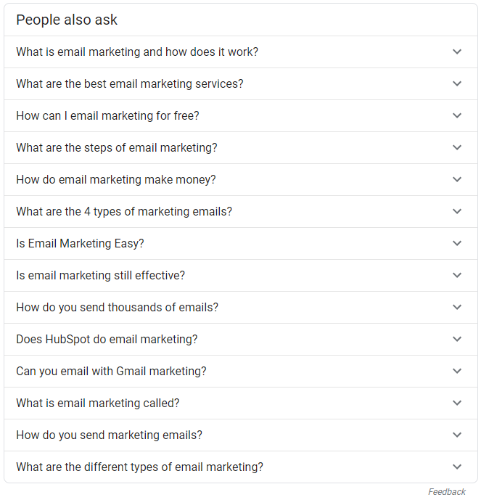 Since Google Keyword Planner is intended to be used by advertisers trying to find keywords for PPC, it requires a Google Ads account (don't worry—you don't have to run ads to use this free keyword research tool).
To use Google Keyword Planner, just enter any keyword to get data you can use to make decisions about which keywords to target. Plus, you'll see tons of related keywords ideas.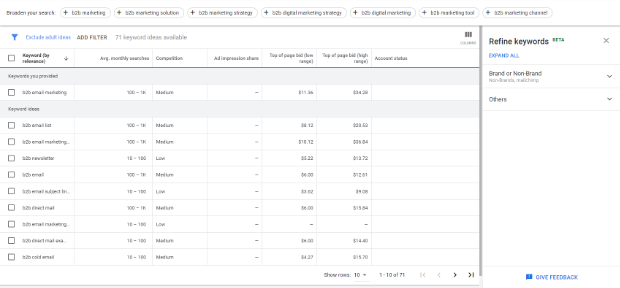 15. YouTube Autocomplete
Did you know that YouTube is the second largest search engine? That means that the suggestions made using YouTube autocomplete are based on a large database of queries, making the keywords perfect to add to your content.
All you do is start typing your keyword into YouTube's search bar and make note of the suggestions that come up.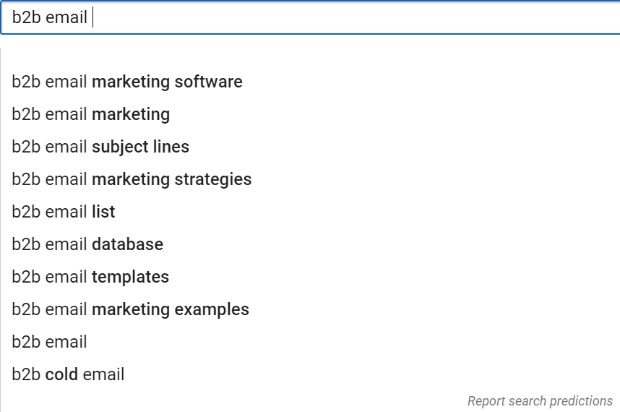 AnswerThePublic is a keyword research tool that shows your results in a different way from the other keyword research tools on our list, using a visual format.
If you'd prefer to see results in a list format, you can make that switch with just a click.
Just enter your target keyword into the search bar and click search to get keyword suggestions like questions, comparisons, and alphabeticals. Plus, you'll get related keywords at the bottom of the page.
Soovle is a keyword scraping tool that pulls results from Wikipedia, Google, Amazon, answers.com, Overstock.com, YouTube, Buy.com, eBay, Bing, and Yahoo. It's really easy to use, but the interface isn't very pleasing to the eye.
Despite the limitations of the aesthetics of this keyword research tool, however, the keywords it brings up are extensive and incredibly useful.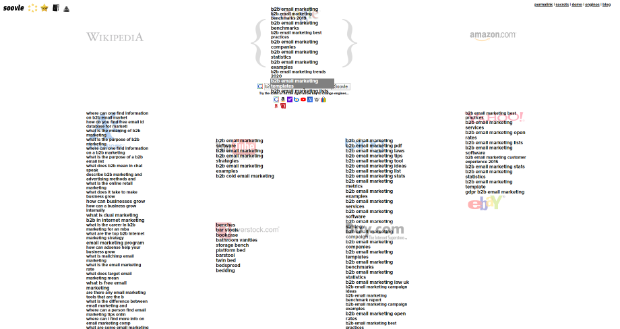 QuestionDB is a free keyword research tool that helps you generate better content ideas based on real questions that people ask related to your target keyword.
You just enter your target keyword into the QuestionDB search bar and you'll get back a list of top related keywords as well as questions related to your search.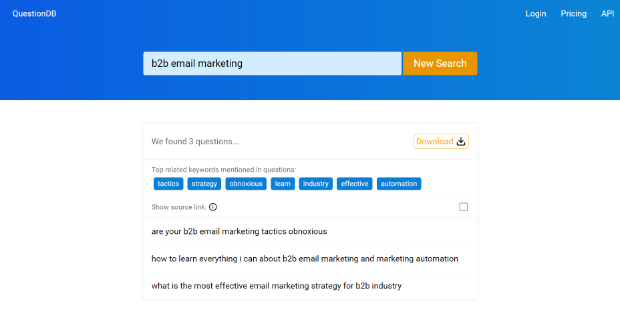 Also Asked helps you gain an understanding of how searcher's questions are topically grouped to inspire, inform, and ensure you're meeting search intent.
Also Asked takes your search term and shows you other questions people ask about that keyword. Then it shows you, visually, how each level of questions is grouped with the next.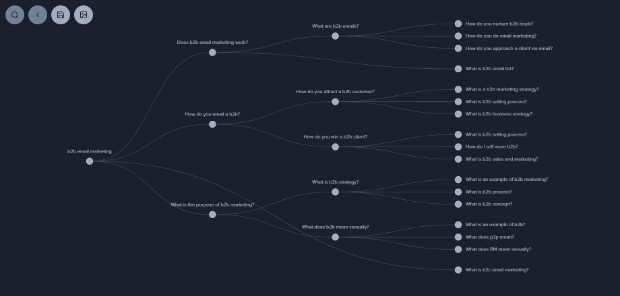 This free keyword research tool lets you compare URLs and gather data on the keyword strategies of your competitors.
Enter between 2–5 URLs and click Ninja Check to get a side-by-side comparison of those URLs, looking at things like on-page SEO, metadata, headings, keyword density, and more.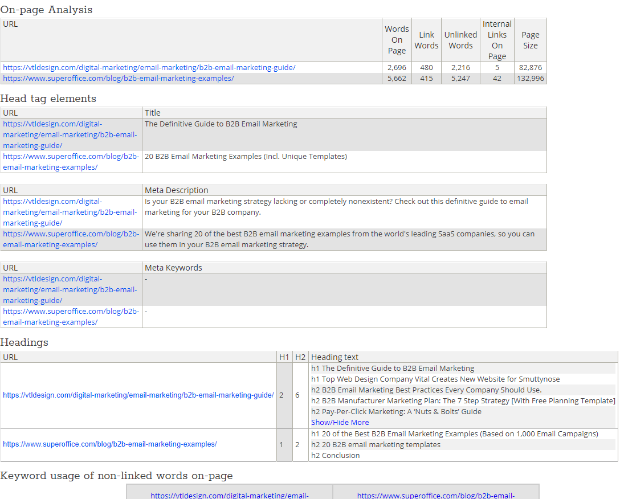 What's the Best Keyword Research Tool?
Ultimately, the best keyword research tool for you is one that will be easy to use and provide you the information you need to make data-driven keyword research decisions.
If you're just starting out, you can play around with the free tools (or free versions of the paid tools) to learn more about keyword research.
Once you've got an understanding of keyword research, we recommend getting at least one paid tool that will give you the features you need to drive traffic and improve your search engine rank.
If you really want to up your SEO game, leave it to the professionals. Here are the best search engine optimization companies that are ready to go to work for you.