Are you looking for the best SEO WordPress plugin to help your site climb in rank? We've got ten of the best WordPress plugins for SEO right here.
Whether you're trying to figure out how to add keywords to WordPress, why you should care about SEO audits, or the cost of All In One SEO plugin for WordPress, we've got you covered.
10 Best SEO WordPress Plugins
There's a mix of SEO plugins for WordPress on this list. We've included all-in-one SEO solutions as well as SEO plugin tools that focus on a specific aspect of SEO (link outbound links).
Let's dive in!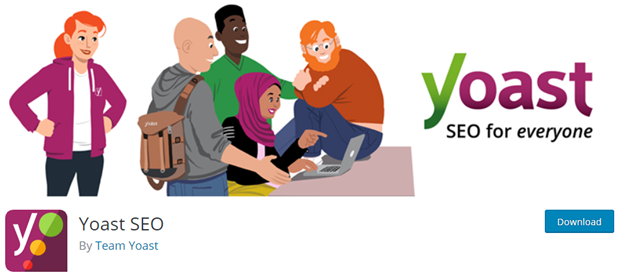 If you write on the internet, you've probably come across Yoast SEO. Yoast has more than 25,000 five-star reviews and continues to reign as the leading WordPress SEO plugin.
With the Yoast SEO WordPress plugin, you can easily add SEO titles, meta descriptions, Open Graph Tags, meta robot tags, and canonical URLs to every post and page on your website. Plus, you can create templates for meta descriptions and titles to keep your site consistent.
Key Features:
Advanced Schema implementation so search engines can make sense of your site and increasing the chance of rich results
XML Sitemaps functionality at the push of a button
Readability analysis to make sure you're writing easy-to-understand, engaging content for visitors and search engines
Automatic internal linking suggestions so you can boost your SEO with internal linking to your best content (Premium)
Redirect manager that keeps your site in shape by easily redirecting deleted pages and changed URLs (Premium)
The only downside to Yoast SEO WordPress plugin is its SEO content analysis. While this is a feature that will get SEO beginners started on the right path, the functionality is pretty basic, focusing on things like keyword density and exact match keywords in the content body, subheadings, and titles.
Cost of Yoast SEO WordPress Plugin:
Free SEO WordPress plugin with a premium version for $89/year.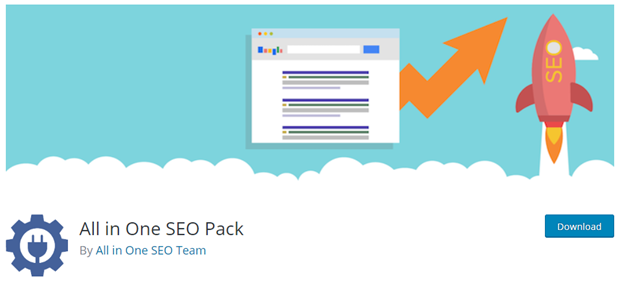 All in One SEO Pack has been around since 2007 and is installed on more than 2 million sites. It's an easy-to-use SEO tool for WordPress that's great for beginners while still offering more advanced features and even an API for developers.
This SEO plugin for WordPress has many of the same features as Yoast but offers more in the way of customization.
Key Features:
Google AMP support so you can rest assured that your mobile site will be blistering fast and high-ranking
Automatically notifies Google and Bing about changes on your site
Provides SEO integration for eCommerce sites
Generates meta tags automatically
Image SEO module (Business plans and above)
Video SEO module
All in One SEO Pack is the second most popular WordPress SEO plugin for a reason: it works right out of the box, making it perfect for beginners. Plus, it's cheaper than Yoast SEO.
Cost of All in One SEO Pack:
Free version with premium plans starting at $79/year.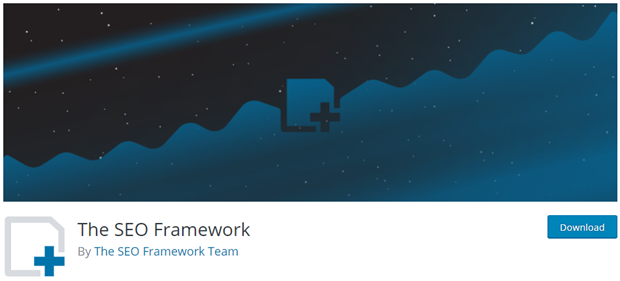 If you're looking for a fast, lightweight SEO plugin for WordPress that doesn't have upsells or ads, The SEO Framework just might be for you. It also includes flexible options for targeting keywords, with slight spelling variations and synonyms, which is something Yoast hasn't yet mastered.
The interface is great for beginners with a colored scale that shows you how far you have to go to make your content search engine ready.
Key Features:
Enables breadcrumbs for Google Search to improve search presence
Easy customization of Open Graph, Facebook, and Twitter Card protocols
Extensible with both free and paid extensions
Directs search engines from the comment pages back to the post those comments are on
Perhaps the biggest selling point for The SEO Framework plugin is that it's free. Forever and ever.
Cost of The SEO Framework Plugin:
Completely free SEO WordPress plugin with free and paid extensions.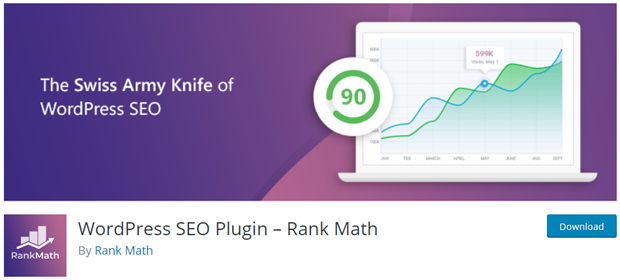 Rank Math is truly the Swiss Army knife of WordPress SEO plugins and comes with everything you need to take control of your on-page SEO.
Rank Math is integrated with Google Search Console, so you'll have access to all of the more important information right from your WordPress dashboard. Plus, Rank Math shows you the keywords your site's ranking for as well as the number of impressions you're getting for searches.
Key Features:
Optimize your posts for unlimited focus keywords
Integrated LSI keyword tool for keyword variations that will attract more traffic
Local SEO features to help your local business stand out
Deep content analysis and precise SEO recommendations
Rank Math also offers 1-click imports from the other big names in WordPress SEO plugins, like Yoast, All in One SEO, SEOPress SEO, and others.
Cost of Rank Math SEO Plugin for WordPress:
Free.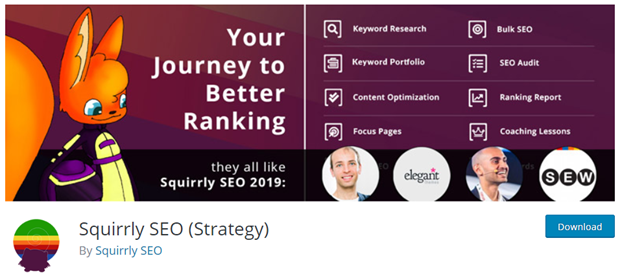 Not an SEO expert? SEO Squirrly is probably the best WordPress SEO plugin for you. SEO Squirrly manages to offer a complete SEO plugin without overly complicated features.
With this SEO plugin, you start with an article topic and target keyword. Then, as you write, SEO Squirrly shows you a series of green lights, depending on how your content measures up.
Key Features:
Site audits to uncover technical SEO issues and recommend fixes
Focus Pages feature gives you a clear framework to rank each and every page
Rank tracking lets you track the performance of your keywords across 170+ search engines
Keyword research to help you find target keywords and get info like competitor research, keyword difficulty scores, and SERP analysis
The Focus Pages feature alone is enough to rank Squirrly on our list of the best SEO plugins for WordPress. Plus, it provides content reports that you can send to others, ensuring that your team is on the same page and understands how their work can impact SEO.
Cost of Squirrly SEO WordPress Plugin:
Free plugin with premium features starting at $29.99/month.
SEOPress is a robust WordPress SEO plugin built to optimize your SEO, improve social sharing, boost traffic, build custom HTML and XML sitemaps, create optimized breadcrumbs, add schemas/Google Structured data types, manage 301 redirects, and more.
It's a freemium plugin, but doesn't include ads and is completely white-labeled. And, with the premium version, you can do a deep dive into local SEO.
Key Features:
Get keyword suggestions for your content through Google Suggestions
Track Google Analytics events and traffic through the built-in dashboard
Create and manage redirects in one place (301, 302, or 307)
Check site performance with Google Page Speed
Use Google Structured Data types for local business, product, review, video, article, event, recipe, course, and more.
There's a lot to like about SEOPress. What sets them apart from frontrunners like Yoast SEO is price. The SEOPress Pro plan is a lot cheaper.
Cost of SEOPress Plugin:
Free version is pretty impressive; Pro plan is $39/year.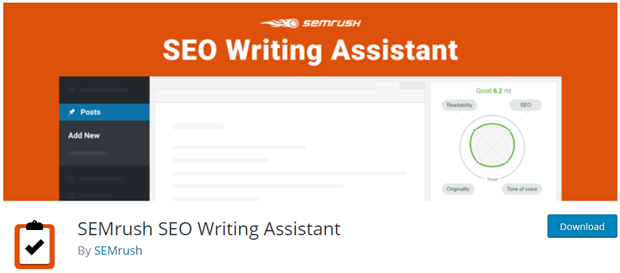 SEMrush is a ridiculously powerful SEO tool that operates outside of the WordPress interface. It makes our list of the best SEO plugins for WordPress anyway, simply because of the SEMrush SEO Writing Assistant plugin for WordPress.
SEMrush SEO Writing Assistant provides instant recommendations to optimize your content based on Google's top 10-ranking pages for your specific keywords. This makes it easy to find out if your content meets content-quality requirements in a few clicks.
Key Features:
Get an overall score and readability score to check your content's quality based on readability, text length, target keywords, and more
Target keywords to get recommendations for your chosen keywords, their volume, and keyword difficulty.
Find recommended, semantically related keywords that you should add to your content
Check the tone of your content to ensure that your writing is consistent with your brand's voice
Use the plagiarism checker to make sure your writers are submitting original content
To run the SEO Writing Assistant plugin on your WordPress site, you'll need a SEMrush account. But, if you're working with a team, anyone who has access to a post that's already been connected can see the SEO Writing Assistant interface.
Cost of SEMrush:
SEMrush SEO Writing Assistant plugin is free, but requires a SEMrush account (pricing starts at $99.95/month).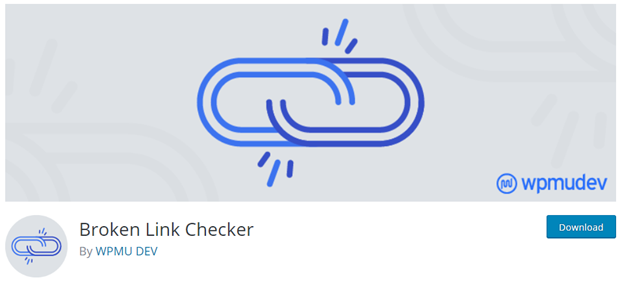 As you know, many things can affect your site's SEO. Broken links are one of them. In fact, broken links can also impact user experience, another SEO ranking factor.
With Broken Link Checker, you can find and fix broken links on your site without the need to edit each post. This is especially helpful if your site's been around for a while or you use a lot of internal and outbound links on your site.
Key Features:
Monitor links in your posts, pages, comments, blogroll, and custom fields
Automatically detect links that don't work, as well as missing images and redirects
Prevent search engines from following broken links
Search and filter links by URL, anchor text, and more
Edit links right from the plugin's page, without manually updating each post
The only downside we've found with Broken Link Checker is that it's quite resource-intensive and could slow down your WordPress server. Some hosting providers even block this plugin so you can't add it to your site at all.
Cost of Broken Link Checker Plugin:
Free.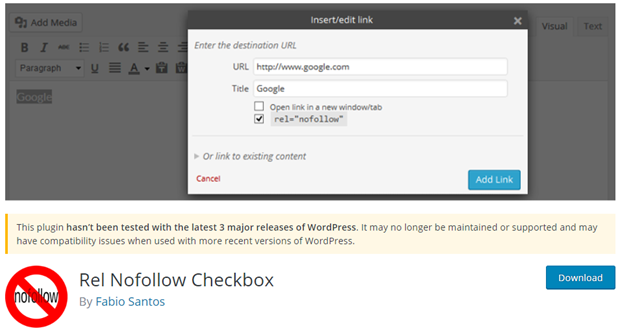 As you can see, this plugin hasn't been tested with the latest version of WordPress, but users report no issues.
Rel NoFollow Checkbox adds a simple checkbox in the insert/edit link popup for including nofollow attribute.
Why does this matter?
Google looks at the quality of both the links coming to your site and those you're linking out. If you're linking out to a bunch of low-quality, spammy sites, Google's going to be upset with you and your site is going to lose the ranking game thanks to Google penalties.
Rel NoFollow Checkbox is a WordPress SEO plugin that lets you easily add "rel nofollow" tags to your external links.
Key Features:
Lightweight plugin
No HTML knowledge required
Get started in minutes, no settings to configure
Easily monitor outgoing links to ensure that your team is linking to the right places
A word of caution: be sure that you're only adding "rel nofollow" to external links and not your own.
Cost of Rel NoFollow Checkbox Plugin:
Free.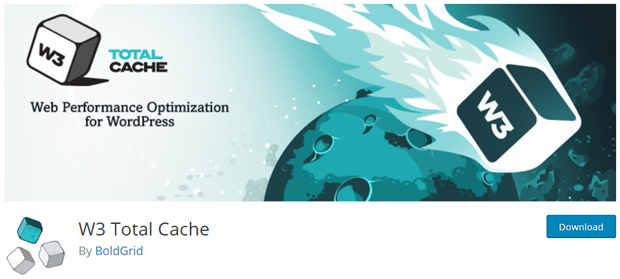 Site performance and SEO go hand in hand, which is why W3 Total Cache is a great SEO plugin for WordPress. This plugin improves both the SEO and user experience of your site by upping your site's performance and reducing load times.
W3 Total Cache offers improvements in search engine result page rankings, particularly for mobile-optimized sites using SSL. Plus, you'll enjoy reduced page load time which encourages visitors to stick around on your site and check out more pages.
Key Features:
Minify CSS, JavaScript, and HTML
Transparent content delivery network (CDN) management with Media Library, theme files, and WordPress
Caching of pages, posts, CSS, JavaScript, feeds (site, categories, tags, comments, search results), search results pages, database objects, and fragments
Defer offscreen images using Lazy Load to improve user experience
W3 Total Cache helps speed up your site and improve user experience without having to change your WordPress theme, your other WordPress plugins, or how you produce content.
Cost of W3 Total Cache WordPress Plugin:
Free, with Total Cache Pro priced at $8.25/month (billed annually).
How to Choose the Best SEO Plugin for WordPress
Keep in mind that you don't need more than one "all in one" style SEO plugin on your WordPress website. In fact, many of the all-in-ones will give you warnings if they detect another SEO plugin running.
But, if you can't have them all, how do you choose the best WordPress SEO plugin for you?
We recommend starting with either Yoast SEO or All In One SEO Pack. Both are beginner-friendly while still offering advanced features that you'll need as your SEO knowledge grows.
In addition, we recommend installing the Rel NoFollow Checkbox plugin because it makes adding nofollow tags super easy.
Not ready to go it alone? No worries! There are tons of high-quality SEO companies out there who can send your rankings soaring. Check out our list of the best SEO companies to find one that will work for you