Google Maps marketing is the fastest and easiest way to get your business noticed online.
In this article, we'll teach you how to use Google Maps marketing to boost your local SEO and improve your business's visibility and reach.
First, let's take a look at what Google Maps marketing really is and why you should care about it.
What Is Google Maps Marketing?
Google Maps Marketing is the practice of using Google Maps to make your business easier for customers to find.
Google Maps is a platform that lets you list your business's location information, making it visible and searchable on Google.
When coupled with a strong local SEO strategy, customers will be able to find your business when they're looking for a place to shop or for a service.
Why Is Google Maps Marketing Important?
There are many benefits of Google Maps marketing. For starters, Google Maps listings take up valuable real estate at the top of search engine results pages (SERPs).
Not only that but when a potential customer is looking for a product or service, Google is where they'll turn first. If your business stands out among the local listings and potential customers can also see your positive reviews, it makes them more likely to contact you.
Specifically, Google Maps marketing helps you improve local visibility and brand visibility.
Local Visibility
Roughly 80% of searches with local intent result in a purchase. This makes Google Maps marketing a great way to increase conversion rates.
Plus, smartphone users (80%+) use their phones to research products and services as well as find a local store. With so many people having smartphones, it's vital that your business be easy to find online.
Brand Visibility
Along with local visibility, brand visibility is a valuable byproduct of Google Maps marketing.
By maintaining a local presence that is easily discoverable with a simple Google search, you improve your chances of getting more sales right away and increasing awareness and visibility for your brand. This means that even if a searcher doesn't buy from you as a result of their search, they're more likely to remember your business next time.
Google Maps Ranking Factors
Before you can create a presence on Google Maps and optimize your listing to rank higher, you need to know what factors impact your ranking in the first place.
Authority
Authority is a measure of how Google views the value of your website. We're not talking about monetary value here. Rather, authority is how valuable the information is that you provide and how trusted you are.
Your website as a whole has authority, called Domain Authority or Domain Rating. Individual pages on your site also have authority, referred to as URL Rating.
To improve your authority you'll need to demonstrate both a high Domain Rating and a high URL Rating.
High authority sites are more likely to rank higher in organic SERPs.
Link building is a fast and simple way to increase your authority.
Proximity
For Google Maps marketing, proximity to the searcher is a very important ranking factor.
It's also dependent on your industry.
Google is pretty smart. It knows that while you're probably going to be willing to travel farther for a specialized service, you're not likely to be so willing to travel far for a coffee shop.
Prominence
Prominence is Google's popularity contest and it favors well-branded, established businesses. This is because Google knows that potential customers are more likely to buy from brands they're familiar with.
So, what does that mean for smaller brands or brands that are just starting out?
You need to increase prominence by building your brand and practicing SEO.
Fortunately, this is dependent upon your location and industry. That means you usually won't be competing with enormous chains for top spots.
Relevance
Relevance is how closely related your business is to the search query. Like authority, relevance can apply to your entire website or individual URLs you're trying to rank.
You can build relevance by creating high-quality content that is relevant to the products and services you sell.
This is one of the reasons that we recommend all businesses maintain a blog since blogs are one of the easiest ways to produce relevant content around a topic.
How to Get Started With Google Maps Marketing
So far we've covered:
What Google Maps marketing is
How Google Maps marketing benefits your business
Google Maps marketing ranking factors
In this section, we're going to walk you through getting started with Google Maps marketing.
Step 1. Add Your Company to Google My Business
Google Maps results come from Google My Business listings, so you'll need to add or claim your company there.
It's a really simple process.
Head over to Google My Business and click Manage now.
Enter your business name into the search field. If your business is in the database, you'll be able to select it from the list. If your business isn't in the database, you'll be prompted to create it.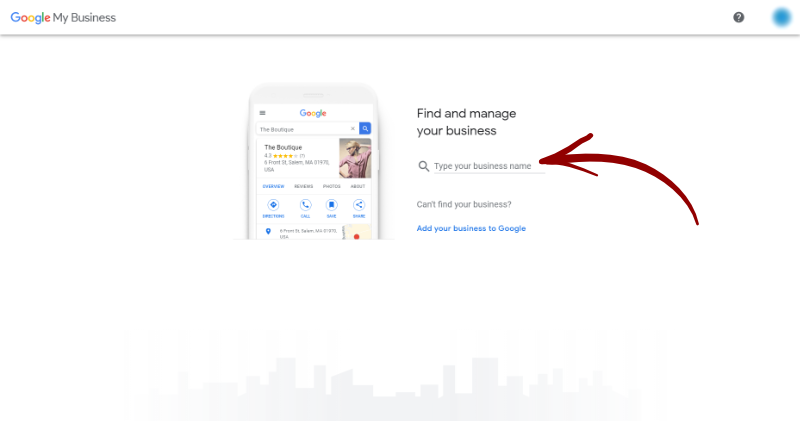 You'll need to verify your business before you can use certain Google My Business features. To verify your account, Google sends a postcard with a verification code to the address you used to register.
Step 2. Add Categories Relevant to Your Business
When setting up your business on Google My Business, you'll be asked to choose the category that your business falls under.
This can be overwhelming as there are a lot of categories available. Just keep in mind that you're choosing a category based on what your business does and not the products you sell.
This step becomes even more important if your business offers a range of related services (like a marketing agency might offer digital marketing services including SEO, email marketing, etc).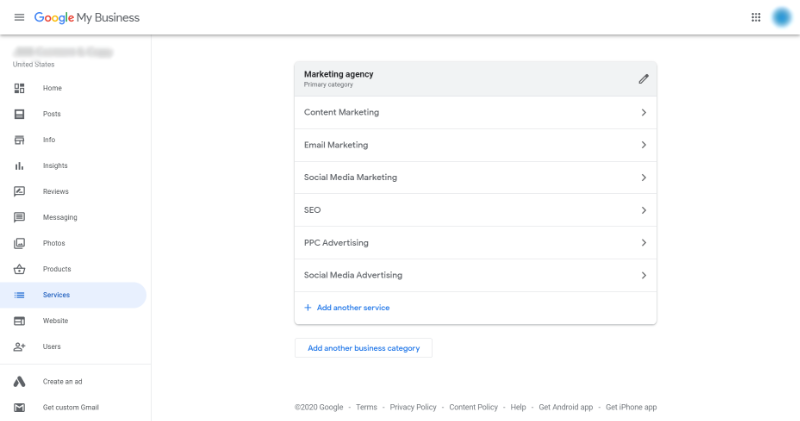 Add all of the categories and services that make sense for your business. By providing accurate, optimized information to Google, you'll be set up for discovery for all of the services you offer.
Step 3. Create a Compelling Introduction
Your introduction should include everything potential customers would want to know about your business: what you do, who you are, where you are, and what makes you the best.
Your introduction is really a summary of your company, the products and services you offer, and your unique value proposition.
While you can use links to relevant pages on your site within your Google My Business Introduction, it's important not to over-optimize. So, use relevant keywords in a natural way within a well-written intro.
Above all, keep your introduction easy to read and written for real people.
Step 4. Include Images in Your GMB Listing
Google Maps is a visual platform and businesses that include images on their listings are naturally going to get more attention than those that don't.
Images can help your listing stand out. Plus, they give you another chance for optimization.
You can add metadata to your images to make them easier to find. This could include:
Address, geographic location, and country tags
Keywords
Information about services
...and more!
Step 5. Get Customer Reviews
Positive reviews are important social proof for any business, but they're also a ranking factor for Google Maps marketing.
While Google gives preference to reviews on your Google Maps listing, reviews on other sites like Yelp, Facebook, TripAdvisor, and others are also important in giving your Google Maps marketing a push for rankings.
To get the most from your reviews, we recommend:
Listing your business on review sites like Yelp, BBB, Glassdoor, and others
Getting more positive reviews for your business
Responding to customer reviews (especially the negative ones)
Many businesses don't have a strategy in place for getting more customer reviews. This is a missed opportunity to boost social proof, increase prominence, and gain more visibility.
There are quite a few ways to go about getting more reviews for your business. Here are our favorites:
Ask. So many businesses miss out on reviews simply because they fail to ask for them.
Make it easy. Leaving a review for your business should be easy for customers to do—on desktop and mobile.
Get reviews on the right products. If a customer buys multiple products from you, ask them for a review on a specific product from their order (maybe the priciest one?).
Offer an incentive for leaving a review. Offer customers points or giveaway entries for leaving honest reviews.
Step 6. Post on Google as Your Business
Did you know that you can post on Google as your business?
Don't worry if you didn't; most businesses don't use this feature.
But, that's why you'll stand out if you do it!
According to Google, you can publish "offers, events, products, and services directly to Google Search and maps by posting through Google My Business."
Like all of your content, though, it should be intentional. Don't post something just to have something posted. Here are some best practices to follow:
Publish high-quality content free of grammatical errors and gimmicks.
Don't use obscene or profane language or visuals.
Only include links if they're from sites you trust (and that don't link to malware, viruses, phishing, or graphic material).
Don't post content related to regulated goods like adult services, tobacco, alcohol, pharmaceuticals, recreational drugs, gambling-related services, fireworks, weapons, financial services, or health and medical devices.
Don't post sexually suggestive or explicit content—keep it G-rated.
Step 7. Run Local Search Ads
Local search ads are a great way to target your local area and can help you show up at the top of Google or Google Maps searches. Ads can also be faster at boosting business than waiting for your organic efforts to pay off.
Local search ads offer several benefits to your business:
Get more store visits
Get calls to your business
Help customers learn more about your business
Here's what local search ads look like on mobile: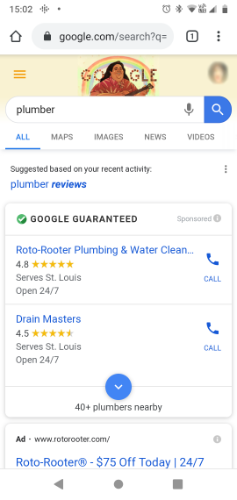 And here's what they look like on desktop: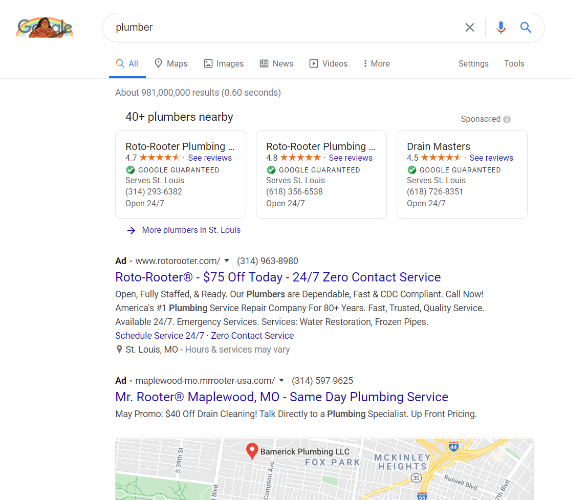 Looking for local PPC experts to handle your local advertising? Here's our list of the best local PPC companies to take care of you.
Step 8. Monitor Your Google Maps Marketing Performance
Once your business is verified on Google My Business, you'll get access to analytics.
With analytics, you'll be able to find out a lot about how customers interact with your business on the platform.
Here are some of the metrics we recommend tracking:
The type of queries that searchers use to get to your site
Where your business is being found on search and map listings
The actions people take in response to your listing
Where requests for directions to your business are coming from
How your images are performing
Connect With More Customers Using Google Maps Marketing
Google Maps marketing is a powerful way to use local SEO to capture more customers for your business. To get the most out of your Google Maps marketing be sure to keep your information up to date, include high-quality visuals in your listing, and actively reach out to customers for reviews.
Are you looking for SEO experts to handle your business's SEO? Here are our picks for the best SEO companies!