An SEO audit is the best way to keep your website healthy and ranking on search engines. But, how do you do an SEO audit? And what should you be looking for?
In this article, we answer those questions and more. You'll learn:
What is an SEO audit
Types of SEO audits
Why you need to do an SEO audit
How often to perform an SEO audit
The tools that make SEO audits easier
How to do an SEO audit for on-page SEO, technical SEO, off-page SEO, and local SEO
Feeling overwhelmed at the thought of doing your own SEO audit? Why not go directly to the SEO experts who can help you?
Thinking of going it alone? Let's dive in!
What Is an SEO Audit?
An SEO audit is the process of checking your website for areas needing improvements and then implementing those fixes.
While some SEO specialists use the term "SEO audit" interchangeably with "SEO analysis," they are often used to describe different SEO activities.
An SEO audit is for identifying existing issues to find ways to optimize a website. An SEO analysis, on the other hand, might include just a couple of website evaluation tactics.
Types of SEO Audits
There are four main types of SEO audits: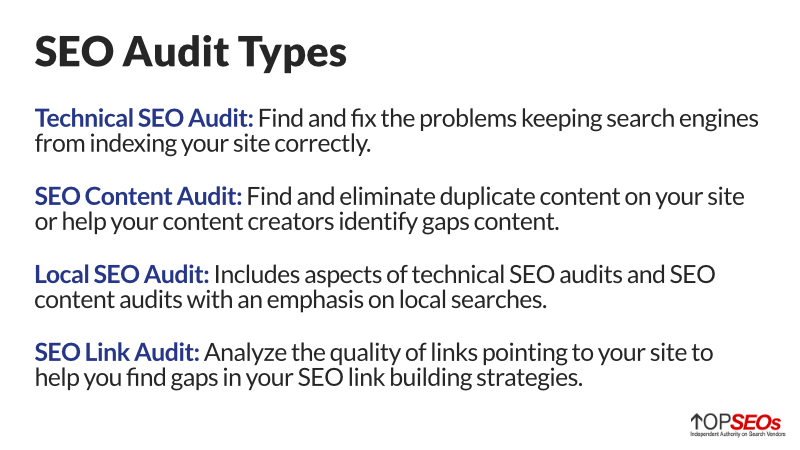 Technical SEO
SEO content
Local SEO
SEO Link
Let's take a closer look at each of these SEO audit types.
Technical SEO Audit
Technical SEO audits cover things like indexability, URL structure and website architecture, and on-page elements. These are all the things that make up the technical aspects of your site.
These audits focus on fixing problems keeping search engines from indexing your site correctly.
SEO Content Audit
An SEO content audit gives you a closer look at your site's indexable content. You can use an SEO content audit to find out which pages and posts are driving traffic and conversions, what needs to be updated to work better, and what to remove from your site entirely.
SEO content audits are great for finding and eliminating duplicate content on your site or helping your content creators identify gaps in your content.
An SEO content audit shouldn't be confused with a content inventory assessment.
Where a content inventory assessment is simply a documentation of existing content assets, an SEO content audit dives into how your content engages your site visitors—and how that impacts your conversion goals.
Local SEO Audit
A local SEO audit includes aspects of technical SEO audits and SEO content audits with an emphasis on how well your website and content are optimized for local SEO.
A very simple example of this is when an SEO specialist checks to make sure that your business has accurate contact information (NAP: Name, Address, and Phone number) wherever your business shows up online.
If you are a physical, brick-and-mortar business, you need to conduct a local SEO audit.
These days, more than half of consumers are performing local searches on their phones before visiting a store within 24 hours. Ignoring your local SEO could mean missing out on conversions and revenue.
SEO Link Audit
The last type of SEO audit we're going to talk about here is an SEO link audit, also known as a backlink audit.
Using an SEO link audit, you can analyze the quality of links pointing to your site to help you find gaps in your SEO link building strategies.
What happens if you find spammy links pointing to your site? Just remove them.
You can request removal from the site linking to you, but we recommend using the Disavow Links tool in Google Search Console.
Why Should You Do an SEO Audit?
If you do business online, it's important to know how your website is performing and what steps you can take to optimize it.
An SEO audit will help you optimize your site for better conversions and sales, but there's more to it than that.
An SEO audit gives you valuable information about how your site is performing, what your competitors are doing, and how you can make your site better.
This makes it easier for you to rank in search engine results pages (SERPs). And that means potential customers will have an easier time finding you when they search.
How Often Should You Do an SEO Audit?
An SEO audit is not a "one and done" thing.
There are two situations that we believe warrant an SEO audit: when starting a new SEO campaign and a few months into your SEO campaign.
Of course, you can perform an SEO audit on your site whenever you want. However, we recommend that you give yourself time to implement, track, and tweak after the results of each audit.
Tools for a Successful SEO Audit
There are several tools you can use for a successful content audit. Here are a few of our favorites.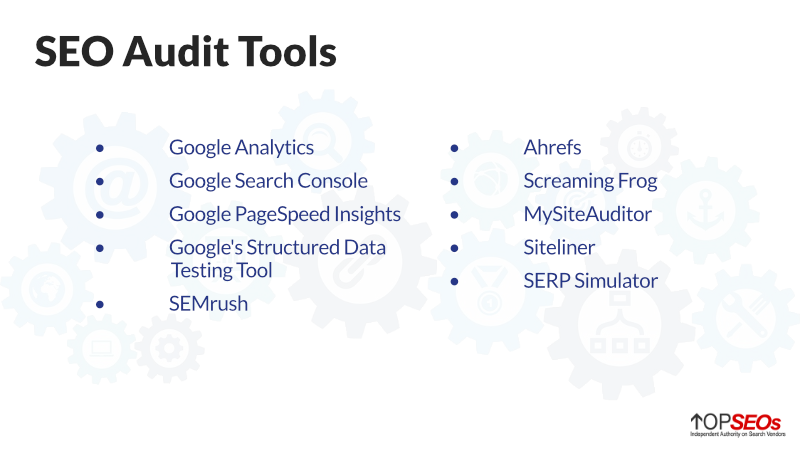 1. Google Analytics
Google Analytics is a great tool for SEO content audits. There are six reports that are extremely helpful:
Channels Report: Discover how visitors are finding your content. Find this report in Google Analytics by going to Acquisition > All Traffic > Channels.
Landing Page Report: Find out what content is performing the best for conversions, traffic, and engagement. Find this report in Google Analytics by going to Behavior > Site Content > Landing Pages.
New vs. Returning Report: Figure out whether you should be building an audience or nurturing an audience. Find this report in Google Analytics by going to Audience > Behavior > New vs Returning.
Frequency & Recency Report: Find out how much content you should be creating. Find this report in Google Analytics by going to Audience > Behavior > Frequency & Recency.
Search Terms Report: Discover the content that you should be writing about but aren't. Find this report in Google Analytics by going to Behavior > Site Search > Search Terms.
Behavior Flow Report: Find out the value of your content and whether or not you're doing a good job of driving visitors towards your transactional goals. Find this report in Google Analytics by going to Behavior > Behavior Flow.
2. Google Search Console
Google Search Console can help you identify content that's not helpful to searchers, web crawling issues, potential HTML improvements, site speed concerns, search queries, structured data problems, and which sites are linking to your site and content.
3. Google PageSpeed Insights
Site speed is not only important for user experience. It's also important for SEO. In fact, it's a direct ranking factor for Google.
Plus, a slow load speed can increase bounce rates and reduce dwell time, both of which indirectly affect your rank.
4. Google's Structured Data Testing Tool
Google's Structured Data Testing Tool is easy to use. Just paste the URL or code that you want to check and the tool runs tests and lets you know about any errors.
5. SEMrush
SEMrush is an all-in-one SEO tool that includes a site audit feature that will scan your website for 130+ technical and SEO mistakes.
6. Ahrefs
Ahrefs is another all-in-one SEO that offers a site audit feature that provides an overall SEO health score, visualizes key data in charts, flags all possible SEO issues, and provides recommendations on how to fix them.
7. Screaming Frog
Screaming Frog is an SEO spider tool that gives you data on crawl depth, unique out links, status codes, indexability, and more. You can use this information to conduct your own SEO audit.
8. MySiteAuditor
MySiteAuditor looks at a specific page, rather than analyzing your entire website. This lets you take a close look at certain pages and specific keywords to identify issues impacting your ranking.
9. Siteliner
Siteliner performs an audit of on-site SEO issues like broken links, duplicate content, and canonical issues.
10. SERP Simulator
SERP Simulator lets you fetch and check a page's title tag and meta description pixel length for mobile and desktop devices.
How to Do an SEO Audit
Now that you know why you should be doing SEO audits and have chosen the tools you're going to use, let's get down to business.
We're going to show you how to do an SEO audit for on-page SEO, technical SEO, and off-page SEO.
On-Page SEO Audit
On-page SEO applies to your content and anything else on your site that you can control and optimize. These are the things that typically impact your site's search engine ranking.
The best way to rank on search engines is by creating high-quality content around keywords related to your company and products.
To find new ideas for keywords to target, take a look at what your competitors are doing. If there's something they rank for that you don't, create content!
When creating content to rank, it's important to pay attention to search intent in addition to keywords.
On-Page SEO Audit Checklist
Here are five things that you can do to optimize your site for search engines:
Optimize your title tags and meta descriptions. Title tags and meta descriptions should be unique for each page and should contain keywords as well as wording that lets searchers know what the content is about.
Include header tags in your content. Headers should be written for conversion and contain keywords.
Write website content that satisfies search intent. Your content should answer searchers' questions thoroughly and include keywords in a natural way.
Structure your website well. Remember that Google wants to rank the most relevant content, so having a focused page or post for each of your core keywords can help you rank.
Include an XML sitemap. A sitemap helps Google identify all of the pages on your site. You should also submit your sitemap to Google Search Console.
Creating an XML sitemap can be tough. We recommend enlisting the help of an SEO specialist to get the job done right.
Technical SEO Audit
A comprehensive technical SEO audit can include upwards of 75 different items that need to be documented, analyzed, optimized, and tested.
This includes things like:
XML sitemaps
Robots.txt files
Status codes (200, 4XX, 5XX, etc)
Canonical tags and URLs
Duplicate content
HTML tags (nofollow, noindex, etc)
Redirects
JavaScript issues
Schema markup
...and more
Technical SEO audits are, well, technical. Honestly, unless you're incredibly tech-savvy, these SEO audits are best left to qualified SEO experts.
Off-Page SEO Audit
Off-page SEO is anything that happens outside of your website to improve the site's search engine rankings. This includes:
Backlinks and link building

Social media engagement

Local
Backlinks and Link Building
Backlinks are links coming into your site from an external website. When you have a lot of backlinks from high-quality sites, this shows search engines that your site is trusted and contains quality, sought after content.
It also sets you up as a thought leader and authority on your subject matter.
Quality backlinks aren't going to happen overnight. Some businesses even have dedicated media teams that go in search of link building opportunities.
If you're looking for an easy way to find out the quality of your backlinks, you can use a tool from the list above, like Ahrefs.
With Ahrefs, you can see which sites are linking to you, what attributes the link is using, and the domain authority of the site linking to yours.
From there, you have everything you need to either keep those links as they are or disavow the spammy ones.
Social Media Engagement
No, social media doesn't directly affect your SEO. However, if you have a strong social media following that engages with your content, it can increase visibility.
We recommend creating a social media marketing strategy to target the social media platforms where your target audience hangs out.
If you're looking for tips to getting started with social media or increasing your reach, check out these tips on how to begin your social media outreach.
You can encourage social media engagement through your site by including simple social sharing buttons that allow visitors to easily share your content.
Local
If your business is local to a specific area, you need to be actively engaging with that area through local search results.
We recommend registering with Google My Business so you can easily share information about your business, products, location, and hours, as well as get your business on Google Maps.
With a Google My Business account, you can also start getting Google reviews and add images to your site's listing.
To improve your local SEO, you can create and include content specific to your location and register your site with local directories.
Wrapping Up
As you can see, there's a lot that goes into conducting an SEO audit for your site. While there are resources available that can walk you through the process, it's much more cost-effective to engage the help of one of the best SEO agencies to do it for you!