Want to improve bounce rate? Or maybe you're wondering what a bounce rate is in the first place?
Either way, this article will help.
Many digital marketers and businesses have a high bounce rate on their websites, which usually indicates that the website isn't performing the way it's supposed to be. A high bounce rate lets you know that people aren't staying on your site, for whatever reason.
And whatever the reason, a high bounce rate means you're missing out on revenue.
In this article, we'll answer your questions:
What is a bounce rate?
What's a good bounce rate?
What causes a high bounce rate?
Plus, we'll give you several tips to improve bounce rate on your site so you can keep visitors engaged for longer.
Let's get started.
What Is Bounce Rate?
A bounce rate is a single-page session on your website, according to Google.
This could mean that someone finds your site on the search engine results page (SERP), clicks through to your site, engages at some level with the content on your page, but then closes the window or clicks back to the SERP.
So, essentially, a visitor comes to your site, interacts with that page only, then leaves your site.
What Is a Good Bounce Rate?
A site's bounce rate depends on any number of factors: your industry, the type of content you create, where visitors originate before they land on your page, and more. As such, there's no set "good" or "bad" bounce rate.
But, we still have averages to look to.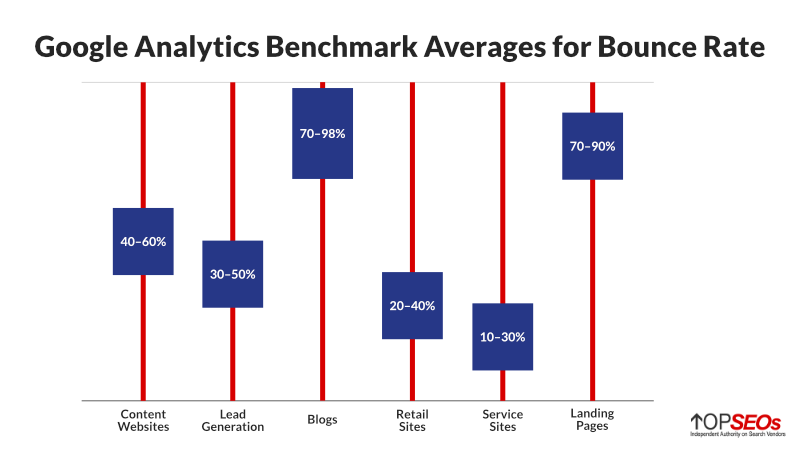 As shown in the image above, for content-based sites, an average bounce rate is between 40%–60%. For retail and service sites, the average bounce rate is lower at 20%–40% for retail sites and 10%–30% for service sites.
A good bounce rate, then, would be within or below those averages.
But does that apply to your business? Perhaps.
We recommend using these averages as a starting point for your bounce rate goals. However, it's much more important to measure your performance against your own past performance.
So, look at your average bounce rate right now. Then, to see if you're moving in the right direction, compare your bounce rate going forward with your current bounce rate.
What Causes a High Bounce Rate?
There are any number of reasons your site might have a high bounce rate. In this section, we'll cover some of the most common reasons people give for bouncing.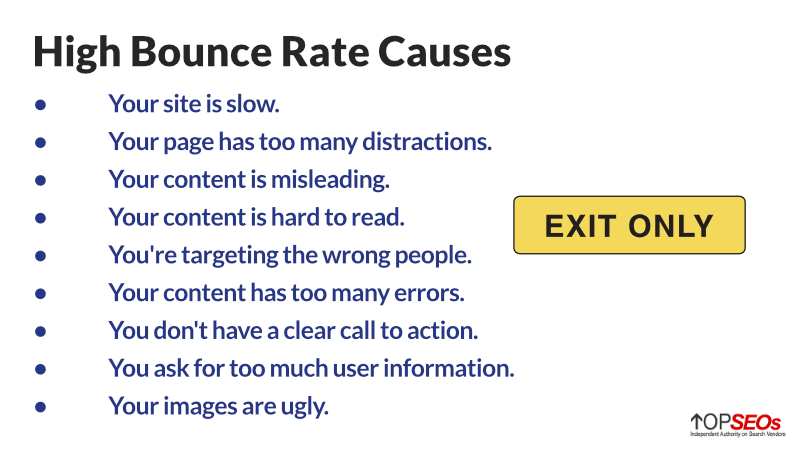 1. Your Site Is Slow
If your site takes too long to load (more than three seconds) your bounce rate will be higher. People aren't going to wait around for your site when there are nine other options on the SERP they just left.
To improve your site's speed, you might need to change up your design. Don't go it alone. Here are the best web design companies ranked.
2. Your Page Is Filled With Distractions
If your site is filled with distracting videos and banners ads, visitors might decide that it's not worth it trying to fight through the noise to get to your message.
3. Your Content Is Misleading
Misleading site content (when the content doesn't match your title, headings, etc.), is a surefire way to get visitors to leave. They searched for something that your site claimed to cover and if it doesn't, there's no reason for them to stay.
4. Your Content Is Hard to Read
Visitors tend to skim webpages, they don't read them through. If your content doesn't use images, bullet points, and headings that make it easy to understand your content with just a skim through, they're not going to stick around.
5. You're Targeting the Wrong Audience
If your site has too broad of an appeal, visitors are going to come to your site, consume just that content, and have no reason to look around your site because they simply aren't your target audience. While your traffic may be lower, it's a lot better to target a more narrow audience.
6. Your Content Is Filled With Errors
Spelling and grammatical errors happen. But if your content is filled with these errors it makes you look unprofessional and like you don't know what you're doing. And people aren't going to want to read it, leading to a bounce.
7. You Don't Have a Clear CTA
So, you've created great content and people are actually reading it (you can track scroll depth on Google Analytics)! But, they're still bouncing. Why?
If you don't have a clear call to action for visitors to follow, they won't know what next steps to take. They may be incredibly interested in what you have to offer, but you're not leading them through your sales funnel so they can get to the point of purchase.
8. You Ask for too Much Info
Don't ask for the moon when you're first meeting someone. A first-time user to your site isn't likely to part with their personal information. Asking for too much, too fast is a really good way to get visitors to bounce.
9. Your Images Are Ugly
Sometimes high bounce rates come down to aesthetics. If your images aren't visually appealing it's going to turn visitors away, leading to a high bounce rate.
8 Ways to Improve Bounce Rate
Now that you know some of the most common causes of a high bounce rate, you're probably wondering what you can do to make it better. In this section, we're covering exactly that.
Improving your bounce rate ultimately comes down to having a better understanding of your target audience so you can provide content that engages them. But there's more to it than that.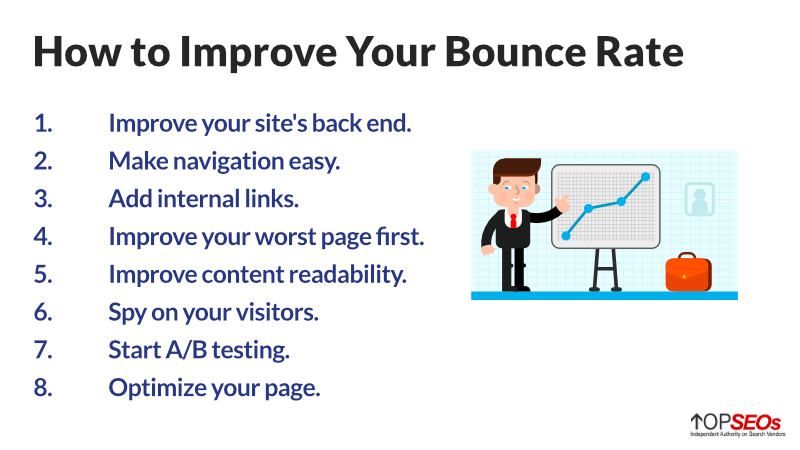 If your bounce rate is higher than you want it to be, here are eight things you can do to make it better.
1. Improve Your Site's Backend
Your site has to load quickly. Visitors expect it and search engines reward it with higher rankings.
According to Entrepreneur, nearly half (47%) of visitors expect your site to load in two seconds or less.
That's fast!
You can run speed tests on your site using Google's PageSpeed Insights to see how long it takes to load and get ideas on what to fix. Many times, you'll find that slow-loading pages are the result of images that aren't optimized.
Visitors also expect your site to be mobile-friendly. More than half of internet users are browsing on mobile devices and that's likely to continue increasing.
Make sure your site is easy to navigate for both desktop and mobile users to keep users on your site longer. Google's Mobile-Friendly Test will give you insights into how mobile-friendly your site is and recommendations to improve it.
Finally, make sure that your site is secure. Many hosting providers give free basic SSL certificates, but if you're a larger site or eCommerce business, you'll want to make sure that you have an SSL that keeps all of your customers' information secure.
2. Make Navigation Easy
We touched on this briefly, but navigation is vital to keeping visitors on your site longer. If you have a large site, make sure that navigation options are obvious.
For example, eCommerce sites should show users a variety of product categories on the homepage. The idea is letting visitors know that you have a varied product selection.
For content-based sites, you should include popular pages in a sidebar, and use clear and concise navigation menu items. This is not the place to use buzzwords or jargon. Instead, use easy to understand words that even your first-time visitors can understand.
In addition to a well-organized navigation menu, you can include breadcrumbs on your site that let users easily get back to pages they were already on.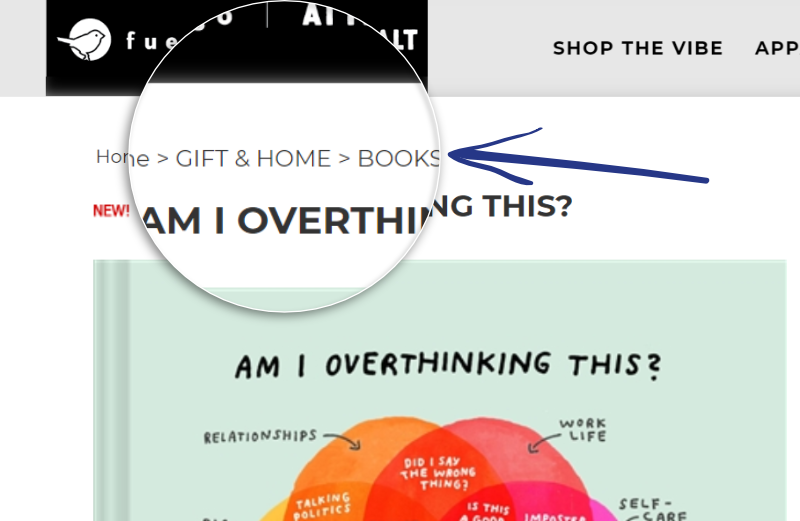 3. Add Internal Links
Internal links are a great way to pull visitors deeper into your site. Plus, they're good for SEO!
Use your internal links to move visitors through your sales funnel by including them throughout your site.
Internal linking is an important part of any link building strategy.
4. Improve Your Worst Page First
After the site basics—backend, navigation, internal links—you'll probably be inspired to start changing every single page on your site.
That's great, but you'll get the best impact and avoid getting overwhelmed if you focus on your pages with the highest bounce rates first.
Take a look at your analytics and find the page with the highest bounce rate. Then, go through that page as a normal visitor to your site would, making note of places where you don't know what to do next (versus what you want visitors to do) and where the page breaks down or fails to meet expectations in other ways.
You'll want to look at:
How long people are staying on the page
How far down the page they're scrolling (scroll depth)
If the users able to meet their goals
If the page's content, design, and navigation meet visitors' needs
Need a website analytics tool? Here are the best website analytics tools ranked.
5. Improve Content Readability
There are two main areas to look at when you're considering your content: the actual content of the copy on your page and how it all looks. This should be baked into your content marketing strategy.
Your content should be easy to read and digest for any visitor. This means ensuring that your site is accessible to visitors with disabilities.
Use plain language throughout your content and avoid technical terms or jargon. Keep your words simple and your sentences and paragraphs short. And, as we mentioned earlier, make sure your content is free from spelling and grammatical errors.
There are many SEO tools that can help you keep your content readable. Yoast SEO, for example, includes a readability score that measures your content against the Flesch-Kincaid readability score to determine the maximum grade level that could easily read and understand your content.
Most of these tools aim for a 6th-grade reading level to ensure that your content is accessible to a broad range of people with varying mastery of your language.
But, writing for a 6th-grade reading level isn't the same thing as "dumbing down" your content. All it means is that you're using easy to understand words and your content doesn't include a lot of long sentences.
As for the visual aspect, you'll want to use a font and font size that are easy to read, as well as colors that offer enough contrast to be read easily by visitors with limited vision.
Additionally, use bullet points, headings, subheadings, and lists to keep your content organized for easy skimming and consumption.
Looking to step up your content game? Hire one of the best content marketing agencies to make it happen.
6. Use Tools to Spy on Visitors
Spying on your visitors is another great way to find out where they're getting hung up on your site. Using heatmaps and other visualization tools, you can see where visitors are hovering, clicking, or otherwise engaging.
Why does this matter?
When you know where users are on your site, you can best determine where to place calls to action or other elements that will keep visitors on your site longer.
7. Start A/B Testing
After you've found out where users might be confused on your site or identified the page elements visitors are drawn to, you can start A/B testing.
A/B testing is the process of comparing the performance of two versions of your page—a control version and the version you're testing (with a single variation from the control version).
You can test anything you want: headlines, images, CTAs, content, and more. Just don't test them all at once or you won't know which change is causing the page to perform better or worse than the control.
8. Optimize Your Page
Once you're done with A/B testing, you'll want to implement any changes to adopt the higher-performing page's elements.
You're aiming for gradual optimization here. A/B test, make changes, then A/B test something else.
This method of optimization will improve your bounce rates over time and you can use the same process to optimize other pages with high bounce rates.
Wrapping Up
Bounce rate is strongly related to user experience; the better the user experience, the lower your bounce rate will be. With the tips we've included here, you'll be able to optimize your site to improve user experience and kick that high bounce rate to the curb.
It's important to remember that site optimization is never truly done. Even when your bounce rate starts improving, you'll want to make tweaks and adjustments over time to meet the needs of your audience.
To get the best possible outcomes for your site, you may want to consider a digital marketing agency. Here's a list of the best digital marketing agencies that can help you get those bounce rates under control.