Instagram has only been around for ten years, but it's changed the face of both social media and advertising during that time. In this article, we cover the Instagram statistics online marketers need to know to increase their engagement—and sales—on the platform.
Table of Contents
If you're already on Instagram, this article will give you the insight you need to make the platform work better for your brand.
Thinking about getting your brand on Instagram? These Instagram statistics will help you decide how best to approach it.
Instagram Statistics for Marketers
As of April 2020, Instagram is the fifth most downloaded free app across the Apple and Google Play stores and is used by 25% of smartphone users.
And, people don't just download the app; they use it. A lot.
More than 1 billion Instagram accounts are active worldwide every month and more than 100 million photos are uploaded to the platform every day.
But Instagram is more than just a photo and video sharing social media platform.
In 2019, the platform brought in $20 billion in advertising revenue, accounting for more than 25% of Facebook's overall 2019 revenue. It's expected that Instagram will account for closer to 30% of Facebook's ad revenue in 2020.
People come to Instagram for many reasons and businesses are actually pretty popular on the platform. In fact, more than 200 million Instagram users visit at least one business profile daily.
Not only that, but 60% of people say they discover new products on Instagram, and one-third of the most viewed stories are from businesses.
No matter how you look at it, Instagram is a great social media platform for businesses to attract and nurture leads. Plus, with Instagram's Shoppable Posts, businesses can promote and sell products and services right from the app.
Instagram User Statistics
Instagram has more than 1 billion users that are active in the app every month. But, who are these users? Let's take a look at some Instagram user statistics to find out.
Age & Gender
Instagram users are pretty well split 50/50 in terms of binary gender identity (non-binary users aren't yet tracked in available research). Age-wise, Instagram users fall between the ages of 18–34.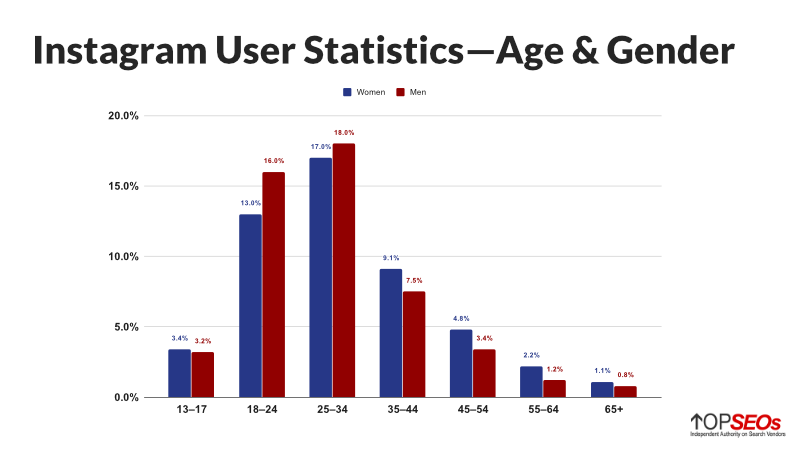 Location
The majority of Instagram users are in the United States (120 million) with India having the second most users. Interestingly, Canada sits at 15 on the list of countries with the most Instagram users (13 million).
Even though the United States has the most Instagram users, it's important to note that roughly 88% of Instagram users actually live outside of the U.S.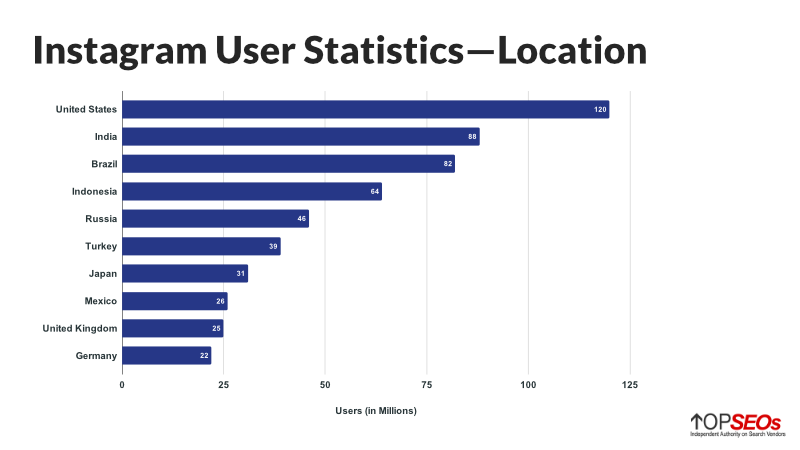 Income
Households with annual incomes of $70–80K and more than $100K are more likely to use Instagram with 55% and 60% of those households using Instagram (respectively).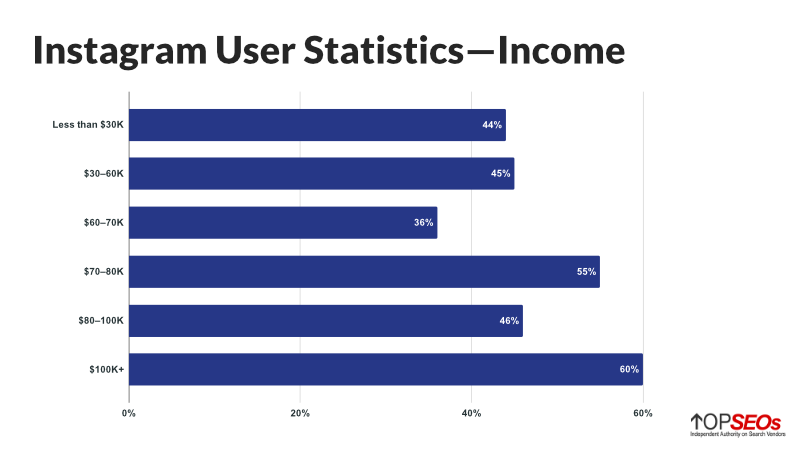 Education
Instagram users are largely educated with 80% of users having at least some college experience, 43% of which have more than undergraduate education.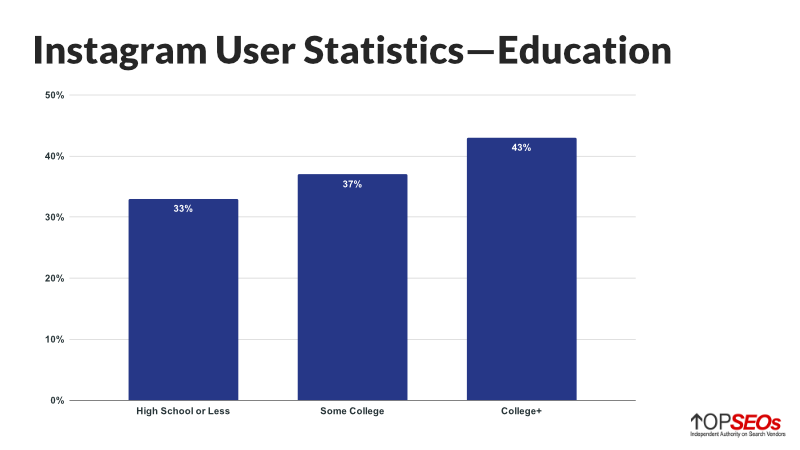 Add, if you decide to use Instagram for your business, you'll be in good company; 25 million Instagram profiles are business profiles.
Instagram Usage Statistics
Instagram users are active on the platform regularly with 63% of users logging into their accounts at least once each day and 42% of users logging in multiple times each day. The average user will spend about 30 minutes a day on the platform.
According to Instagram, many Instagram users (200 million) will use the platform to follow up on businesses they're interested in or to find new products (60%) they might want.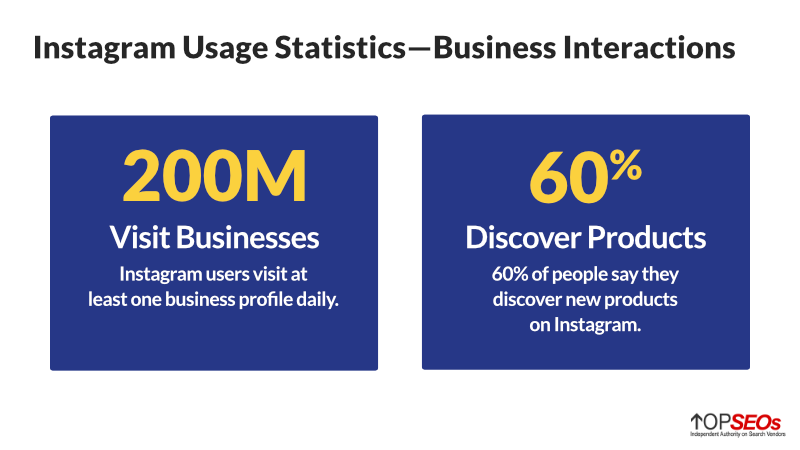 In addition to looking up information about businesses and discovering new products, 130 million Instagram users click on shoppable posts every month.
Instagram users also engage with brands on the platform. Brands on Instagram get about 10X more engagement on Instagram than they do with the same content on Facebook.
With more than 100 million posts shared on Instagram every day, you may be wondering what kind of content your brand should post.
About 76% of brands find images are the best type of content to post, but with more than 1 million Instagram users watching live video each day, it pays to live stream. Plus, more users comment on video posts by brands than they do images.
Along with going live, 38% of marketers are using Instagram Stories for advertising and 26% are using videos through IGTV, according to the 2019 Social Media Marketing Industry Report.
If you're looking for increased engagement, there are a few content formats that work well on Instagram.
For starters, carousel posts get more organic interactions than either video or images.
Next, using emojis is an easy way to boost engagement with 23 emojis in video posts increasing the average engagement rate to 4.95%, 24 emojis recommended in carousels, and 20 emojis recommended for image posts.
However, all things considered, the "perfect caption" has fewer than ten words and 20 emojis.
While it makes sense to think that including questions in your Instagram posts would increase engagement, it doesn't seem to track. Questions are used in more than 45% of Instagram posts, but there's no correlation to increased engagement.
In terms of video content, the most popular type is "how-to" videos and tutorials.
To really boost engagement, use geolocation in your post. Posts with geolocation get nearly 80% more engagement than posts that don't.
Last, post on Instagram at the right time to increase engagement. On average, Instagram users engage the most in the afternoon between 1 pm and 5 pm.
Instagram Marketing Statistics
As you can probably already tell, Instagram is great for marketing. With more than 80% of Instagram users following a business on the platform, you can use Instagram to increase brand awareness and sales.
Instagram users also have money to spend with 60% of internet users with a household income greater than $100K per year represented on the platform.
Since both your brand's paid and non-paid posts will appear in your followers' feeds, you have a great chance of users discovering your brand and products. In fact, almost two-thirds of Instagram users find new products right in their feeds, either because they follow you already or because they've seen one of your sponsored posts.
According to Hootsuite, 75% of Instagram users will take follow-up action after seeing a post from a business brand. This means that the ad dollars you spend on Instagram promotions are definitely worth it.
Of the more than 1 billion Instagram accounts, more than 25 million Instagram profiles are business profiles. Instagram businesses are followed by 80% of Instagram users according to Sprout Social, meaning your business has an Instagram audience of roughly 800 million users.
Instagram users also enjoy watching Instagram Stories (400+ million active daily users). Since each story is limited to 15 seconds, you can use this time to promote your products in a fun and engaging way.
So, what kind of engagement can you expect from the 800 million users following your business on Instagram?
According to the 2020 Social Media Industry Benchmark Report, the median engagement rate on Instagram is 1.22% across industries. For Facebook, that number drops to a median of 0.09% across industries.
Not only do Instagram users engage with the brands on the platform, but they also buy. More than 33% of Instagram users will make a purchase via a mobile device (Brandwatch).
Since so many users are already predisposed to mobile purchases, this means that your business should take advantage of Shoppable Posts. This lets users complete purchases without leaving the app.
Instagram Advertising Statistics
If you're thinking about advertising on Instagram, you probably want to know a bit more about costs and what content works.
In the Q1 2020 Paid Search and Paid Social Benchmark Report from Adstage (gated), the median cost-per-click (CPC) for in-feed ads is $3.35. This is up 118% since Q4 2019. However, CPC decreased by 93% YoY since Q1 2019.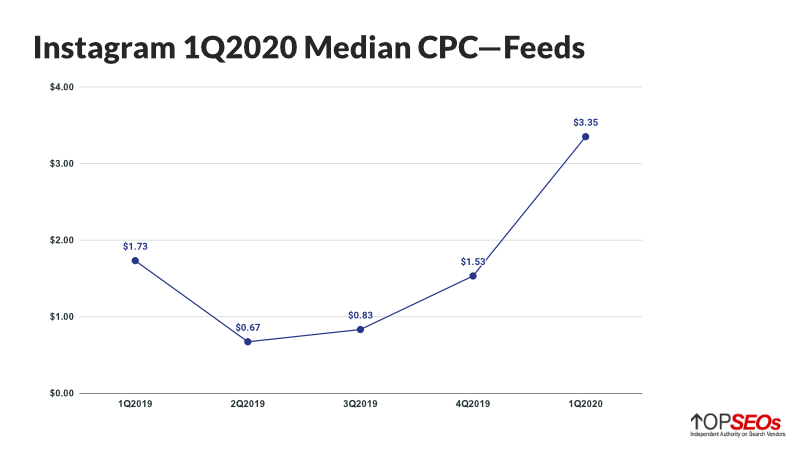 The median cost-per-thousand (CPM) for Instagram feeds ads increased by $0.80 to $7.68 (11.6%). This is an increase of 12% since Q4 2019, but a YoY decrease of 29% since Q1 2019.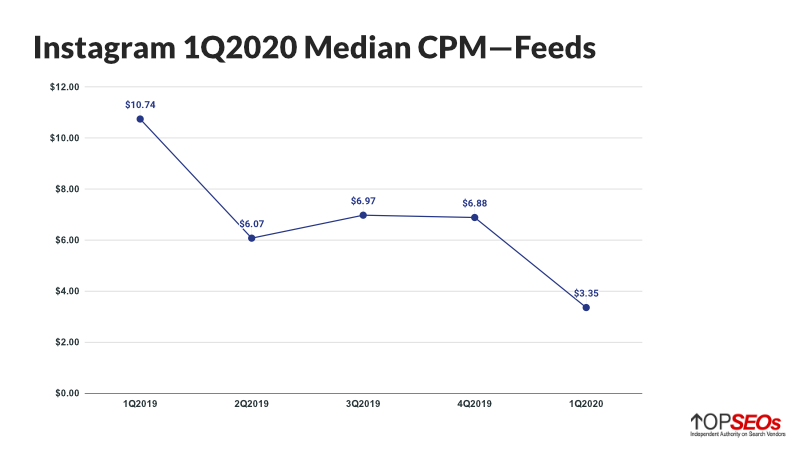 The median click-through rate (CTR) for Instagram feeds ads decreased to 0.22% (a 50% decrease since Q4 2019) which is the second quarter of decreases since Q3 2019. CTR has decreased by 63% YoY since Q1 2019.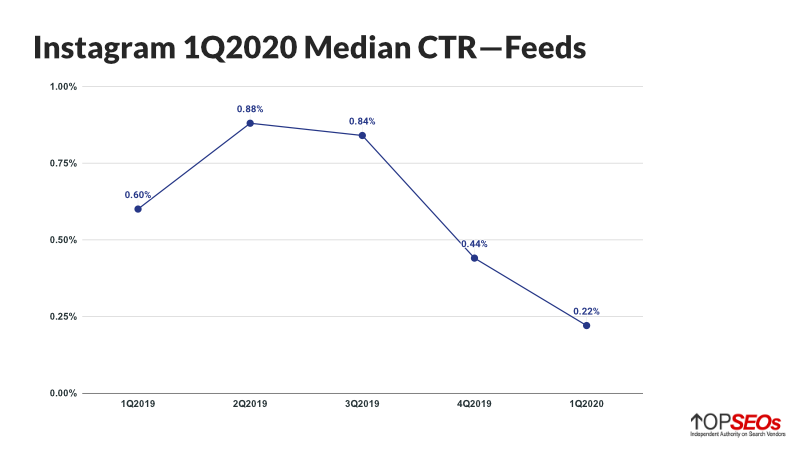 Since you can also place Story ads on Instagram, let's take a look at statistics for those ad placements, too.
The median CPC for Instagram Stories in Q1 2020 was $1.83, down just a penny from Q4 2019. CPC for Instagram Story ad placements has decreased by 0.8% since Q4 2019 but has increased YoY by 23% since Q1 2019.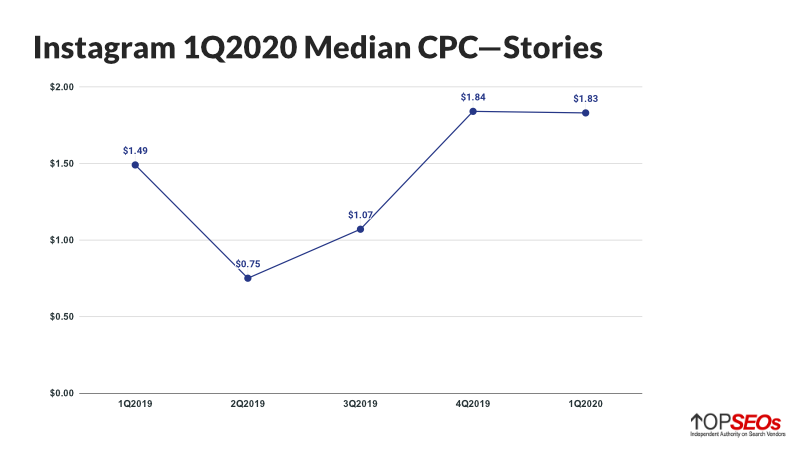 The median CPM for Story ads decreased $1.70 from Q4 2019 (21%). However, CPM is still 53% higher YoY from Q1 2019.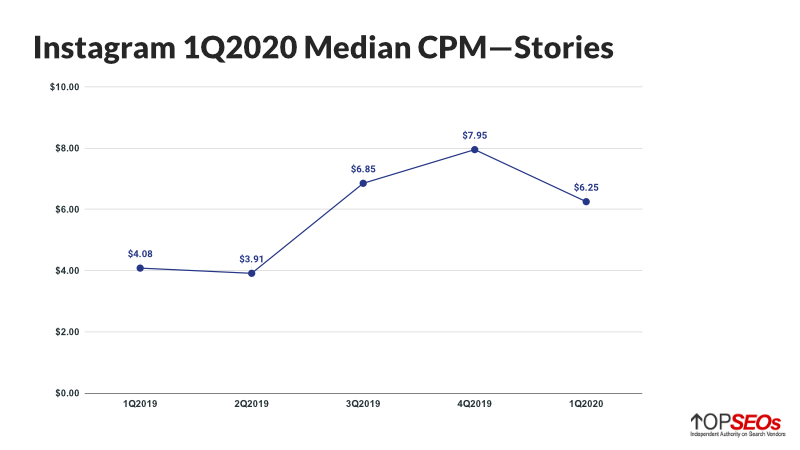 CTR for Instagram Story ads has been on a steady decline since Q2 2019. Median CTR decreased by 0.8% in Q1 2020 (down from 0.41% in Q4 2019). However, CTR still has an increase YoY of 27% since Q1 2019.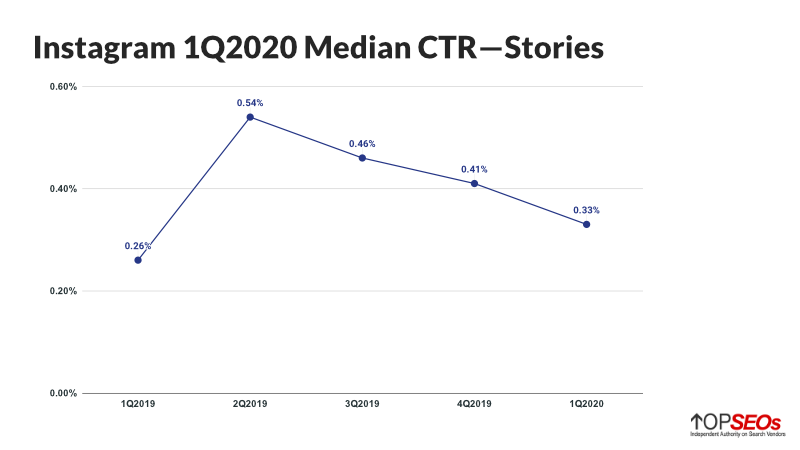 Instagram is expecting ad revenues of $24 billion in 2020 after hitting $20 billion in 2019 from more than 2 million advertisers.
Online marketers seem to understand the value that Instagram advertising brings them. About 33% of online marketers invest in Instagram ads, according to Sprout Social.
This shows that Instagram is a big player for online advertising and that it has a great reputation.
When considering your ad creative for Instagram, it's important to look at what works on the platform.
For starters, images with faces get more likes (PlanetMedia). Posting paid or non-paid content with a real, human face on it means that you're going to get more engagement, reach a larger number of people, and boost conversions.
Pair your real faces with the right hashtags and you're golden.
But, not all faces are created equal.
Hopper reports that women get five times more likes than men, on average. It's possible that this stat is directly related to the kind of brands promoting themselves on the platform. Namely, the 96% of fashion brands that advertise on the platform.
Wrapping Up
Instagram is a powerful platform for engaging with your ideal audience. Plus, it packs a punch in terms of advertising value.
This is a social media platform that you don't want to miss!
Not sure how to get the most from your brand's Instagram? Check out our picks for the best Instagram advertising companies that will take your brand's Instagram efforts to the next level.