Your business needs customers to survive, right? Those customers come from leads. And to get more leads, here are seven lead generation tips to get the leads flowing and keep your sales funnel filled.
Whether you're looking for B2B lead generation tips, B2B, or other lead gen ideas, we've got you covered.
Plus, we've included four "don'ts" of lead generation that will help you avoid some of the most common lead generation pitfalls.
Before we get to the tips, let's talk about what lead generation is and why it's important to your business.
What Is Lead Generation?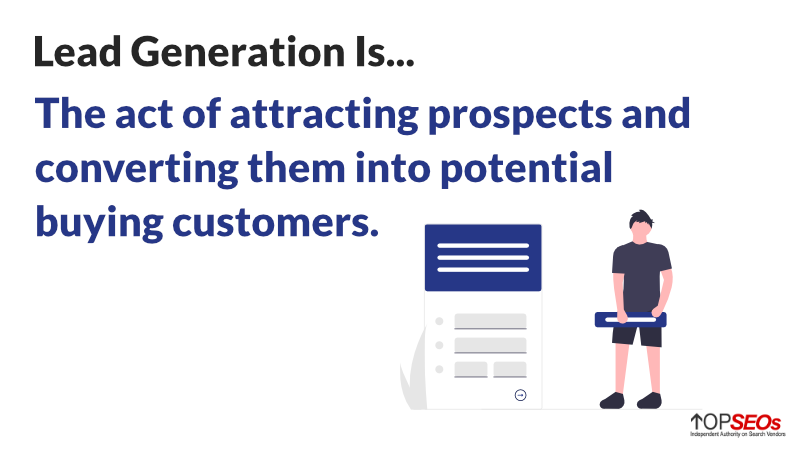 Lead generation is the act of attracting prospects and converting them into potential buying customers. There are two key ways you can move your prospects through your customer journey map: outbound marketing or inbound marketing.
Outbound marketing is what many people think about when they think of marketing. It involves things like TV commercials, radio and print ads, tradeshows, and cold calls and emails. With outbound, your company reaches out to potential customers, initiating the conversation.
Inbound marketing, on the other hand, seeks to attract potential customers through valuable content and personalized experiences. This includes things like paid search ads, content marketing, and opt-in email marketing. With inbound marketing, leads are the ones initiating the conversation.
While you can still get a decent response from it, outbound marketing isn't as effective as it used to be. It's an intrusive and disruptive form of marketing with the goal of making a sale as quickly as possible. More and more, companies are turning to inbound strategies to make real connections and nurture relationships until the lead is ready to buy.
Lead generation, then, involves getting to know your prospects and gaining their trust so you can market to them.
Why Use Lead Generation Tactics?
Lead generation is important. Without leads, your business is going to suffer and stagnate.
A good lead generation strategy can help you convert incoming traffic into leads, reduce your bounce rate, and generate a real, organic interest in your product and brand. This, in turn, leads to increased brand awareness and recall.
Using lead generation tactics makes your brand more engaging overall and can help you grab the attention of a potential customer who might be looking for the solution you offer. When your lead generation strategy is strong, you're more likely to be able to convince a potential customer to opt-in to your marketing messages.
Then, the information you gather can be used by your sales and marketing teams to continue building a relationship from that initial introduction.
7 Lead Generation Tips for 2020
Lead generation is mandatory for a thriving and successful business. Using solid lead generation tactics as part of your inbound marketing efforts you'll be able to attract potential customers to your website where you can then gather their contact information (usually just a name and email).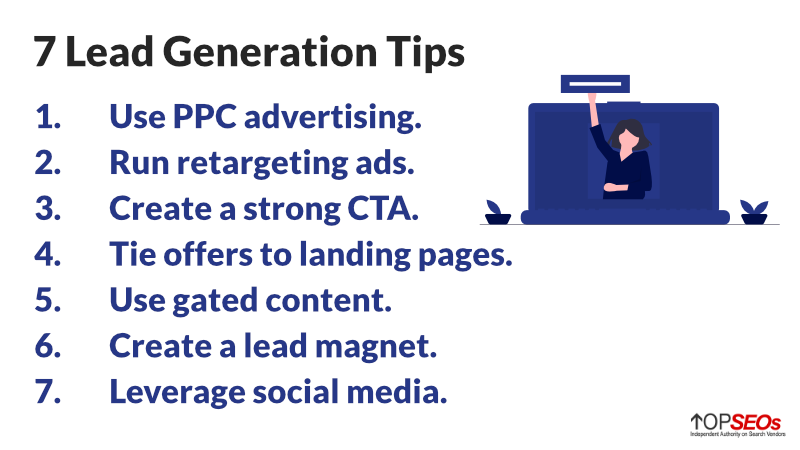 Here are the top seven lead generation tips we've come across that can help you keep your sales funnel full.
1. Use Pay-Per-Click (PPC) Advertising
PPC advertising is an advertising model used to drive traffic to websites. It's called "pay per click" because advertisers literally pay a publisher when the ad is clicked. PPC is commonly associated with first-tier search engines.
PPC advertising is important for brands who want to increase brand awareness or promote specific offers because it increases the odds that your site will show up at the top of searches for the keywords you're targeting.

If you're doing PPC on Google Ads, you can use extensions with your ads to get more real estate to promote your products and services.
2. Run Retargeting Ads
Retargeting ads promote your products and services to people who have already engaged with your brand in some way, either by clicking another one of your ads, viewing a product, adding a product to their cart, visiting your site, following you on Facebook, or more.
Retargeting ads appear to people who've already shown interest in your brand and what you have to offer, making them more likely to purchase from you. Retargeting ads are used to keep your brand at the front of their mind.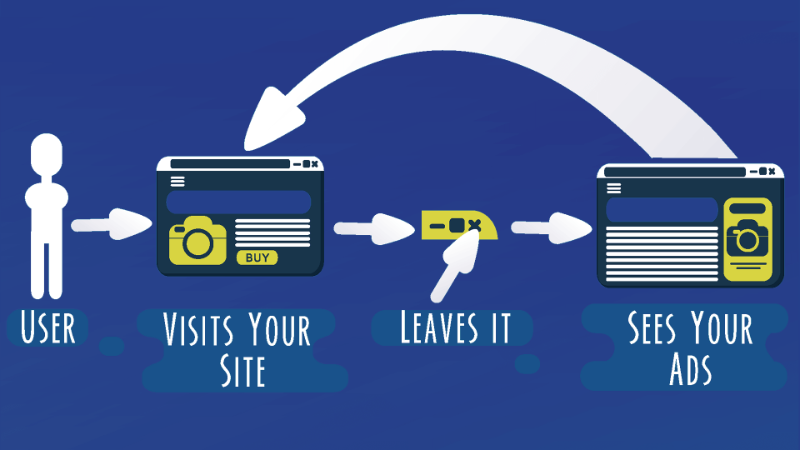 3. Create a Strong Call to Action (CTA)
A call to action is anything designed to get an immediate response or encourage an immediate sale. Most often, the term refers to the words or phrases marketers use in ads, on web pages, or in sales scripts compelling an audience to take a specific action.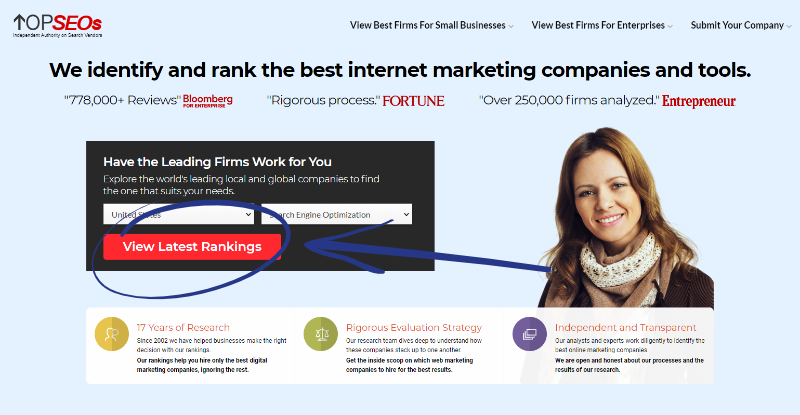 Your CTA should move visitors further along your customer journey map. When used for lead generation, CTAs typically prompt potential leads to provide their contact information in exchange for a lead magnet or gated offer (be it a guide, ebook, webinar, or free tool).
4. Tie Offers to Landing Pages
Calls to action on ads should get your visitors to a specific page where they can get the offer that was advertised to them. This is called a landing page.
Landing pages are known by other names, too. You'll sometimes find them referred to as lead capture pages, static pages, or destination pages. An optimized landing page is a single page that visitors get to by clicking on an ad, promotion, marketing email, etc.
Your landing pages should be a customized and dedicated page that's directly related to your offer, with no other distractions. Landing pages have a single goal—get the visitor to take action.
When you're planning to offer something specific in exchange for a visitor's contact information, it really helps to have a landing page that uses the same design and copy that drew the visitor to click through to the landing page in the first place.
5. Use Gated Content
Turn your blog into a lead generating machine by adding gated content. Gated content is any content that your visitors can access only after providing their contact information.
Look at your website analytics to find high-value content. Then, use a lead generation tool to effectively lock that content so only visitors who provide their contact information can get to it.
You can tease visitors with a preview of the content, but keep the full-length article locked. With some lead generation software, you can even lock down your content after a visitor has looked at a certain number of articles. This is similar to what the New York Times and the Wall Street Journal do on their sites.
The "trick" of using your blog or content for lead generation is that you attract visitors with your content, but then get them to trade their contact information somehow. Gated content is a great way to do that.
6. Create a Lead Magnet
Lead magnets are similar to gated content. A lead magnet is a marketing tool that generates leads by offering a long-form resource or free tool in exchange for a potential lead's contact information. Lead magnets can be just about anything but tend to be something downloadable.
You'll probably do best using a mix of gated content and lead magnets, but this is really dependent upon your audience. More and more, potential leads want companies to just give them the content they want, without asking them to opt-in for other things.
Lead magnets are a great way around this trend. While you should always be creating valuable, long-form content, instead of gating your content, why not turn the content into a downloadable PDF and use the PDF as a lead magnet?
Here's an example of a lead magnet in action from Pardot: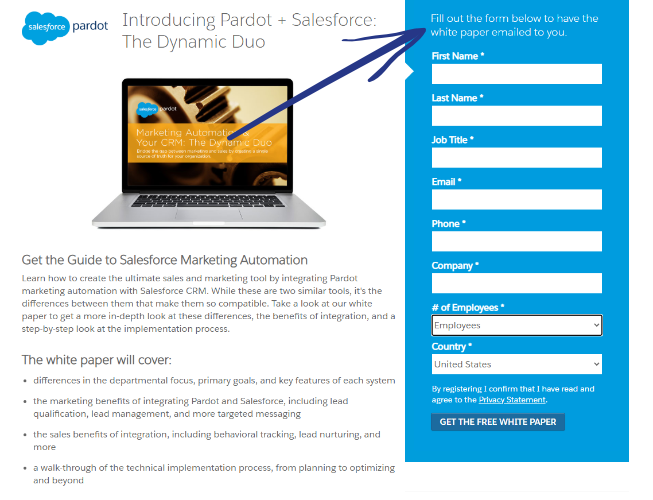 This is a great tactic to use for those in-depth content pieces that visitors might not be able to (or want to) consume in a single sitting. When you offer them the chance to download the content as a PDF that they can finish at their leisure (or reference in the future), they might be happy to hand over their contact info.
7. Leverage Social Media
Your brand should be on social media. Yes, regardless of your industry. Social media is a cheap, easy way to increase brand awareness, build a community around your brand, and drive more traffic to your site.
We recommend starting by creating at least a Facebook page and LinkedIn business page for your business. From there, you'll want to do some research into your target audience to find out where they hang out online. If most of your audience uses Instagram, your brand needs to be there, too.
Most social media platforms even include tools that will help you create ad campaigns on the platform along with robust audience targeting capabilities.
Lead Generation: What Not to Do
We've just covered seven powerful lead generation tips that you can use right now. The tactics we've talked about can help you drive traffic to your site, increase brand awareness, and get you more leads you can share your marketing message with.
Of course, there are also lead generation tactics that you should steer clear of.
In this section, we're going to share four things that have no place in a solid lead generation strategy.
1. Buying an Email List
For lead generation, quality is more important than quantity. Buying an email list is a quick way to get a big email list filled with garbage. Plus, for our EU readers, these purchased email lists aren't likely to be GDPR compliant.
When you buy and email marketing list, you're spending your marketing dollars on a list of people who haven't opted-in to your marketing, might not have any interest in your marketing message or products, and who might have even stopped using the email address you're given years ago.
For the email addresses that are still going to real people, those people might not even know who you are. Do you really want this to be the way they find out?
No, you don't.
Don't buy email lists. Just don't. Do the work to grow your email list and use one of these email marketing services to do email marketing right.
2. Using Tons of Popups
It's happened to all of us. You go to a site, hoping to read the article that just piqued your interest from the search results pages.
But no sooner than the site loads, you get hit with a popup.
Irritating, but you've been on the internet long enough that you know popups are a thing. You close the popup and keep reading.
As you go to scroll down the page to keep reading, another popup covers your screen, interrupting your reading.
At this point, if you're anything like us, you're probably heading to the back button to find another article.
Before you can click the back button, though… another popup.
And this doesn't even address the chatbox in the corner and the opt-in form that slyly rolled in from the side of the page.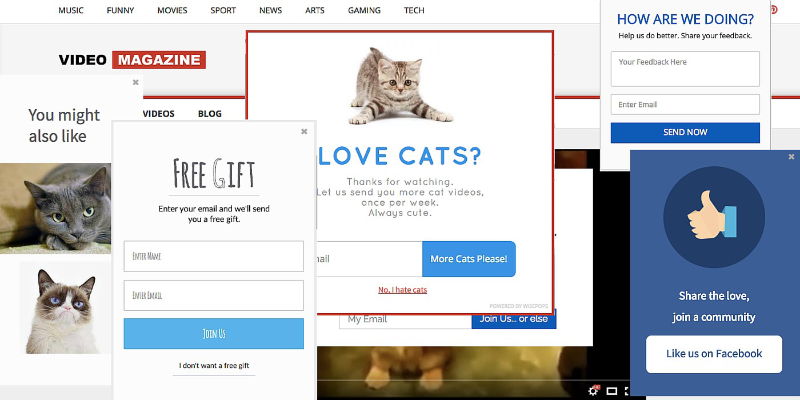 Image Source: UX Collective
Nobody needs this many opt-in forms coming at them.
Don't get us wrong, popups are actually quite effective at getting leads. They're probably what you're using to collect contact information for your gated content and lead magnets.
When you're putting your lead generation campaigns together, though, really consider what you want your visitors to do on each page. Chances are, you can get away with a single popup or other opt-in form and add a last-ditch exit popup to capture a few of the people as they're leaving (but be sure to set it up so visitors who've already seen or declined to opt-in don't see it).
3. Ignoring Website Design
Website design is important to lead generation. If your site looks dated, isn't easy to navigate, or is slow, visitors aren't going to stick around long enough for you to get their contact information.
Website design goes deeper than what the site looks like. Really consider user experience. We strongly recommend hiring a website design company that knows exactly how to build a beautiful, easy to navigate, speedy site that's sure to keep visitors engaged.
4. Neglecting to Plan
Before you throw a bunch of popups on your site and lock down a bunch of your content, make a plan.
Start your lead generation strategy by identifying your target audience. Your product probably isn't for everyone and while getting a lot of leads feels good if those leads are likely to convert they're just taking up space in your CRM or email list. And probably costing you money.
Once you've identified your target audience you can plan out how you want to reach them (buttons, popups or other on-page forms, gated content, lead magnets, etc).
After you have your target audience and lead generation tools planned out, it's time to think about your content.
Again, you'll want to create content that really resonates with your target audience. You don't have to be everything to everybody. Think about the content that your ideal customer wants and create that. It will make collecting high-qualified leads much easier.
Wrapping Up
We've just spent a lot of time and space talking about the importance of lead generation, but did you know that 42% of business owners don't have an active lead generation plan in place?
Don't be part of the 42%. Use the lead generation tips we've outlined here to create a lead generation strategy that will keep your sales funnel full.
If you're looking for help with your lead generation strategy, here's a list of the best lead generation companies that can get you going.