Do you have a local SEO strategy? If you're a local business that wants to generate high-quality traffic and drive conversions, local SEO can make that happen.
In this article, we share 10 actionable local SEO tips to boost your local SEO strategy and get your site found in local searches.
What Is Local SEO?
Local SEO is the act of optimizing your business's online presence to get more business from local searches on Google and other search engines. It can help your business promote products and services to potential customers who are in close physical proximity to your local business.
Local SEO involves multiple ranking factors like optimizing your Google My Business and Bing Places profiles, profiles on social media, backlinks, finding and creating content around local keywords, and building NAP citations (Name, Address, Phone).
Local SEO helps you optimize your site and online presence to help people find you in real life by targeting potential customers located in the same geographical area as you.
Why Is Local Search Important?
Local SEO is important because it helps the right kind of traffic find you—both online and in the real world. And, people are searching for you!
According to Google, 46% of all searches have local intent and Think with Google reports that "near me today/tonight" searches increased by 900% over 2016–2018 with a 200%+ mobile search growth for "open" + "now" + "near me."
More importantly, HubSpot reports that 72% of consumers that did a local search visited a store within five miles, and, according to Nectafy, 88% of people searching for local businesses from a mobile device either call or visit the business within 24 hours.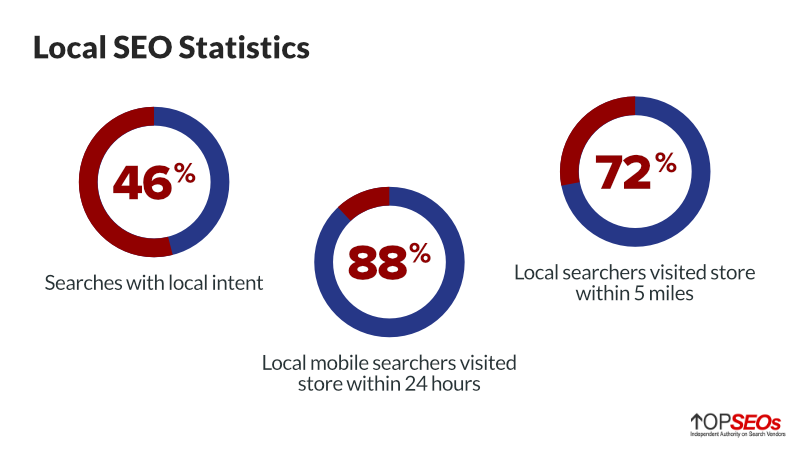 Local searches are highly targeted and timely since the reason people do local searches is to find local businesses that have the products and services they need.
Local SEO can help you promote your business, products, and services to local customers so they find you in local searches when they need you.
Ultimately, local SEO results in more conversions since local searches are high intent searches. The people searching locally are looking for a place to spend their money.
If you're a business that has a global presence, you may wonder if you need local SEO. Here's an article on local SEO vs. national SEO that can help you decide what's right for your business.
Local Search Ranking Signals
So, how do you actually do local SEO? In this section, we'll cover ten actionable local SEO tips you can put into practice today to drive traffic—both online and real-life—to your business.
Local SEO Tip #1. Business Pages
If you haven't created or claimed your business on Google, Bing, and Facebook, that should be your first step.
Google My Business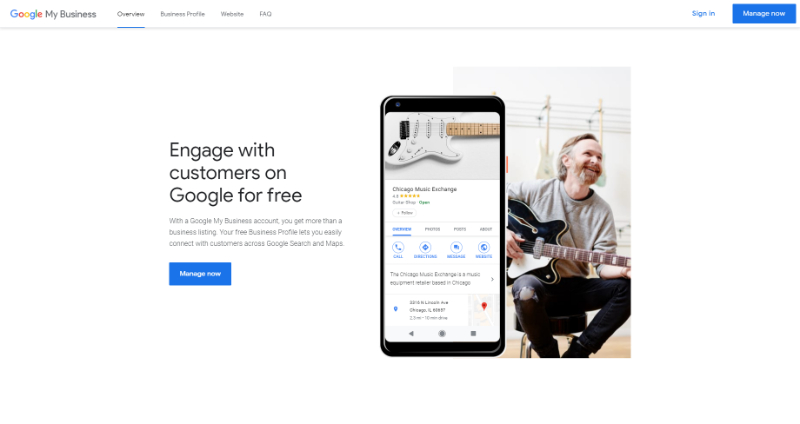 Google My Business (GMB) is a free tool that gets you a business listing on Google as well as ways to connect with potential customers via Google Search and Maps.
With GMB, you can easily log in to update your business address, phone number, website, open hours, and more. This helps customers find and connect with your business.
Additionally, you can make your business profile stand out with photos, special offers, and promotions.
Google My Business gives your business a presence on Google Search and Maps, lets you respond to reviews, and offers insights that show you how you can further optimize for better results.
Bing Places for Business
Google casts a large shadow, it's true. The search engine giant is used by about 92% of people who search online. So, why bother with Bing?
Simple: many searchers don't just use Google.
While Google-only searchers make up about 65% of searchers, Bing-only searchers and those who use both Bing and Google account for the other 35%.
To get the most from your local SEO, we recommend maintaining a presence on both platforms.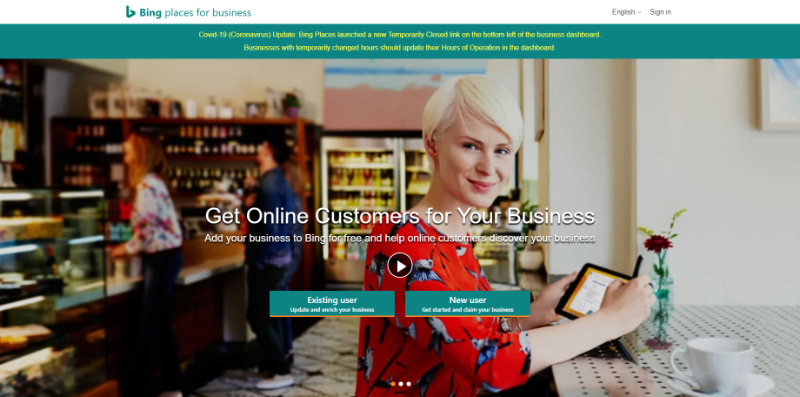 Claiming or creating your Bing Places for Business account is easy. Plus, if you're already on Google My Business, you can import your business information from there to Bing Places.
Facebook Pages
Did you know that Facebook gets 1.5 billion searches every day? While the social media platform is not a search engine, many people search Facebook to find information about businesses. This makes it perfect for local SEO.
Social signals don't carry a lot of weight, but they do have some impact on SEO, according to Google:
"Google gathers business information from a variety of sources and may include it to give customers a more detailed overview of your business."
Creating a Facebook Page for your business is easy and free! Just go to Facebook, click the plus sign in the top right corner of the page, and choose Page from the list.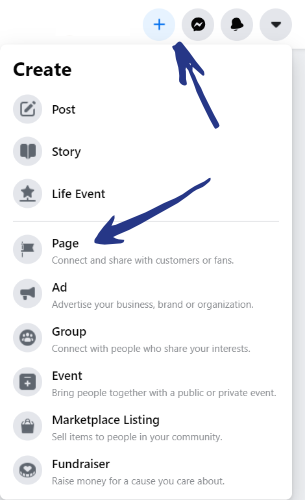 Then, walk through the setup process.
Keep your Facebook page updated with your open hours and a description, as well as including your website.
Local SEO Tip #2. Citations
Citations are places online where your business information (name, address, phone number, and website) shows up. These are typically in online directories or business listings sites.
While citations don't have enormous SEO impact, you'll want to get your site listed on as many as you can.
Why? If you aren't showing up in the places where people are searching for local businesses like yours, those searchers will end up going to your competitors.
Structured Citations
Structured citations typically show the information you entered when filling out a form on a directory website. Here's an example: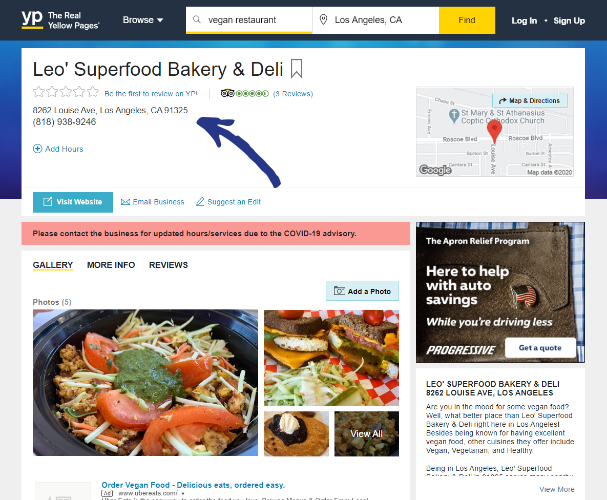 Unstructured Citations
Unstructured citations are the result of press and social media where your business's contact information is available. This data typically isn't entered in a structured format.
Some of the most popular directories to list your business include:
Apple Maps
Yellowpages
Foursquare
Yahoo's Localworks
Local SEO Tip #3. Reviews & Review Response
While Google reviews carry the most weight in Google searches, it's important to make sure that your business is represented well on other online review sites, too. Here are a few of the more popular ones:
Yelp
Glassdoor
Angie's List
BBB
A number of high-quality positive reviews improves your business's visibility on Google:
"High-quality, positive reviews from your customers will improve your business' visibility and increase the likelihood that a potential customer will visit your location."
In addition to positive reviews, your responses to both positive and negative reviews count for something in local SEO, too.
We recommend setting time aside to reply to customer reviews and address the concerns expressed in negative reviews to see if you can turn them around.
Local SEO Tip #4. Social Media
As we already mentioned, social signals have an impact on local SEO. Be sure to claim your site and maintain some kind of presence on popular social media platforms like LinkedIn, Twitter, and Instagram.
If you're not going to be active on the channel, be sure to let visitors know.
Social media is seen as an "instant gratification" tool; people expect fast responses.
If you don't let visitors know that you won't be checking the platform regularly, it will leave a bad impression on them.
Local SEO Tip #5. NAP (Name, Address, Phone)
Your name, address, and phone number should be consistent across all mentions of your business on the internet. Some SEO experts call this NAPW and include a website, too. That's what we recommend.
The goal of local SEO is to make it easier for potential customers to find you, so you want to make sure that your information is consistent so there is no question as to what business is connected to the info that's out there.
In addition to putting your NAPW in local online directories and business listings, also include the information on your website.
Local SEO Tip #6. Local Content
To attract the right traffic you need the right content. That means that you'll need high-quality localized content to attract local customers.
Localization is a powerful way to increase organic visibility.
There are several types of content that you can create to boost your local SEO efforts:
Landing pages. If your business has multiple locations, we recommend creating a unique, city-specific (or neighborhood-, county-, or state-specific) landing page for each location.
Press pages. These pages are largely ignored but can be great for publishing local content that will help you rank.
FAQ pages. We recommend creating FAQ pages filled with localized content and written in a conversational way. This will help you leverage voice searches.
You can also host local events or partner with local events and create content around those happenings to drive visibility.
Local SEO Tip #7. Inbound Links
Link building is a vital part of any SEO efforts, including local SEO.
And, it's not as hard as you think!
Just start by reaching out to other local businesses you already have a relationship with. This could be neighboring businesses, suppliers, distributors, or anyone else you've worked with.
Then, make it really easy for them to agree to link to your site.
Backlinko suggests looking at your contacts site to find a page where a link to your site makes sense.
From there it's just a matter of reaching out and asking for a link on that page.
Of course, you can also do this via cold outreach, but we recommend getting started with the businesses that already know you.
Local SEO Tip #8. Title Tags & Meta Descriptions
In our article about SEO title tips, we recommend optimizing title tags around one or two keywords.
You can do that for local SEO, too!
In addition to your SEO title tags, be sure to optimize your meta descriptions.
You can use Google Ads to find copy that will work great as a meta description without over-optimizing.
Local SEO Tip #9. Website Structure
Your website should be set up in a way that makes it easy for humans to use and search engines to crawl.
There are three things you can address to make your site both human and bot-friendly:
Main Menu Navigation
Your main navigation menu should be consistent across all pages of your site and only include the most important pages. Here's an example of our navigation menu: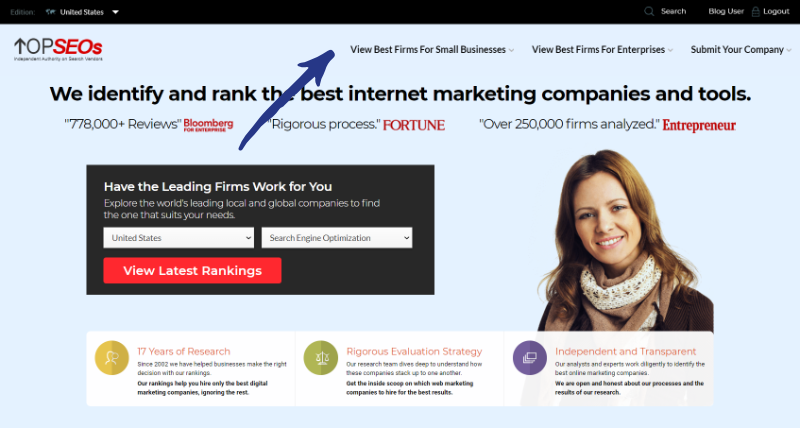 Sub-Menus
Sometimes you may need more than a single navigation menu. Sub-menus can be used to create topic clusters within your main navigation menu. Here's what our sub-menu looks like: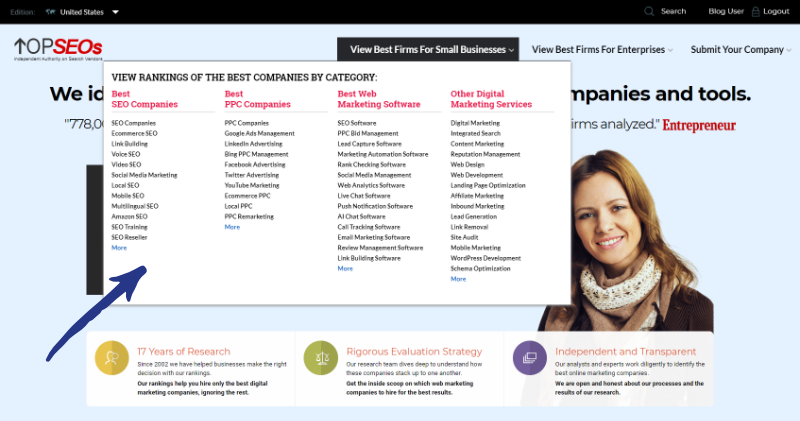 Internal Linking
Internal linking improves website navigation, distributes page authority among your site's pages, and can help you move visitors further down your sales funnel by driving them to certain pages on your site.
Internal linking can provide context about how the pages on your site are related to one another and gives human visitors and search engines a map of your content.
Local SEO Tip #10. Mobile-Friendly Site
With 90% of smartphone users performing local searches on their mobile devices, it's vital to optimize your site for mobile use.
Here are five easy ways to optimize your site for mobile:
Use a mobile-optimized theme with thumb-friendly design
Include an easy-to-use navigation menu
Maximize your site's loading speed by optimizing images and code
Use HTML5, not Flash
Use popups wisely
Get the Most From Your Local SEO
SEO is constantly evolving and it can be hard to stay up-to-date on the latest local SEO tips and trends. The actionable local SEO tips we've shared here are enough to get you started on the path towards a healthy and vibrant local SEO strategy.
If you want to put your local SEO in the hands of experts who can get you the most return on your investment, check out this list of the best local SEO services around.