If you're not using Pinterest for business, you could be missing out. Like other social media networks, Pinterest is a place to connect with friends and influencers, but it goes beyond that.
Pinterest is a social network, sure, but it's also a search engine.
And, like other search engines, you can use SEO on Pinterest to get your business noticed by the right people.
Not sure how to use Pinterest for your business? In this article, we'll share the best Pinterest business account strategies to get you started moving in the right direction.
Plus, we'll show you how to create a Pinterest business account in case you don't already have one.
First, though, you may be wondering why you should bother creating a Pinterest account for your business. Let's take a look!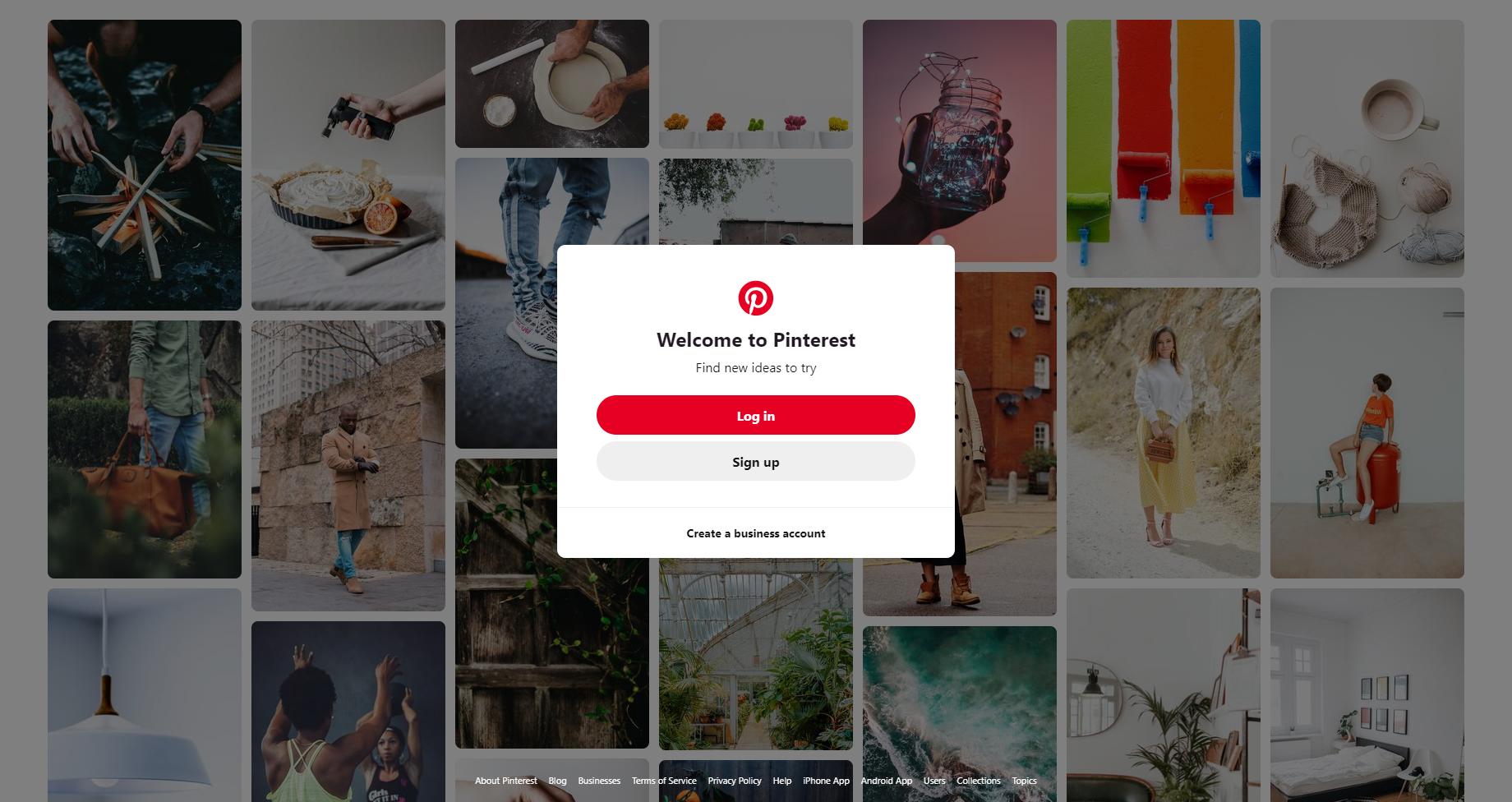 Why Create a Pinterest Business Account?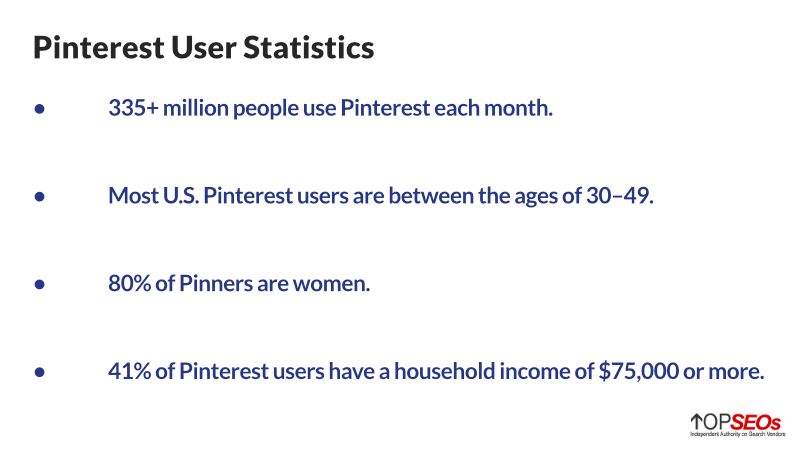 Pinterest has seen consistent growth over time. Currently, there are 335+ million people using Pinterest each month, according to 2020 reporting from ComScore. And, as of the end of 2019, Pinterest was the third most popular social media platform in the United States.
What's really great about the platform, though, is why people are using it.
85% of people on Pinterest say that Pinterest is where they go when they're starting a new project (Talk Shoppe, 2018). And, 89% of Pinterest users are on the platform for purchase inspiration (GFK, 2018).
Most Pinterest users in the United States are between the ages of 30–49 (Pew, 2018), an age group that is hard to reach on other social media platforms. Of those users, a whopping 80% are women (ComScore, 2019).
And, the average Pinterest user has money to spend. 41% of Pinterest users have a household income of $75,000 or more.
It's also important to note that Pinterest has a strong user base outside of the United States, as well. In fact, more than half of Pinterest users are based outside of the United States, according to Pinterest.
This is not an audience your business can afford to ignore.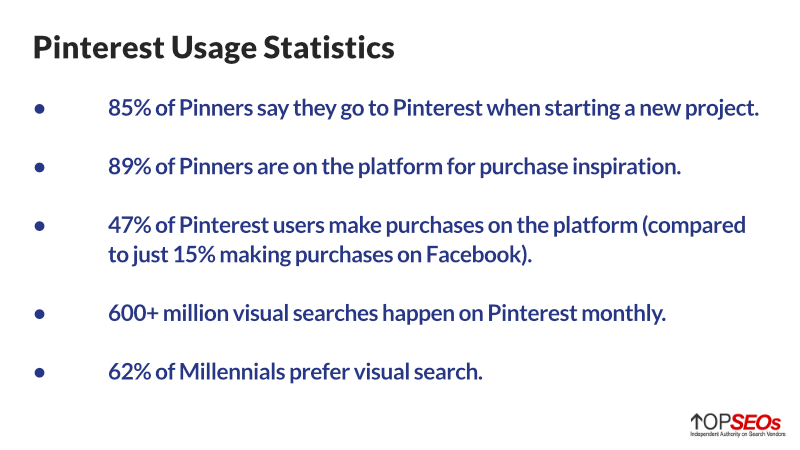 Audience aside, visual search is enjoying a surge in use. More than 600 million visual searches are conducted on Pinterest every month, according to the platform's reporting.
Currently, Pinterest is the only social media platform that offers visual search. Since 62% of Millennials prefer visual search to any other technology (Business Insider, 2018), it's easy to see how Pinterest can help you reach that audience.
Pinterest also beats out other social media platforms in terms of shopping, with 47% of Pinterest users on the platform to actually shop. The second most popular platform for shopping is Facebook, with only 15% of users on the platform for that purpose (Statista, 2019).
Convinced that Pinterest is worth your time? Great! Let's talk about how to get started with a business account on Pinterest.
How to Create a Pinterest Business Account
You can create a Pinterest business account in one of two ways.
First, if you already have a personal account on the platform, you can convert it to a business account. Or, you can create a new account just for your business, without linking it to your existing personal account.
From Your Personal Profile
Log in to your personal Pinterest account and click the triangle next to your profile picture in the upper right corner of the page. From there, click on Add a free business account.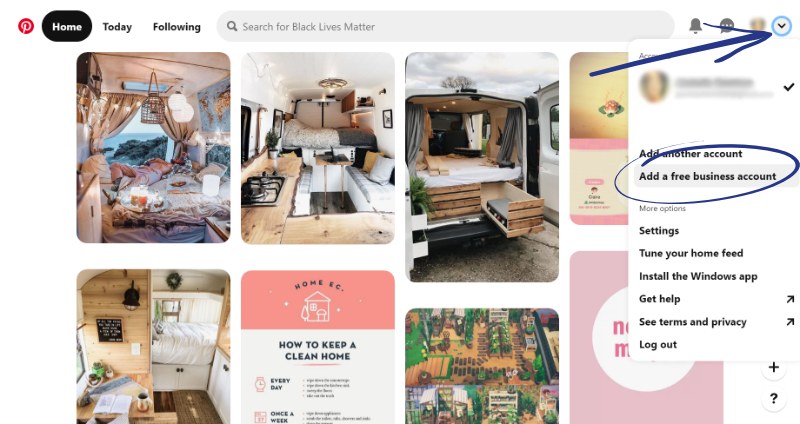 Click Get started, then complete the business profile information.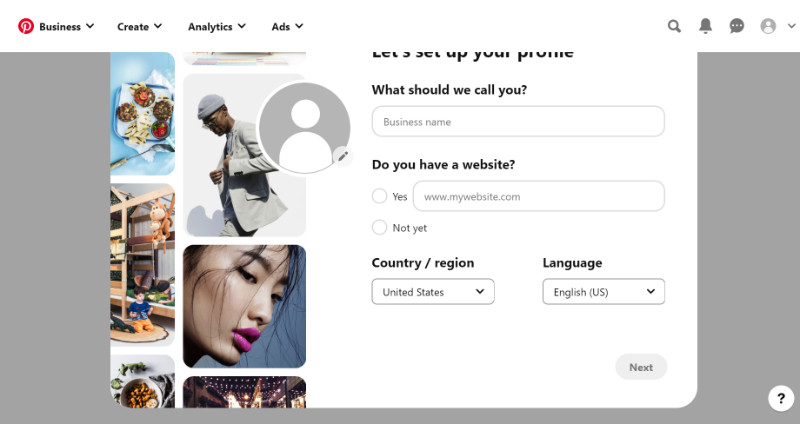 That's it! You've successfully created a Pinterest business account from your personal Pinterest page.
Without Linking Your Personal Profile
If you want to create a Pinterest business account that's completely separate from your personal Pinterest account, start by logging out of your personal account.
Now, click Create a business account.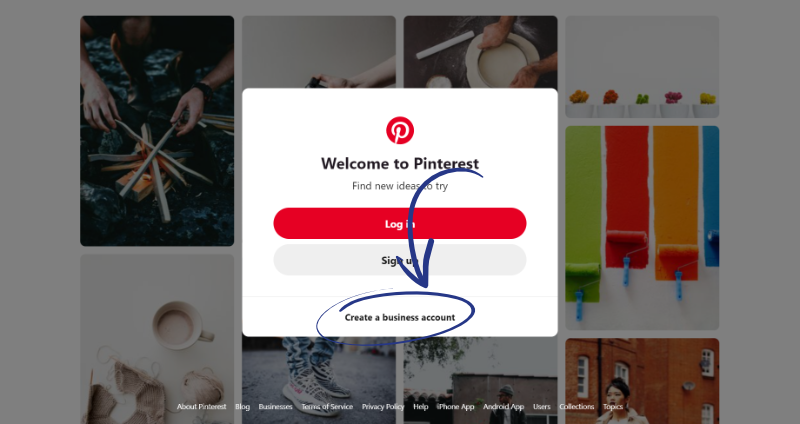 Enter the contact email, a password, and the age of the person who will be managing the account. Then, click Create account.
From there, just fill out your business details and you're done.
Pinterest is a powerful social media platform and a visual search engine that can help you increase your brand's reach. To get the most out of the platform here are the Pinterest business strategies we recommend.
9 Pinterest Business Account Strategies
A solid Pinterest strategy is about more than just great visuals. It all starts with a deep understanding of your target audience, and what drives them to engage on the platform.
No matter your industry, you'll need to create a lot of content for the platform, as well as curating boards to meet the needs of customers throughout the customer journey. Since nearly half of Pinterest users come to the platform with purchasing intent, you need to give them the content that moves them to purchase from you.
When you're just getting started on the platform it can seem pretty simplistic. You just post content that links to content on your site? That's it?
Yes and no.
Yes, you need to create content that links to your site. But, you need to create a lot of it. Many Pinterest experts recommend posting on the platform between 5–30 times a day.
Plus, there's optimization to think about.
And shoppable tweets.
Not so simple, right?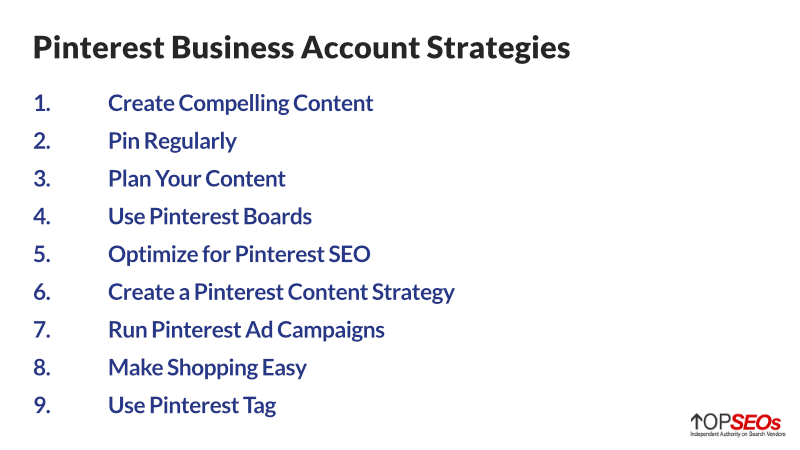 Don't worry. In this section, we've got nine Pinterest business account strategies you can use to maximize your ROI.
1. Create Compelling Content
Pinterest is a visual platform. According to Pinterest, 85% of Pinterest users (Pinners) value visuals more than text. But don't think for a second that means you can ignore your copy.
The visuals are what grab attention on the platform, but if your copy is bad, Pinners aren't going to stick around.
Here's how to create a pin that Pinners will love:
Use vertical images: 85% of Pinners access the platform from their mobile devices. Your images should have a 2:3 aspect ratio and be of high quality.
Include a headline: Capture Pinners with an interesting headline.
Write strong copy: Your copy should make Pinners want to click to learn more.
Add your logo: Be sure to include your business logo on your pins so your brand shows up when the pins are repinned.
Tell a story: Your visuals, headline, and copy draw people in, but your content needs to be relevant and interesting to keep them engaged.
2. Pin Regularly
Pinterest isn't a "set it and forget it" platform. You have to be active on the platform every day to reap the benefits. That's why Pinterest recommends that you pin something once per day.
As we already mentioned, though, most Pinterest experts will suggest pinning up to 30 times each day.
We recommend using a social media posting and scheduling tool to keep you active on the platform without the need for you to actually log into the platform every day.
Using Pinterest's Audience Insights can show you when your content gets the most engagement so you can schedule your content to post at that time.
3. Plan Your Content
Remember that Pinners are planners. They use Pinterest to plan out projects and they plan ahead.
Since holidays and different seasons are huge opportunities for many brands across industries, you'll want to plan your content well in advance to be ready when your target audience starts planning.
Pinterest recommends that you post seasonal content 30–45 days before the season or holiday actually happens.
This planning will pay off. According to Pinterest, promoted pins that correspond to holidays and seasonal needs bring a 22% increase in online sales.
Pinterest offers a Seasonal Insights Planner each year that can help you decide which holidays you want to create content around, the keywords to use, and when to start posting.
4. Use Pinterest Boards
Pinterest boards give you the chance to create a curated experience for your followers on the platform.
You could create boards for things like tutorials, user-generated content, documentation for users, and more.
Sephora is a brand that does Pinterest right. A quick glance through their boards shows boards for each season in their collection, as well as user-generated content, seasonal content (like their Halloween makeup board), and a lot more.
5. Optimize for Pinterest SEO
Don't forget that Pinterest is a search engine. SEO is important to get your content found on the platform.
Keywords and hashtags are two easy ways to ensure that your profile, boards, and individual pins and descriptions are optimized.
Pinterest has four main ranking factors:
Domain Quality: Pinterest looks at how popular the pins from your website are and uses that to determine if your content is useful to Pinners.
Pin Quality: This is a measure of how popular a specific pin is. The more popular the pin is, the better quality Pinterest assumes it is.
Pinner Quality: Pinterest wants to reward people who are active on the platform, so it assigns a quality to each Pinner based on how you use and engage on the platform.
Pinterest Keywords: Keywords are still the most important ranking factor for the platform. Using the right keywords for your content lets Pinterest know what your content is all about and can then show them to other interested Pinners.
6. Create a Pinterest Content Strategy
Nearly all (97%) Pinterest searches aren't branded. This means that Pinterest is a great opportunity for lesser-known brands to get found on the platform.
But how do you do that on the platform? You need a good Pinterest content strategy.
Pinterest encourages brands to build a strategy that takes potential customers from awareness to purchase. Here are content marketing tips to help you create a better Pinterest content strategy.
7. Run Pinterest Ad Campaigns
Pinterest ads are a great way to boost traffic and drive online actions. You can target your ads to specific keywords, interests, age, location, and other demographics.
But that's not all.
Pinterest also makes it easy to target a website visitors list, customers from your CRM, or people who have already engaged with your brand on Pinterest. Plus, you can use actalike audiences to find other people with similar interests and behaviors.
8. Make Shopping Easy
Pinterest offers a couple of ways you can make shopping easy for potential customers.
First, they have Shop the Look pins people can find and buy products from fashion and home décor pins. Links from Shop the Look pins take users right to the product page so they can buy immediately.
Pinterest also has a Shop tab that you can add to your business profile if you've created shopping pins with catalogs so you can feature shoppable products on your profile.
Pinners can then see your Shop tab no matter which platform they're using. And, you can have up to eight featured shops, so you can even refine shops by season, type of item, or however you wish.
9. Use Pinterest Tag
Pinterest Tag lets you measure the effectiveness of your ads. It requires installing the source code into your HTML. If you're not sure how to make that happen, we recommend reaching out to an agency that specializes in Pinterest marketing to help.
You can use the Pinterest Tag to:
Track Conversions: What do people do on your site after engaging with your Promoted Pins?
Measure Campaign Performance: Was your campaign successful? You can get the data you need to know.
Build New Audiences: Find people who visited a specific page or took a certain action on your site so you can create a customer list for your next campaign.
Leverage the Power of a Pinterest Business Account
Pinterest is a robust marketing tool that can help you boost brand awareness, get more conversions, increase sales, and nurture relationships with your target audience. You can use any or all of the Pinterest business account strategies included in this article to maximize your ROI on the platform.
If you want to hit the ground running with your Pinterest marketing, here are the best Pinterest marketing agencies to get you off to a great start.