Are you considering joining Amazon's affiliate program? Amazon's affiliate marketing is touted as a fast and easy way to tap into an additional source of income from online sales. But is it actually worth it?
Amazon's affiliate marketing has been around since 1996. And regardless of whether you believe that Amazon was the first affiliate marketing program on the internet, there's no doubt that its affiliate program has been around a long time.
In 1996, Amazon was an online bookseller with a small marketing budget. It started its affiliate marketing site with the hope of bringing in more traffic and making more sales.
And it has. But can you?
Yes. Some Amazon affiliates are even earning tens of thousands of dollars every single month.
In this article, we're going to show you how you can get started as an Amazon affiliate and what you need to do to be successful on the platform.
What Is Affiliate Marketing?
Affiliate marketing is promoting another business's products to earn a commission on each sale you get for them. You act as a middleman between your audience and the business whose products you're selling.
There are tons of affiliate marketing programs to choose from, so no matter your audience, there's probably an affiliate marketing program out there for you.
What Is the Amazon Affiliate Program?
Amazon Associates is the affiliate program by eCommerce giant Amazon. It's free to join the Amazon Associates affiliate program.
As an Amazon Associate, you advertise and market the products available on the Amazon platform on your own site using special affiliate links that track purchases by your audience back to you.
Then, you earn a commission (sometimes called "referral fees") based on those sales.
How Does Amazon's Affiliate Program Work?
Amazon's affiliate program, called Amazon Associates, is pretty straightforward. You sign up for an Amazon Associates account and once you're approved, you'll get access to the Amazon Associates platform.
You can create an affiliate link for every single product on Amazon and you earn commissions when people buy using your special link.
You promote Amazon products using the product links, banners, shopping ads, and text links that Amazon provides. Each product category (grocery, beauty, health, etc.) has its own commission earnings potential.
When someone visits Amazon using an affiliate link you created, Amazon places a browser cookie on your behalf. This tracks their activity on the platform for 24 hours.
This means that you get credit for any sales they make while your Amazon affiliate cookie is active. So, even if they came to Amazon from an affiliate link on your site, you will still get a commission if they don't buy that product and instead buy another.
To get the most from your Amazon Associates account without having to create multiple affiliate links for every different product you want to promote, you can create a text link using SiteStripe.
How to Become an Amazon Associate
Becoming an Amazon Associate is a great way to earn money from the products that you enjoy using or that you write about anyway.
Of course, Amazon has guidelines that it requires its Associates to follow, so make sure you read the fine print before you get started. If you don't adhere to the guidelines, you might find yourself banned from the program.
Most of the rules deal with ethical promotion and attempt to close loopholes that Associates could use to "game the system." Here are just a few of the guidelines you'll need to follow:
You have to disclose that you may earn commissions from your recommendations.
You can't make deceptive claims in your recommendations.
Since prices change frequently, avoid mentioning them (with some exceptions).
You can use Amazon affiliate links in offline promotions, email, or ebooks.
You can't use link shorteners on affiliate links.
If that sounds alright to you, and you've checked out the rest of the guidelines, let's dive into how you can become an Amazon Associate.
1. Create a Blog or Website
To sign up as an Amazon Associate, you need to have an active blog, website, app, or YouTube channel with content.
During signup, you're going to have to tell Amazon why your site exists (its purpose), so take a minute to think about what you're planning to say, who you're planning to target, and how you're planning to get them to your site.
2. Go to Amazon Associates
To create your Amazon Associates account, go to the Amazon Associates site.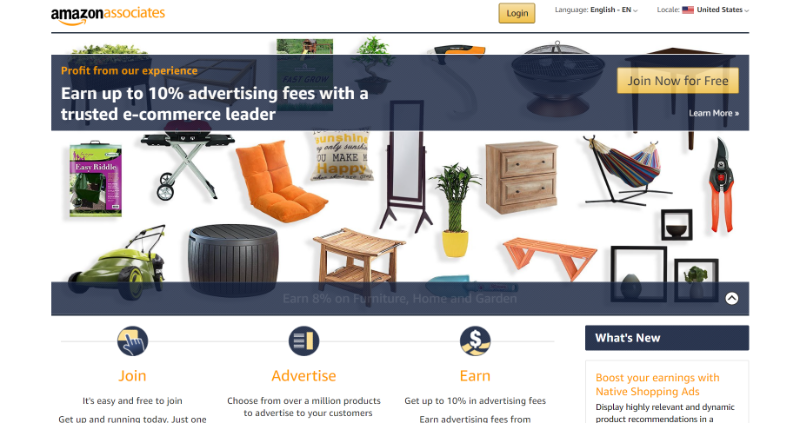 Click Join Now for Free and login to your existing Amazon account or create a new one.
3. Build Your Amazon Associates Profile
Once you've signed in to your Amazon account or created a new one, you'll need to fill out your Amazon Associates profile.
If you're using a new Amazon account for this, you'll need to enter your contact information as well as:
Your websites and mobile apps
A description of your site
Details about the products you want to promote
How you plan to drive traffic
Once you've entered that information, you have to agree to the terms of the operating agreement we mentioned earlier and click Finish.
You'll see a screen congratulating you: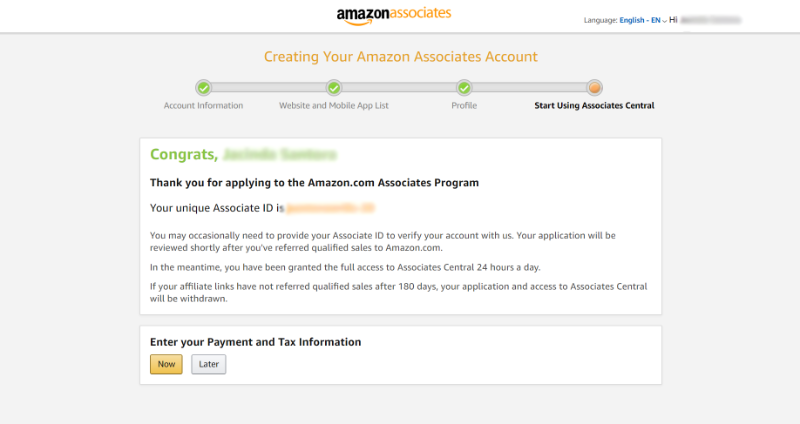 At this point, you might as well enter your payment and tax information by clicking Now at the bottom of the page.
4. Enter Your Payment and Tax Information
You can choose to be paid via direct deposit, check, or with an Amazon gift card.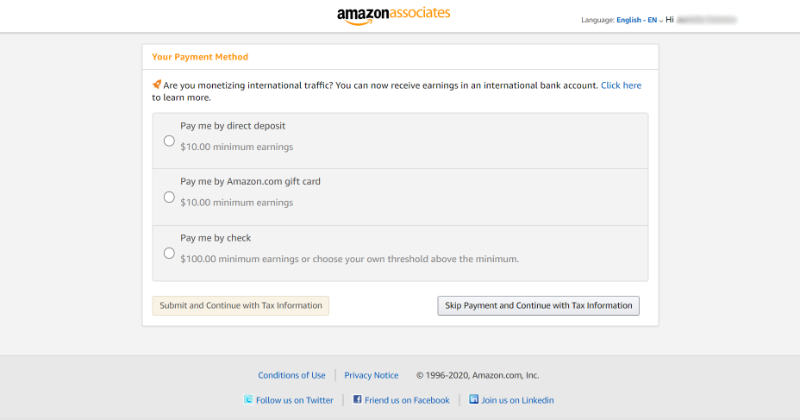 If you choose to be paid via direct deposit, you'll need to enter your bank information.
Once you've selected how you want to be paid, click Submit and Continue with Tax Information at the bottom of the page.
On the next page, enter your tax information.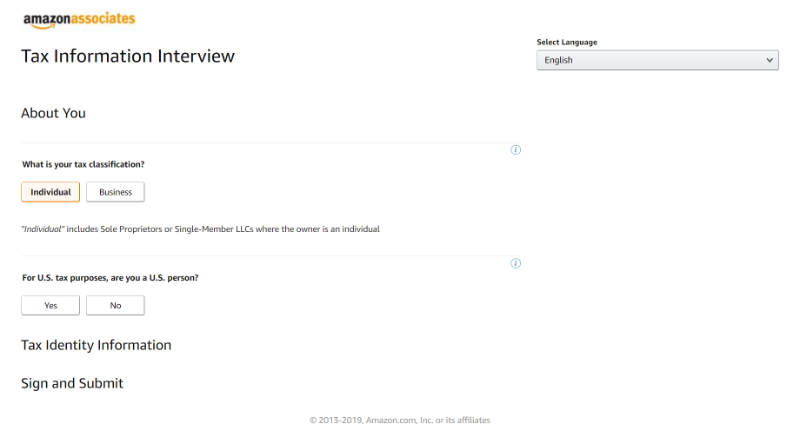 After you've entered that information, you're done! Welcome to your new Amazon Associates account.
How to Create Amazon Affiliate Links
After your account is created, you'll end up on your Associate dashboard. This is where you'll see things like an earnings overview, total clicks, monthly summary, and more.
This is also where you'll search for the products that you want to promote. Here's how to do it.
1. Go to the Product Links Page
On the menu, click Product Linking > Product Links: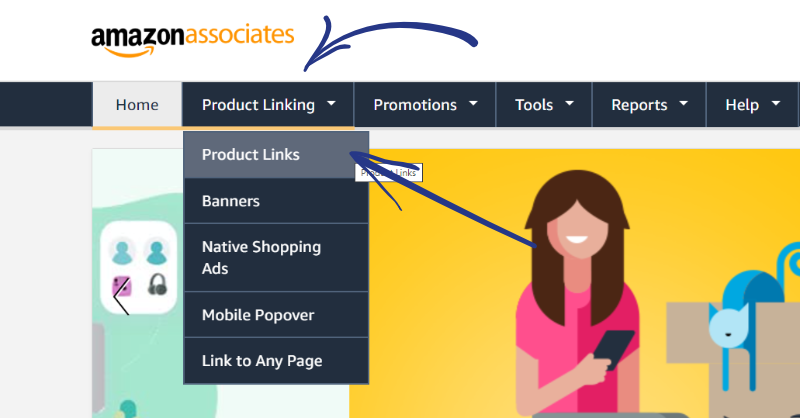 This will take you to a page where you can search for products: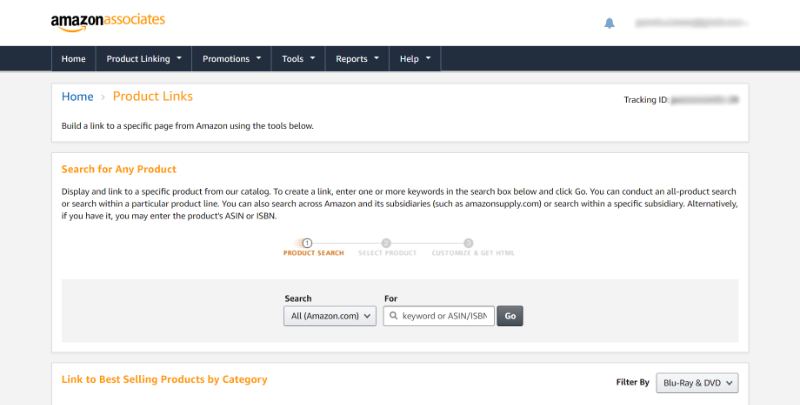 2. Find the Product You Want to Promote
You can search for the product you want using an ASIN (Amazon Standard Identification Number) or search the catalog using words.
An ASIN is a 10-character alphanumeric code that's assigned to products by Amazon for identification purposes. You can find a product's ASIN in the Product Information section on the product listing.
3. Grab the Link
Amazon will bring up search results that match your query. From there, you can click Get Link next to the item you want to promote: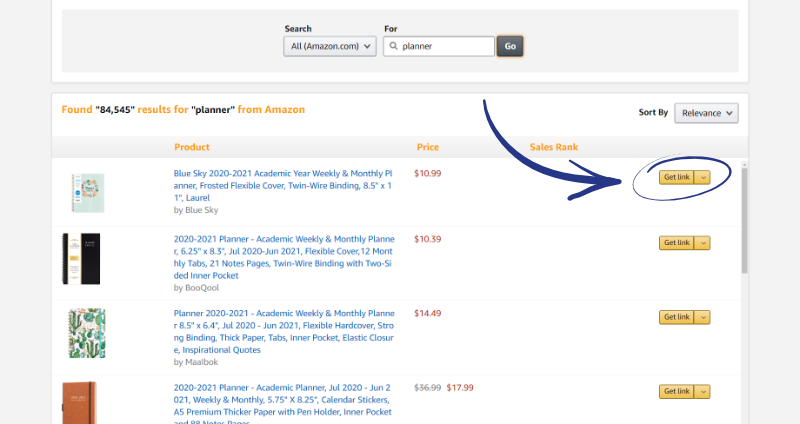 This will copy the Amazon affiliate link to your clipboard so you can paste it into your promotions.
4. Use SiteStripe
A much easier way to generate Amazon affiliate links is by using the SiteStripe bar that shows up on product pages.
All you need to do is click the Text link in the Get Link section of the SiteStripe bar.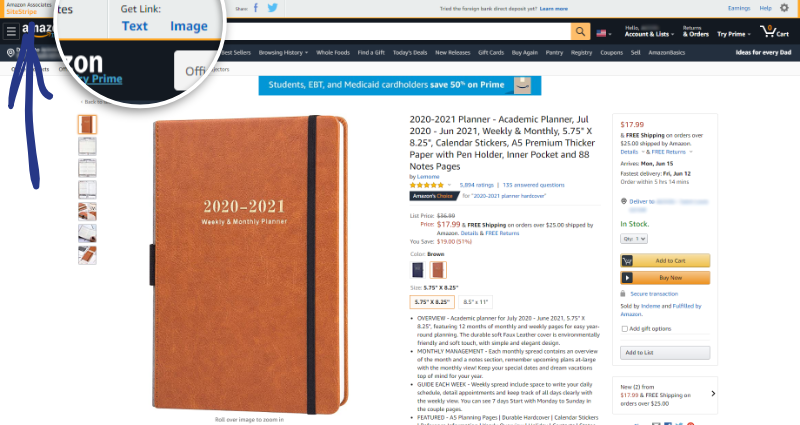 Then, just copy the link that appears in the popup.
5. Promote Your Links
Once you have your Amazon affiliate links, you can promote the products anywhere allowed by Amazon's guidelines.
How to Promote Your Amazon Affiliate Links
So, how do you promote your Amazon affiliate links to generate sales and earn money?
There are several ways to do it. Let's take a look at some of the more effective methods.
Blogging
Blogging is hands down the most popular way affiliates promote products as Amazon Associates. As a blogger, you can choose from a wide range of affiliate programs to use—you're not limited to just promoting Amazon products.
Within your blog, there are quite a few different ways to promote Amazon products. You can:
Write reviews
Write about Amazon's best selling products
Promote special offers
Write content about products available on Amazon
These days, people start their shopping experience online. This means that you can create content on your blog, optimize it to be easily found by search engines (and helpful to searchers), and earn money on the affiliate links in your content.
Social Media
Social media can be used to promote affiliate links directly or by redirecting followers to your blog content.
Remember to let your followers know if what you're linking is an affiliate product you want them to buy. And don't let product sales be the only reason you post on social media.
YouTube Videos
YouTube is a great place to create and post product reviews, tours, tutorials, and more.
Many YouTubers will create tutorials using specific products that they will then shout out and link to, generating affiliate sales.
Do you use Twitch? You can also add your Amazon affiliate links to your Twitch account! Not sure what Twitch is or if it's right for you? Check out these Twitch stats.
Lead Magnets and Email Marketing
First, remember what you can and can't do with your affiliate links: no ebooks, no emails.
So, why are we talking about lead magnets and email marketing?
Many successful affiliate marketers use email marketing to promote affiliate products.
You can use your lead magnet to build your email list with people interested in what you have to say (and offer).
Then, use email marketing to send traffic from your emails to your website, where your affiliate links are.
New to email marketing? Take a look at the best email marketing services you can use to create a powerful email marketing campaign.
Amazon Affiliate Program Pros and Cons: Is It Worth It?
So far you've learned:
What affiliate marketing and Amazon Associates is and how it works.
How to sign up as an Amazon Associate.
How to create Amazon affiliate links and promote them
But we come back to the question: is it worth it?
As with everything in life, Amazon Associates has both pros and cons.
Pros of Becoming an Amazon Associate:
For starters, it's really free to join and really easy to sign up and share affiliate links. This means that you can get started and keep going with minimum effort.
Amazon's an enormous eCommerce site that's trusted and well-known. This makes it easy to convince your site visitors to buy. Plus, Amazon has just about everything.
In addition to 3+ billion products, there are also services like Prime Video and bounties, so you're never going to be stuck trying to find something to promote.
Since the Amazon affiliate cookie is active for 24 hours, you can earn income from products that you didn't even link to. Once a visitor clicks on your affiliate link, you'll get a commission on everything they purchase within 24 hours.
This is incredibly beneficial since Amazon is constantly offering upsells and cross-sells. It's likely that your visitors are going to buy something.
As an Amazon Associate, you aren't responsible for providing customer service. Customers will deal directly with Amazon for that. You're just the middleman who brought them in.
Cons of Amazon's Affiliate Program:
Amazon has a low commission rate when compared to other affiliate programs. Plus, they can reduce the commissions whenever they want, as they did in May 2020.
The operating agreement that you agree to when you sign up for an Amazon Associates account is constantly updated, so you might find yourself out of compliance if you're not checking it out regularly.
While the 24-hour cookie Amazon uses means you won't get a commission if the referral doesn't complete a purchase within 24 hours. There are other affiliate programs with much longer cookies.
To get the most out of your Amazon Associates account, you'll need to create content around the products that you want to promote. This takes time that you might not have to spend.
Amazon affiliate links can't be directly shared through email marketing. This means that people who may be interested in buying the product you're talking about in your email will have to click multiple times to complete their purchase.
The more steps and clicks a user has to go through to complete a purchase, the more opportunities they have to just walk away.
Wrapping Up
As you can see, there's a lot that goes into Amazon Associates. While the signup process is easy, you'll need to stay on top of the operating agreement to ensure that you didn't miss any big changes.
Plus, as a member of Amazon's affiliate program, you'll need to be ready for the commission structure to change. This could have devastating effects on your business if your affiliate marketing only involves Amazon Associates.
That said, Amazon Associates is a relatively easy way for you to tap into an additional income stream.
Like many affiliate programs, you tend to get out what you put into promoting your Amazon affiliate links.
Spending your time and energy to create content that promotes your affiliate links will go a long way to not only making your site useful to visitors but to building a thriving business as an Amazon Associate.