When you think of Twitch you probably think of gamers, right? That is if you even know what Twitch is.
Twitch is primarily geared towards gamers, to be sure, but the gaming community is very diverse. Plus, that's not the only audience the popular live-streaming platform serves.
In this article, you'll learn:
What Twitch really is
Who uses Twitch
How businesses use Twitch
Twitch stats that can help you decide if Twitch is for you
Twitch has been around since 2011 and has seen consistent growth in both userbase and revenue. Even video streaming monster YouTube's gamer streaming service hasn't been able to catch Twitch.
So, what exactly is Twitch and what do the Twitch stats say about its staying power? Let's take a look.
What Is Twitch?
Twitch is an online platform for live streams that was intended for gamers to share their gameplay and commentary with viewers.
Twitch has grown tremendously since its inception, however, and now also includes live streams for gaming conventions, cooking shows, talk shows, and sporting events.
The draw of Twitch is its interactivity and sense of community.
Twitch lets viewers connect with streamers on a platform supporting live, long-form broadcasts.
Who Uses Twitch?
With its focus on gaming, it's probably no surprise that Twitch's audience is made up of mostly teen gamers.
While the audience is primarily interested in video game consoles and accessories, there are also strong interests in social networks and online communities as well as programming and developer software.
But these aren't the only people on Twitch.
If you're looking for a new platform to draw in new leads, Twitch just might be for you. Let's take a look at how you could use Twitch for your business.
How Businesses Use Twitch
Twitch has grown exponentially since 2012, going from 300,000 monthly broadcasters to 5 million in 2020.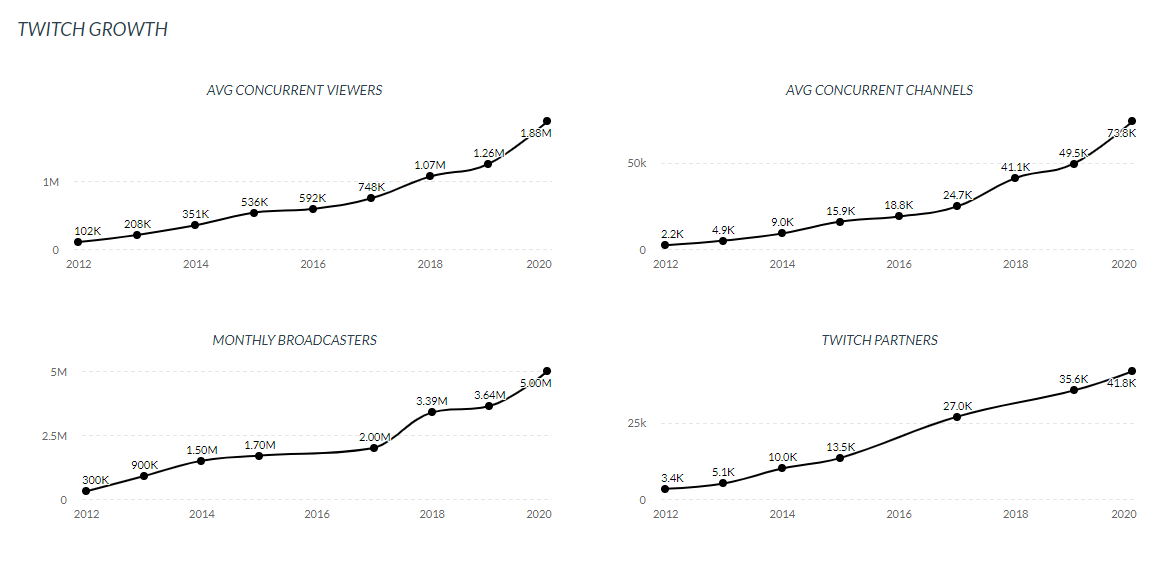 Image Source
And, Twitch users spend tons of time on the platform. In April 2020, Twitch users watched 1.79 million hours of live-streamed content.
That's a lot of hours' worth of attention to your brand. So, how can you leverage Twitch as a business?
Brand Awareness
Twitch lets you reach a broad audience that is interested in your content by live streaming on the platform.
To promote The Sims 4: Cats & Dogs, EA partnered with a Twitch streamer for a two-hour live stream while she played the game, talked about her experience, and answered questions from the viewers.
This brought awareness to the new game and set its launch up for success.
Targeting
Twitch users are predominantly Millennials. In fact, a staggering 50% of Millennial males in the United States use the platform.
But, gamers are just as diverse as any other market. No matter who your target audience, it's likely that there's representation on Twitch.
To target your ideal users on the platform, you need only create content geared toward those audiences.
WildEarth (WE), a broadcaster that live streams the daily lives of animals, is geared towards younger viewers, so the content they create for Twitch uses kid-friendly emoji and even slang in the video titles.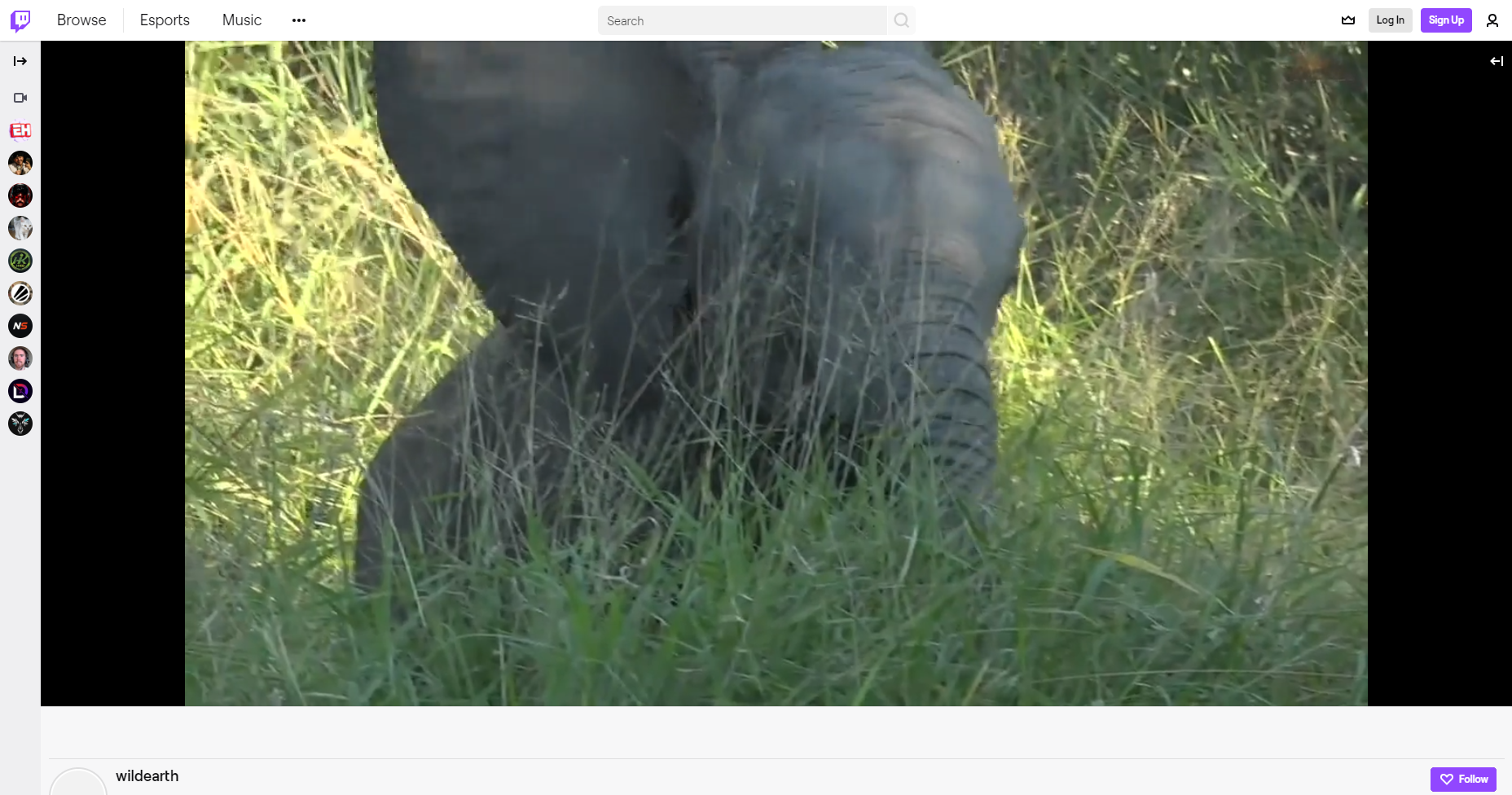 Lead Generation
Twitch includes Extensions that you can use on your platform that offer more activities for viewers to interact with leads to generate higher engagement and a more dedicated community.
Nissin Foods (the company that brings us Cup Noodles), partnered with Twitch streamer Pokimane to produce a branded broadcast.
The hook? She did the broadcast while eating Cup Noodles.
Nissin Foods showed up in the placement of not only the live Cup Noodles that Pokimane was eating but also in a "Slurp Meter" in the lower-left corner of the screen and an "ad content" banner in the lower-right corner.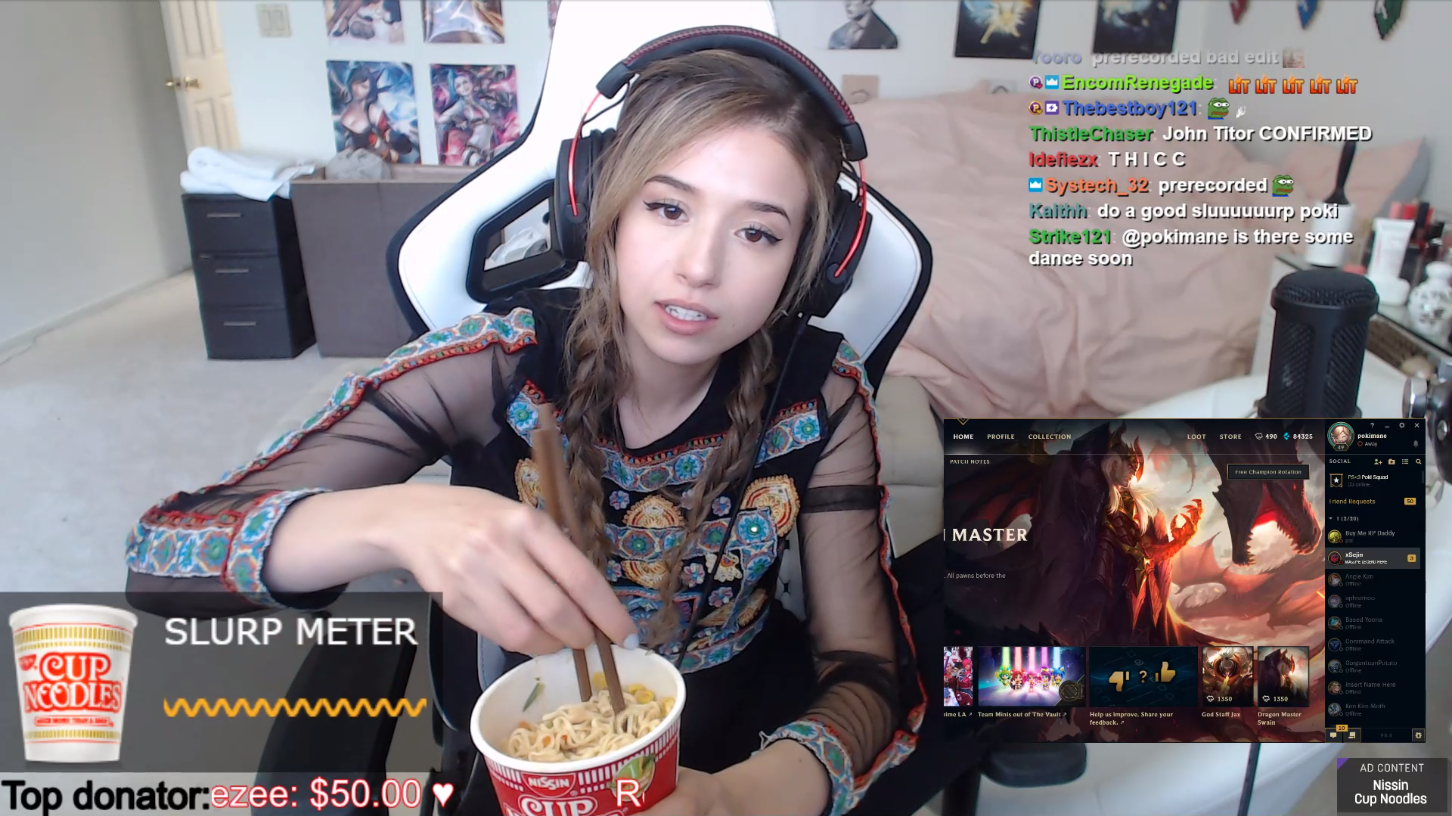 This branded stream has been viewed nearly 12,000 times by Pokimane's fans who value her judgment and are more willing to try products that she endorses.
Influencer Marketing
You've probably noticed that most of the marketing opportunities on Twitch are rooted in influencer marketing.
And that's what Twitch streamers are: influencers.
As a business, you have the opportunity to partner with popular Twitch streamers to bring your product to users you may not otherwise have access to.
Advertising
Twitch lets you connect with a segment of your target audience you may have missed. It offers native, display, and video advertising products that display in various areas on the Twitch site.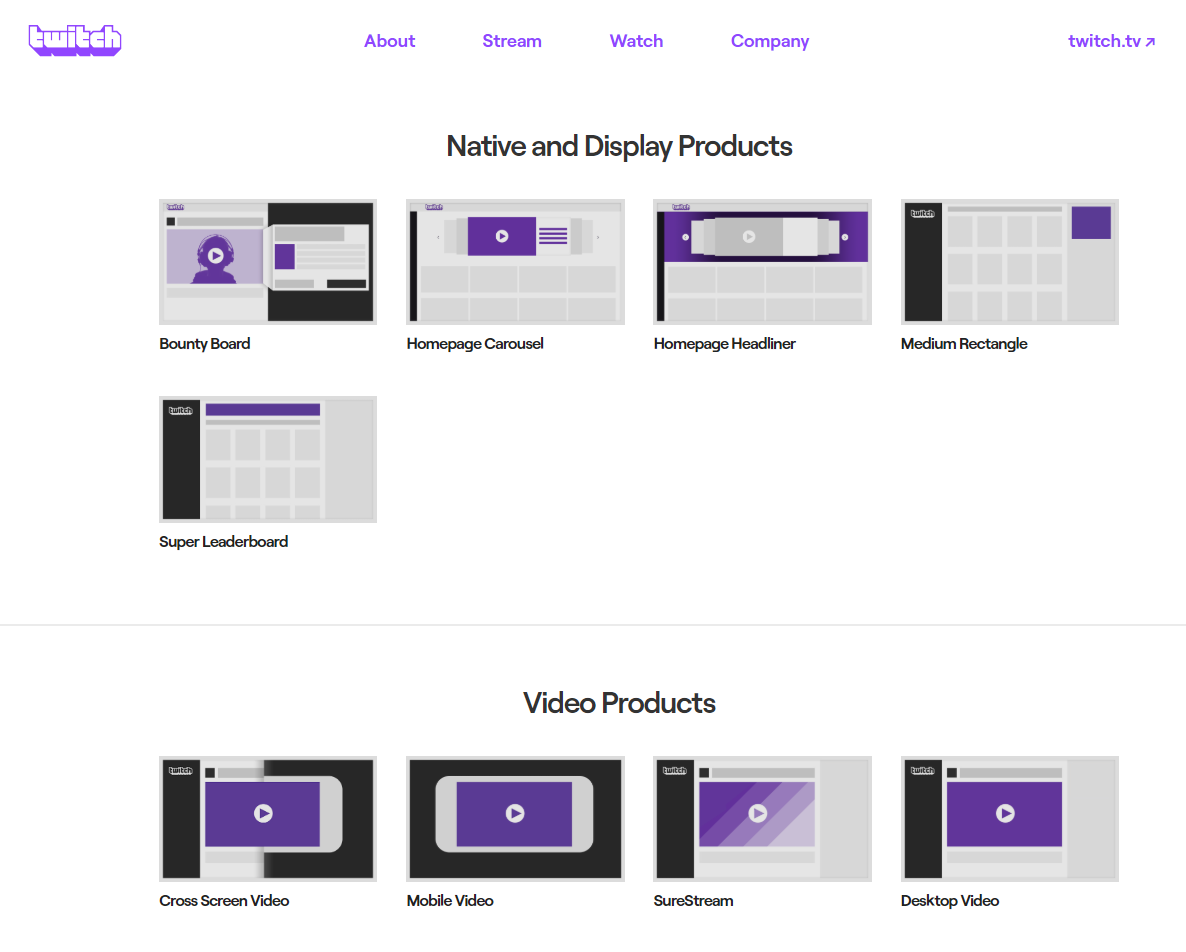 Advertising on Twitch can get you in front of the right audience and boost your brand awareness.
Twitch Statistics: Should Your Brand Use Twitch?
Now that you have a better understanding of Twitch, its users, and how you can use the platform as a business, you may be wondering "is Twitch worth it for business marketing?"
Why Use Twitch for Your Business
Twitch has a massive, diverse audience. While brands have been slow to move to the platform, it's beginning to pick up steam. Let's take a look at why.
Broad Reach
At any given time, there are hundreds of thousands of users on Twitch. That means a well-placed ad, combined with strong influencer support, can get your brand on the radar of a massive audience all over the world.
Plus, Twitch has more than 100 million active monthly users. While that's less than many social media platforms, Twitch offers a unique selling point: it's live.
Not Saturated
Since businesses have been slow to move to their advertising efforts to Twitch, the platform isn't as saturated as other social platforms. This means that your ads could be seen more often and have more impact on your intended audience.
If you're looking for a new audience or a new way to engage your existing audience, Twitch might be the change you need.
Flexible Branding
Twitch offers several flexible branding options that mean you can be creative in the way you reach out to your ideal customer.
Pre-Roll Ads
Like YouTube, Twitch uses pre-roll ads for brands looking for a broad reach. Every Twitch stream starts with a pre-roll ad and Twitch streamers can even opt to add more of these ads throughout their broadcast.
Okay, it's time to get down to the numbers. Exactly how many users are we talking? And who are these people?
Let's dive into some Twitch stats that will answer those questions.
General Twitch Stats
7.2 million active streamers in April 2020
2.48 million average concurrent viewers in April 2020
93,618 average concurrent Twitch channels in April 2020
1.79 million hours watched in April 2020 (340 billion minutes in 2020 as of April, up 41.7% from 2019)
41,812 Twitch Partners, as of May 2020
All-time viewers peak: 4.469 million in April 2020
All-time channels peak: 164,010 in April 2020
Most-followed active Twitch account: Tfue with 8.1 million followers
Most-followed all-time Twitch account: Ninja with 14.7 million followers
Around 23% of Twitch desktop traffic comes from the U.S.
Twitch's 2019 revenue: $1.54 billion
Twitch's 2019 revenue generated through advertising: $300 million
Twitch Stats: Users
Active streamers in April 2020: 7.2 million
Increase in active streamers over 2019: 72.4%
Average concurrent viewers in April 2020: 2.48 million
Increase in average concurrent viewers over 2019: 101.5%
Average concurrent Twitch channels in April 2020: 93,618
Increase in average concurrent Twitch channels over 2019: 82.6%
Twitch users who identify as men: 65%
Twitch users who identify as women: 35%
Twitch users by age:

16–24: 41%
25–34: 32%
35–44: 17%
45–54: 7%
55–64: 3%

Twitch users in the United States: 22.98%
Twitch Stats: Usage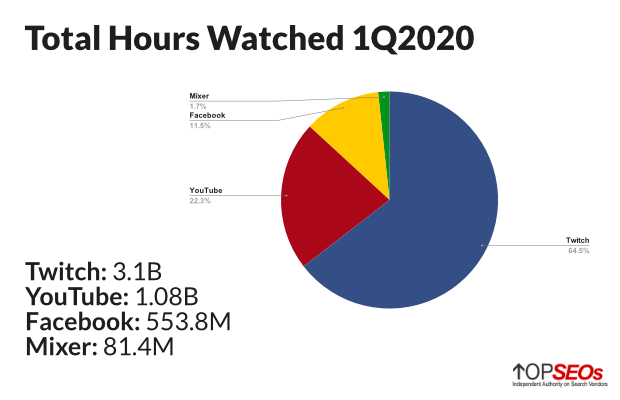 Total hours watched 1Q2020: 3.1 billion
Users watched 65% more Twitch content compared to YouTube
Users watched 82% more Twitch content compared to Facebook
Users watched 97% more Twitch content compared Mixer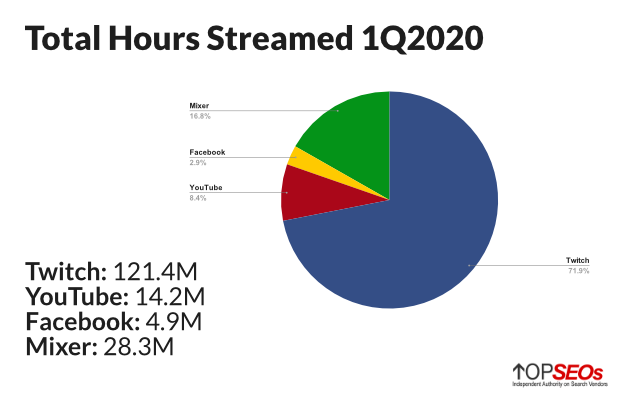 Total hours streamed 1Q2020: 121.4 million
Users streamed 88% more Twitch content compared to YouTube
Users streamed 96% more Twitch content compared to Facebook
Users streamed 77% more Twitch content compared to Mixer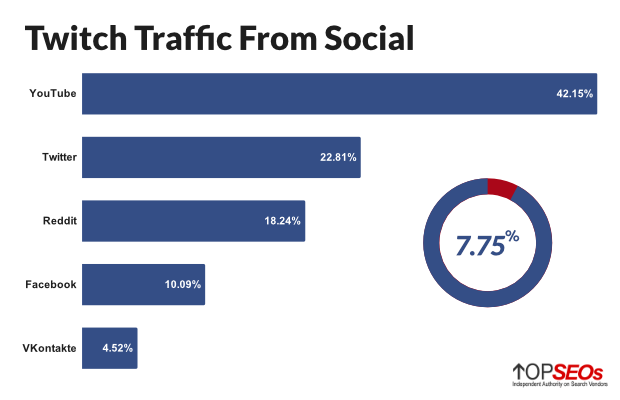 7.75% of traffic to Twitch is from Social Media
42.15% of traffic to Twitch is from YouTube
22.81% of traffic to Twitch is from Twitter
18.24% of traffic to Twitch is from Reddit
10.09% of traffic to Twitch is from Facebook
4.52% of traffic to Twitch is from VKontakte
Twitch Stats: Revenue
Twitch revenue in 2019: $1.54 billion
Twitch advertising revenue in 2018: $230 million ($300 projected in 2019)
Twitch advertising pricing: $2–$10 cost per impression
Twitch made $5.5 million in ticket sales for the League of Legends World Championship in 2017
Twitch Prime subscriptions cost $4.99/month
Twitch Turbo subscriptions cost $8.99/month
Twitch sells an in-app currency called "Bits" that viewers can buy to benefit streamers ($1.40/100 bits
Since June 2016, Twitch users have sent more than $1 billion Bits (totaling $12.3–$14 million)
Wrapping Up
Twitch is one of the most popular live-streaming platforms, and it's not just about gaming. Through Twitch, you'll gain access to a highly social, highly engaged user base known for brand loyalty.
Plus, Twitch streamers are influencers and influencer marketing is huge. When you consider that shoppers are more likely to trust social media than your traditional ad copy, using a social influencer like a Twitch streamer just makes sense.
If you're interested in traditional ads, though, Twitch has you covered. As we mentioned, there are tons of advertising opportunities within the platform. And, while the cost per impression is a bit high, it needs to be weighed against the value of acquiring a customer that has a high likelihood of going on to be a fierce advocate and loyal supporter of your brand.
Twitch Stats Sources:
TwitchTracker
SimilarWeb
GlobalWebIndex
SuperData