Want to make it easier for customers to find you online? You need to stay on top of where your website ranking lands on search engines.
In this article, you'll find out how to use SEO to improve your website ranking, boosting traffic and sales as a result.
But first, let's take a look at what search engine optimization is and how long it can take to improve your website ranking organically.
What Is Search Engine Optimization?
Search engine optimization is the process of improving traffic from search engines to your website through various methods of on-page SEO, off-page SEO, technical SEO, and local SEO.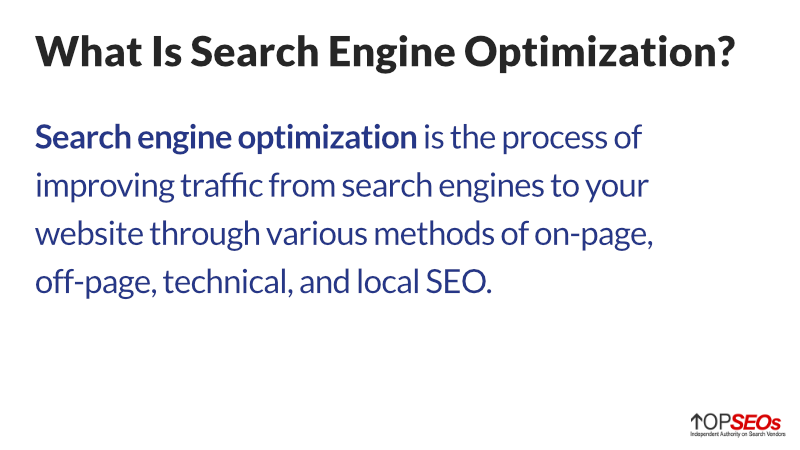 There are several methods you can use to improve your website ranking, but it typically comes back to three core things:
Website speed
Content
Backlinks
By focusing on making improvements to these core SEO factors, you can get your website to rank higher in search results and drive more traffic to your business.
How Long Does SEO Take?
The frustrating reality is that SEO takes as long as it takes. The amount of time it will take your business to see improvements from your organic efforts is dependent upon several factors like your skill with SEO practices, your budget, and how much competition you have online.
The good news is that there are aspects of SEO you can focus on to speed up the organic process.
Let's take a closer look at those website ranking factors we talked about earlier.
Website Ranking Factors
As we mentioned, there are several factors that impact your website ranking in search engines, particularly Google.
Google's search algorithm is in a constant state of improvement, with changes to the algorithm happening 500–600 times each year. As such, it can begin to feel like SEO is a bit of a moving target.
However, there are several well-known search engine ranking factors that can greatly influence your website ranking.
In this section, we're going to talk about site speed, content, and link building website ranking factors to give you an overview of their importance.
Site Speed
Some SEO experts consider site speed to be more of an indicator rather than a ranking factor. This is because you can still get decent rankings with a slow site (unless it's really slow). However, a faster site typically results in better customer experience and better overall rankings.
How important is site speed? According to Google, the change of a visitor to your site bouncing increases 32% when your site load time goes from 1 second to three seconds. Sites taking 5 seconds to load see a 90% chance of a bounce.
Why does site speed matter so much? It's a sign of a healthy site. Healthier sites retain visitors longer and are rewarded with higher rankings.
Since Google has gone to a mobile-first index, site speed is even more important. The industry standard is that your site loads in under three seconds. Even so, 1 second is recommended.
Content
There's a reason that everyone knows the saying "content is king." Quality, useful content is probably the most important ranking factor.
But how do search engines recognize quality content?
Search engines don't just look at how well your content meets the needs of searchers (relevance), though search intent is the most important factor.
Other than relevance, search engines evaluate the content of your site by its formatting and structure (headings, title tags, use of keywords) and linking.
To achieve a higher website ranking, it's important to maintain a balance between optimizing your content for humans and optimizing your content for search engines.
Site Structure
How your site is set up is another website ranking factor. Your site should be easy to navigate to ensure that users and search engines can move through the site with ease.
The site structure ranking includes everything about the architecture of your site, right down to the code. Your site's code should be well-formed to help search engines find and index your site's content.
Accessibility is also important for your site structure. This means making your website readable by people with disabilities.
Link Building
Your site's popularity is another website ranking factor. If your site gets a lot of traffic, this shows search engines that your site and content are relevant.
Search engines like to use inbound links (backlinks) from external sites to your site to calculate your site's popularity. Backlinks are seen as votes for the content on your site—the more votes you have from other quality sites, the better for your website ranking.
5 Ways to Improve Your Website Ranking
If your content isn't getting enough visibility in search engine results there are ways you can improve its chances.
Google updates its search algorithm regularly and, over time, some of the traditional methods of SEO to increase website ranking (content updates, keyword targeting, and page tagging, among others) aren't as effective as they once were.
As search engines get smarter, the impact on individual websites changes. This means that something we do on our website might impact our website ranking in an entirely different way than the exact same thing does yours.
This makes it exceedingly important to continually monitor, test, and reevaluate your site's performance.
Let's talk about five things you can do to improve your website ranking.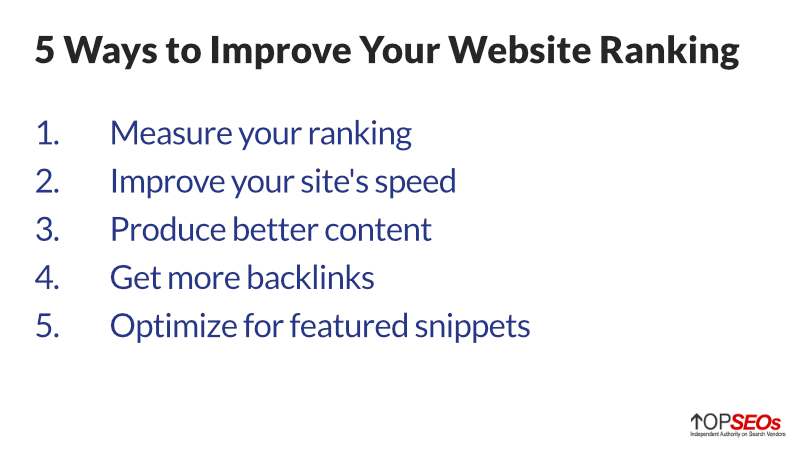 1. Measure Your Ranking
Before you make any changes to your site, you need to know where you stand. Getting an idea of your baseline performance will provide you a starting point for testing as well as a reference point to see if your changes have improved your standing.
There are two free tools that we recommend for tracking your site's performance: Google Search Console and Google Analytics.
You can connect your Google Search Console and Google Analytics accounts to make it easier to track keyword data and landing page traffic.
This data will help you understand:
What your most valuable content is (keywords and landing pages)
Where there's room for improvement
Which content isn't performing well
Focus on keywords where you are ranking in positions 5–20 and look for ways to improve those rankings.
Focusing your efforts on the content that is almost but not quite safely on the first page of search engine results will give you quick wins that will help make other improvements easier.
If you're looking for a rank tracking software that has a bit more to offer, here's a list of the best rank tracking and checking software.
2. Improve Your Site Loading Speed
If you want to improve your website ranking, your site needs to be faster.
You can use a free tool like Google's PageSpeed Insights to get a quick benchmark of how fast your site loads right now. Then, make changes to improve your site's load time.
Here are a few ways to give your site speed a boost:
Activate AMP on your pages
Compress your images
Minify code and scripts like HTML, CSS, and JavaScript
Switch to PHP7
Reduce your webpage file size
Move to a better website host
3. Produce High-Quality Content
Your site should be filled with high-quality original content. There are different types of content you can use on your site and we recommend that you vary your content offering to keep your site engaging and interesting to visitors.
Additionally, remember to balance between optimizing for human readers and search engines.
While you should absolutely include target keywords and related keywords in your content, they should be used naturally throughout your content and should add to, not detract from, the content.
Keywords should be included in your page's slug, SEO title, meta descriptions, and headings—but not too many times or your risk over-optimization (a nice way of saying "keyword stuffing").
We also recommend including videos on your site.
Videos are great for delivering a lot of content in a short amount of time. Plus, the human brain processes images 60,000 times faster than text.
Including videos on your site can also increase your dwell time (how long a visitor stays on your site). This isn't an SEO ranking factor, but Google is smart enough to know that it's a good thing when visitors stay on your site longer.
This increases the trustworthiness and overall value of your site and can result in a higher website ranking.
It's also important to update your site regularly. This includes creating new content and updating outdated content. This gives visitors a reason to come back to your site time and again.
Providing updated, relevant content is also another way to increase dwell time.
4. Prioritize Link Building
Backlinks are one of the most important ranking factors for Google, but you want the right kind of backlinks.
This means getting links from high-authority, trustworthy sites. Many links from spammy sources aren't going to do your website ranking any favors.
A strong link building strategy will probably include some outreach. Connect with publishers, bloggers, influencers, and webmasters to get more backlinks for your site.
Don't just reach out to anyone and everyone asking for links, though.
It pays to be organized and strategic in your approach.
This means taking the time to research the sites that you're seeking backlinks from and creating personalized communications that will resonate with them.
Link building is probably one of the hardest SEO tactics to do if you're doing it the right way. But it can have a huge impact on your site's popularity and website ranking.
5. Optimize for Position Zero
What is position zero?
Position zero is the first Google search result that appears above organic SEO listings. It's also known as a featured snippet.
The purpose of featured snippets is to answer a search query directly, without the searcher needing to click through to the linked page.
But, why would you want to be in a position that is meant to encourage users not to click through to your site?
First, position zero is typically accompanied by images and set apart in a special box, meaning that it takes up more space on the search engine results page (and pulling more attention from users).
Second, position zero is used for voice search results. Voice searches are experiencing rapid growth. In fact, 65% of 25–49-year-olds speak to a voice-enabled device at least once every day.
Since featured snippets are used for voice search results, you should optimize for position zero or risk missing out on valuable voice search traffic, leads, and revenue.
Finally, position zero actually increases your click-through rate. Yes, it's intended to answer the searcher's query without requiring a click through to the search result link, but it's done the opposite.
To get more featured snippets, make sure to include clear, concise answers in your content. And use tables. Google loves to use tables in featured snippets.
Improve Your Website Ranking for More Traffic and Sales
It can be difficult to know how to improve your website ranking with constant changes to search algorithms and SEO best practices. However, the strategies we've presented here will reliably keep your site's performance strong.
To get the most from these strategies you'll need to really understand your target audience and what they want. This means doing research to find the keywords that will get the right kind of traffic to your site.
Then, it's time to publish content that will solve their problems and keep them coming back for more.
With everything that goes into improving your website ranking, you may be wondering if you have the time necessary to devote to it. Or, if you have the skills to do it the right way.
You don't have to go it alone! Check out our picks for the best search engine optimization companies that can help you improve your website ranking fast.