Want to know how to rank higher on search engines? Here, you'll find 10 SEO best practices that will help you do just that.
In this article, you'll learn:
What is SEO?
The most important search engine ranking factors
SEO best practices to rank higher, faster
SEO best practices aren't something to "set and forget." Instead, these best practices should be seen as the foundation of your SEO strategy.
Once you've implemented these SEO best practices, you can move on to more advanced SEO techniques.
Let's get started.
What Is SEO?
SEO (Search Engine Optimization) is the process of optimizing your site's pages and articles to rank higher in search results on search engines like Google, Bing, and others. SEO drives organic (free) traffic to your site.
Search Engine Ranking Factors
Google has about 200 ranking factors that it looks at to determine where your site shows up on search engine results pages (SERPs). These factors fall into about nine categories and range from domain age to mobile usability to backlinks.
Fortunately, while all of Google's ranking factors should be considered, there are only eight that we would consider vital to your site's success on Google:
Number of Referring Domains
Referring domains are the number of domains from which a backlink is pointing to one of your pages.
Number of Backlinks
This goes hand-in-hand with the number of referring domains. For instance, if you have 10 referring domains that are sending 200 total backlinks to your site, Google is going to assume that those backlinks are pretty spammy.
Organic Click-Through Rate
Organic click-through rate is the percentage of searchers that click on a search engine result.
Domain Authority
Domain authority is a search engine ranking score that predicts how well a site will rank on SERPs. There are now a few website authority or domain authority checkers, but Moz was the first.
Mobile Usability
Mobile usability is how your site feels and behaves on mobile devices. If your site isn't great on mobile devices, you're going to find that your page doesn't rank as well as it could.
Dwell Time
Dwell time is the amount of time a visitor spends on your site before going back to the SERPs. Dwell time speaks to your site's helpfulness with the assumption being that longer dwell time means your page offers a thorough answer to the searcher's query.
Quality of Content
Google rewards content that answers searcher questions thoroughly. Your content should be useful, unique, and authoritative.
On-Page SEO
On-page SEO is the process of optimizing your site's content for users and search engines.
10 SEO Best Practices
With 200 ranking factors, there are tons of things you could do to get your site to rank higher in SERPs. SEO best practices are a collection of steps you can take to address Google's most important and heavily weighted ranking factors.
The SEO best practices included on our list are the most basic things you can do to improve your site's ranking. We recommend that you work on these SEO best practices before branching out into more complex strategies.
1. Match Search Intent
Matching search intent is vital to your rankings on SERPs. Let's look at an example of searcher intent in action.
First, let's see what happens when we search "how to change a tire" on Google: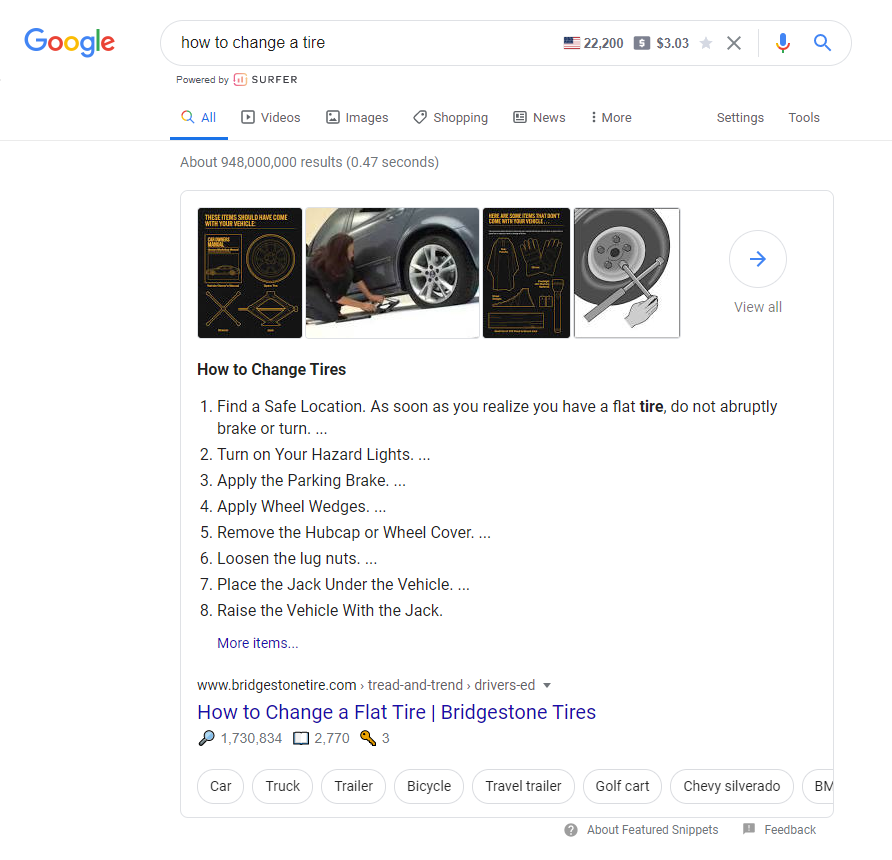 Right off the bat, you can see that the featured snippet in the search results is a set-by-step guide to changing a tire.
Further down the first page, you can see that theme continued: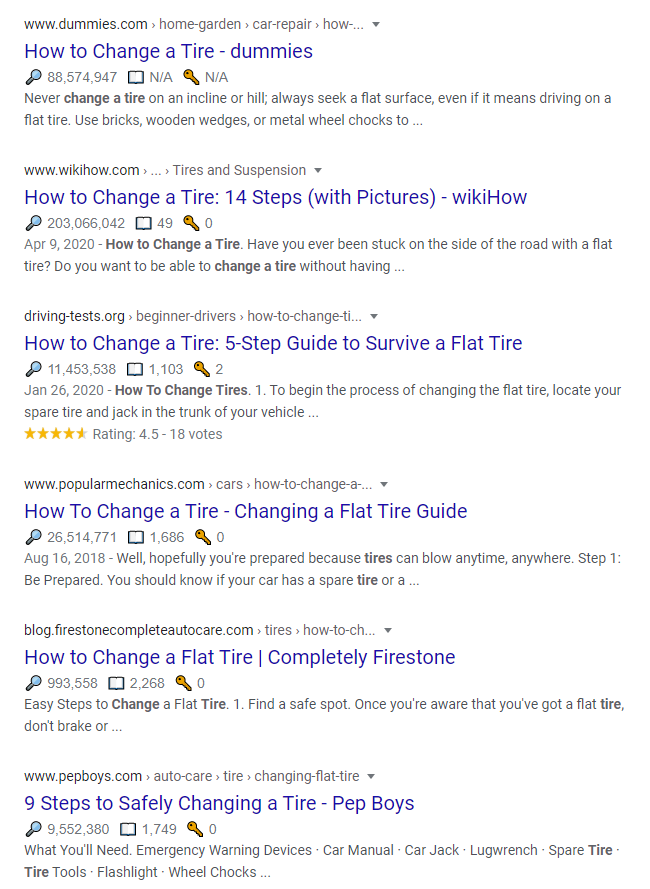 It's clear from the keyword "how to change a tire" that searchers are looking for a guide that will walk them through changing a tire and Google rewards pages that meet that need with higher rankings.
But, what if the searcher wants to buy tires?
Searchers who want to buy tires are likely going to conduct a search for "buy tires." Here's what happens when we search that term on Google: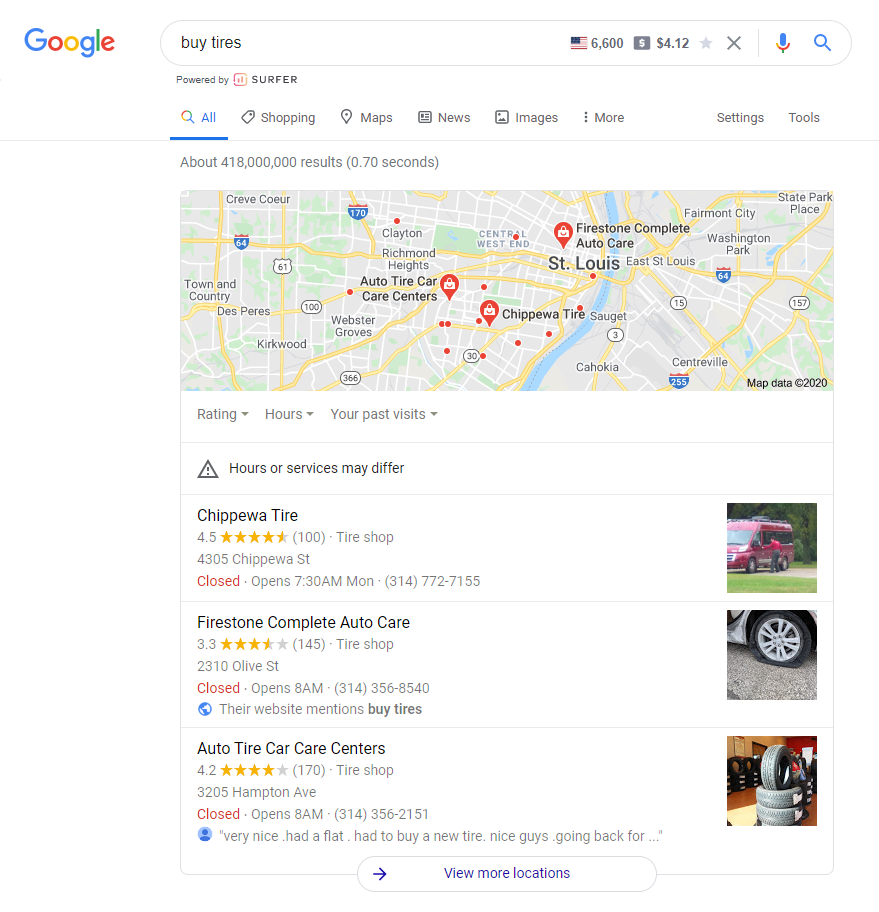 As you can see, you get a list of the businesses near you that sell tires.
When you scroll further down the results, you'll see page after page of results that want nothing more than to sell you tires.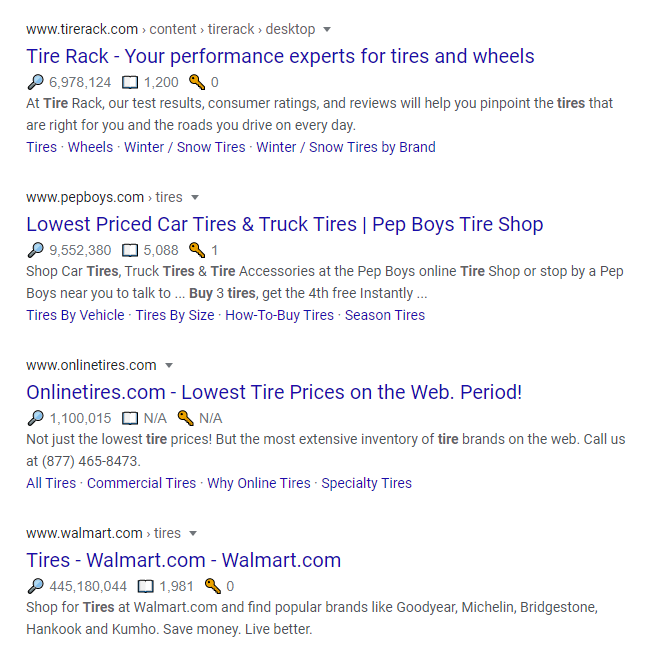 SEO Best Practices Tip: Look at Google's first page of search results for your target keyword to find out exactly what searchers are looking for when they search for that keyword.
For a keyword like "best tires," you'll find search results like this:
This tells us that to match search intent your article targeting "best tires" would do best as a review or ranking of the best tires.
You also know that content about how to change a tire won't rank here.
2. Place Your Target Keyword Early in Your Content
It just makes sense that you'll want to use your target keyword throughout your page or article.
We recommend putting your target keyword early in your content. That's because Google puts more weight on the content that's placed higher on the page.
Here's an example where we are targeting "local seo and national seo":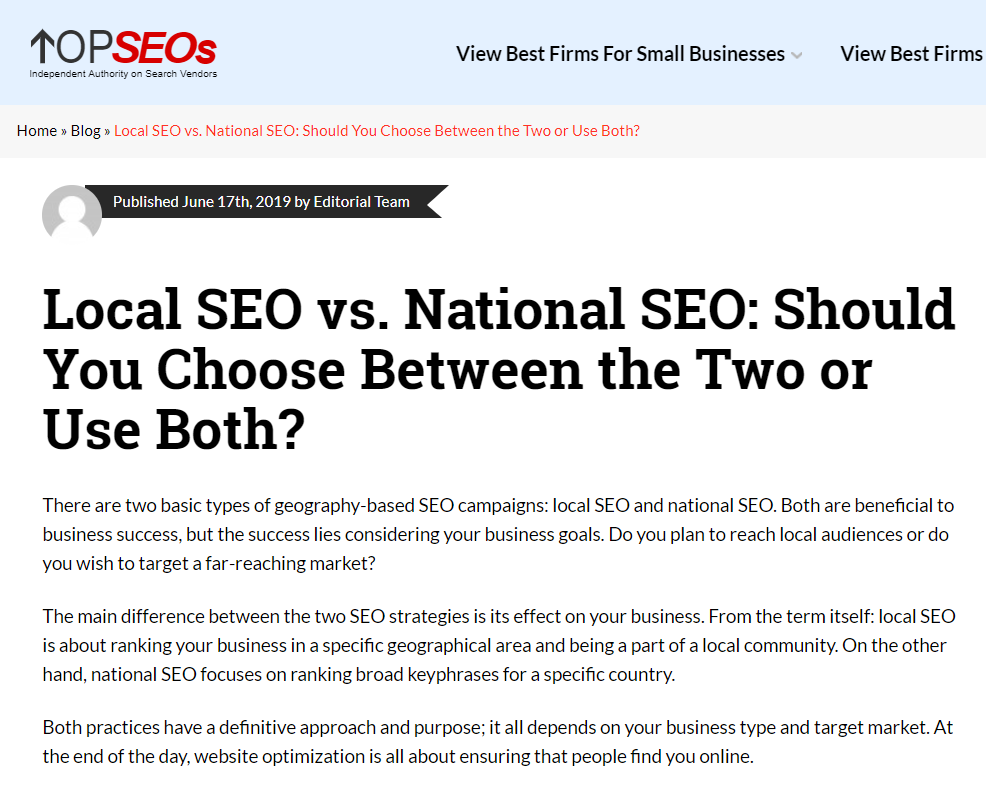 You'll notice that the keyword appears in our very first sentence.
SEO Best Practices Tip: Place your target keyword within the first 100 words of your page or post, preferably within the first 25 words.
3. Use Unique Titles, Meta Descriptions, and Content
Duplicate content is a big no-no if you want your content to rank well. Google has gone so far as to explicitly state that you should avoid "duplicate or near-duplicate versions of your content across your site."
This means writing completely original:
Title tags
Meta descriptions
Product and category pages
Image alt-text
SEO Best Practices Tip: Avoid replicating or rehashing content. This content doesn't provide any additional value to users.
If you already have multiple pages with similar content, you have two options: either combine them into a pillar page or topic cluster or use a canonical tag.
What Is a Canonical Tag?
Here's how Google defines canonical tags:
A canonical URL is the URL of the page that Google thinks is most representative from a set of duplicate pages on your site.
The pages don't need to be identical, so changes in sorting and filtering don't make the page unique. Plus, the canonical URL can even be in a different domain than a duplicate.
Looking for ways to create title tags that help your ranking? Here are some SEO title tips to make your content stand out.
4. Create an Excellent User Experience
User experience (UX) is an admittedly broad topic. It encompasses everything from your content to how you show up in search engines to how your site functions.
Since we've already covered search intent, we'll focus on optimizing your site to improve UX in this section.
To keep your site user-friendly, it needs to be easy to use. This means that it's fast, well-organized, up-to-date, and doesn't have a lot of distractions.
SEO Best Practices Tip: Here are some things you can do to optimize your site for user experience:
Switch to an SSL and use HTTPS instead of HTTP
Optimize for mobile
Submit your sitemap to Google (using Google Search Console) and Bing (using Bing Webmaster Tools)
Optimize your images to reduce file size and load times
No duplicate content
Speed up your site by limiting your use of plugins and using a fast hosting company
5. Focus on E-A-T (Expertise, Authoritativeness, Trustworthiness)
In Google Search Quality Evaluator Guidelines Google places emphasis on the value of E-A-T: expertise, authoritativeness, and trustworthiness.
This goes beyond simply matching your target keywords to content. Google is specifically focusing on prioritizing the most trustworthy and reliable resources.
Simply put, reliable and trustworthy sites will have an advantage in SERPs, so companies that don't have a great reputation will have a harder time ranking.
Jason Barnard, owner of Kalicube.pro, talks about this in terms of the offline coming online. This means that offline events, conferences, awards, partnerships, and more can become a differentiating factor for businesses online. Even though Google can't see them.
All because they increase your authority.
To take advantage of your offline activities to boost E-A-T for your online presence, bring those offline activities online and let Google know about them.
SEO Best Practices Tip: Here are some ways you can improve your E-A-T:
Provide excellent customer service, including quick delivery and updates
Engage with your audience to get feedback on how you can improve
Respond to reviews
Create a useful and easy-to-use online experience for site visitors
6. Build a Robust Backlinking Strategy
Getting backlinks from high authority sites goes a long way to improve your ranking on Google and other search engines.
According to Google, if other prominent websites on the subject you're writing about link out to your page, that's a good indicator that your information is high quality.
It's important to note that backlinks are about quality, not quantity.
As we mentioned earlier, if you're getting lots of backlinks from spammy sites, your own site will suffer in rankings.
SEO Best Practices Tip: Here are some things you can do to get more backlinks:
Guest blogging
Focus on content that naturally gets more backlinks (typically "why" and "what" posts as well as infographics)
Build relationships with high authority, high-quality sites
If you're already getting hit with Google penalties, you definitely need to check out our article about how to avoid Google search penalties.
7. Optimize for Voice Search
It's expected that there will be more than 1.6 billion voice assistants in use by 2022. This includes voice assistants on smartphones as well as smart speakers like Google Home, Alexa, and Siri.
In a 2018 study by Backlinko, they analyzed 10,000 Google Home search results to find out how to optimize a site for voice search. They found that 75% of voice search results were among the top three positions for the search query.
As voice search increases, people will type searches in the same way they speak. A great way to take advantage of this is to focus on long-tail keywords.
SEO Best Practices Tip: Here are some other things you can do to optimize your site for voice search:
Add your business to Google My Business, Yelp, and Apple Maps to ensure that the information available about your business is accurate
Format your content for voice search by including brief answers to their questions
Add an FAQ that answers any questions a searcher might have about your products or services
Keep content conversational
8. Keep Your Site Fast
We briefly touched on site speed in our section about user experience. Here, we want to give you some easy ways you can boost your site's speed.
Why is site speed important? If your site takes more than two seconds to load, either desktop or mobile, visitors are going to leave. That translates into a lower ranking and lost sales.
To check your site speed, you can use a free tool like Google PageSpeed Insights.
Just enter your site and click Analyze.
You'll get a report showing how your site speed measures up and what you can do to make it better: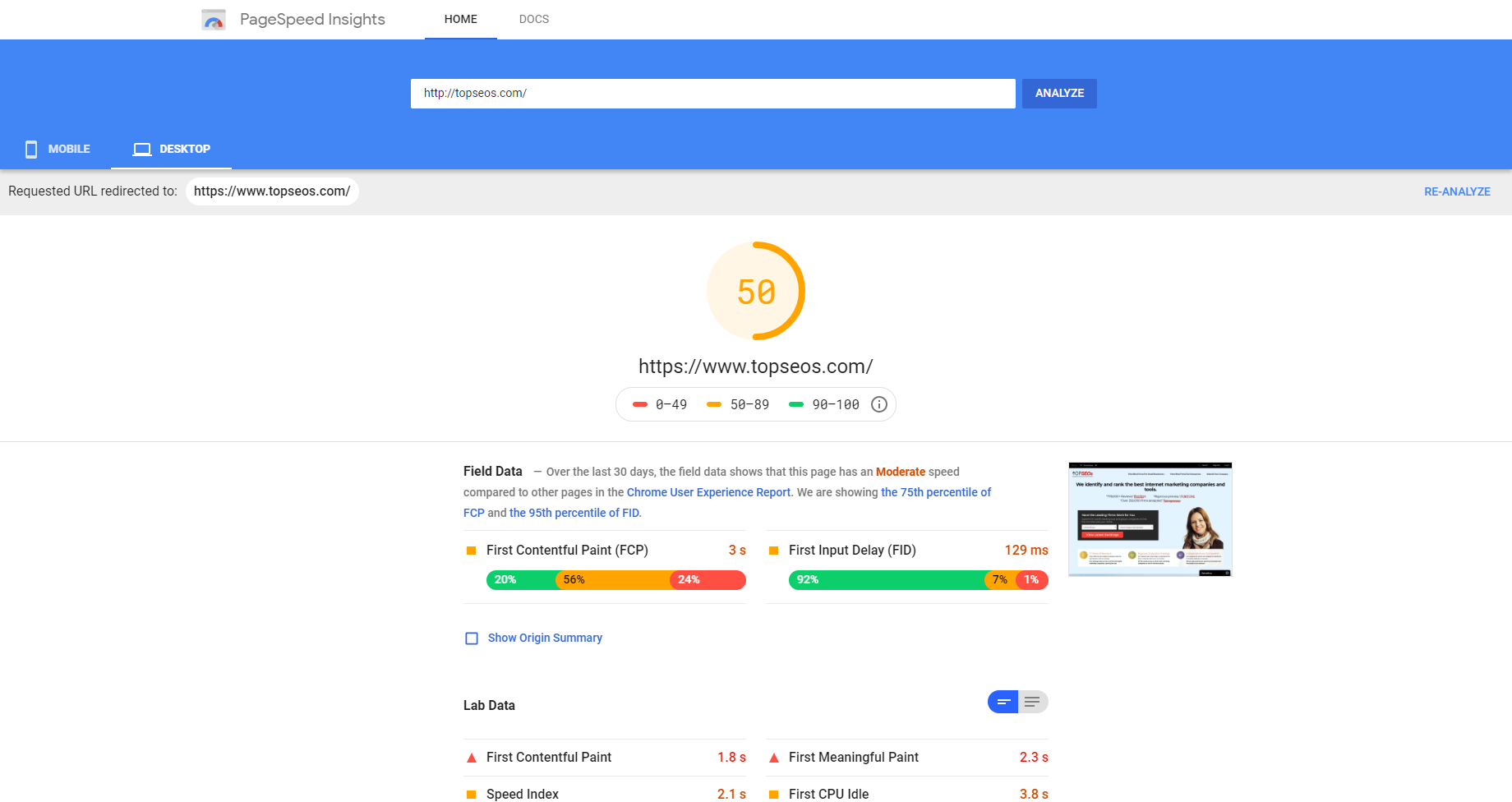 If you're looking for help with search engine optimization for your website, here's a list of the best SEO companies that can help you rank higher.
Page speed impacts:
Organic search rank
User experience
Campaign performance
Cost-per-click (CPC) for paid advertising
Spending some time optimizing the technical aspects of your site can result in more leads, traffic, and sales.
SEO Best Practices Tip: Here's how you can keep your pages fast:
Use a CDN (Content Delivery Network). CDNs save your site's resources to a network of servers around the world so they can be loaded locally.
Compress your images to decrease file size and make them load faster. Also, enable lazy loading to load images as needed instead of all at once.
Use a theme for your website that is built for speed optimization.
9. Create High-Quality Content
Publishing original, useful content can help you rank higher. However, it's important to consider what is considered "high-quality."
Length
If you Google "ideal blog post length" you'll get about 20 different answers about what the best blog post length is for SEO.
Honestly, there is no "ideal" length that works for every content creator. Instead, we recommend finding out what length of content resonates with your users.
Thoroughness
More important than length is the thoroughness of your content. This is how well your content answers the questions searchers are asking.
Remember, Google rewards content that is relevant and helpful.
SEO Best Practices Tip: Create content that is helpful and thorough. And, aim for at least 1,500 words.
10. Track Your Performance
Following SEO best practices isn't going to help you if you don't know where you are and where you're going. It's important to track your site's performance.
You'll need some sort of tool to stay on top of your SEO and your site's performance. There are several free tools available, like Google Analytics or Google Search Console. There are also premium tools like SEMrush and Ahrefs.
If you're a WordPress user, we have a helpful list of free and paid WordPress SEO plugins you should check out.
SEO Best Practices Tip: At the very least, use Google Search Console to track your site's performance.
Google Search Console's Overview report shows you at a glance how your site is performing in search engine rankings.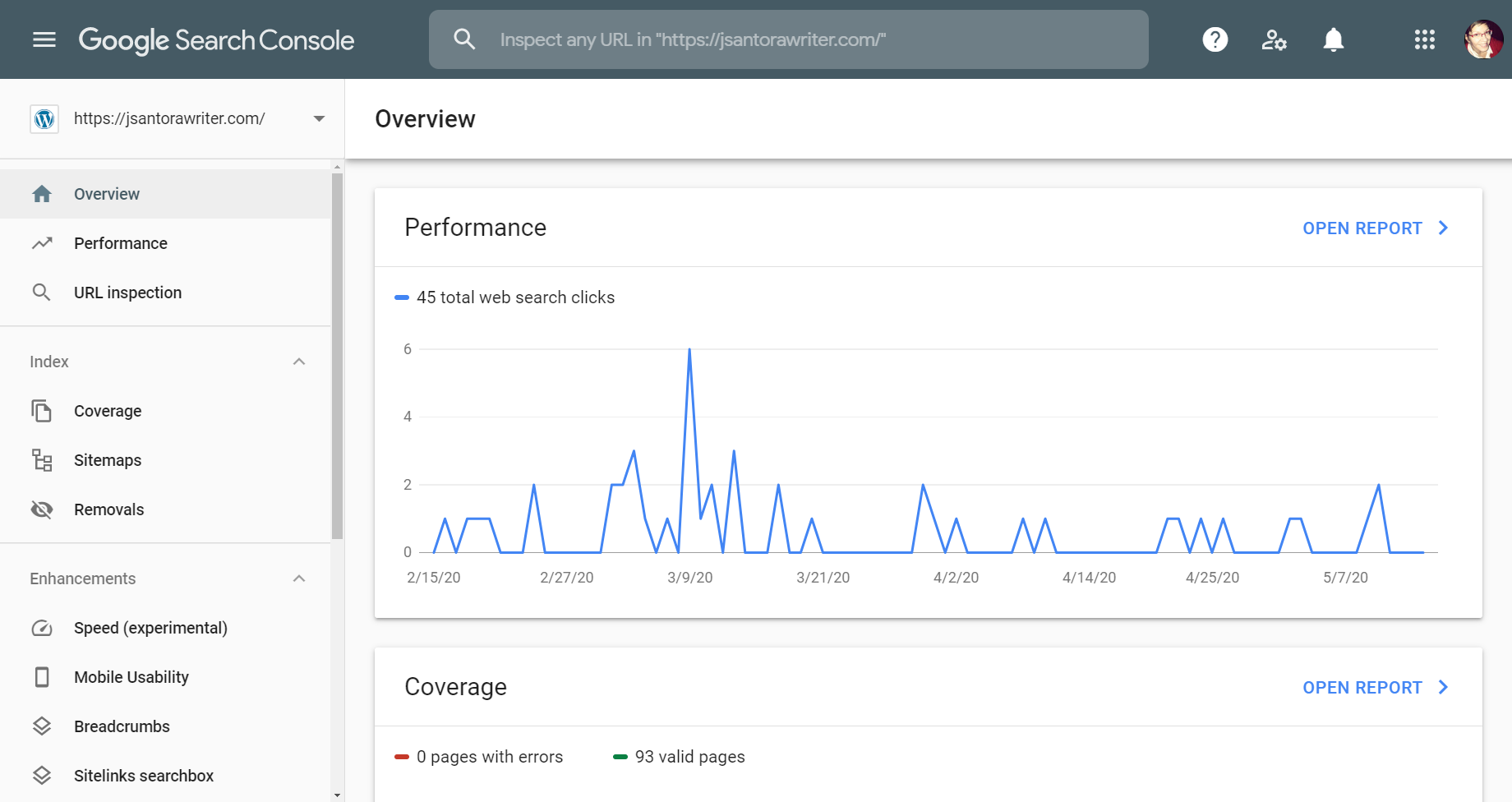 We suggest checking your Overview regularly as well as three other reports.
Performance
The Performance report shows you how many people see and click on your site in Google search as well as the keywords people use to find your content.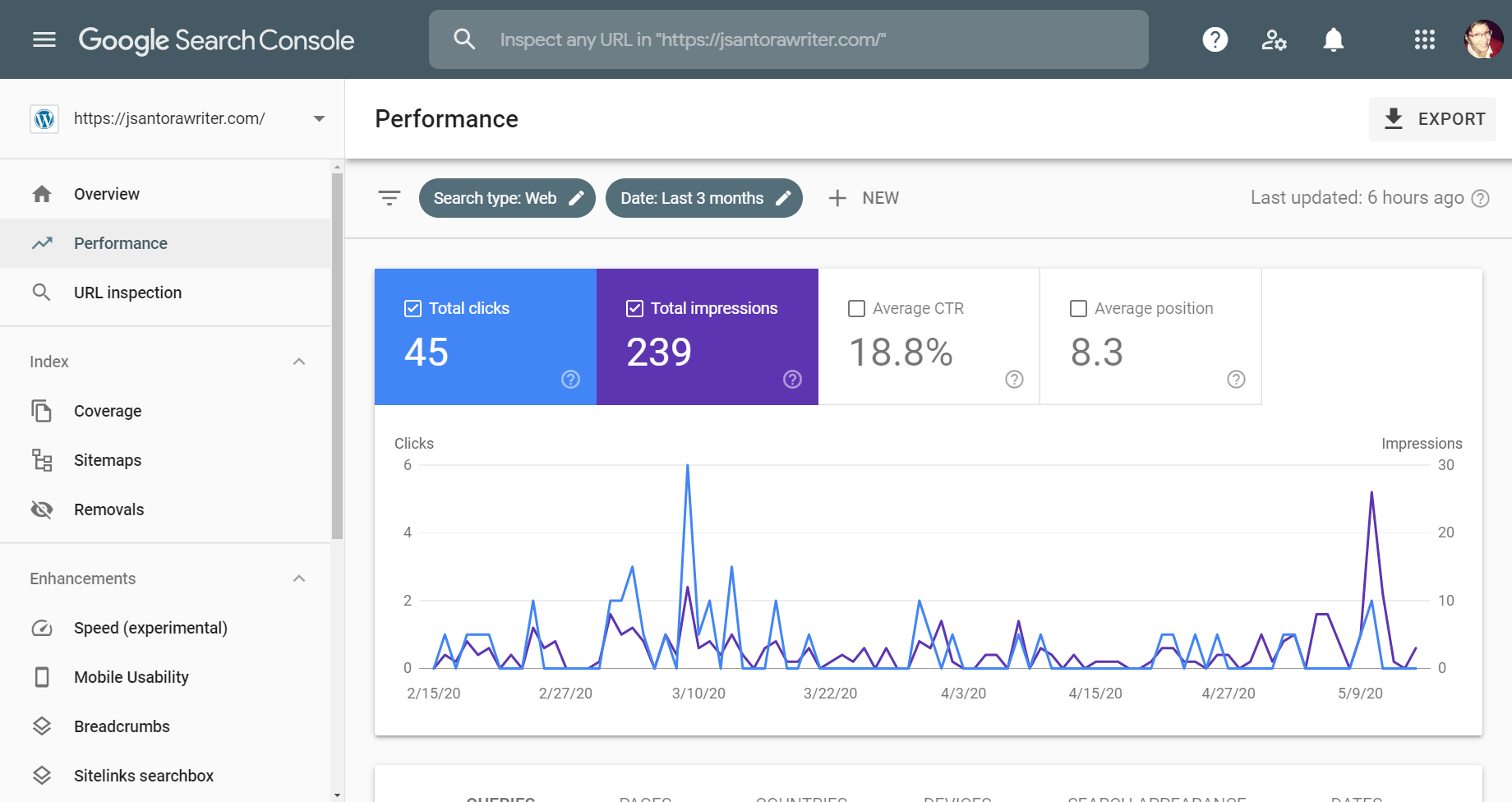 You can track clicks and impressions over time to find out if your SEO efforts are paying off.
Coverage
The Coverage report lets you know of any issues Google is having with crawling your site. Fix any warnings or errors immediately.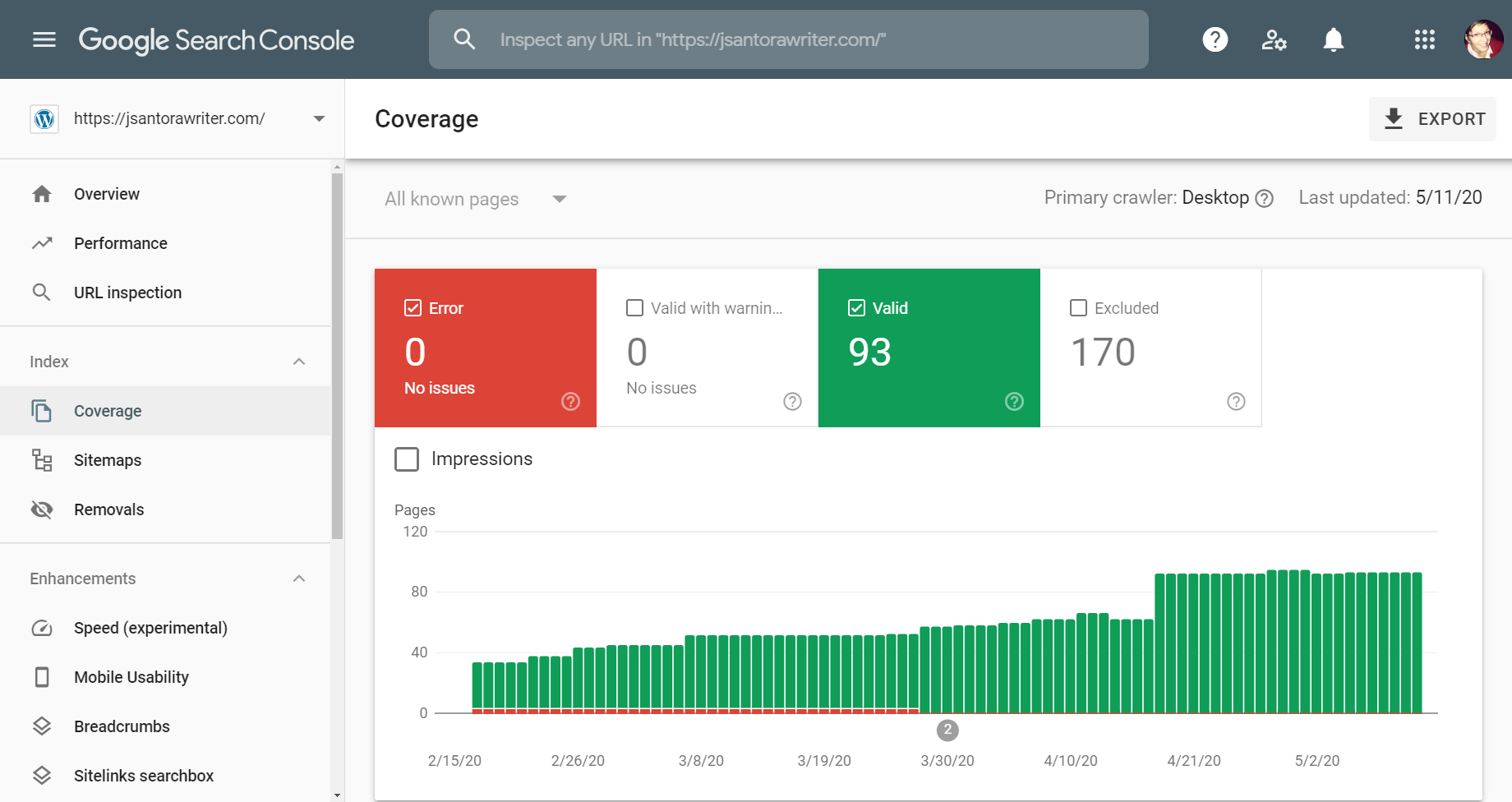 Mobile Usability
The Mobile Usability report is located under the Enhancements section.
Since Google is now mobile-first, you'll want to be sure that your site is usable on mobile devices.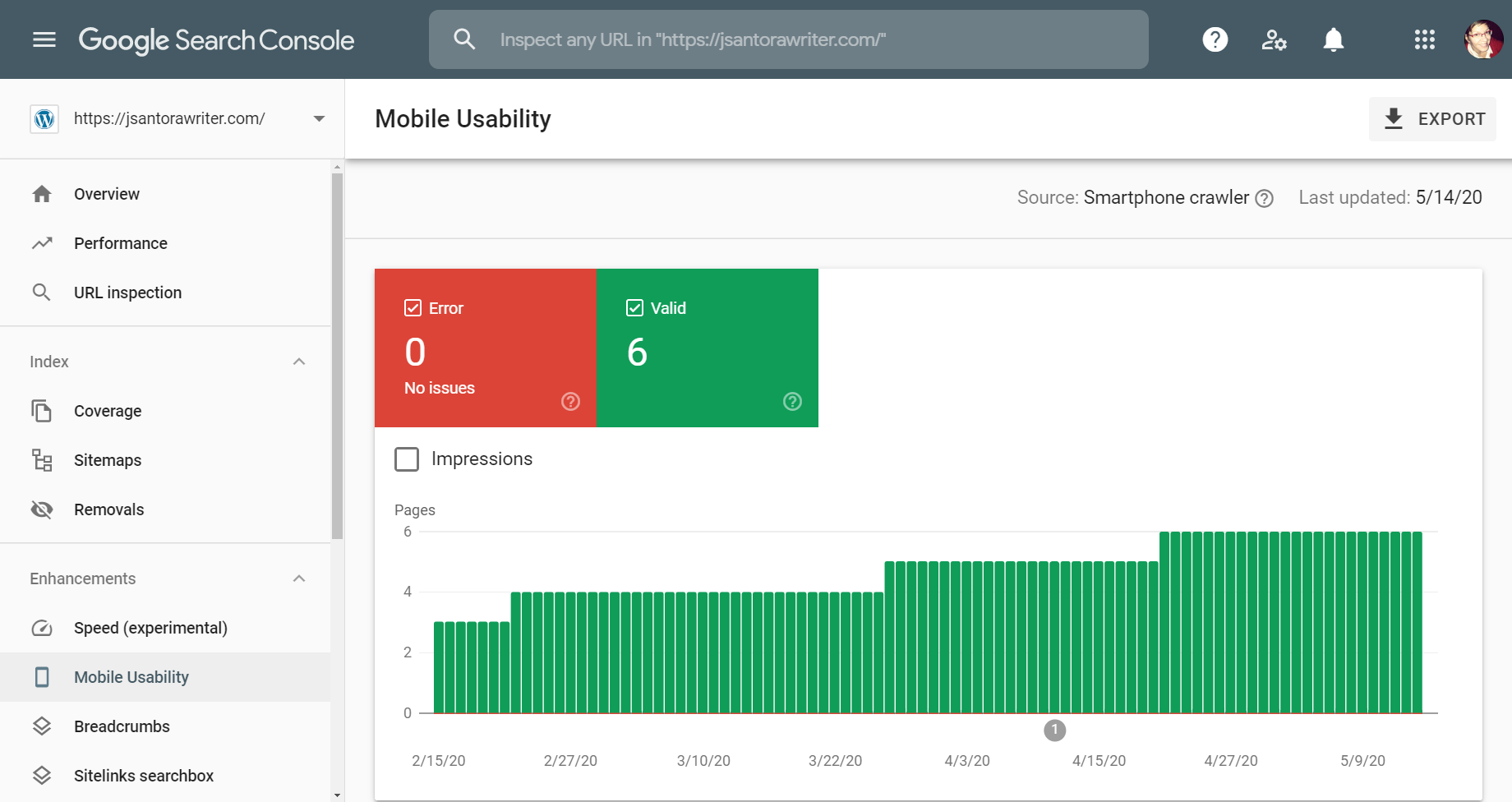 Optimize Your Content With SEO Best Practices
Google changes its algorithm 500–600 times every year. This means that ranking factors will change pretty regularly. These SEO best practices offer a great starting point to get your site optimized for whatever Google's algorithm throws your way.
SEO can be overwhelming, but you don't have to go it alone. If you're a small business owner that wants to optimize your site, but you're not sure where to begin, check out our guide to hiring an SEO company.