Your marketing agency thrives through attracting more clients. The best way to grow your business is to scale up products and services.
But what happens when you don't have the time or expertise to provide the services your clients want?
White label SEO is an easy way to provide high-quality SEO services to your clients without stretching yourself too thin or sacrificing quality.
Not sure what white label SEO is? In this article, we'll explain everything you need to know about white label SEO:
What is white label SEO
Benefits of white label SEO
Downside of white label SEO
What typical white label SEO services include
How to choose the best white label SEO partner
Why your digital marketing agency should offer white label SEO services
Plus, we've included a list of the 10 best white label SEO companies.
Hiring a white label SEO company will give you the chance to focus on the services you're most capable of providing without risking losing clients who are looking for more.
What Is White Label SEO?
White label SEO is a partnership between two main parties:
Client: The company that needs its products and services marketed
SEO Company: The private label SEO company handling SEO services
This means that you, the client, are outsourcing your SEO needs so you can focus on other aspects of running your business. The SEO company you hire then works its SEO magic to help you rank high for the keywords you need to get your brand found.
Sometimes, though, the SEO company hires another company to provide SEO services under its brand. In this case, the SEO company becomes an SEO reseller because they've hired a third-party to do the SEO work for you, the client.
This is a common occurrence. According to Forbes, nearly 60% of agencies outsource to white label SEO companies.
Benefits of White Label SEO
White label SEO offers benefits for you and your clients. When you have a team of SEO experts at your disposal, you know you'll be getting the highest quality campaign optimization and management.
1. Get Clients Without an In-House Team
The core benefit of white label SEO is that you can draw from a team of SEO experts without taking on the expense of hiring in-house employees.
This means no salary, no recruiting costs, no taxes, no benefits, no workspace, no equipment, etc.
This makes hiring a white label SEO company cost-effective for many businesses.
2. Bundle SEO With Other Services
Hiring a white label SEO company lets you become a one-stop-shop for your clients. You can use your marketing expertise to provide the best possible services that you excel at and leave the SEO to the experts.
This can be a great value add for your clients, especially when you bundle SEO with other services they need to grow their businesses.
3. Generate Organic Traffic for Clients
SEO is a marketing service that pays for itself over time. Unlike paid ads, SEO drives growth organically by increasing a business's search engine rankings to increase its click-through rate and drive more business to their website.
SEO is so important that 61% of marketers say that SEO improvements are their top marketing priority.
4. Outsource Off-Page SEO Tactics to an Experienced SEO Team
SEO is complicated. There are so many different factors that go into making pages rank on search engines and it takes constant learning, testing, and tweaking to keep up with the ever-evolving search algorithms.
When you can hand this work over to a competent SEO company with the expertise to handle the many nuances of SEO, you can focus your energy on running your business.
5. Stop Stressing About PPC Campaigns
SEO and PPC are two sides of the same coin. Both are designed to get traffic to your site by targeting certain keywords.
The difference between the two is that PPC campaigns require a continuous injection of money to keep your ads showing up. SEO, on the other hand, can keep your pages ranked for the long-term without needing a constant influx of money.
Of course, having both going for your clients is best, but SEO is the strongest driver of traffic for your business.
White Label SEO: The Downside
Now that we've covered the benefits of white label SEO, we'd be doing a disservice by not talking about the two big negatives.
1. Lack of Quality Control
Do your research before hiring an outside SEO agency. Some agencies use just basic reports from free tools and don't provide any actionable information based on those findings.
Looks for case studies and testimonials from past and current SEO clients. If they don't have any and they've been in business for long enough that they should, beware!
You can also check websites like ours that provide rankings and reviews of the best SEO companies.
Remember that this is for your business. You can't afford to hire an SEO agency that isn't professional and high-quality.
2. Reliability
Reliability is also a potential downside to white label SEO.
Deadlines are important and it's likely that you've set them after careful consideration of both yours and your client's needs. Your SEO agency should never miss a deadline.
You can mitigate this problem by maintaining a project management system and providing a shared system for immediate feedback.
By being proactive in your approach with an outsourced SEO agency, you can build in time to ensure that no deadlines are missed and your clients are kept happy.
How to Choose the Right White Label SEO Partner
Choosing the right SEO partner is important to ensure that your clients' needs are met. You want a white label SEO partner that's experienced with digital marketing and that can use digital marketing best practices to help your clients complete.
Your SEO partner should be open and communicative throughout the entire process and should always be willing to explain the tactics they're using and why.
White label SEO services should be customizable based on the needs of you and your clients, so be sure to choose an SEO reseller who is willing to be flexible.
Like any good business relationship, you'll want to find a white label SEO company that offers great communication, strong project management, transparency, and mutual trust.
What Do White Label SEO Services Include?
White label SEO companies should work with you to create a customized proposal that includes everything you need for your client to achieve their business goals on time and on budget.
At a minimum, here are some of the services that your white label SEO company should provide: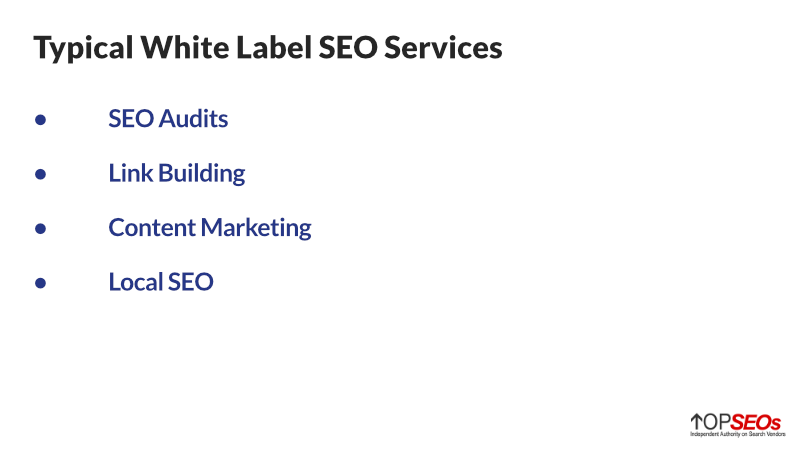 SEO Audits
Before starting work on any client's website, your white label SEO agency should conduct an audit of the website by looking at the content on the site and its presence on the internet. Your SEO professionals should spend time to understand the work that's already been done and determine what areas are lacking.
Then, they should put together a plan to ensure that your client's website is optimized to succeed.
Search engine optimization is not a one-size-fits-all situation; the SEO agency you hire should build each SEO campaign specifically with a single client's needs in mind.
Link Building
Your white label SEO agency should only work on high-quality link building projects that provide your clients with links from reputable sources using white-hat tactics.
They should create a custom link building strategy for each client that involves an in-depth look at the different channels they use.
Content marketing
Your white label SEO partner should understand the importance of high-quality content. They should produce articles that are well-researched and give readers all the information they need.
Local SEO
Since more and more buyers are turning to search engines to find products and services located nearby, your SEO agency should make sure that your clients are connecting with them. This means identifying the important aspects of your client's campaign, planning, and executing those campaigns to improve their visibility in local markets.
Best White Label SEO Companies in 2020
Convinced that outsourcing your SEO services is right for your business? Here are 10 of the best white label SEO companies that can provide high-quality SEO services that are cost-effective for your business.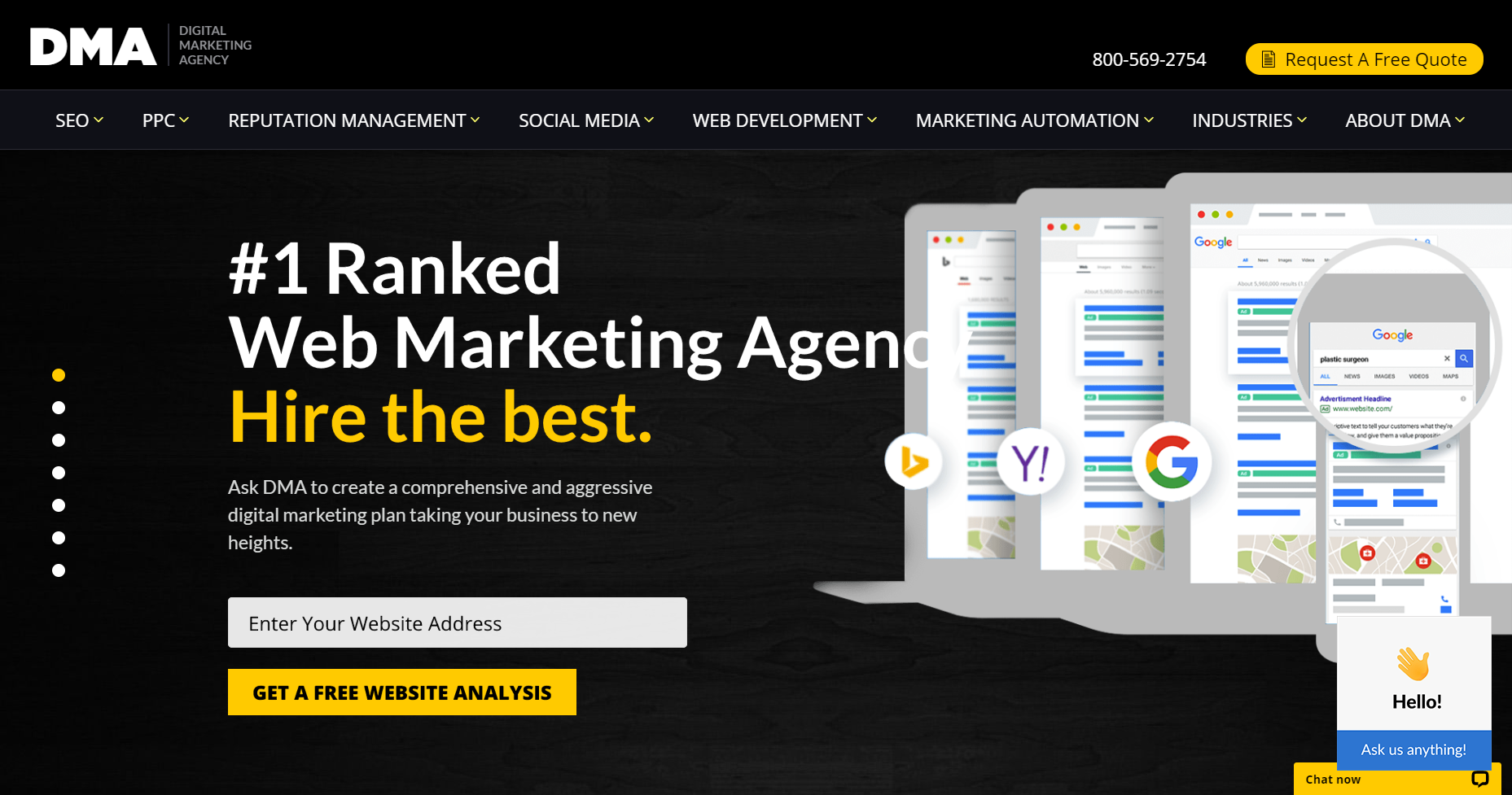 DMA is dedicated to understanding your business. Since they take the time to build a relationship with each of their clients, they ensure their marketing strategy is built to solve the problems your business faces. Each of their marketing campaigns is built with the client's needs in mind to solve the greatest marketing problems.
DMA is committed to using digital marketing best practices and staying on top of the latest innovations in digital marketing.
Whether it's a paid advertising campaign, new ways to improve search results, or better ways of connecting on social, they're constantly looking for the newest and most innovative ways to connect your brand with the right online audience.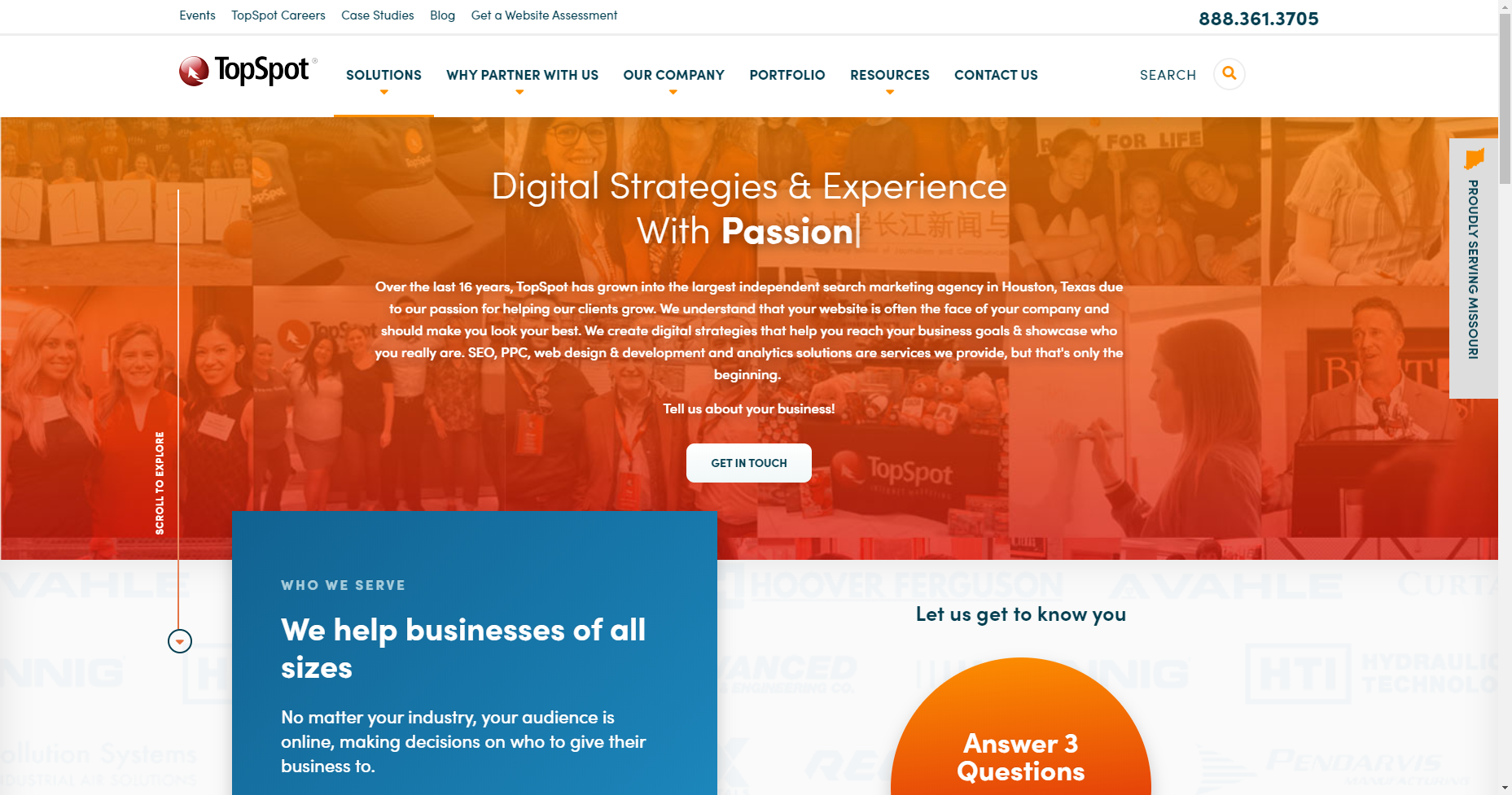 TopSpot was founded in 2003 and started out with just five team members. They're one of the fastest-growing search marketing firms in Houston, Texas, and have 100+ team members based in their home office and 20 sales representatives across the United States. TopSpot serves companies of all sizes and many industries, whether niche or local.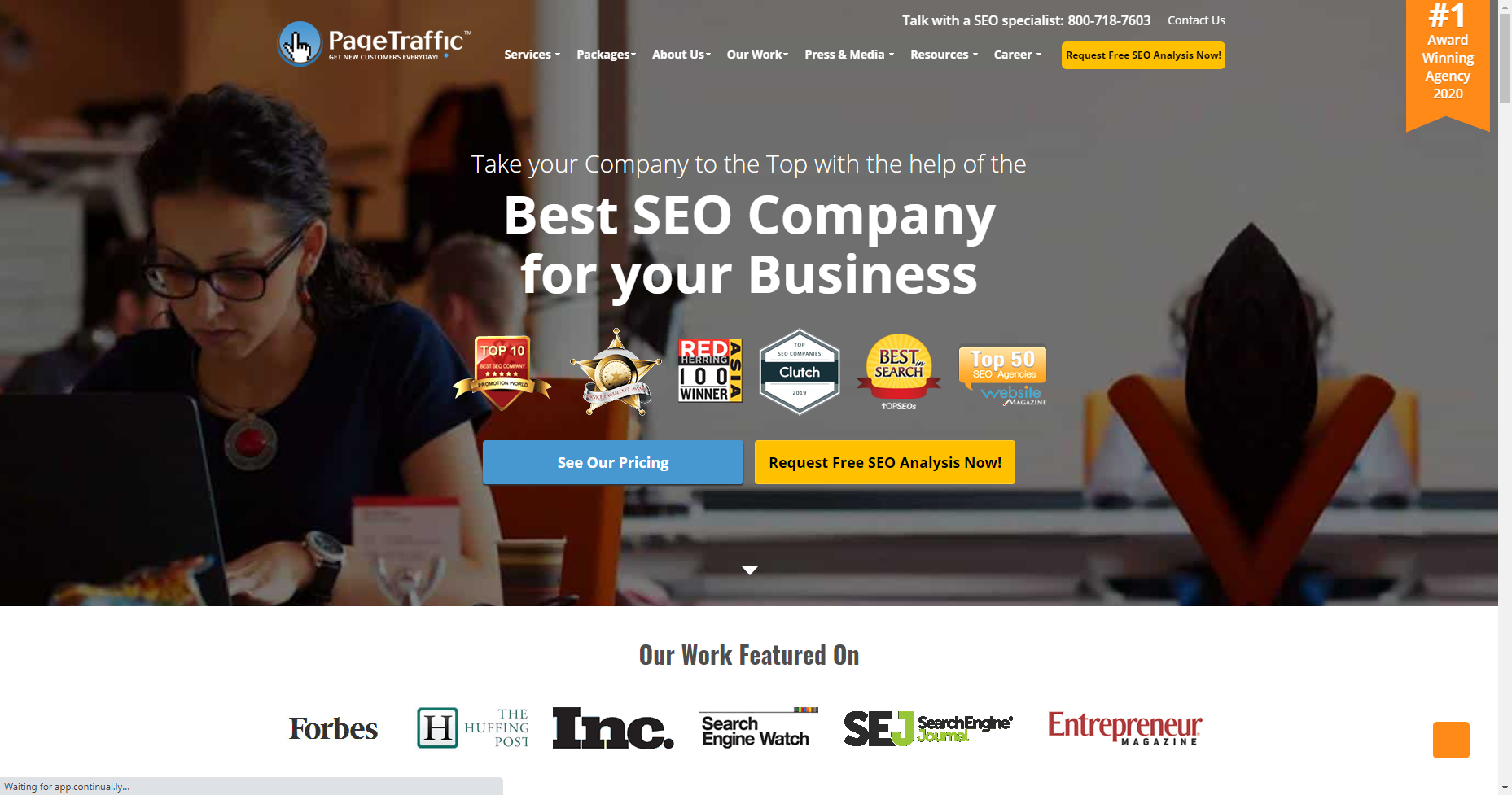 PageTraffic has handled online marketing for thousands of businesses, freeing them up to focus on their core business processes. They don't specialize in any industry but pride themselves on specializes in getting your business new customers every day.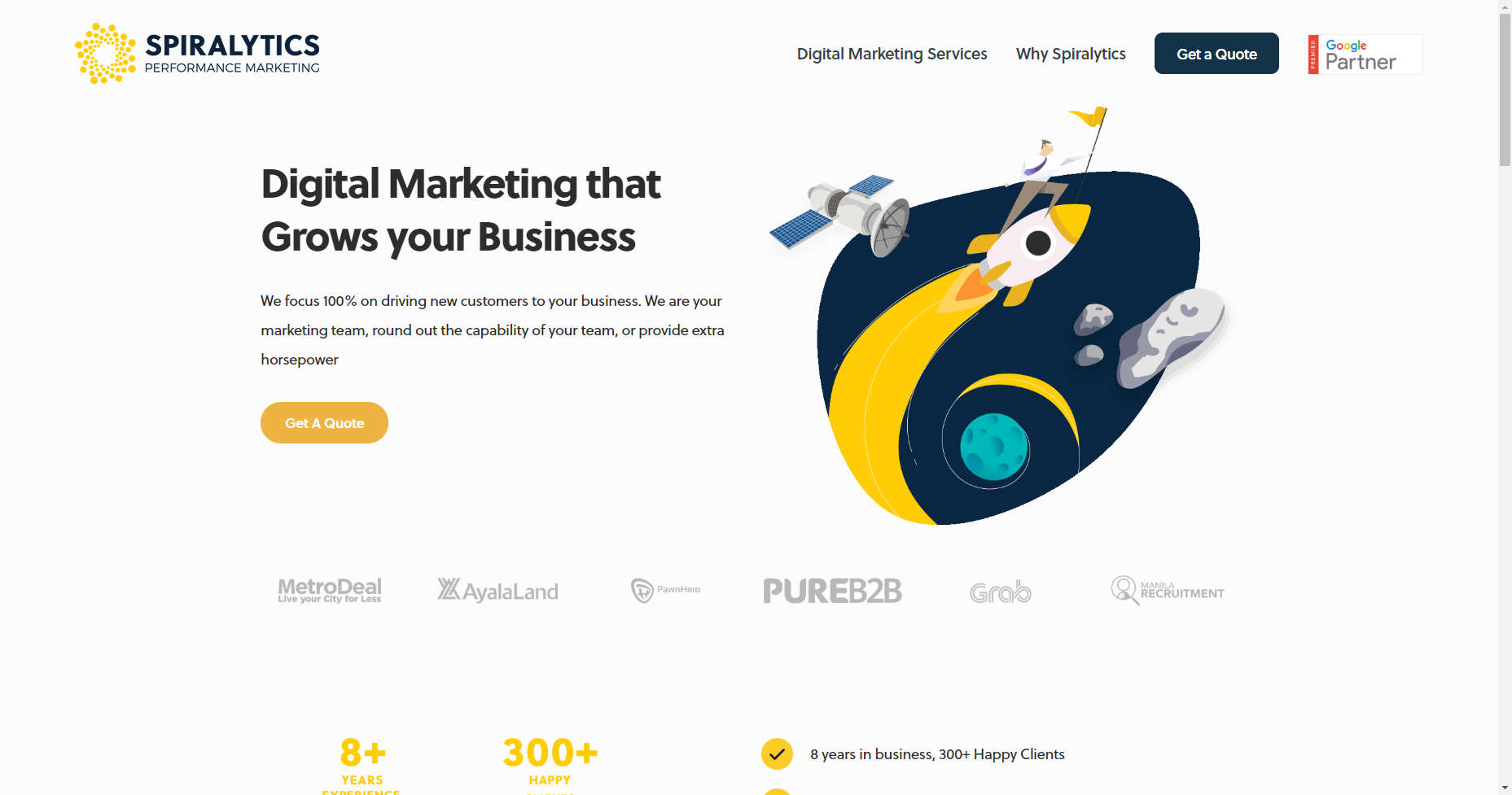 Spiralytics operates on the principle of high-precision continuous-improvement marketing. They focus on performance-based tracking and tuning and swear by analytics to achieve their results.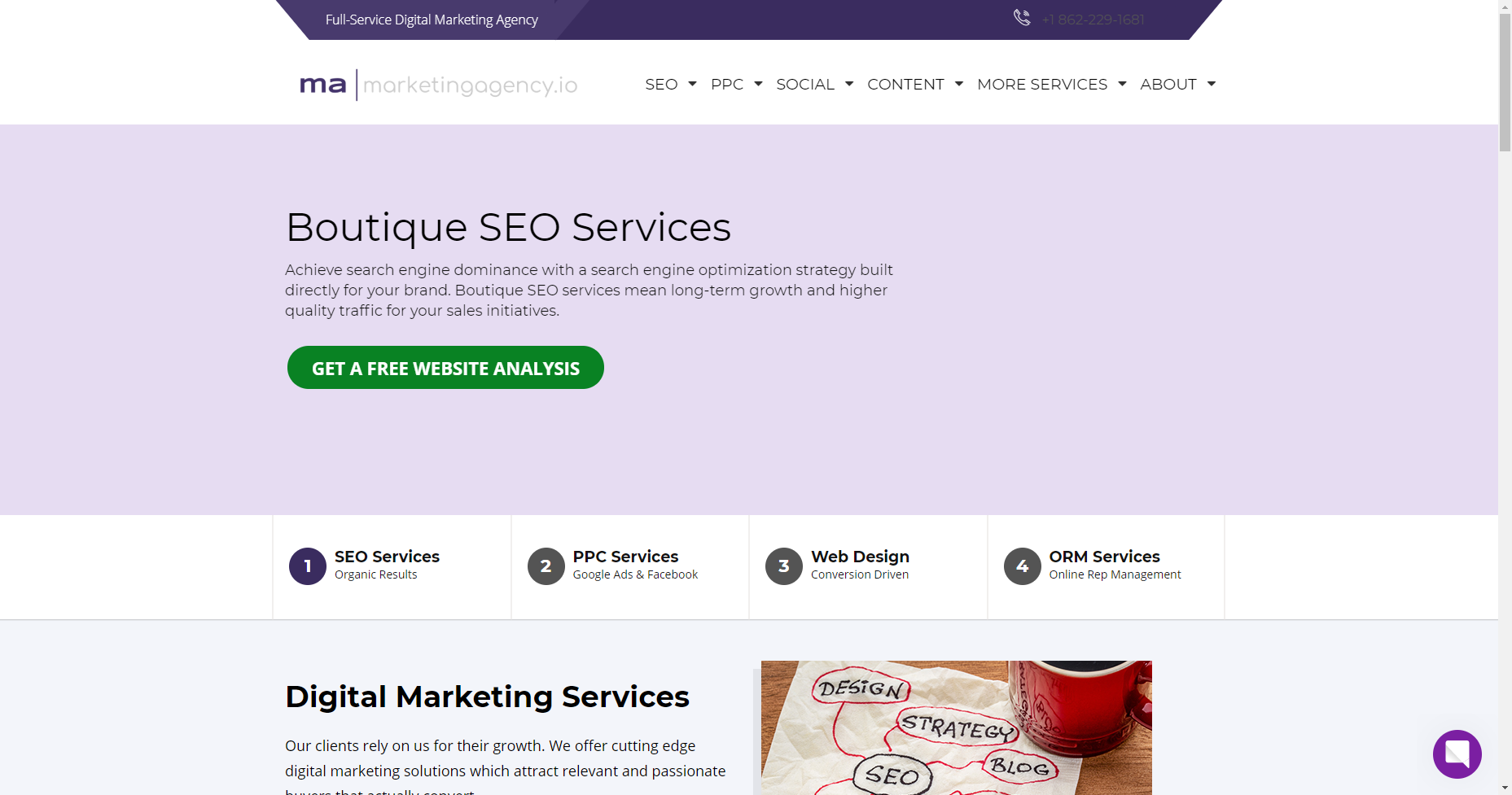 Marketingagency.io is a full-service digital marketing agency with capabilities ranging from providing unique online experiences to driving meaningful visits that convert. They offer design and development solutions as well as cutting edge digital marketing solutions to build and promote an online presence.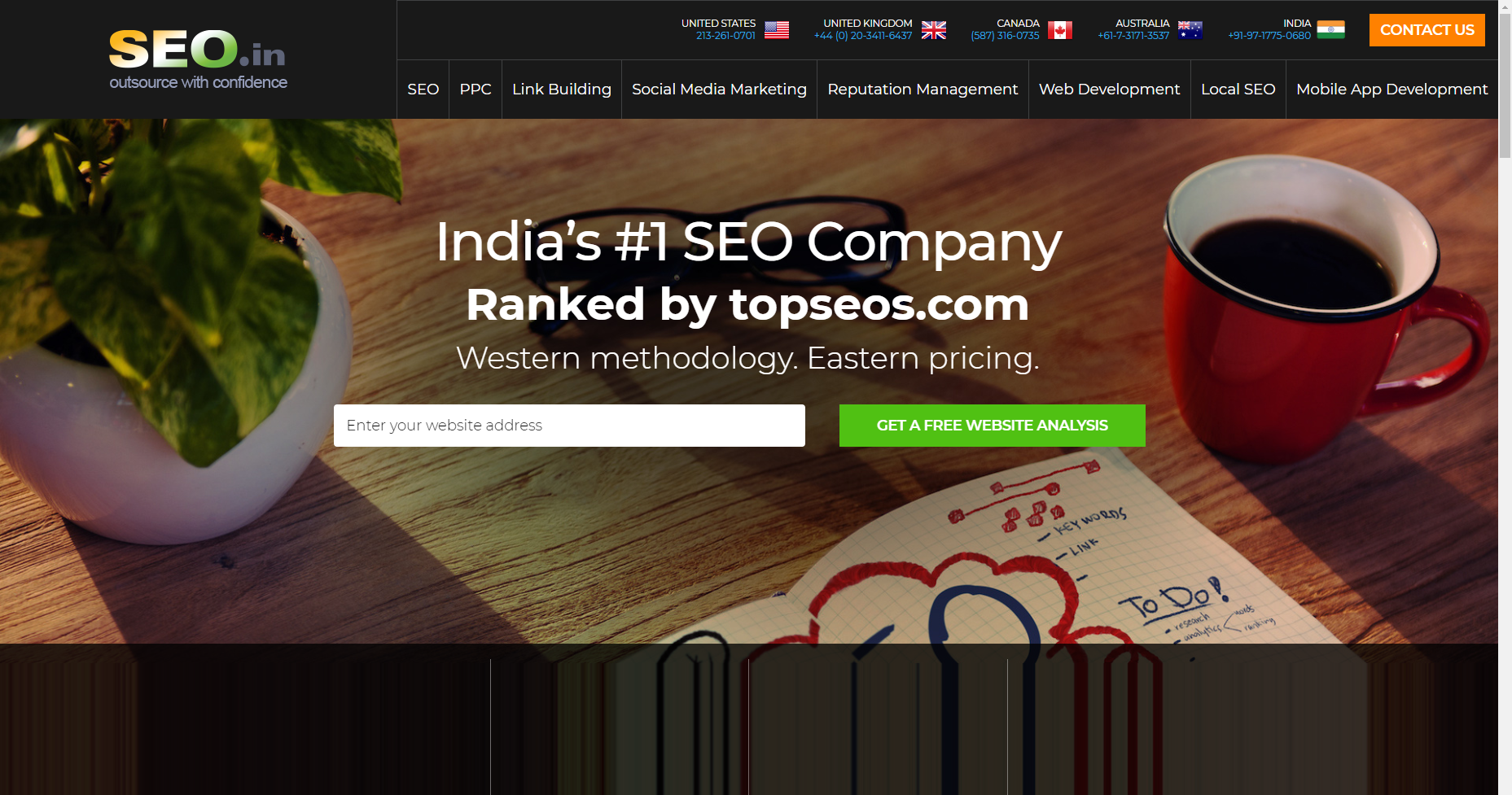 SEO.IN is a comprehensive internet marketing company that provides cutting edge solutions to attract target customers, convert leads, and accelerate business growth.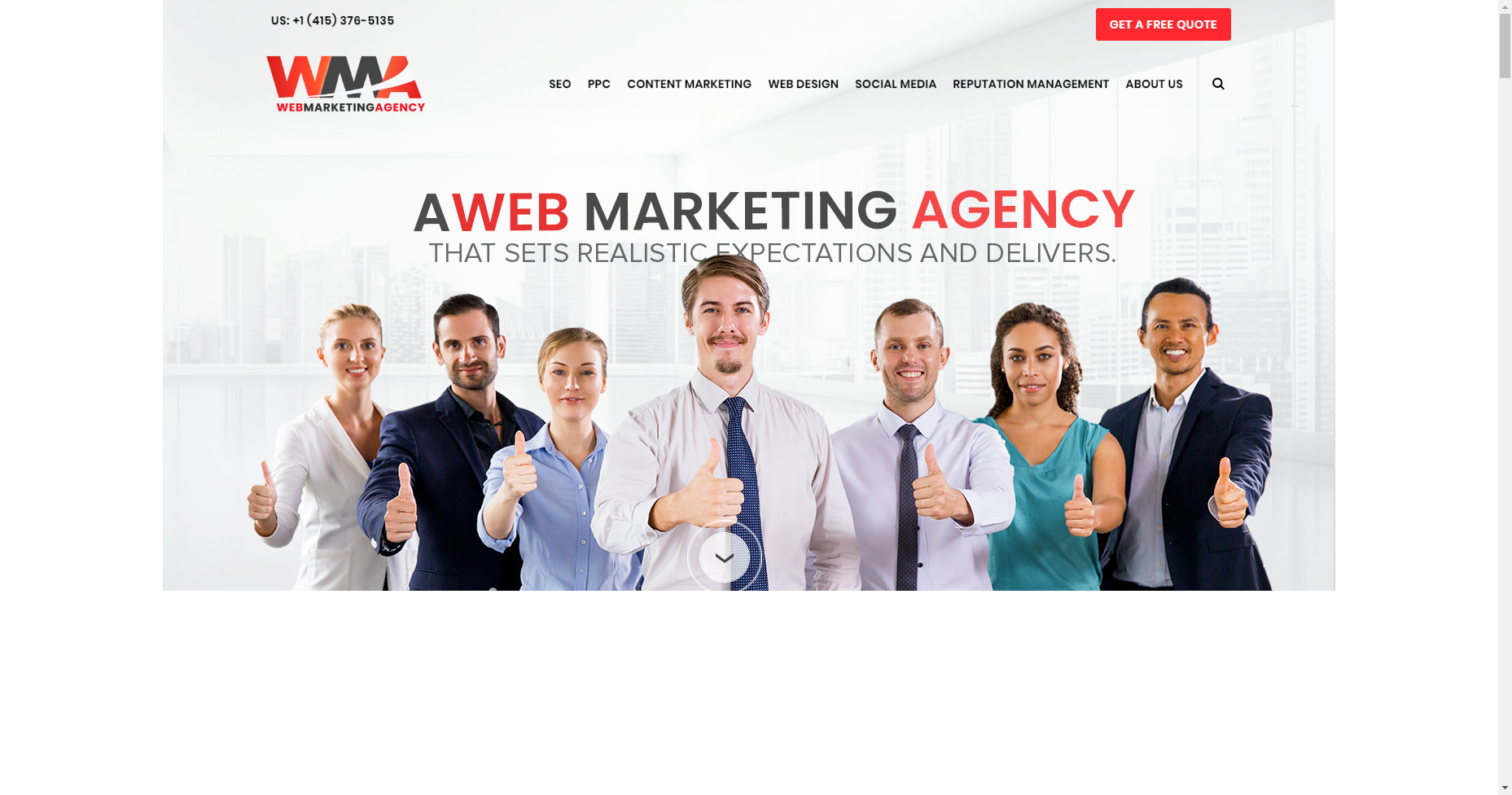 Web Marketing Agency is a team of dedicated digital marketing enthusiasts who strive to deliver great results. They make it their business to know who your target market is, and create the right offers to drive them to your products and services.
Web Marketing Agency uses the best and most up to date marketing strategies to deliver solutions that boost your traffic, generate leads, and increase revenue for your business.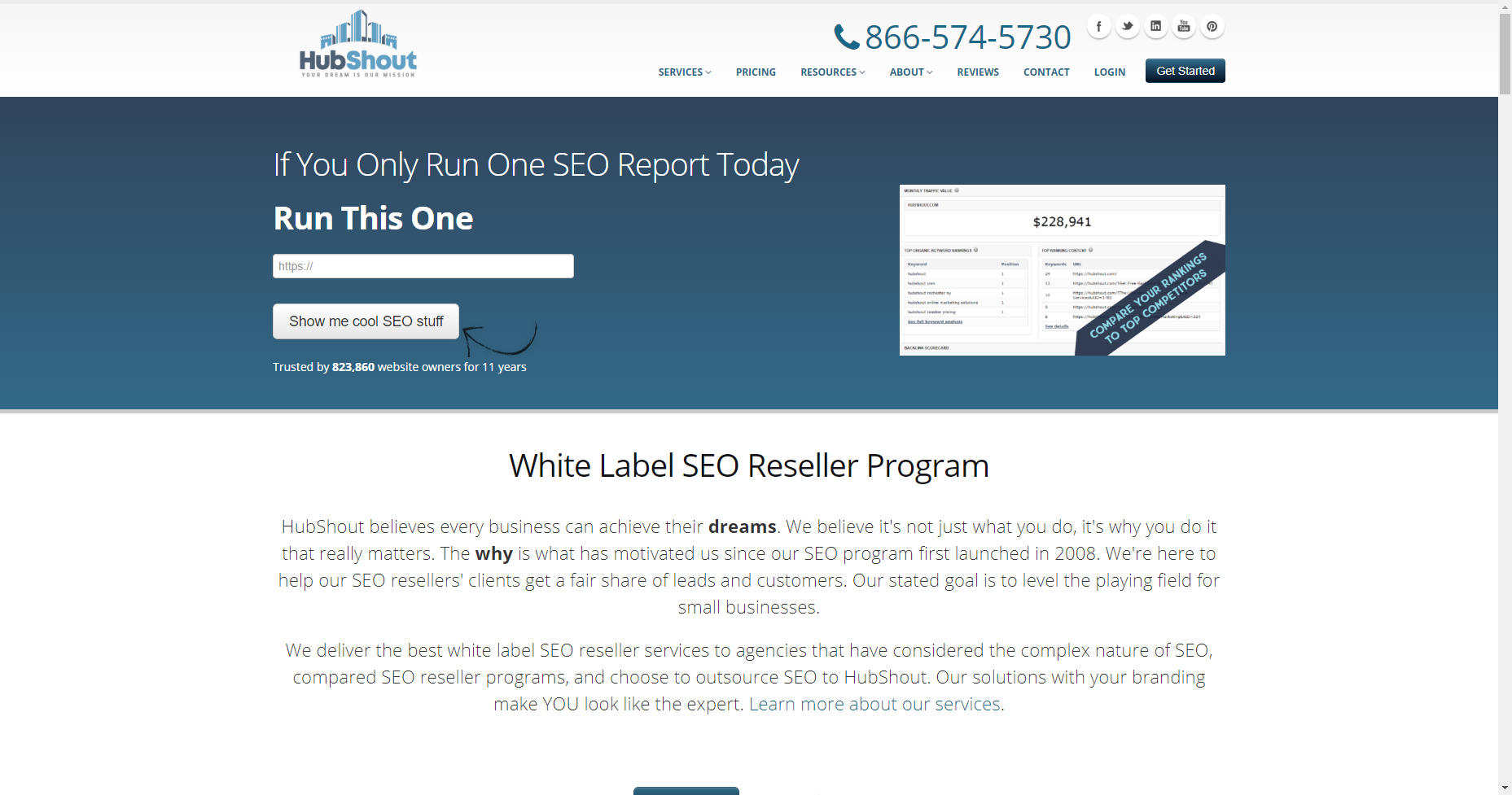 HubShout launched their SEO reseller program and all-in-one reporting dashboard in 2008. Since then, they've added a PPC reseller program to the mix.
HubShout is a team of enthusiastic and focused analysts, developers, designers, marketing specialists, account managers, and writers with a passion for technology and digital marketing solutions that drive sales for their clients.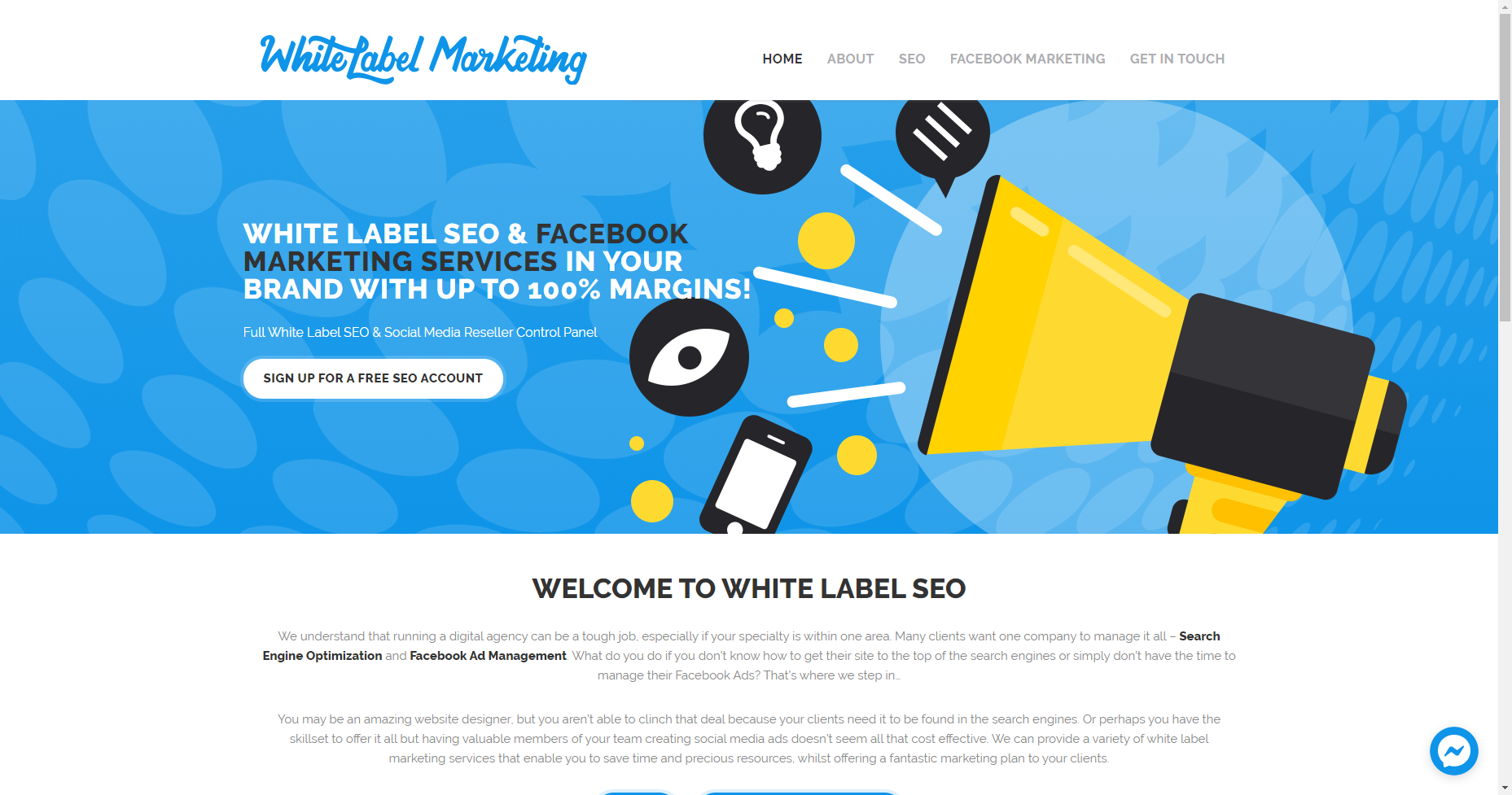 White Label Marketing offers marketing services including content creation, keyword analysis, SEO services, and more. Their services are targeted at the digital market; they help you promote your brand, products, or services through social media content and analysis, organic SEO, and marketing knowledge.
HigherVisibility has worked with hundreds of companies of all sizes and works hard to understand your pain points. They develop a customized strategy that meets your company's needs regardless of size or industry.
Get Started With White Label SEO
White label SEO services aren't necessary for all businesses. If you have the expertise, staff, resources, and capacity to handle SEO in-house, it feels great to do so.
However, if you operate a large agency with an ever-increasing number of clients seeking SEO services, finding the right white label partner will help you meet those needs.
You don't need to be SEO experts to offer high-quality SEO services to your clients. Partnering with the best white label SEO company will let you increase your service offering to grow your business without taking on the hard work.
Want to see more services like this? Here are the best SEO reseller programs we've found.