YouTube is a massive platform that's part search engine, part social media, and 100% marketing goldmine. But, if you're not sure about bringing your brand to the platform, or if you're thinking about changing the way you already use it, these YouTube stats will give you the data you need to make a decision.
Ready to jump in? Here are the best YouTube marketing companies to give you an edge on the platform.
YouTube Stats for 2020
YouTube stats are important because they can help power your YouTube marketing strategy. Here, you'll find all the YouTube stats you need to build a thorough understanding of the platform.
General YouTube Stats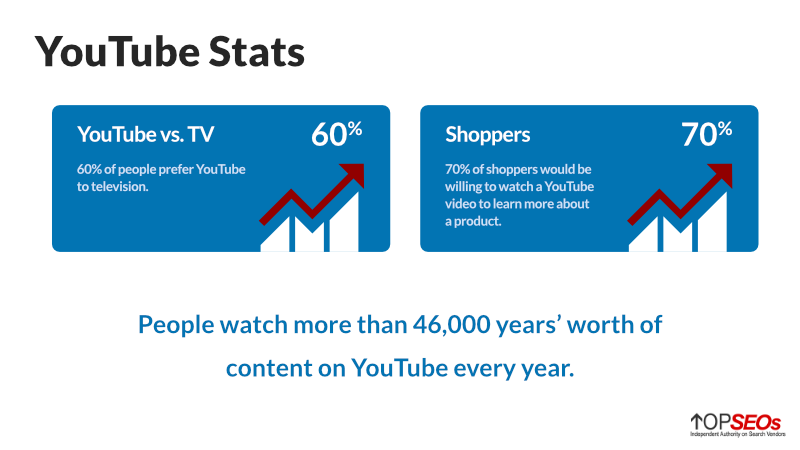 YouTube User Statistics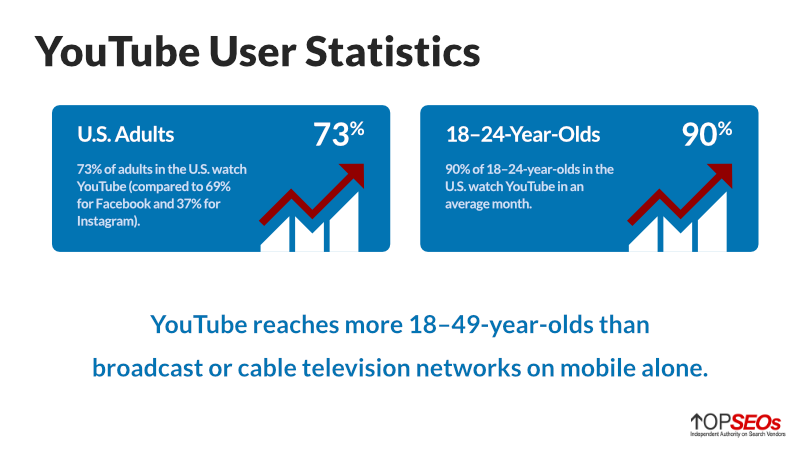 YouTube users come in all ages, genders, and economic statuses. More and more, YouTube is the go-to platform for consumers who are trying to figure out how to do something or what to buy. And, yes, some YouTube users just want to be entertained.
YouTube Usage Statistics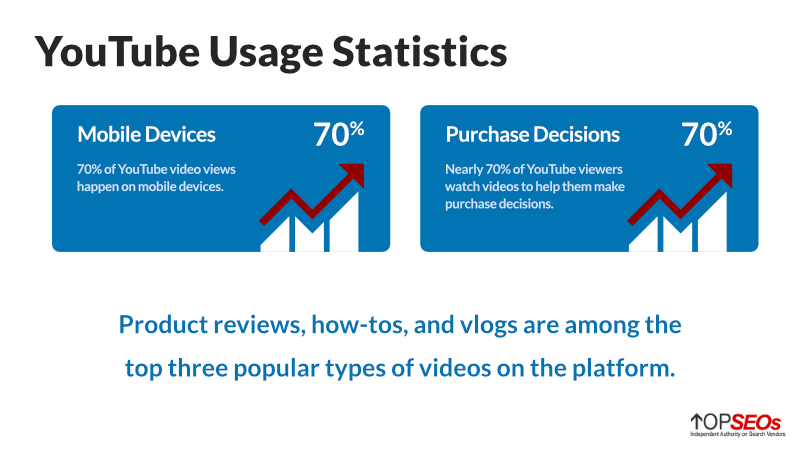 YouTube has a seemingly endless supply of videos covering just about any topic you can imagine. It's no surprise that YouTube is the second most accessed site on the internet (after Google).
Each visit to YouTube involves an average of 6.5 pageviews, meaning that YouTube's viewers aren't just aimlessly watching whatever the algorithm spits out for them. Instead, they're actively seeking out the content they want.
YouTube Mobile Statistics
Nearly everybody has a smartphone these days, and more and more YouTube viewers are watching the platform from their mobile devices. In fact, mobile YouTube ads are 84% more likely than television ads to hold the attention of viewers.
YouTube Marketing Statistics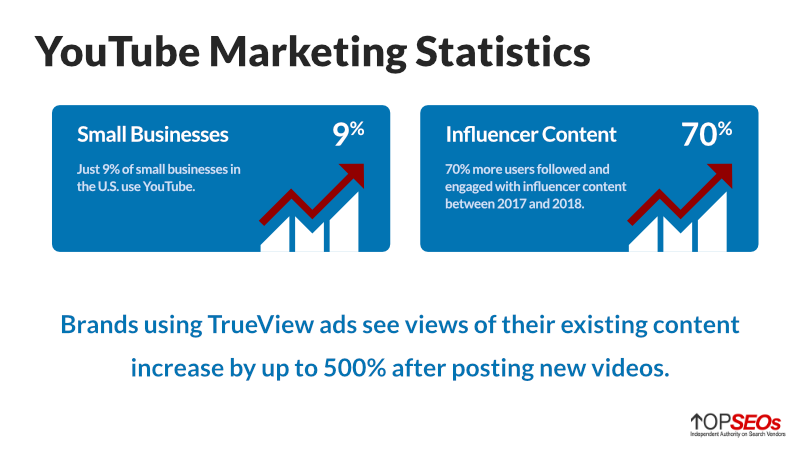 Even though YouTube is a great way to reach consumers who want to learn more about and even buy products, only 9% of small businesses in the U.S. are on the platform. If you're a small business that sells a common product and thinks that YouTube ads are out of your reach, consider joining the platform to post product information, how-to, and explainer videos.
Need help taking advantage of everything YouTube has to offer your business? Here's a list of the best YouTube marketing companies to get you going.
YouTube Stats for B2B Marketers
Many B2B marketers are already hip to the value YouTube provides. However, it seems that not many understand that YouTube can be used to distribute paid content.
YouTube Advertising Statistics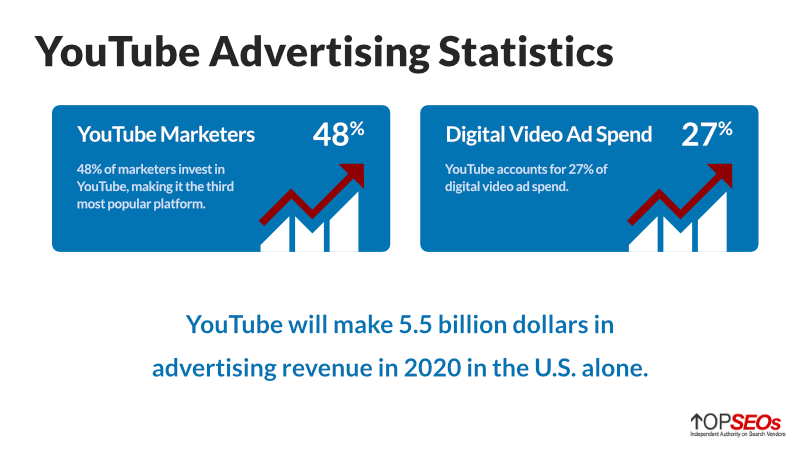 YouTube does big advertising business. That's good for them, but also good for the advertisers since YouTube's ads markedly lift brand recall and increase purchase intent.
YouTube for Business Statistics
One of the most important takeaways from these YouTube stats for business users is that viewer interests are key to making a meaningful connection. You don't need a famous actor to make your videos and video ads watchable. What you do need is to know your audience and what they like.
YouTube's History
YouTube's only been around since 2005, but it's changed the face of advertising, not to mention how we consume content.
Leverage YouTube for Marketing
As you can see from these YouTube stats, the video platform has a huge impact for both B2B and B2C businesses. As more and more consumers want to see video (particularly live video) from brands, you can bet your marketing dollar that YouTube is where it will all happen.
Considering running ads on YouTube? We recommend Google Preferred or TrueView ads to get the best return on ad spend.