If you aren't using YouTube in your marketing strategy, you could be missing out on a lot of revenue. In this article, we'll share the benefits of YouTube for business and how to start your own YouTube channel.
Since YouTube came onto the scene in 2005, it's become a monster. It's the second most popular website on the entire internet (after Google) and the second-largest search engine (again, after Google).
According to Statista, YouTube has more than 2 billion monthly users worldwide who watch more than 1 billion hours of video every day.
It's no surprise that marketers across industries are jumping on board.
Thinking about adding YouTube to your marketing strategy? Let's take a look at the benefits you can expect to enjoy.
7 Benefits of YouTube for Business
People love watching videos. And they watch them for many different reasons.
Most importantly for your business is that 90% of YouTube users say they discover new brands or products through the platform (Thinkwithgoogle, 2019).
This doesn't necessarily mean that those watching your videos are going to buy your products, but if they're watching they're at least aware of your products. That means that your brand will come to mind when they have a need for products like those you offer in the future.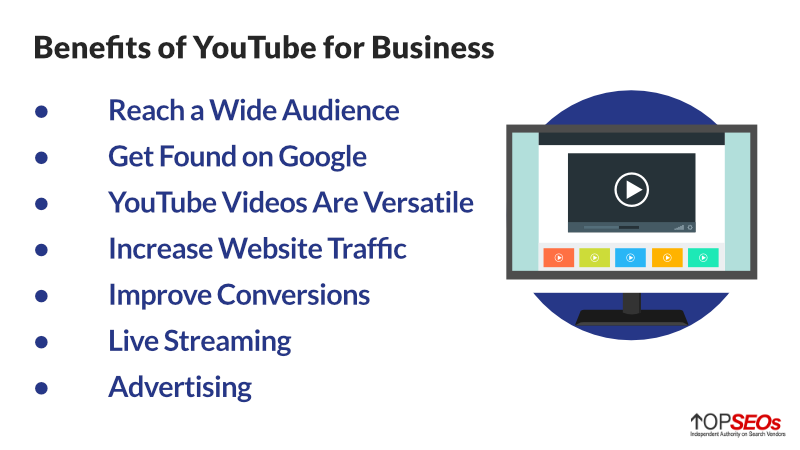 There are many more benefits of YouTube for business. Let's dive in!
1. Reach a Wide Audience
YouTube processes more than 3 billion searches every month. While that's a far cry from what Google processes in a typical day, it's still enough to make YouTube the second-largest search engine.
In addition to offering easy access to videos about every topic under the sun, YouTube appeals to a broad demographic. While YouTube adoption is highest among those aged 15–25 (81%), older people are well-represented:
71% of people aged 26–35 use YouTube
67% of 36–45-year-olds use the platform
66% of those aged 46–55 use the platform
58% of people aged 56+ use YouTube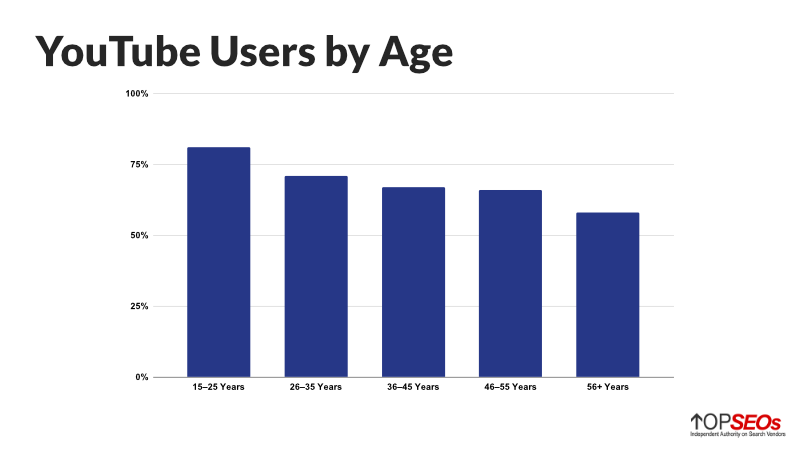 If you want to learn more about YouTube, check out these YouTube stats to power your video marketing.
2. Get Found on Google
YouTube was purchased by Google in 2006 and Google loves ranking YouTube videos on the first page of its search results.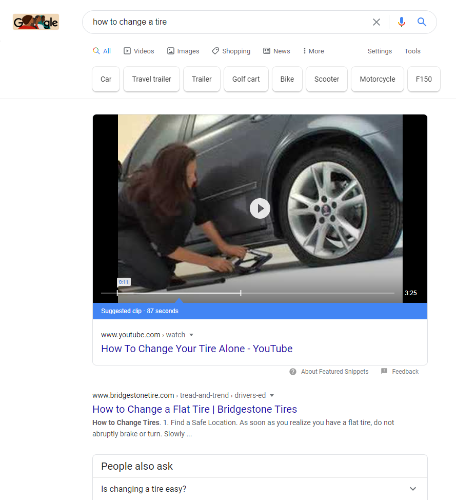 When you begin creating YouTube videos you, too, will have the chance to see your videos featured on Google's search engine results pages (SERPs).
All it takes is relevant videos that are optimized for your target keywords.
For more ways to get your content found, check out our guide to creating an effective SEO strategy.
3. YouTube Videos Are Versatile
Hosting your videos on YouTube is enough to get them indexed by Google, but there's a lot more you can do with them, like embedding and sharing them in any number of places.
You can embed your videos on your website or blog to increase engagement and reduce your bounce rate, share clips on social media, or include links to your videos in your email marketing.
YouTube videos are so helpful to brands because they increase your brand awareness and help you get your brand in front of a larger audience.
4. Increase Website Traffic
Not only will adding videos to your YouTube channel get exposure for your brand, but you can also use your YouTube presence to drive traffic to your website by adding a backlink to your website in your video descriptions.
Plus, backlinks from a high-authority site like YouTube are excellent for your domain authority. A higher domain authority, in turn, can help you rank higher in SERPs.
5. Improve Conversions
Visuals grab attention. They're also a lot easier to process than text. In fact, images and videos are 60,000 times easier to process, according to scientific studies.
This means that your YouTube videos will have an easier time getting your message through to the people who need to hear or see it. And that leads to better conversions.
Looking for more ways to increase conversions? Check out our playbook for conversion rate optimization.
6. Live Streaming
Live streaming gives you the chance to bring viewers into the thick of things in a way that pre-recorded videos don't.
When you go live, viewers have the opportunity to engage with you in real-time. This is a huge draw for many viewers who like to know that your brand is backed by real people who want to help them solve their real problems.
7. Advertising
If you've spent any amount of time on YouTube, you've seen the ads. Love them or hate them, YouTube ads are a great marketing channel for your business.
There are 6 types of YouTube ads:
Bumper ads
Displays ads
Skippable ads
Non-skippable ads
Overlay ads
Sponsored ads
Your ads will show up with other relevant content, which is nice because you already know that the viewer has at least some level of interest in what you have to say.
How to Start a YouTube Channel for Business
Now that we've convinced you to create a YouTube channel for your business, we should probably show you how to create one.
Fortunately, it's really easy to do and gives you access to more than 30 million people every single day.
YouTube has a better reach and engagement of any other platform. You can use your YouTube business channel to share product videos, how-tos, tutorials, and anything else that might be of interest to your target audience.
Many brands also find great success with short, entertaining commercial-style videos that showcase their products. Other brands take viewers "behind the scenes" of their business so their viewers can see the human side of the brand.
Creating your business channel is only the first step to getting your YouTube channel off to a great start. You'll also need to optimize your channel to make sure that you draw in as many viewers as possible.
Ready to get started? Here's a step-by-step guide to creating your YouTube channel.
Step 1. Create a YouTube Channel
To create a YouTube channel, you first need a Google account. We recommend creating a new Google account that you'll use just for your business so you don't accidentally post business videos to your personal channel or vice versa.
Once you have your Google account, log in to YouTube, and click Create Channel in the top right corner of the page.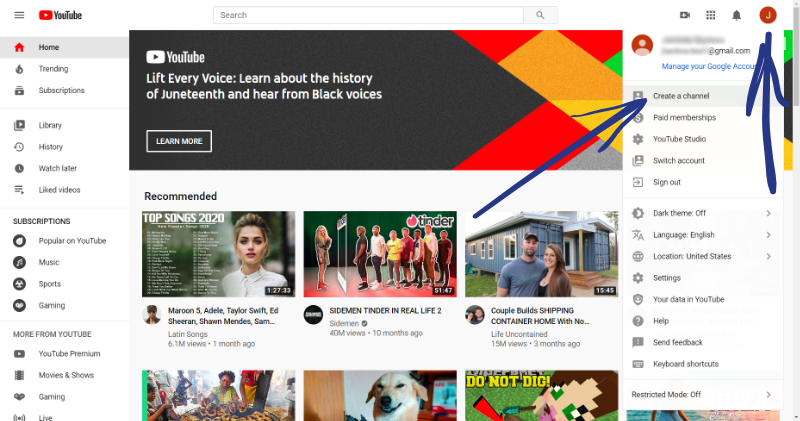 After clicking Create Channel, you'll need to click Get Started to go through YouTube's guided set up process.
Step 2. Give Your Channel a Name
Now you need to choose a name for your channel. You have the option of using the name and profile picture associated with the Google account you're using, or you can create a channel using your brand (or another name) and another picture.
Step 3. Add Channel Description
After you've named your channel, you'll need to add a channel description. This is a great place to start optimizing your channel so it's discoverable when people search on the platform.
Add a description that tells viewers what your channel is about and don't forget to include relevant keywords.
What counts as a relevant keyword? Anything that viewers would use to search for and find your content.
You'll also be able to add links to your website and social media profiles. These will show up on your About page as well as in the lower right corner of the header image for your channel.
Step 4. Customize Your YouTube Channel
After you're done creating your YouTube channel, we recommend that you continue to optimize it using the Customize Channel option.
You'll be able to add more details about your business and upload custom channel art.
Don't forget to add your email address and location so people are able to contact you!
Step 5. Add Videos
All that's left is to upload videos to your new channel. To do that, just click the Upload Video button on the Home tab: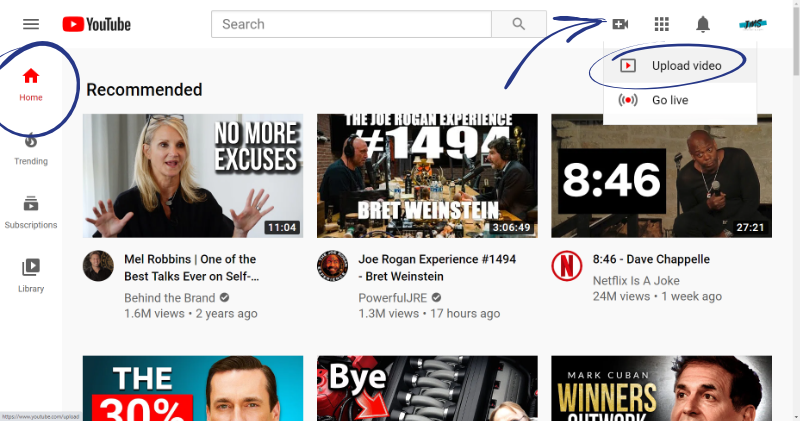 Select the files you want from your computer and upload them. Don't worry, they'll be set to private until you publish them.
Give each video a descriptive title and description that include keywords relevant to the video content. You should also include a link to your website in the video description, as we mentioned earlier.
After your video is done uploading, you can choose one of the auto-generated thumbnails or upload your own.
We recommend uploading your own thumbnail since you'll be able to add text and other eye-catching elements to encourage clicks.
From there, choose a playlist for your video if you want and let YouTube know if your content was created for kids or not.
Then, you can use the advanced options to add search terms, your video's language, tell YouTube if the video is part of a paid promotion, or add closed captioning, among other things.
You also have the option to add video elements like cards and an end screen that show up during your video, giving your visitors the chance to act on your calls to action.
Cards can be used to promote a YouTube video, playlist, or channel, as well as a poll or link to your website (requires membership in YouTube's Partner Program). These cards will show up at the time point you want: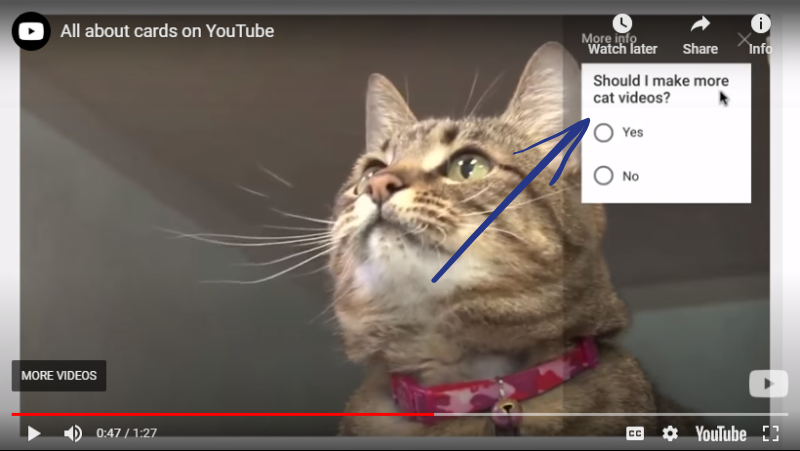 End screens are just as easy to add and you can adjust the time period that they're available or choose which video is shown.
You're ready to publish your video! Adjust the visibility and click Save, then choose from Public, Unlisted, or Private. You can even schedule your video to go public at a later date.
How to Promote Your YouTube Business Channel
Now that you've added videos to your YouTube, you're ready to promote! But where? How?
There are tons of paid ways to marketing your channel, but there's a simpler path to getting your videos found and shared.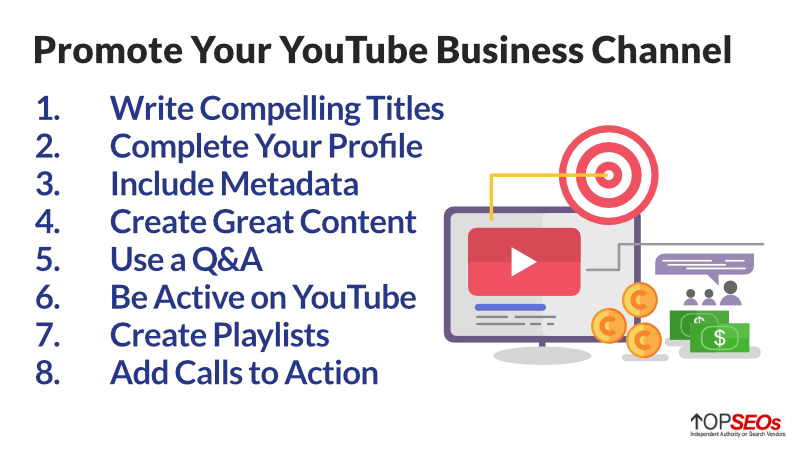 The recommendations that we're going to share are tremendously effective and entirely free.
Write Compelling Titles
You want viewers to know what they're getting into, and that starts with the title. Include your keywords as close to the beginning of the title as possible and keep them short (fewer than 60 characters).
Complete Your Profile
We've seen too many YouTube profiles that include the barest of bare minimum in them. This does a disservice to both your viewers and your brand.
Your profile should be on-brand in terms of visuals and colors and should include contact information.
Also, let viewers know how often they can expect to find new content on your channel.
Include Metadata
Include the appropriate tags and categories for each YouTube video, but don't add those tags and categories inside your video description. YouTube doesn't like that.
Create Great Content
Your videos don't need to look like they could've come from Lucasfilm, but they do need to be high-quality. Make sure you review your video and sound before uploading and sharing with the world.
Fortunately, many content marketing tips are applicable to video marketing, too.
Use a Q&A
Q&As are a great way to get more content ideas and boost viewer engagement at the same time.
Ask viewers to submit questions (it doesn't matter how they submit them; that's up to you) and then create a video answering those questions.
Be Active on YouTube
YouTube has an enormous community of users. You're sure to find others who share your passions, niche, and industry.
Seek them out and engage with their content, too.
Create Playlists
Playlists are one of the best ways to get viewers to watch more of your content. Another video begins as soon as the previous one ends, and on it goes until the playlist is done and your viewer is left with a warm, fuzzy feeling about your brand that just provided them so much entertainment and knowledge.
Add Calls to Action
Every single video you post should have a call to action. It could be asking viewers to share the video, leave a comment, give it a thumbs up, or do something off-platform like follow you on social media, visit your website, or sign up for your mailing list.
No matter what you're asking viewers to do, ask them to do something.
Wrapping Up
Sharing content on YouTube gives your brand a presence on the second-largest search engine in the world. Plus, Google loves adding YouTube videos to its SERPs.
When you create high-quality videos and promote them well, you're more likely to see your videos show up there—and your target audience will see them, too.
Don't have the time to do it right? Leave it to the experts! Here's a list of the best YouTube marketing companies. You're sure to find the right one for your business.