Do you want to improve your rankings on Etsy, increasing your brand's visibility and making more sales? You need to spend some time on your Etsy SEO! In this article, we'll share seven Etsy SEO tips that will help you improve your Etsy rankings so your shop has a better chance of getting sales.
Before we jump into our tips, it's important to understand what Etsy SEO is and how Etsy search works.
What Is Etsy SEO?
Etsy SEO is a set of tactics you can use on and off this eCommerce platform to improve your shop's organic ranking. Like SEO anywhere, SEO on Etsy involves finding the right keywords, using those keywords strategically throughout your shop and product listings, including high-quality images on your listing, and more.
It's important to remember that Etsy has a strong page rank on Google and other search engines, too. This means that your well-optimized Etsy shop has a strong likelihood of ranking outside of the Etsy platform, too.
How Etsy Search Works
The entire goal of Etsy's search is to show shoppers the products they're looking for. This is done in two phases: query matching and ranking.
Query matching is how well a shopper's search terms match Etsy's inventory listings. So, when a shopper searches for a specific term, Etsy will sort through listings, titles, categories, tags, and attributes to find the best possible match.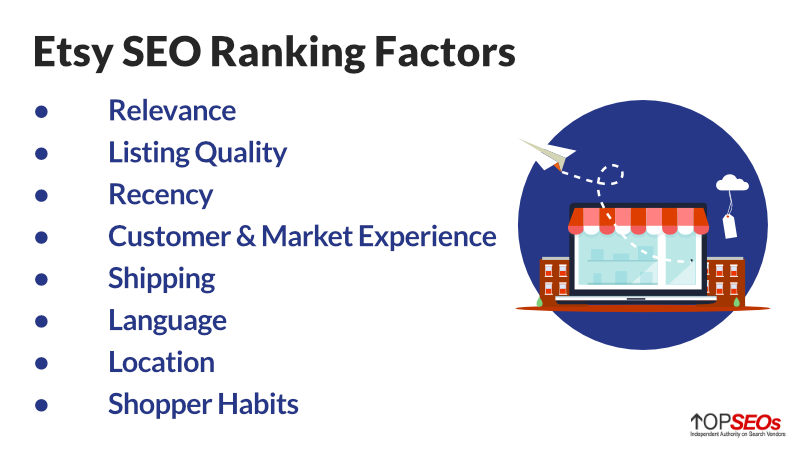 Then, Etsy uses the information it has found to determine how the listings should be ranked in the search results. Etsy uses several factors to make this determination:
Relevance
Etsy looks for matches between the shopper's search terms and the tags, categories, attributes, and titles used in product listings. Product listings that are an exact match will be ranked higher.
Listing Quality
Etsy looks at how appealing your listing is by evaluating how many people view the listing and make a purchase. This increases the listing quality and will result in your listing being ranked higher in search results.
Recency
Etsy temporarily increases rankings on new listings, so newer listings might show up higher in the search results before the other factors take over.
Customer and Market Experience
Your Etsy shop has a score based on things like how complete your shop's About section is, customer reviews, and negative feedback. This score is then used to help determine rankings.
Shipping
Shipping price is important to shoppers. Because of this, Etsy gives better search placement to stores that offer free shipping.
Language
Your shop information, as well as product listings, tags, and titles, have to be in the language you chose when creating your Etsy account.
Location
If you're a seller located in Australia, Canada, or the EU, your location is taken into account. Yes, even Etsy loves local SEO. But, it's important to note that location isn't a factor in searches outside of these three countries.
Shopper Habits
Etsy will also learn buyer behavior and customize search results to individual shopper habits. This means that Etsy will rank products higher depending on whether the specific searcher is more likely to purchase.
This is called context-specific ranking (CSR) technology. It means that if you and another shopper searched for the same term on Etsy, the products you see won't necessarily be the same.
7 Etsy SEO Tips to Increase Your Brand's Visibility
Now that you have a better of how Etsy decides the search listings to show and how they should rank, let's turn our attention to how you can use Etsy SEO to make sure that your products get those top rankings.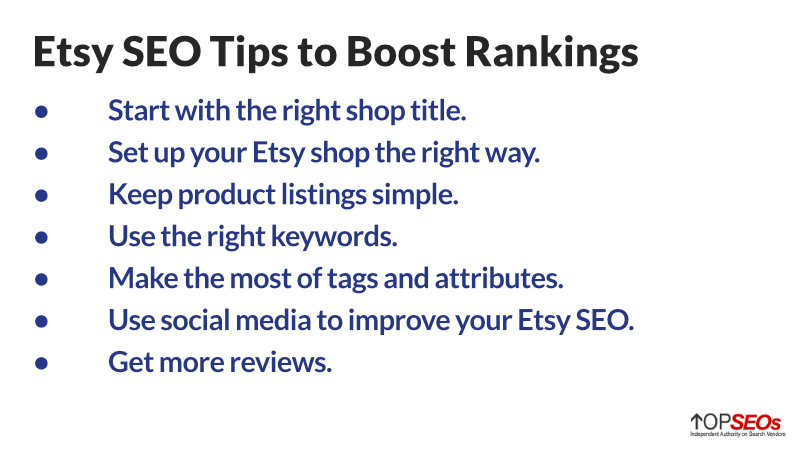 1. Start With the Right Shop Title
Your shop's title is the short text that describes your shop, letting shoppers know what you make and sell. The title you enter is the page title for your shop page. This makes it the first thing a shopper sees when search engines link to your shop.
Use a title that easily identifies the products you sell. And, if you know that shoppers might be searching by your actual name, be sure to include that in your shop title, too.
Shop titles can be up to 55 characters long.
To create a title that really boosts your Etsy SEO efforts, use these 7 SEO title tips.
2. Set up Your Etsy Shop the Right Way
There are a few things you can do to make sure that your Etsy shop is set up for SEO.
First, complete the about section for your shop listing. This helps with your customer and market experience score and will help improve your rankings. Etsy places value on sellers that share information about their shop and origins with shoppers.
Next, include your store policies so shoppers know what to expect when they purchase form your shop. This will also increase your customer and market experience score.
Finally, your titles and tags have to be in the language you selected upon opening your store on the platform. Using tags in languages other than your chosen language isn't going to make your products rank higher.
3. Keep Your Product Listings Simple
When creating your product listings, simplicity is key. You'll want to use clear, accurate, easy to understand descriptions of your product and make sure that the titles, tags, and descriptions make sense (and include relevant keywords).
Etsy allows up to 55 characters for titles and also shows the first 160 characters of item descriptions in search results, so make sure that your keywords are at the beginning of your titles and descriptions so they show up.
Don't forget to add tags to your product listings. Etsy lets you add up to 13 tags for each product listing. These tags will help you add keywords to your listings.
Fill out product listings completely. Shoppers want to know that your product is the right one for them, so give them all the information you can to help them make their decision.
4. Use Keywords
Keywords matter in SEO. Etsy SEO also relies on keywords. But how does Etsy use them? And how can you find the right keywords to target?
How Etsy Uses Keywords
Etsy places a higher value on exact phrase matches. This means that product listings using keywords that exactly match the keyword a shopper has searched are going to rank higher.
When a keyword shows up in both the product title and product tags on a particular listing, Etsy will consider that listing more relevant.
Where your keywords appear also matters. Words that are included at the beginning of titles and descriptions are considered more important than words that show up closer to the end.
So, "sloth fanny pack purple" is more likely to rank higher than "purple fanny pack sloth" if a shopper is searching for sloth fanny packs. And, "sloth fanny pack" will be ranked higher than matches for either "sloth" or "fanny pack."
Finding the Right Keywords for Etsy SEO
Now that you understand how Etsy uses keywords, you're probably wondering how to find keywords that you can use in your Etsy listings to improve your product rankings.
The first thing you need to do to find the right keywords is to think like the shoppers you're trying to reach. What keywords would you use if you were searching for your products? Test your keywords in Etsy's search tool to find out what comes up for the keywords you're considering.
If the listings are a good fit, you've found a good keyword.
To really target the shoppers that have a high purchase intent (those who are searching for something specific because they're ready to buy right now), focus on longtail keywords.
Longtail keywords typically contain three or more words and indicate that a shopper has something exact in mind. The implication is that once the shopper finds this item that matches their specific search, they're going to buy it.
Longtail keywords are specific keywords that are likely to have less competition.
For example, searching for "memento mori signet ring" is much more specific than "signet ring." On Etsy, "memento mori signet ring" brings up 171 results. Looking at just "signet ring," however, brings up 42,675 results.
If you want your products found, use longtail keywords.
You should also include references to physical item descriptions like size, color, or material, but it's also beneficial to use terms to indicate other reasons a shopper might buy your product:
Events: Is your product great as a "stocking stuffer" or "first anniversary" gift? Include those descriptive keywords in your listing.
Style: Use aesthetic or mood descriptors like "rustic," "natural," "lemon-scented," etc. in your listings.
Solutions: What does your product help the shopper do? If your product solves a problem for the shopper, you should include that information.
There are also keyword research tools you can use to find the most-searched keywords. While a standard SEO tool will work, there are also Etsy-specific keyword research tools like Marmalead that will help you find keywords for your specific shop.
5. Make the Most of Tags and Attributes in Your Listings
Etsy's algorithm looks at titles, tags, categories, and attributes to find keywords matching what shoppers are searching for. This means that the tags and attributes you use in your listings have a big impact on whether or not your product gets ranked well.
Use varied tags and write them in sentences, not individual words to phrases. Use them to tell shoppers more about your product: what it is, what it does, who it's for, etc. Really take the time to consider what makes your product unique and sets it apart from your competitors.
You don't have to just use your tags to repeat categories and attributes or what you've already written in your title, either. You can target different related keywords with your tags. Or, if you want to focus on relevance, go ahead and use those tags to boost a certain keyword.
All of the information you add to your product listing should be well-written and related directly to your product. When you include information that isn't relevant, your product visibility is going to suffer.
6. Use Social Media to Boost Your SEO Ranking
Etsy also benefits from off-page SEO. Use social media platforms like Instagram Pinterest, and others to talk about your product listings. You can also use other marketing channels like email and blogging to boost your Etsy SEO.
And you've already done the keyword research, so it's just a matter of talking about your product off of Etsy using those keywords to drive shoppers to your Etsy shop.
Like other search engines, Etsy values backlinks. You can use the channels you already own to get more backlinks from high-authority sites to your Etsy shop and product listings.
7. Get Reviews
There are few things that can boost your brand and products like customer reviews. Nearly 95% of shoppers read online reviews before making a purchase (Spiegel Research Center, 2017). Additionally, displaying reviews can increase conversion rates by 270%. Displaying reviews for higher-priced products can increase conversion rates by even more (380%)!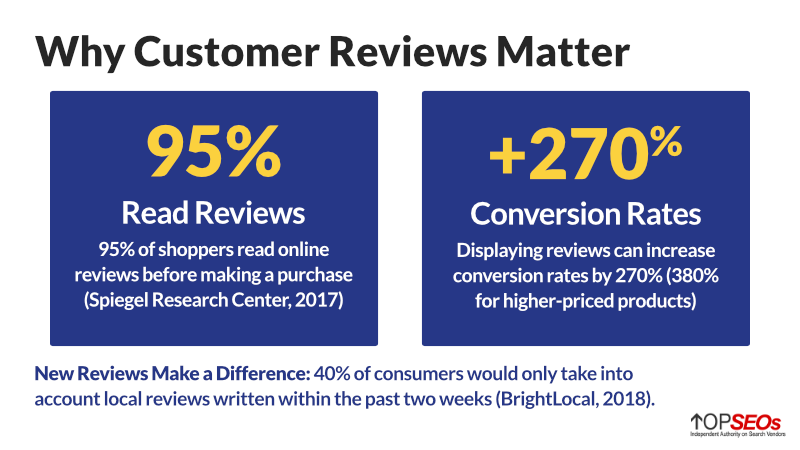 You literally cannot afford to ignore reviews.
Here are a few ways to get more reviews:
Ask customers to leave a review (yes, it's that easy)
Show off your existing reviews (customers are more likely to leave a review when they see that other customers have left one)
Encourage reviewers to be honest in their reviews
It's also important to continue getting new reviews. 40% of consumers would only take into account local reviews written within the past two weeks (BrightLocal, 2018).
Wrapping Up
This Etsy SEO guide provides the actionable tips you need to optimize your Etsy shop and product listings for Etsy search.
While it doesn't take much time to implement these Etsy SEO tips, it's important to understand that SEO takes time. Be patient and focus on your long game. It will pay off in the end with a well-optimized shop and product listings that dominate Etsy SEO.
Want to supercharge your SEO efforts? Check out this list of the top-ranked SEO agencies that can help you nail your Etsy SEO.