Local SEO services are in high demand all over the country and with its vibrant local business scene, Los Angeles is no exception.
In this article, we'll share the 10 best local SEO companies in Los Angeles that will help you leverage the power of local SEO.
How to Choose a Los Angeles SEO Firm
Before engaging with a local SEO agency in Los Angeles, you'll want to determine a budget for your local SEO needs as well as getting familiar with SEO pricing models.
When you better understand what to expect in terms of SEO pricing, you'll be able to prepare and stick to your budget. Plus, when you know how much you have to spend, it makes it easier to negotiate an SEO proposal or turn down proposals that are outside of your budget.
Once you've established a budget, there are a few things you'll want to find out about the SEO agencies you're considering before signing on the dotted line.
First, find out the processes the SEO agencies plan to use to help you accomplish your goals. While you're at it, ask them why those processes are the ones they choose to use.
Next, ask about its reporting process. You'll want to know specifically how often the SEO agency provides reporting and communicates with its clients.
Then, find out what the SEO agency does if it finds that its local SEO strategy isn't working.
Finally, each Los Angeles SEO company you are considering should be able to provide case studies and examples of its successful local SEO campaigns.
10 Best Local SEO Companies in Los Angeles
Now that you know how to choose the best local SEO agency in Los Angeles that's right for your business, it's time to take a look at the agencies that are out there.
Here is a list of the best local SEO Los Angeles companies.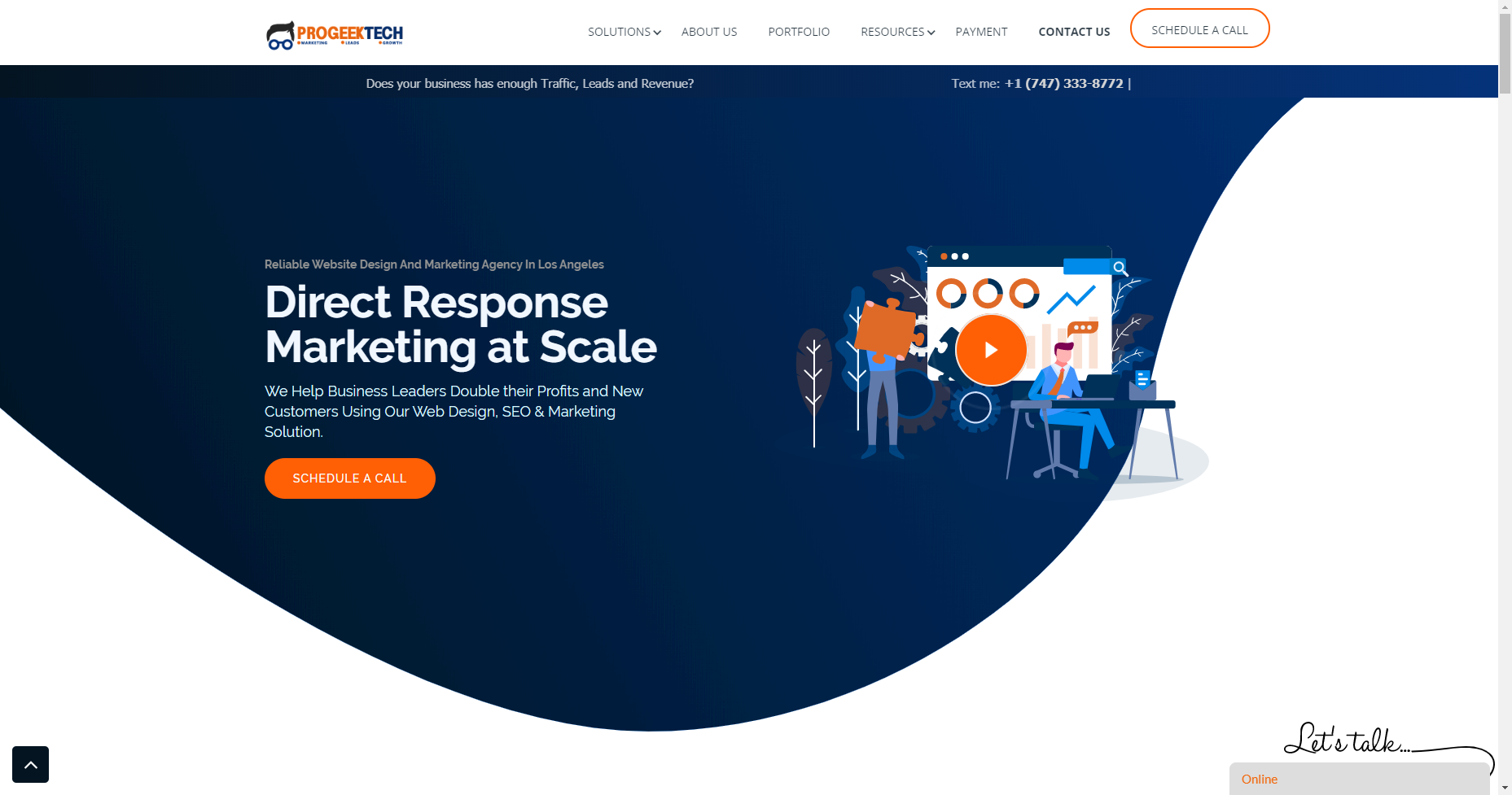 Progeektech.com offers a constantly changing approach to local SEO to keep your business improving. They analyze and audit the top pages in search engines to identify the target keyword used. Then, they use those target keywords in your content.
Progeektech.com believes that if you can't measure your local SEO performance, you can't improve it. They offer a customized state-of-the-art digital dashboard to monitor your marketing campaigns so you can see organic search traffic and online marketing efforts.
Their strategy is to keep improving by fine-tuning the local SEO tactics they use to meet your goals and decrease your costs over time.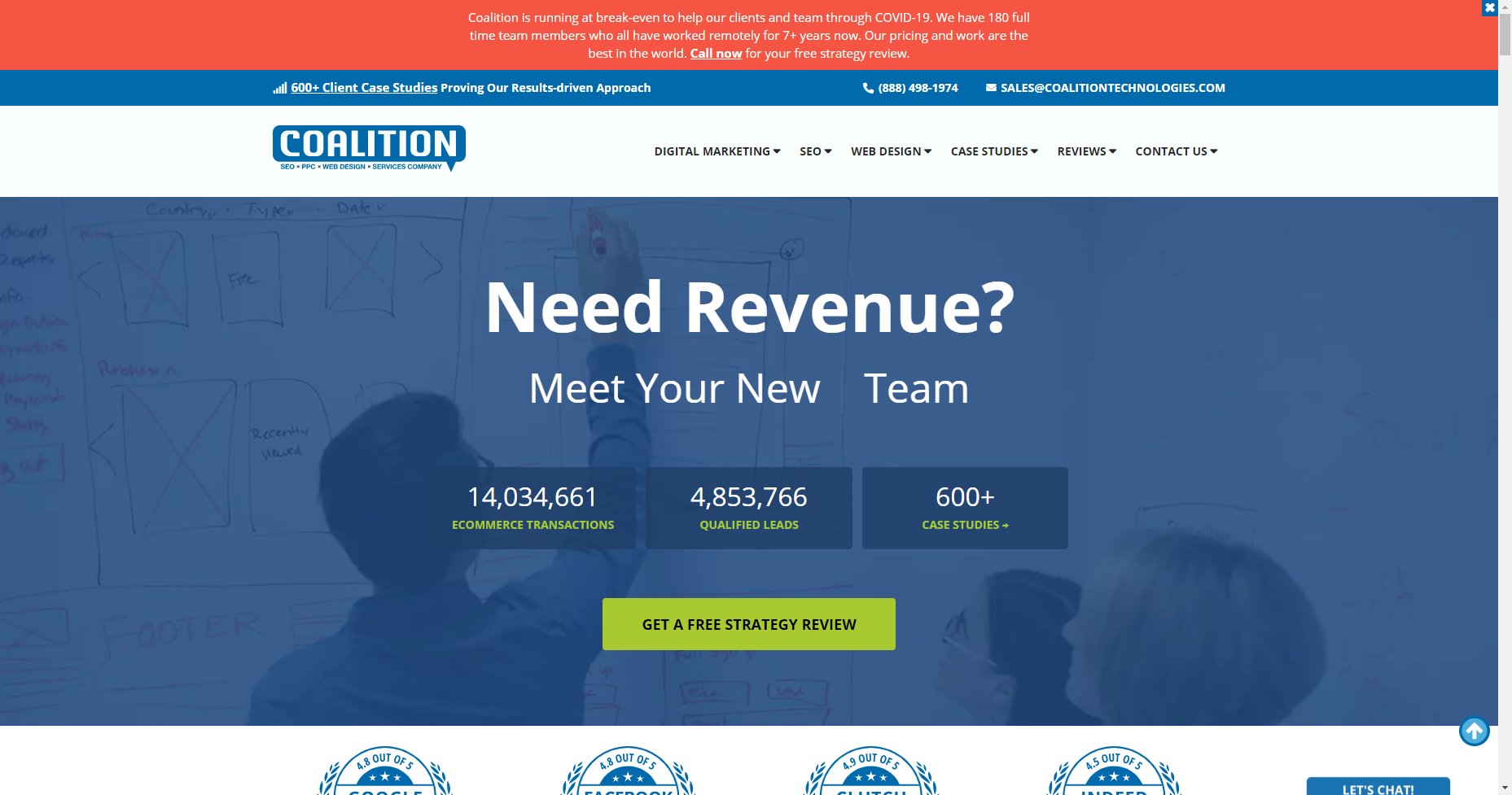 Coalition Technologies places your businesses NAP (name, address, phone number) throughout your site, making your business more visible to search engines. These local citations ensure your NAP appears uniformly everywhere on the internet.
They create business listings on local directory and review sites like Yelp, Foursquare, SuperPages, and more to make it easy for people to leave reviews and give potential customers an idea of what your business is like.
Coalition Technologies sets up, manages, verifies, and edits your Google My Business information to ensure that your listing is customized with images and a description, as well as using the correct categorization. This helps reduce the possibility of duplicate listings that can confuse potential customers.
Using Google ad extensions, Coalition Technologies lists your phone number, location, and review information on your Google Ads. This gives potential customers more information about your business and encourages people to visit your website, boosting your brand's authority.
Coalition Technologies also uses HARO (Help a Reporter Out) to get your business name out to the community in local news coverage and pushing readers back to your brand and your website.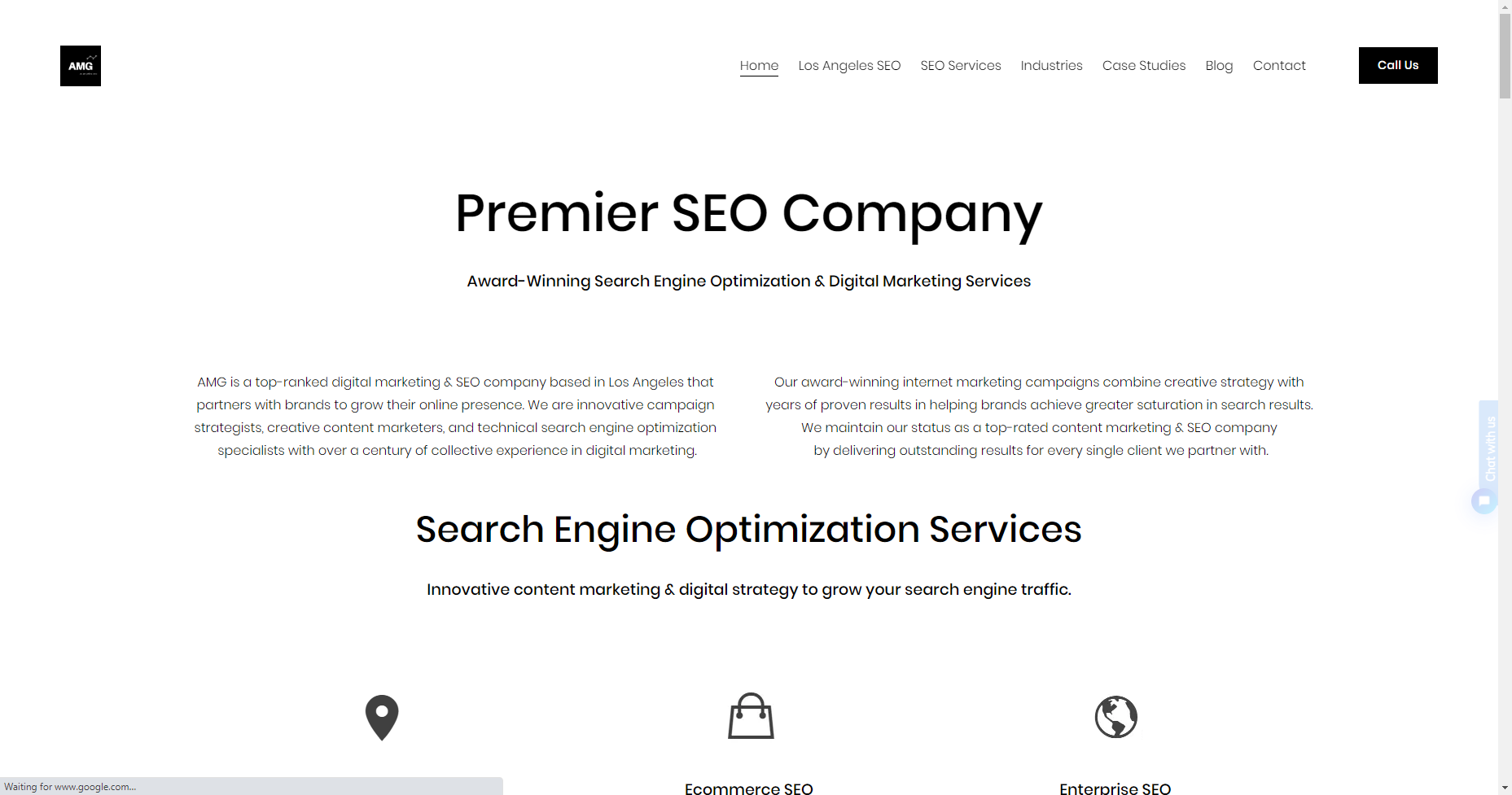 Avidon Marketing Group helps professional service companies increase their keyword rankings in Google's local pack and in organic search results. They use a proprietary local SEO strategy with digital marketing consulting to help local businesses stand out from their competitors.
Avidon researches local search behavior to understand how people use search engines in your area to find the products and services you offer. This extensive keyword research, as well as an audit of current search results, helps Avidon lay the groundwork for your local SEO campaigns.
The goal of Avidon's local SEO services is to help you outrank your competition. They study current ranking competitors to learn what makes them successful in local search. This serves to create a baseline for what you need to do to outrank them.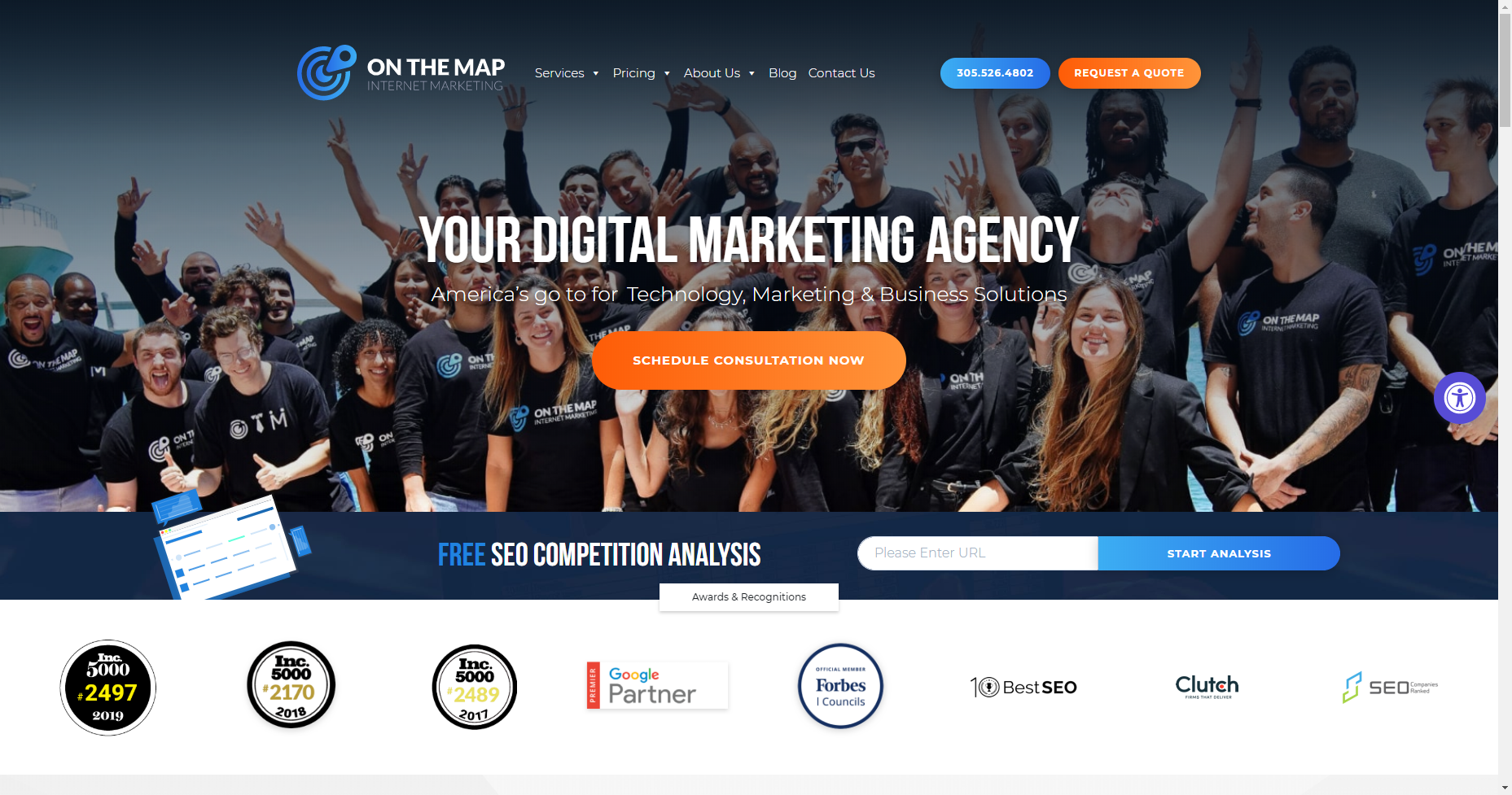 On The Map Marketing focuses on local listing optimization through Google Maps and Google My Business. They guarantee that your business listing, phone number, and website will be on the front page of Google within a couple of weeks and will stay there for the term of your service.
On The Map will work with your business to choose five or more target keywords that will provide you with the most visibility. They work directly with Google to register your keywords and the information you can place under the More button at the end of your listing.
Twice per month On The Map checks your Google local ranking to make sure you have the placement they guaranteed. They also provide monthly reports showing you how many times your listing showed up on the first page of Google as well as how many people clicked on your listing.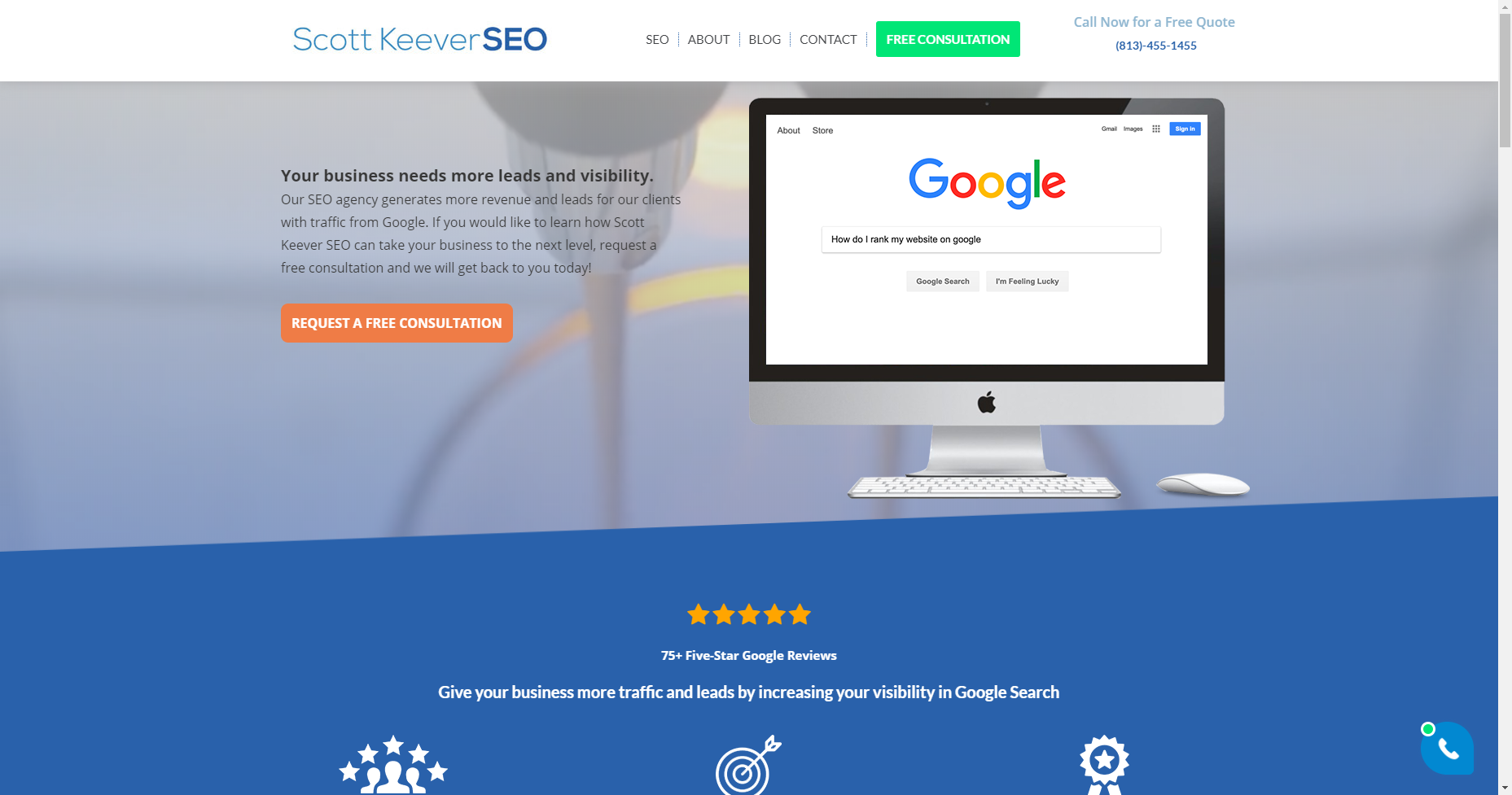 Scott Keever SEO helps you drive more customers to your website through a results-driven approach and Google-approved methods to increase your rankings and online visibility.
They start with an extensive review of your website and link profile. This helps them understand the steps they need to take to create a local SEO blueprint.
Scott Keever SEO updates all of your on-page SEO elements, including creating new title tags, meta descriptions, updating your site's architecture, creating linkable content, interlinking pages, and more
Their local SEO specialists will help you improve your local search engine rankings in organic search and in Google's map results.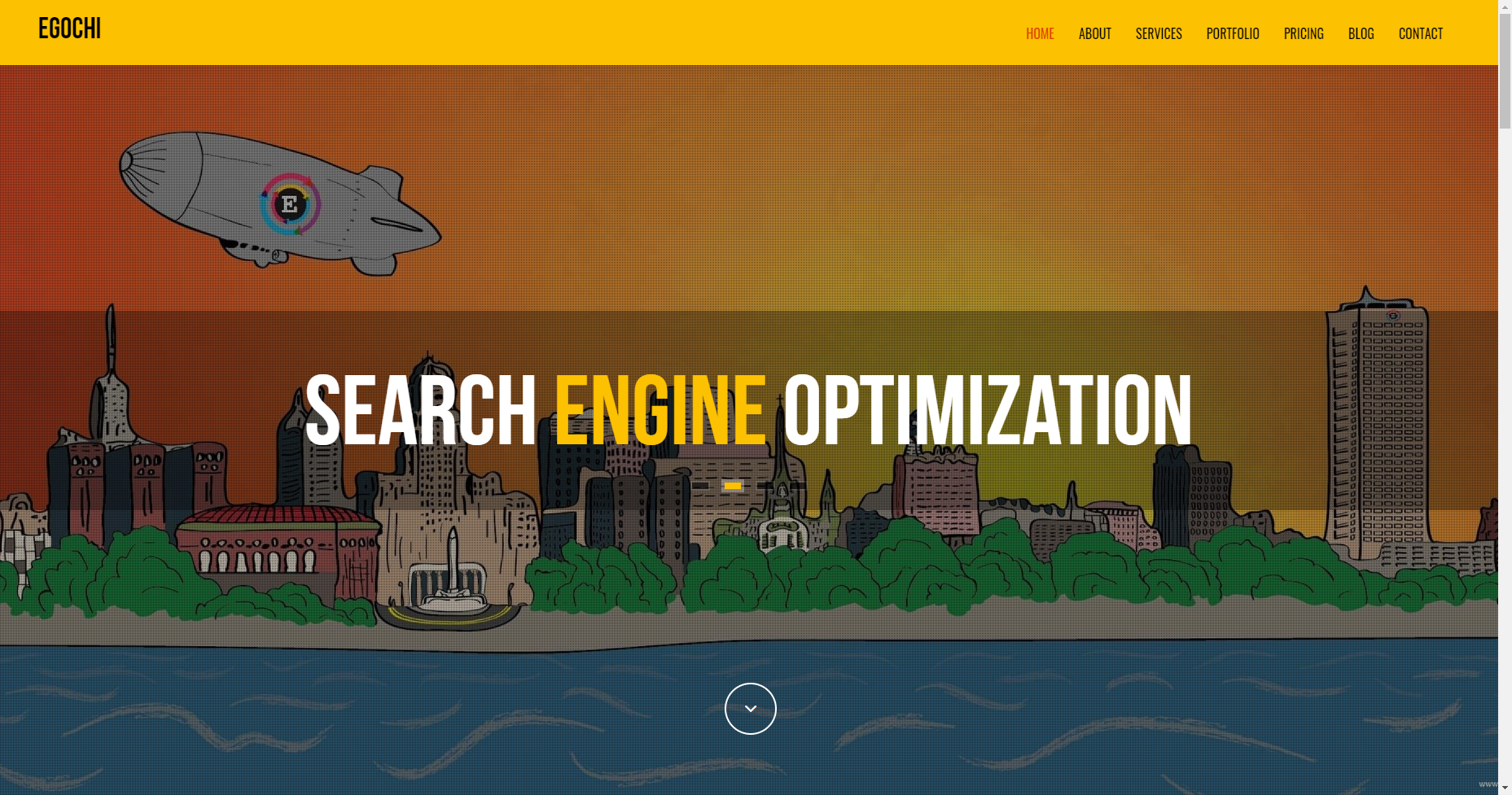 Egochi helps you optimize your Google My Business listing, local website pages, and create local ranking signals. They provide you with regular SEO reports and are happy to hop on a phone call to discuss your SEO campaigns.
Egochi starts with an SEO audit and competitor analysis so they can find out where your site is lacking and learn which local SEO tactics are working for your competitors. From there, they implement technical SEO tactics that help get your website into shape.
Next, Egochi optimizes your content with SEO elements like Schema markups, calls-to-action, meta tags, meta descriptions, sitemaps, snippets, and more.
Once they fix all errors and have optimized your site to provide value to visitors, they work on developing relevant local backlinks to your website.
Egochi also offers the SEO performance tracking tools you need to monitor your website rankings, traffic, and more to keep you well-informed.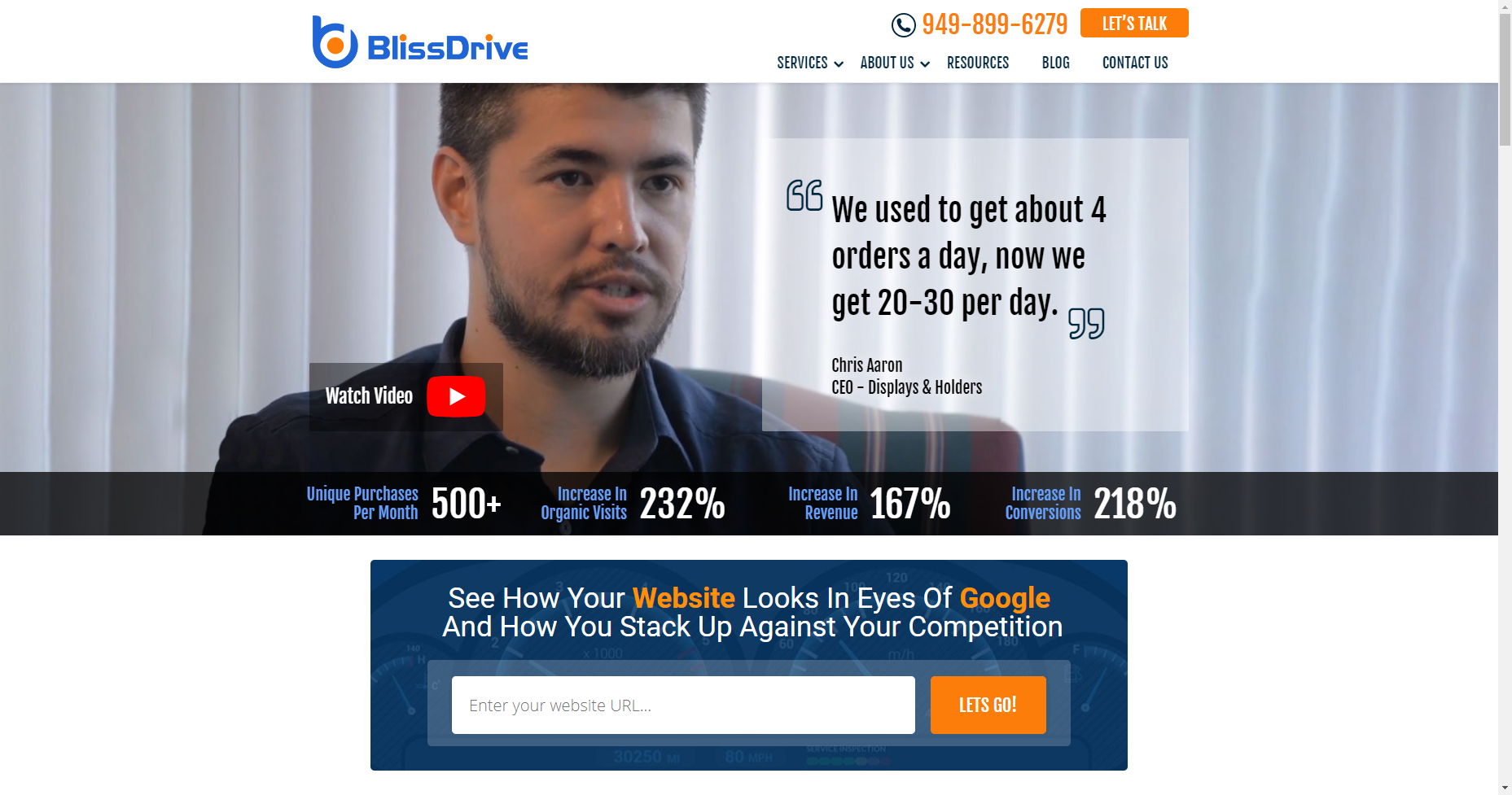 Bliss Drive offers local SEO in Los Angeles to help you boost local traffic, target prospects in your chosen geographic area, attract new customers, and get more leads and sales.
They start by conducting a complete and thorough analysis to identify exactly why you're not getting the traffic you need from your local SEO efforts.
Rather than focusing solely on traffic, however, Bliss Drive will dig deeper to find out why your business isn't converting visitors into customers. From there, they make recommendations to help you solve those problems.
As a local SEO agency, they identify opportunities for you to improve organic traffic and create a better user experience to improve ROI.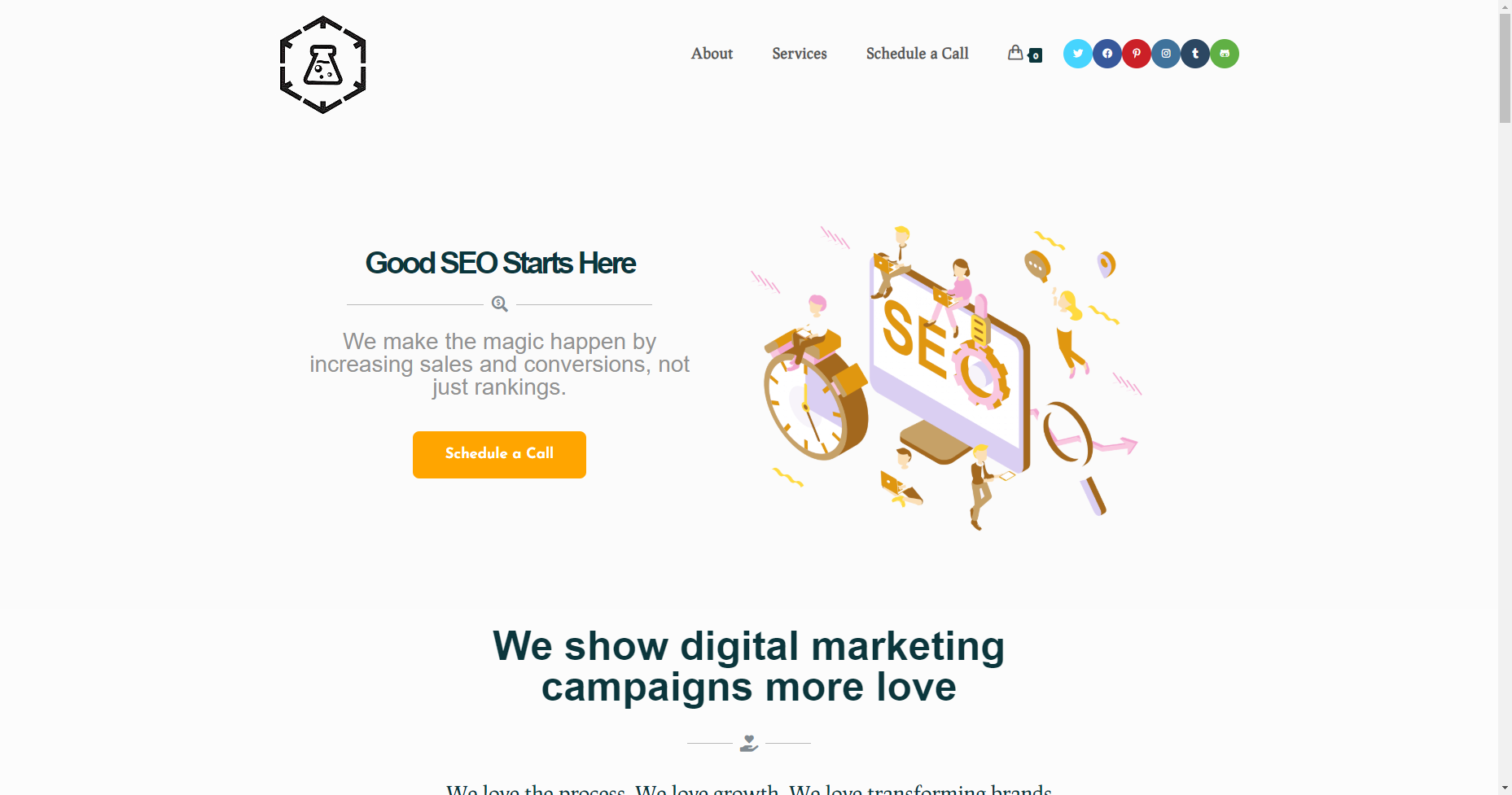 AlchemyLeads offers local SEO campaigns in Los Angeles that will ensure your website's visibility, making sure that your clients and customers can find, access, and navigate your site more easily.
They understand that local SEO can have long-standing and far-reaching effects for brands, resulting in improved brand positioning, more traffic, and increased sales.
Since search engines are always updating their search algorithms and technology, AlchemyLeads takes pride in staying up to date on the latest happenings in local SEO.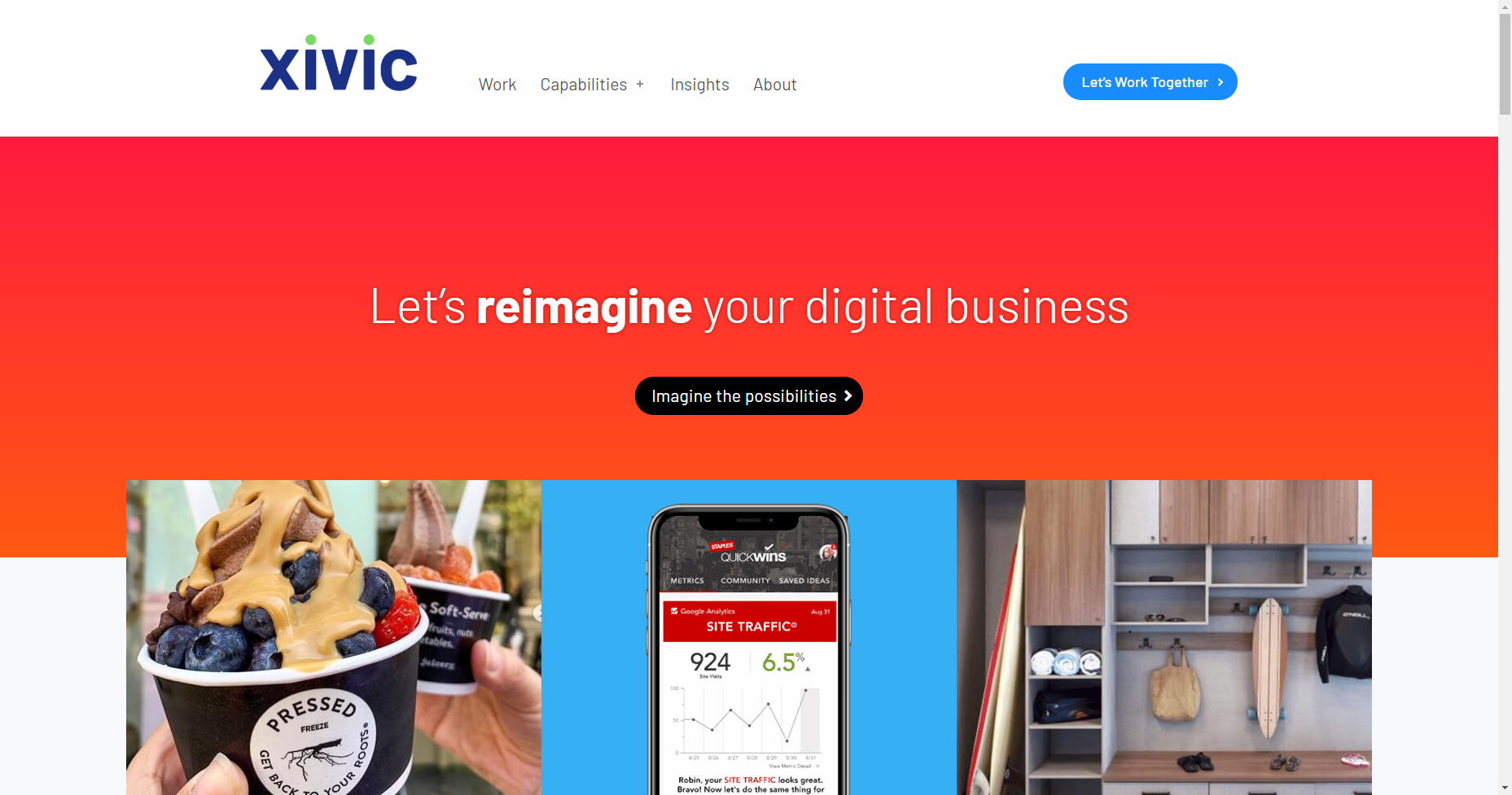 Xivic's local SEO services in Los Angeles will help increase your business' online visibility for local customers. This will help you create a geo-targeted campaign to capture traffic, leads, and sales from localized consumers.
They operate on a data-driven process and start every campaign with comprehensive local citation audits across all online directories to make sure that your business is listed accurately and is targeting the right users.
Xivic also makes sure that your business listings are verified and will remove duplicate listings as necessary, as well as ensuring consistent information across platforms and directories to minimize confusion and boost your rankings.
They offer Google My Business page optimization so your information is consistent and accurate. Additionally, Xivic will help you claim your Google Maps listing so you can get more reviews and optimize your data.
Xivic also uses local resources to create a strong link building strategy focused on your service area.
Top Bros is a small boutique operation of specialized combined talents from designers to developers, and marketers that offer local SEO in Los Angeles to optimize your site, get your business found with Google Maps marketing and get you ahead of your local competitors.
They provide custom local SEO services for many businesses and industries including small businesses, rehab clinics, vet clinics, roofing companies, legal practices, and CPA firms.
How to Negotiate a Proposal With a Los Angeles SEO Company
Now that you know the different local SEO options available in Los Angeles, here's how you can hire the one you want.
Start by getting multiple quotes from local SEO agencies in Los Angeles and be prepared to negotiate. Remember, you're trying to find a local SEO agency that works for you, not the other way around.
Anything included in a proposal can be negotiated, from price to structure to timeline.
We encourage you to negotiate on the scope of the project since most Los Angeles SEO agencies aren't willing to reduce their hourly rates, you can limit the scope of the project to stay within your budget.
It's also smart to ask for a monthly SEO package with a 30-day cancellation clause. This ensures that you're not locked into a long-term agreement with a company that you end up being unhappy with.
Find the Right Los Angeles SEO Agency
Los Angeles is a vibrant and attraction locale for businesses thanks to its diversified economy. This also means that the competition is stiff in many Los Angeles industries.
This makes it hard to set yourself apart from your competition.
By finding the best local SEO in Los Angeles you can take great strides towards making your business stand out from the crowd, getting more traffic to your site, and converting more of that traffic into paying customers.