Search engine optimization is an $80 billion industry, but if you're not using it effectively, you're missing out.
In this article, we'll share SEO writing tips that will help you create high-quality content that both your readers and search engines will love.
What Is SEO Writing?
SEO writing is a technique of writing and content creation that meets the needs of readers and search engines. It includes everything from research to understanding your audience to optimizing your on-page content by targeting keywords and including visuals that aid in understanding.
The purpose of writing for SEO is to inform the reader. When you successfully inform the reader, you'll be rewarded with better rankings in search engine results.
7 SEO Writing Tips
Here are 7 SEO writing tips you can use to outrank your competitors in search engine results.
1. Write for Humans
When creating new content, your primary goal should be to create content for people, not search engines. You want to give users the best answer to their search queries so they spend time on your page and find your content useful.
Google is smart. When they see that searchers are consistently referring to your content and spending time on your site, your rankings will improve.
Focus first on writing conversational, engaging copy that educates, informs, and provides actionable information to the reader. Then, go back and incorporate your target keywords, as well as other relevant terms where they fit in naturally.
Search engines do a really good job of understanding semantically linked words, so if your content is related to your target keyword, you'll have a good chance with the search engines.
So, why does writing for humans do more for your rankings than writing to leverage search algorithms?
Search algorithms are complex. They take many different things into consideration when deciding where to rank your content. And, these days, search engines heavily value user experience.
That means that your content will perform better on search engine results pages (SERPs) when the time spent on your page increases and your bounce rates decrease.
A high time-on-site and low bounce rates let Google and other search engines know that readers are finding value in your content. In turn, they rank your content higher because they thrive on meeting the needs of users.
Take into account the needs of your audience and then choose topics and conduct keyword research instead of trying to force your target keywords into something you want people to read.
Ultimately, what matters is that you've provided the best possible answer to searcher's questions and presented it in a way that engages them.
2. Understand What Search Engines Want
Search engines look at a few different things when deciding where to rank your pages.
Content is, of course, the number one ranking factor for Google. The expectation is that you cover topics in-depth, with well-written content that provides value.
After content, search engines prioritize certain aspects of off-page and technical SEO: site structure, HTML tags, and links.
Content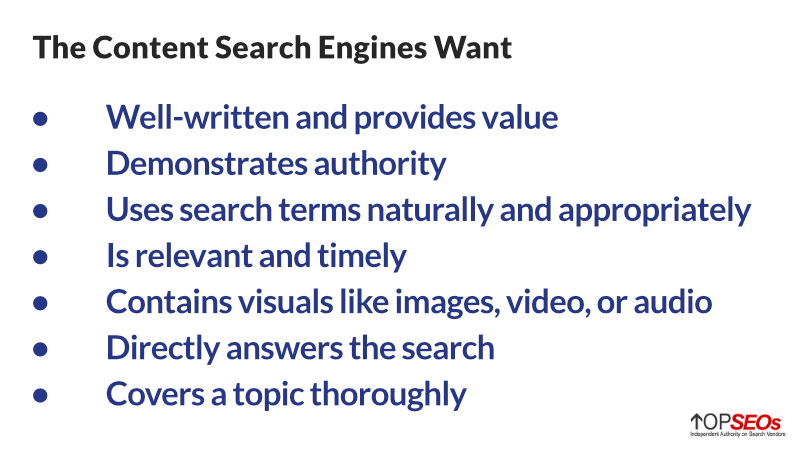 There are seven things to consider when creating content that will help your content rank higher. Content should:
Be well-written and provide value
Demonstrate authority
Use search terms naturally and appropriately
Be relevant and timely
Contain visuals like images, video, or audio to enhance the user experience
Directly answer the search
Cover a topic thoroughly
When your content marketing efforts meet each of these factors, it will naturally begin to rank higher.
Links, Site Structure, and HTML Tags
When search engines crawl and index your site, they look at certain non-content factors to understand what your site is about and how best to rank your pages.
Search algorithms are created to deliver the best content, but it goes beyond just the writing on the page. Here are some things you can optimize to make it easier for search engines to understand your site:
URL structure
Page load speed
Inbound and outbound links
Keyword usage in tags
Optimizing your site to improve these areas makes it easier for search engines to crawl and index your site, speeding up the ranking process.
3. Tie Keywords to Search Intent
Keyword research is a great start, but you also need to consider the searcher's intent.
For instance, if someone searches for "best keyword research tools," they're probably looking for ideas of what software to use for keyword research. They probably aren't looking for a guide showing them how to do keyword research.
We suggest doing a quick Google search for your target keyword and taking a look at the results that come up. This is a great signal as to what kind of content searchers value for that specific keyword.
To keep your keywords and search intent organized, you can use keyword mapping. Keyword mapping is the process of assigning relevant keywords to a site's pages based on thorough keyword research.
You can not only use this to keep your own site's pages filled with relevant content but can also use it during keyword research to take note of the types of pages that come up when you search for your target keywords.
This helps you match search intent to your keywords and content as well as helping to avoid keyword cannibalization within your own site.
To successfully match keywords to search intent, really analyze the search results for your target keywords, and consider what the searcher's goal is—what are they trying to accomplish?
4. Optimize for Position Zero (Featured Snippets)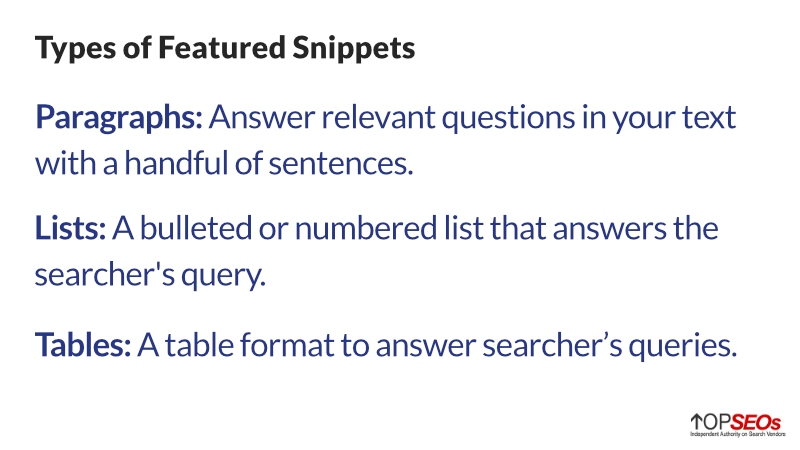 Google's featured snippets are short selections of text automatically pulled from web pages in its index that are designed to answer a searcher's query without requiring the searcher to click through to the linked page.
Why on earth would you want to be a featured snippet if they don't encourage click-throughs?
Because they actually do.
See, featured snippets give you the most basic of answers to your questions. Many searchers, however, aren't content with simply reading the bare minimum about a topic and moving on.
When you're in the coveted "position zero," searchers can get a taste of what your content is about without having to rely solely on your headline and meta description.
This gives you a better chance of getting searchers to click through to your article.
Plus, when you consider that 75% of clicks on SERPs go to the links in the first three positions, being at the top of the page is incredibly beneficial.
There are three common types of featured snippets: paragraphs, lists, and tables. You can optimize your content to fit these formats.
Paragraphs
Aim to answer relevant questions in your text with a handful of sentences. For example, using a heading like "What Is [Keyword]?" followed by a paragraph starting with "[Keyword] is…" signals to Google that the content you're sharing is perfect for a paragraph featured snippet.
Lists
Structure your content in a bulleted or numbered list that answers the searcher's query. This works especially well for process-driven queries that can be organized in numbered steps.
Tables
If it makes sense to do so, you can optimize for a table featured snippet by using a table format to answer searcher's queries.
5. Write an Awesome Headline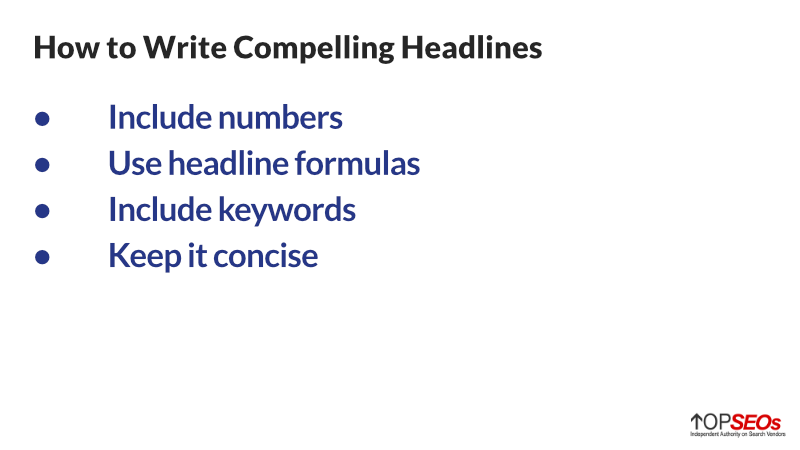 Your content could be the best content out there, but if your headline isn't compelling, nobody is going to click on it to read your article.
Your headline should grab people's attention, encouraging them to click because they just can't bear to not read the rest of your thoughts.
Creating the perfect headline takes time, but you'll get better at it the more you practice. Here are some easy ways to create compelling, clickable headlines:
Include Numbers
People love lists. They signal to searchers that your content is going to be actionable and easy to consume.
Use Formulas
If you look at the headlines on the first page of search results for any particular keyword, you'll notice that the headlines tend to look the same.
That's because formulas work.
Here are a few headline formulas to try:
Little-Known Ways to [Do This Thing]
What Everybody Ought to Know About [This Thing]
The Secret of [Topic]
Who Else Wants [This Thing]?
Include Keywords
Your target keyword should be included in your headline.
Keep It Concise
Headlines are meant to grab attention and pique curiosity. To that end, your headline should be short and punchy.
6. Create Great Content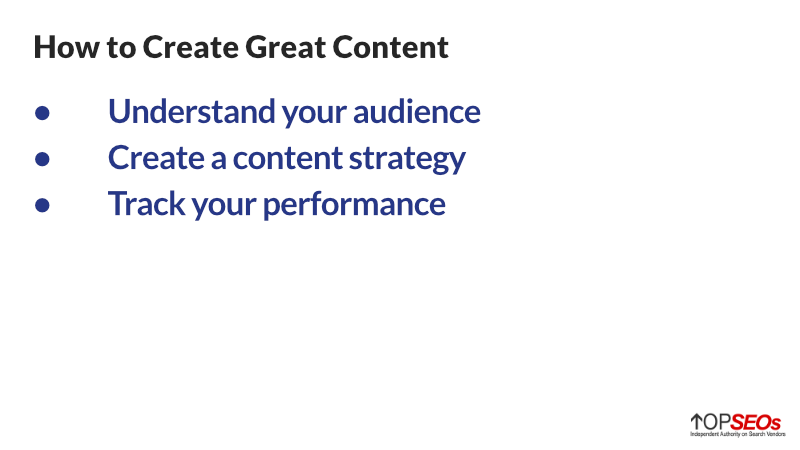 According to Cristina Maria of Commusoft, "no amount of SEO will save bad content, but great content will rank even if it wasn't written with SEO in mind."
We agree, though writing great content with SEO in mind is best.
Here's how to create high-quality content that resonates with your target audience and ranks at the top of the SERPs.
Understand Your Audience
Your audience is who you're creating content for, right? That means writing the content with them in mind, using the language and words that they use, and answering their questions completely.
We recommend creating customer personas to document the characteristics of who you're trying to reach. This will help you meet your audience where they are in their understanding of a topic or their own pain points.
Create a Content Strategy
After you've defined your target audience and their pain points, you need to create a content strategy that helps you reach them.
A well-constructed content strategy includes a plan for creating content, adding visuals, optimizing, and promoting your content.
Track Your Performance
Defined the metrics that matter most to your brand and begin tracking them. This helps you learn more about your audience as well as fine-tune your content to better reach them.
7. Optimize Your Content
While it's true that search engines have gotten really smart and SEO has come a long way from the keyword-stuffing days of old, it still comes down to keywords.
After you've written your content, there are a few things you can do to optimize your content, signaling to search engines that it's relevant for your target keywords and organized it for great user experience.
Here's how to optimize your content for better SEO:
Title Tag
Your title tag is what shows up in search engine results. This should be compelling and engaging and include your target keyword.
Here are some SEO title tips to help you make those titles pop.
Meta Description
Meta descriptions show up below your title tag in search results. They're not a ranking factor, but they are helpful for searchers. Be sure to use your target keyword in your meta description and use this space as an extension of your headline to encourage clicks.
H1 Tags and Headings
H1 tags and other headings tags are on-page SEO ways to let readers and search engines know what your content is about. Include target keywords in your heading titles and make them descriptive. Since readers tend to skim rather than read through the content, the heading tags let readers choose the parts of your content that they want to read.
Content
Your target keyword and other related keywords should be used throughout your content in a natural way. You don't want to force keywords into your content or write in such a way that makes your content awkward to read.
Create Killer Content With SEO Best Practices
The SEO writing tips we've shared here will help you create content that drives traffic, boosts engagement, and gets you more sales.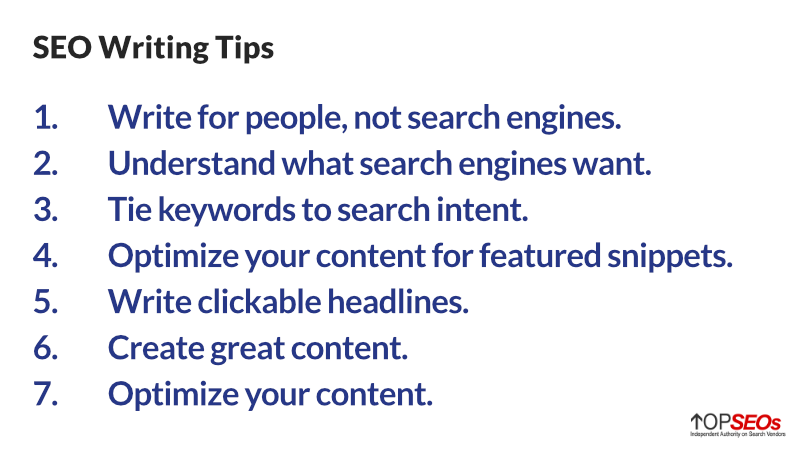 If you want more SEO tips, here are ten SEO best practices to improve your Google rankings.
No time to devote to creating killer content? Hire a content marketing agency to do it for you! Here are our picks for the best content marketing companies to create content that resonates with your target audience and gets your business noticed.